When the Beatles Arrived in America, Reporters Ignored the Music and Obsessed Over Hair
They'd go on to change American music forever, but the press focused on the moptops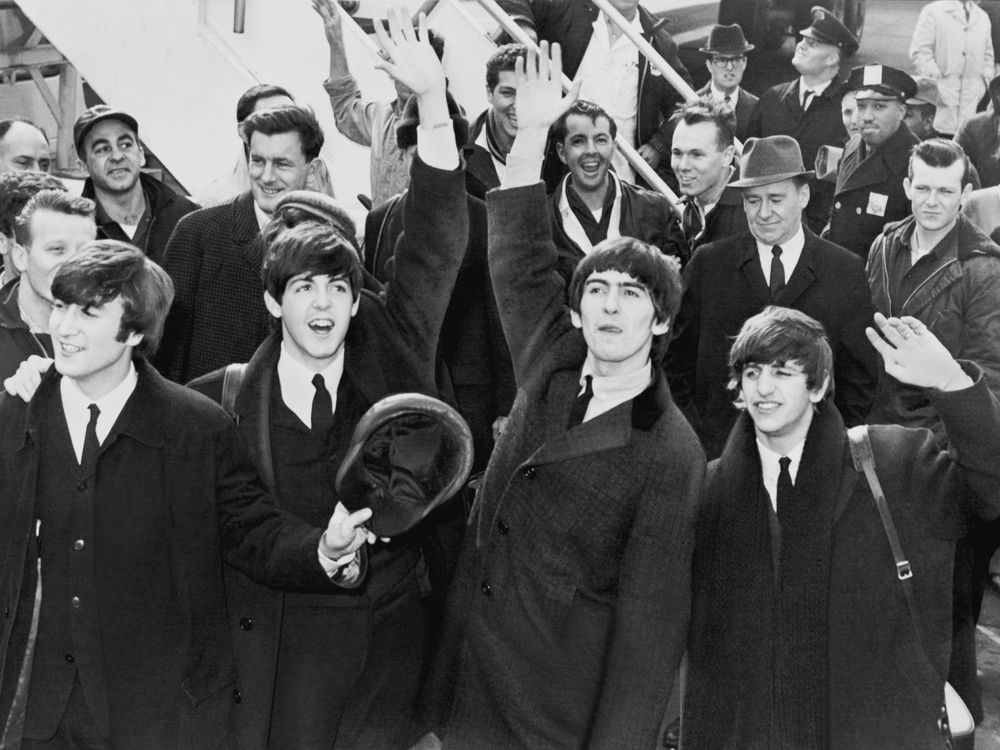 This is part of a new series called Vintage Headlines, an examination of notable news from years past.
February 9 marks the 50th anniversary of the Beatles' legendary first performance on the "Ed Sullivan Show." At the time, the band was already wildly successful in Britain—over the previous three years, they'd rapidly become the country's most popular group, and were met by hordes of screaming teenagers at every public appearance—but in the United States, they were known for only a few fast-selling singles released by Capitol Records, along with rumors of the Beatlemania that had struck the U.K.
An estimated 74 million people—a full 38 percent of the American population—tuned into CBS at 8 p.m. to see the band's American debut (they played "She Loves You" and "I Want to Hold Your Hand," among other songs). Today, music scholars look back at the performance as a watershed moment, a turning point in the history in American music that inextricably influenced a huge proportion of all the pop and rock that's come since.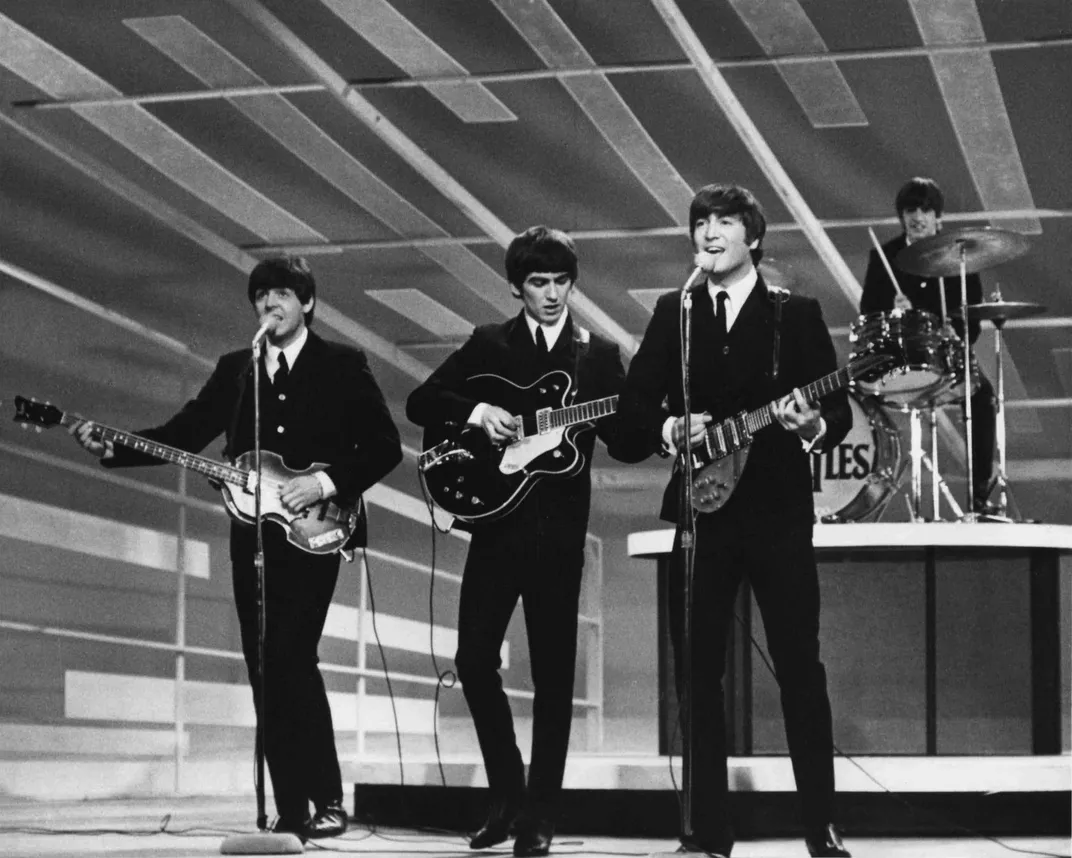 At the time, though, reporters and critics had a much more important concern: the Beatles' unconventional appearances, starting with their shaggy, untrimmed hair.
Shortly before they arrived, the New Yorker introduced the band thusly (subscription required): "Their appearance, to judge by photographs of them in the English press, is distinctive, their getup including identical haircuts in dishmop—or as one London newspaper put it, Ancient British—style, and lapelless suits patterned after a Pierre Cardin design."
After they landed, Time observed that "They look like shaggy Peter Pans, with their mushroom-haircuts and high white shirt collars." Identifying them as "four shrewdly goofy-looking lads" and running a full-page spread with their moptops atwirl, Life magazine reassured American moms and dads that "British parents do not mind their offspring's mania because Beatles lyrics are clean and happy. As one critic observed, 'Their hair is long and shaggy, but well-scrubbed.'" In conveying the Beatlemania phenomenon that had already engulfed Britain, Life informed us that 20,000 Beatle wigs had been sold and quoted the headmaster of an English school that had banned the haircut: "'This ridiculous style brings out the worst in boys,' he said. 'It makes them look like morons.'"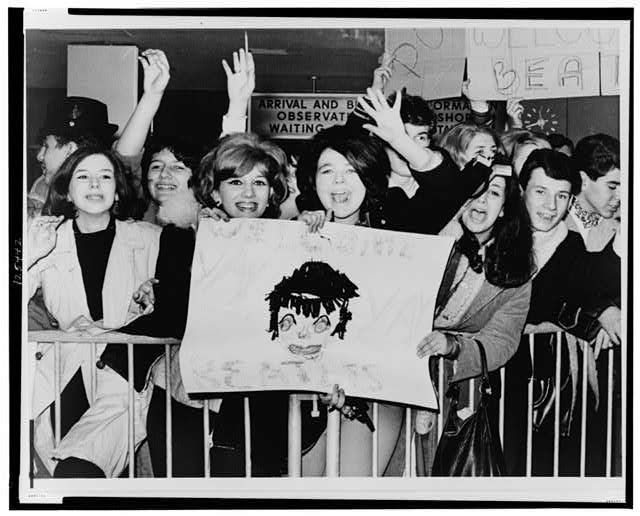 A few days after their "Ed Sullivan Show" performance, pop psychologist Joyce Brothers wrote a column "Why They Go Wild Over the Beatles," opining that the explanation couldn't possibly be the music alone. "The Beatles display a few mannerisms which almost seem a shade on the feminine side, such as tossing of their long manes of hair," she wrote. "These are exactly the mannerisms which very young female fans (in the 10-to-14 age group) appear to go wildest over."
The press spilled a lot of ink trying to explain the Beatles—commenting on how squadrons of police officers and the use of disguises were needed to protect the Beatles from mobs of teenage girls, and how impressed Queen Elizabeth had been with their Royal Command Performance concert—but paid curiously little attention to their music itself (Life dismissed it as "standard rock 'n' roll with a jackhammer beat"). This might have something to do with a sentiment that was quite common in 1964: that the era of rock 'n' roll was finished.
"By early 1964, in fact, America had mostly left rock & roll behind," Mikal Gilmore recently wrote in Rolling Stone. "Buddy Holly had died, Jerry Lee Lewis and Chuck Berry had been blacklisted, Elvis had joined the Army, and pioneering rock DJ Alan Freed had been booted off the air—all these events neutered rock's early spirit and hindered its future." Many thought that rock was essentially dead, and the last thing they expected was that a rock band from Britain—which had recently been the recipient of American music culture, rather than a contributor to it—would make a mark on U.S. music. The Beatles, many music critics assumed, were a passing fad.
Of course, we're now well-aware that American rock was anything but dead, and that the Beatles' "Ed Sullivan Show" performance was just the start of a remarkable run that would see them top the charts for a full third of the time between 1964 and their break-up, in 1970. Ultimately, they'd become the best-selling artists of all time in the U.S., usher in the British Invasion—a pop music phenomenon that saw the Rolling Stones, the Who and other U.K. bands achieve successes stateside—and fundamentally influence the music industry for all the artists that followed. Among many other precedents, they staged the first concerts in large sports stadiums and filmed the predecessors of first music videos, A Hard Day's Night and Help!
After playing three nights on the "Ed Sullivan Show" and public concerts in New York, Washington, DC, and Miami, the Beatles flew home to Britain on Feburary 22. The New Yorker's wrap up (again, subscription required), written in the voice of an imaginary teenage boy:
Conclusion: The Beatles' tour of New York was a success because they are nice guys and the girls think they look cute. Also, they are worth listening to, even if they aren't as good as the Everly Brothers, which they really aren't.