When America Invested in Infrastructure, These Beautiful Landmarks Were the Result
Explore eight of the Works Progress Administration's most impressive structures.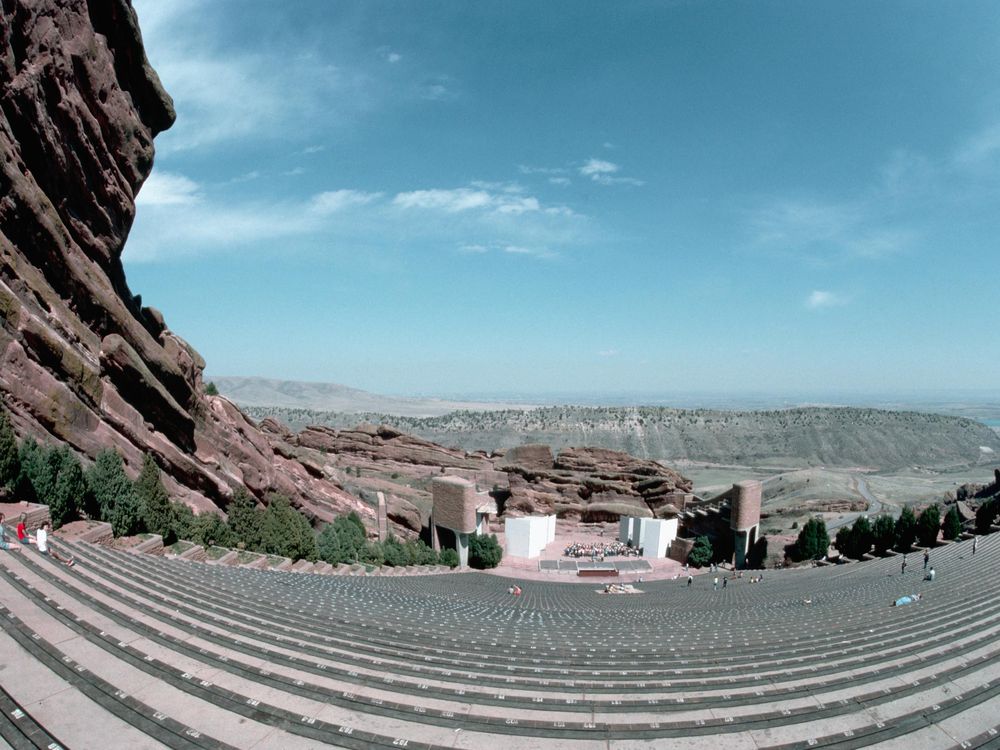 Long before "stimulus" became a dirty word in some quarters of Washington, the federal government put people to work building things. Lots of things.
This spring marks the 80th anniversary of the Works Progress Administration (WPA), the biggest and most ambitious of more than a dozen New Deal agencies created by President Franklin D. Roosevelt. Designed to give millions of unemployed Americans jobs during the Great Depression, the WPA remains the largest public works program in the nation's history. It provided 8 million jobs in communities large and small. And what those workers put up has never been matched.
The WPA built, improved or renovated 39,370 schools; 2,550 hospitals; 1,074 libraries; 2,700 firehouses; 15,100 auditoriums, gymnasiums and recreational buildings; 1,050 airports, 500 water treatment plants, 12,800 playgrounds, 900 swimming pools; 1,200 skating rinks, plus many other structures. It also dug more than 1,000 tunnels; surfaced 639,000 miles of roads and installed nearly 1 million miles of sidewalks, curbs and street lighting, in addition to tens of thousands of viaducts, culverts and roadside drainage ditches.
"A vast amount of our physical and cultural infrastructure went up between 1933 and 1940," said Robert Leighninger, author of Long-range Public Investment: The Forgotten Legacy of the New Deal. "To paraphrase Winston Churchill, never in our history has so much been built for so many in so little time and been so thoroughly forgotten."
When World War II sent millions of men into the military and defense-related industries, unemployment plummeted and so, too, the need for the WPA. Congress shut it down in June 1943.
The Public Works Administration (PWA) built larger public projects -- New York's Triborough Bridge and Lincoln Tunnel, Washington state's Grand Coulee Dam, Florida's Overseas Highway to Key West. But the WPA provided more jobs and touched more communities by funding smaller, less glamorous projects initiated by state and local governments.
About half still remain. All are showing their age.
"Many of those structures are nearing the end of their useful lives," said Adrian Benepe, a former New York City parks commissioner now with the Trust for Public Land. He fears that a lack of political willpower and resources may condemn some architectural and cultural treasures to the wrecking ball. Hundreds of WPA and other New Deal structures have already been demolished or are in danger of being torn down. 
"A lot will last a while longer but they're not going to last forever. There are diminishing returns. Not everything can be preserved," Benepe said.
Yet at a time when, despite widespread consensus that the country's bridges, roads and other public facilities are falling apart, "This nation doesn't seem to know how to do public infrastructure anymore," Benepe said. Still, he added, "I can't imagine New York without the stuff that was built under the WPA."
Such "stuff" is everywhere. A small sampling of what the WPA left us:
Orchard Beach Bathhouse — Bronx, New York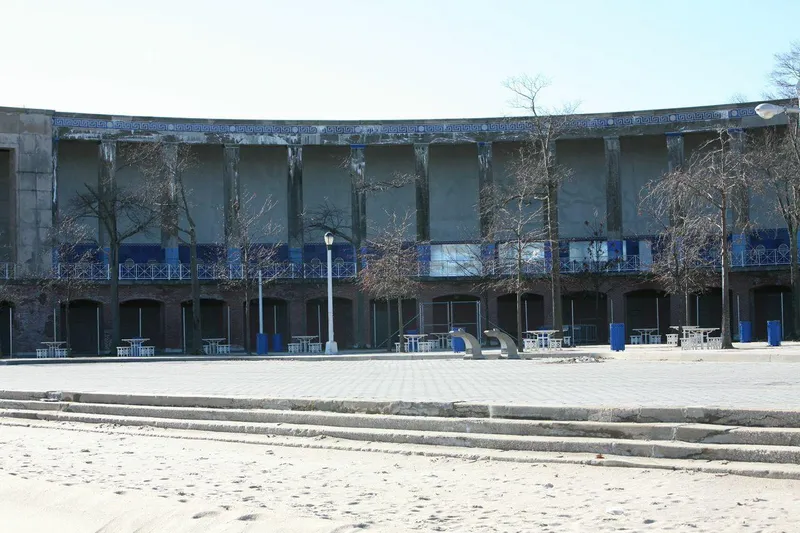 Set on a mile-long artificial beach overlooking Long Island Sound, this New York City landmark is "recognized as being among the most remarkable public recreational facilities ever constructed in the United States." When it was built in 1936, it was the largest WPA project in a city that, thanks to the clout of legendary Mayor Fiorello LaGuardia and Parks Department Commissioner Robert Moses, was the biggest single recipient of New Deal largess. The two-story crescent-shaped, nautical-motif bathhouse was designed by Princeton-trained architect Aymar Embury II in the Modern Classical style and built using inexpensive concrete, brick and limestone, terra-cotta tile and terrazzo. In its heyday, the pavillion had a restaurant, dance floor, changing rooms, showers and a laundry and served generations of working class Bronx residents. But salt air and water eventually took a toll and the crumbling bathhouse is now closed and fenced off from beachgoers. Benepe estimates it would take up to $50 million to restore, an unlikely prospect in a time of tight budgets and long after the era of the rented swimsuit: "It'll probably never again be used as a bathhouse." In March 2014, New York Governor Andrew Cuomo announced a $65 million plan to revitalize the area, including plans for the WPA bathhouses. The ideas include a recreation center, a pool or a nature center.
Timberline Lodge — Mount Hood, Oregon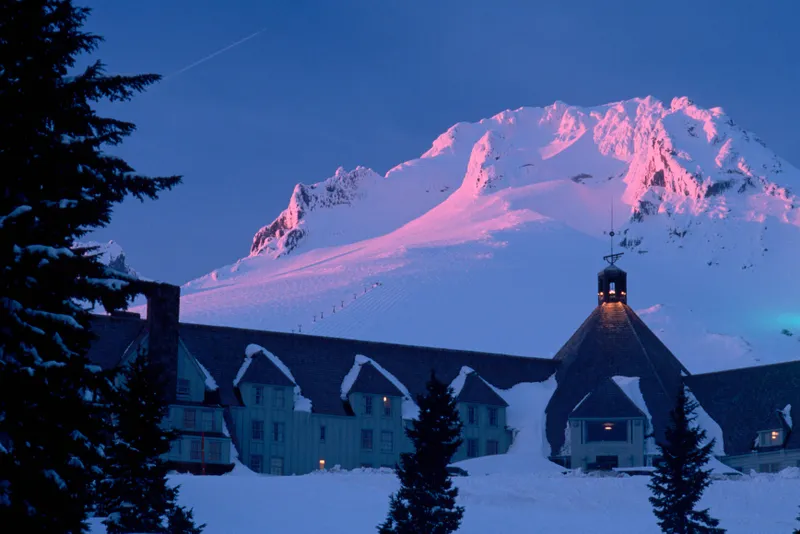 In one of the New Deal Projects that added the word "boondoggle" to the lexicon, Portland businessman Emerson Griffith tried unsuccessfully for a decade to gain support for an alpine lodge on the slopes of Mount Hood. Only when he became head of Oregon's WPA office did his dream of a "recreation project" come true. Between 1936 and 1938, hundreds of workers—from pick and shovel wielders to master artisans—built the lodge and all its furnishings and decorations. Everything was done by hand using native materials collected around the region. The workers endured snow and blizzard-speed winds, living in tents in a meadow a half-mile below the work site. President Roosevelt dedicated the ski lodge on Sept. 28, 1937, before work was completed. Forty years later, after enduring some hard times, it was declared a National Historic Landmark and the finest example of WPA mountain architecture. But the iconic lodge is surely best known as an exterior stand-in for the creepy Overlook Hotel in Stanley Kubrick's 1980 psychological horror film, The Shining.
Camp David — Thurmont, Maryland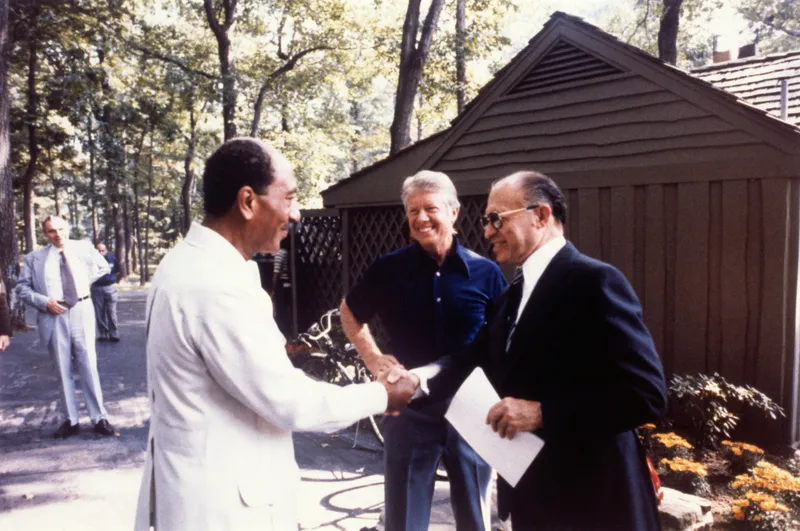 In 1935, the WPA and the Civilian Conservation Corps (CCC) began clearing worn-out forest land in the scenic Catoctin Mountains, 60 miles northwest of Washington, D.C., building crude cabins and providing basic jobs. At 1,800 feet above sea level, Hi-Catoctin and neighboring camps served as retreats for disabled children and the families of federal employees. Then, in 1942, FDR paid a visit after doctors urged him to find a cooler, less humid vacation spot that would be more secure in wartime than the presidential yacht. Roosevelt immediately ordered up a new main lodge modeled on his winter retreat in Warm Springs, Georgia, and renamed the place Shangri-La. Among his first guests was British Prime Minister Winston Churchill, who came to the rustic setting to discuss the allied invasion of Europe. President Dwight Eisenhower renamed the retreat Camp David, after his grandson. Presidents ever since have used the retreat to get away or do business, most notably Jimmy Carter who, in 1978, helped broker the Camp David Accords between Egypt and Israel.
Red Rock Amphitheater — Golden, Colorado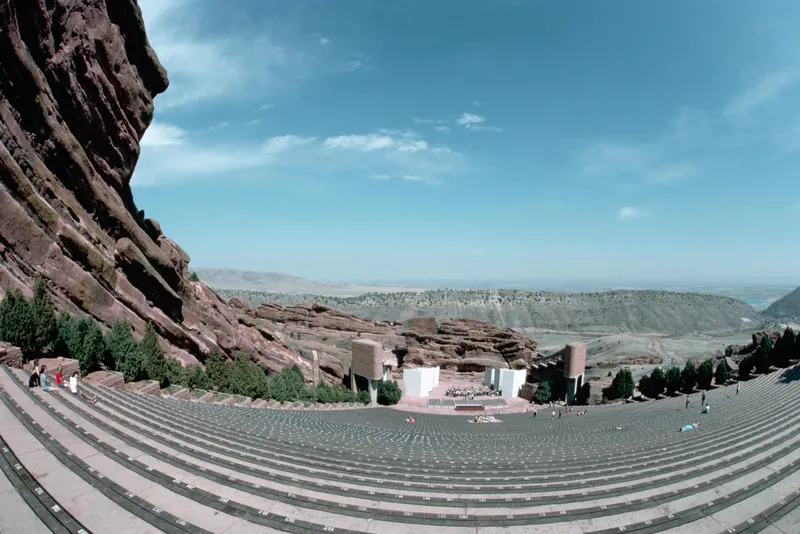 Nestled between the Rocky Mountains and the Great Plains, this acoustically perfect, naturally occurring amphitheater was originally known as the "Garden of Angels" and drew music performers as far back as the early 1900s. But it wasn't until the city of Denver bought the site and later appealed to the federal government for funds that the venue became more than a collection of tilted, towering sandstone monoliths. From 1936 to 1941, when it was dedicated, workers from the WPA and the CCC dug out tons of debris, constructed roads and bridges, installed 9,000 seats and built an open-air stage that would host everyone from opera stars to the Beatles and U2. Red Rocks and other giant New Deal amphitheaters, said Gray Brechin of The Living New Deal Project at the University of California, Berkeley, "were meant to encourage democracy by gathering Americans together for communal events."
Balboa Park House of Champions — San Diego, California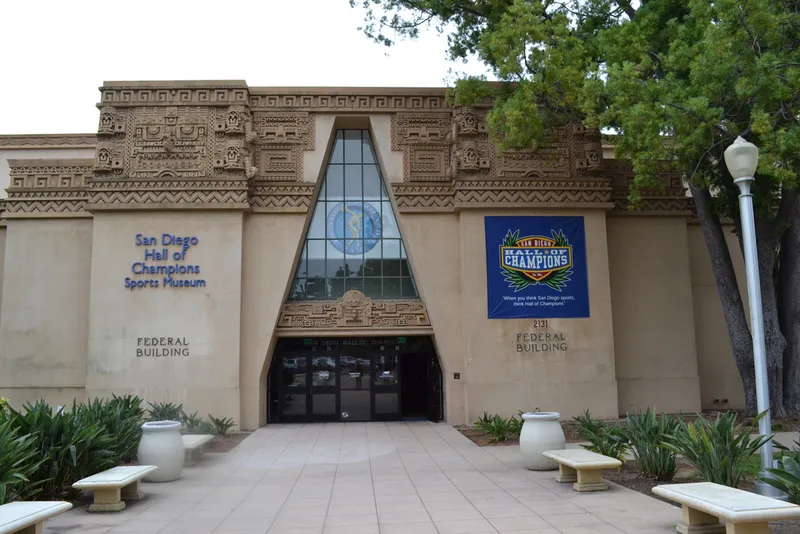 Originally known as the Federal Building, the ornate House of Champions is one of several WPA projects in Balboa Park that were built for the 1935 California Pacific International Exposition. While WPA workers renovated several Spanish Colonial-style buildings left over from the 1915 Panama-California Exposition, it also constructed new buildings that, unlike most world's fair structures, stood the test of the time. The Federal Building was built in just nine weeks after Congress authorized $125,000 with another $225,000 for exhibits for the exposition that began on May 29, 1935. The Mayan Revival building was constructed with sturdy concrete walls and steel roof trusses, its ornamental detailing derived from the Palace of the Governor in Uxmal, Mexico. After going through many uses over the years, it was declared part of the Balboa National Historic Landmark in 1978. It now houses the San Diego Hall of Champions, which bills itself as the nation's largest multi-sport museum.
River Walk — San Antonio, Texas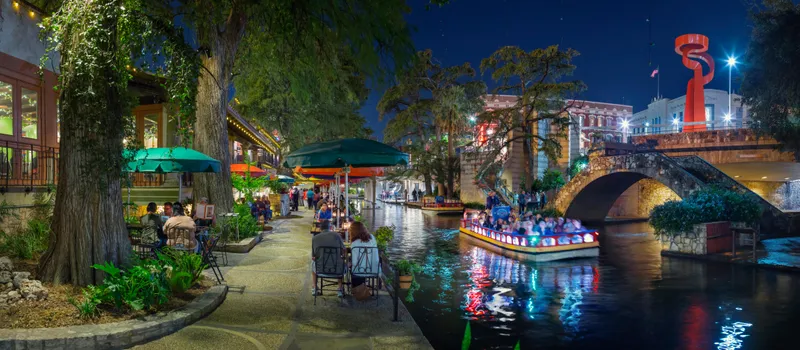 Civic leaders wanted to turn the winding San Antonio River into a drainage culvert to deal with deadly floods that ravaged the city's downtown in the early 20th century but scrapped the plan when a local architect came up with a better idea. Robert H.H. Hugman envisioned a lively cafe scene along the Paseo del Rio akin to those in old Spain. The 1929 stock market crash shelved his plan but, nine years later, the WPA revived the redevelopment project. Between 1939 and 1941, WPA workers built three dams, 21 bridges, 31 stairways and 17,000 feet of multi-level sidewalks. They also planted 12,000 trees, shrubs and plants along a 21-block stretch that included benches of stone, cement and cedar. Although the area deteriorated in the 1950s and 1960s, today River Walk is one of the top tourist attractions in Texas.
Jefferson National Expansion Memorial — St. Louis, Missouri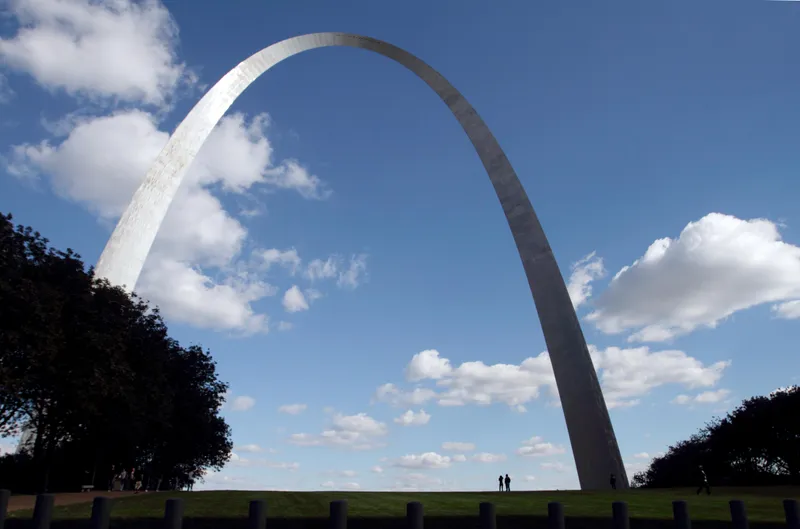 The Mississippi River waterfront was declared the country's first national historic site in December 1935 after President Roosevelt signed an executive act allowing for the preservation of historic buildings and sites of national significance. Between 1935 and the early 1940s, the WPA and PWA demolished blocks of decaying buildings and cleared the nation's largest "Hooverville" to prepare the 82-acre site for a future memorial to America's westward expansion. Despite a fierce rivalry between PWA chief Harold Ickes and Harry Hopkins, the head of the WPA, the two New Deal agencies joined forces in what became one of the nation's earliest urban renewal projects. In 1947, architect Eero Saarinen's stainless steel arch was chosen in a nationwide competition as a fitting tribute to Thomas Jefferson and the western pioneers who set off from St. Louis. The Gateway Arch wouldn't be completed until 1965 but the New Deal had long before paved the way.
Dealey Plaza — Dallas, Texas
Long before it became synonymous with President John F. Kennedy's assassination, this WPA project was known as the "Front Door of Dallas." Built around a triple underpass for the state's most heavily traveled road, Highway 1, it was dedicated during the 1936 Texas Centennial. The plaza is named for Dallas Morning News publisher and civic leader G.B. Dealey, who rode in the first car to pass through the Art Deco-styled arched gateway. The surrounding park, including what would become the infamous grassy knoll, was completed by WPA workers in 1940. Five years earlier, journalist George Waverley Briggs wrote a letter to Dealey about this civic gem, saying it, "will remain forever as a blessing to the people of Dallas." And it did—until November 22, 1963.