What's a 9-Letter Word for a 100-Year-Old Puzzle?
The crossword puzzle turns 100 this week — here's how it rose to popularity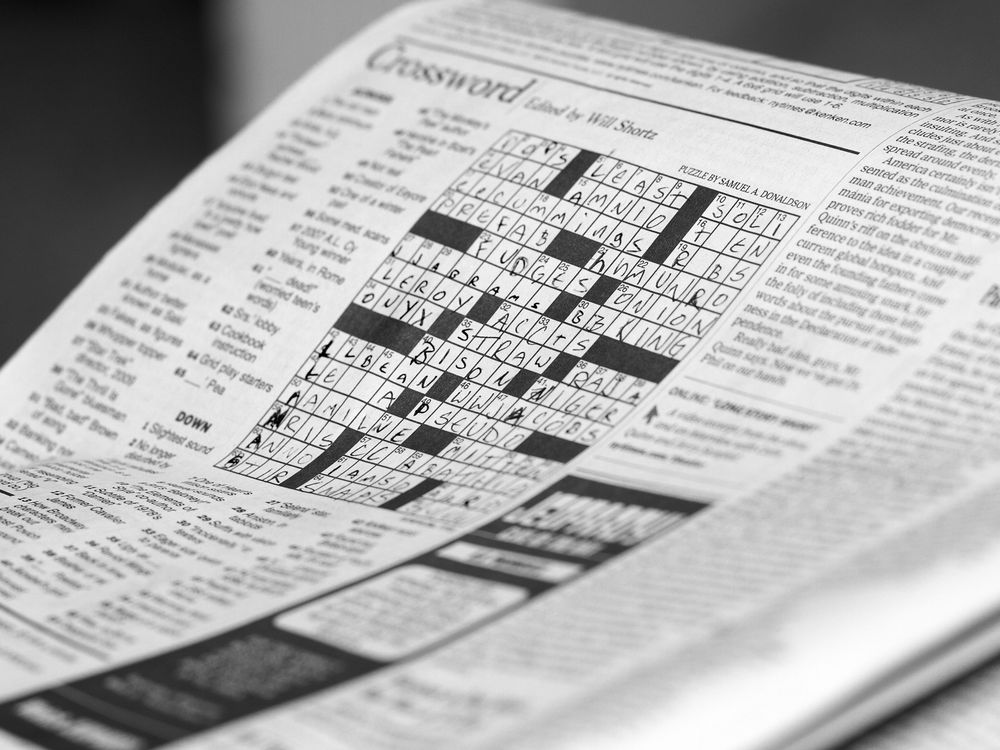 Historians of the crossword puzzle—yes, there are quite a few of them—generally date its first U.S. appearance to December 21, 1913, just about 100 years ago. That's when Arthur Wynne of the New York World published what he called a "word-cross" in his paper's Fun section. But a decade would go by before the crossword, as it was by then called—apparently due to a typesetter's error—would become one of the biggest fads of the Roaring Twenties.
For that you might credit an aunt of the would-be publisher Richard Simon—she liked doing the crosswords in her newspaper and told him she wished someone would publish a book full of them. Simon arranged for his three-month-old publishing firm, Simon & Schuster, to do so in 1924—apparently with some trepidation. The firm printed only 3,600 copies and withheld its name from such a non-literary enterprise. It did, however, provide buyers with a free pencil.
How do you spell blockbuster? In no time the publisher had to put the book back on press; through repeated printings, it sold more than 100,000 copies. Soon a second collection followed, and then a third and a fourth. In 1924 and 1925 the crossword books were among the top 10 nonfiction bestsellers for the year, besting, among others, The Autobiography of Mark Twain and George Bernard Shaw's Saint Joan. Many more collections would follow.
Meanwhile, dictionaries started selling at an unprecedented clip, including a miniature version that could be worn like a wristwatch. The Los Angeles Public Library reportedly had to limit its crossword-obsessed patrons to five-minute turns with its dictionaries, and the Baltimore & Ohio Railroad put dictionaries in its observation and club cars for the benefit of passengers.
The influence on the American vocabulary was audible. "Anybody you met on the street could tell you the name of the Egyptian sun-god or provide you with the two-letter word which meant a printer's measure," Frederick Lewis Allen recalled in his famous history of the 1920s, Only Yesterday. (The answers, presumably: "Ra" and "em.") The Frederick (Maryland) Daily News took an especially optimistic view of the crossword's impact in a 1924 editorial. It predicted that, "Thoughtful working of cross word puzzles can not fail to make the average American a more careful and fluent user of good English."
Experts were also called upon to explain the craze. A Columbia University psychologist, for example, said that crossword puzzles satisfied 45 fundamental desires of the human species; Chicago's health commissioner endorsed crosswords as a means of calming the nerves. But there was debate: The chairman of Maryland's Board of Mental Hygiene worried that the puzzles "might easily unbalance a nervous mind" and even lead to psychosis. The New York Times derided crosswords as "a primitive sort of mental exercise," and the Times of London ran an editorial about the fad headlined, "An Enslaved America."
As early as 1925, many of the rules for how a puzzle should be constructed had been codified. Merl Reagle, who creates crosswords for the Washington Post and other major newspapers, cites a list of rules, published in one of Simon & Schuster's early collections, that would be familiar to today's puzzle buffs. The rules included:
- The pattern shall interlock all over.

- Only approximately one-sixth of the squares shall be black.

- The design shall be symmetrical.

- Obsolete and dialectic words may be used in moderation if plainly marked and accessible in some standard dictionary.…

- Abbreviations, prefixes and suffixes should be avoided as far as possible.

- …definitions may be of the safe and sane dictionary kind, may be literary or historical, may employ secondary meanings cleverly, may be legitimately funny.

Reagle believes that while puzzles have changed over the years, their basic appeal remains the same. "My theory is that it's because of their interlocking nature," he says. "Unlike a lot of other kinds of puzzles, every answer you get helps you get the next one."
Indeed, of all the fads of the faddish 1920s—flagpole sitting, mah-jongg, dances like the Charleston—only crossword puzzles lasted. Even the two Timeses, of New York London, finally came around. They instituted their own puzzles, which dominate the field to this day.
How crosswords enriched the American vocabulary
The crossword craze of the 1920s was barely a year old when a magazine editor named Arthur Maurice noticed that words that had long ago fallen into disuse were suddenly popping up in everyday conversation. The words were mostly short and heavy on vowels. Maurice's conclusion: "The constructive work of the cross-word puzzle lies in the awakening of the mind and tongue to the thousand and one words that have so long been dormant."
Maurice compiled a list of 40 words, which the Literary Digest quoted in June 1925. Many of them are still very much with us. Here they are, in alphabetical order:
Abet, acute, adapt, amend, ape (as a verb), apt, aroma, asset, aver;

Ban and bare (as verbs);

Carp (as a verb), cite, curt, curtail;

Eke, elan, elate, emit, eon, etch, err;

Foment;

Goad;

Inert, ire;

Leer (as a verb);

Maim, mar;

Nee

Ooze, omit;

Pry;

Retard;

Sate, seer, sever, smudge (as a verb);

Terse;

Vat