What Happens When a Homeless New Yorker Dies?
You should be quite relieved that you never have been, and hopefully never will be, on Hart Island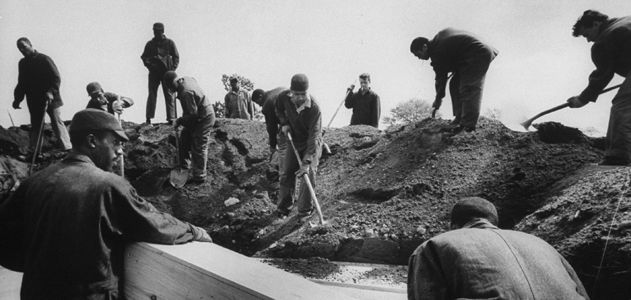 Roughly 7 million people live in New York City, and, like everywhere else in the world, some of them die. Sometimes, they die with no family and/or no money. In New York, a few thousand such people die each year in the city's hospitals alone. But these people's stories do not end with their deaths. What does the city do with the bodies? They're buried on Hart Island.
Hart Island is located in the western part of Long Island Sound, a few miles offshore from the Bronx and only a bit farther from Queens. This tiny island—131 acres—has been uninhabited for years, at least by the living. Since 1869, the city of New York has used the island as a potter's field, a burial ground for those who could not afford burial elsewhere. The potter's field now takes up roughly 101 of the island's 131 acres and is the largest tax-supported graveyard in the world.
More than 850,000 people have been buried on Hart's Island, and roughly 2,000 more burials occur each year. Dismembered body parts constitute a small minority of the burials. An estimated one-third of the burials are of very young children. With one exception—"special child baby 1 1985," the first child to die of AIDS in New York City—the bodies are buried in mass graves.
Children are buried in trenches numbering as many as 1,000 each, whereas adults—whose bodies are often disinterred when relatives later claim them—are buried in three sections of roughly 50 each. Want to see if you know anyone buried there? To find out, you need to peruse the records, which are maintained by the city's Department of Correction—a strange quirk of how the island is administered.
Because of the cost of burying 2,000 or so bodies (or parts thereof) each year, the city uses prison labor for the job. Inmates from Rikers Island, New York City's jail, are ferried over to Hart's Island and paid 50 cents per hour to stack coffins for burial. Since the 1950s, the burials occur without any sort of ceremony; grave sites are not even outfitted with markers indicating those buried. 
The city, generally, does not allow visitors, press, or tourists to see some still-present historical landmarks on the island, citing security concerns due to the fact that prisoners work there. The only exceptions made are to family members of the deceased, and even in that case, the visits must be scheduled with the Department of Correction and the visitors are not allowed to visit the gravesites unaccompanied. 
Bonus Fact
Legend has it that Hart Island is haunted. This isn't the case, of course. But if you were a homeowner on Hart Island (again, not the case, as it is uninhabited) and told tales about such ghosts, you couldn't sell your home without disclosing that to a would-be buyer. In 1991, the
New York court system decided the case of Stambovsky vs. Ackley, holding that if a seller promoted (in that case, via years of stories to the local press) his or her home as being haunted, the courts would hold him or her to that belief. As a poltergeist in one's home is a material defect of the house (assuming you aren't a Ghostbuster) that cannot be detected by any nonparanormal method of inspection, the court held that the seller must inform the purchaser of the presence of the ghosts. Failure to do so, as seller Ackley did in the above-mentioned case, entitles the buyer to his or her deposit back.
Excerpted from Now I Know: The Revealing Stories Behind the World's Most Interesting Facts. Copyright © 2013 by Dan Lewis and published by F+W Media, Inc. Used by permission of the publisher. All rights reserved.
About the Author:
Dan Lewis is a father, husband, Mets fan, lawyer, and trivia buff. He writes a daily e-mail called "Now I Know," which began in June of 2010 with twenty subscribers and now boasts nearly 100,000. A proud graduate of Tufts University and the Benjamin N. Cardozo School of Law, he's currently a digital strategist for a well-known children's company. You can sign up for his newsletter at www.NowIKnow.com.