What Are America's Most Iconic Homes?
According to the National Building Museum, these houses, more than most, have impacted the way we live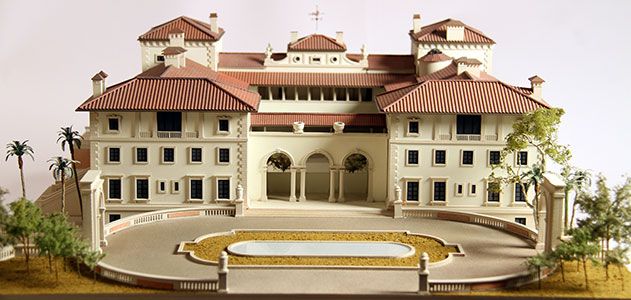 Oak Alley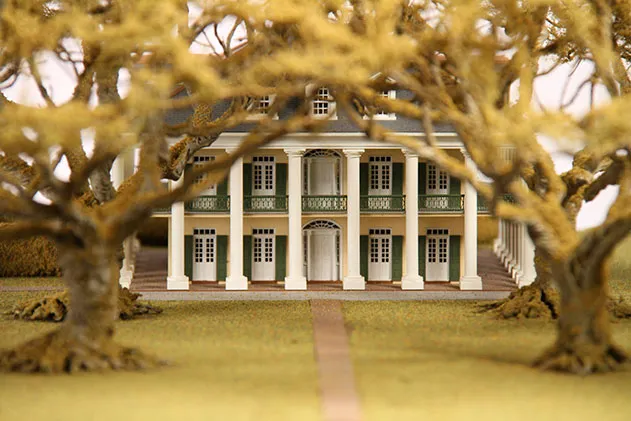 In its newest exhibition, the National Building Museum in Washington, D.C., takes on a topic near and dear to us all: home. As its title
"House & Home"
suggests, the show, which opens April 28, thoughtfully considers the difference between the physical structure and the sentimental idea.
"America is a house-proud nation," says Thomas Mellins, an architectural historian and guest curator. Almost more so than anywhere else, he adds, in America, people see their homes as reflections of their inner selves.
Running through the center of the exhibition, which includes actual wall frames and a spread of some 200 quintessential household objects, is a fabulous row of 14 celebrated American houses, reproduced as intricate scale models. (Here, we show nine.)
A variety of criteria were used to select the residences. "Sometimes their most powerful association is with an individual," says Mellins. Mount Vernon, the home of George Washington, is included. "Sometimes it may be a cultural change," he says. To address urbanization, there is Astor Court, one of the first courtyard-style apartment buildings in New York City. "And, sometimes it has to do with its impact," he adds. Sea Ranch, a community in northern California, basically defined a way of building vacation homes. "They are all considered high points of architecture as an art," says Mellins.
House of the Seven Gables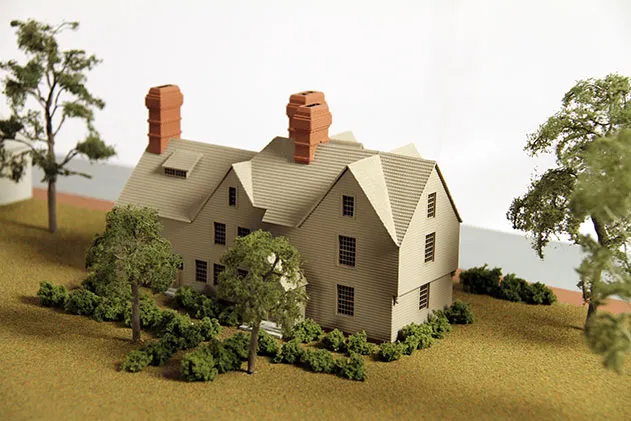 The Turner-Ingersoll house, located in Salem, Massachusetts, has the distinction of being the oldest surviving 17th-century wooden mansion in New England. Built by John Turner, a sea captain, in 1668, the original structure contained just two rooms and one enormous central chimney. But three generations of Turners as well as Samuel Ingersoll, who purchased the home in 1782, funded several additions, expanding it into a 17-room, 8,000-square-foot mansion.
"This house is architecturally powerful, but it is drawing a lot of its emotional power through literary associations," says Mellins. Writer Nathaniel Hawthorne, born just blocks away, was a cousin of Ingersoll's daughter Susanna. He frequently visited the mansion said to be the inspiration of his 1851 novel
The House of the Seven Gables
. The book begins, "Halfway down a bystreet of one of our New England towns stands a rusty wooden house, with seven acutely peaked gables, facing towards various points of the compass, and a huge, clustered chimney in the midst."
Now called the House of the Seven Gables, the mansion has dark-stained siding and small rectangular windows, but its most dominant—and replicated—feature is its gabled roof.
Mount Vernon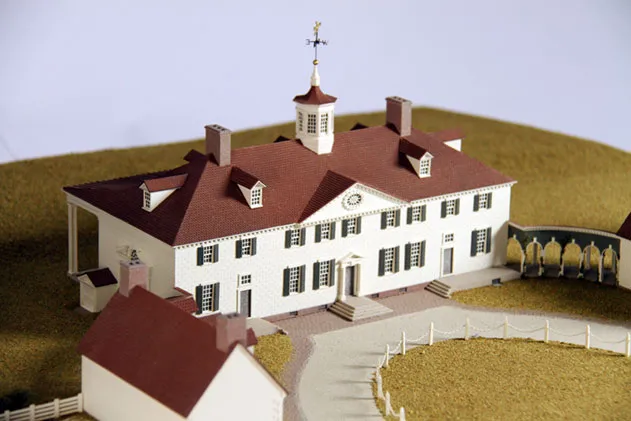 George Washington's Georgian-style plantation home near Alexandria, Virginia, is, arguably, the most emulated house in America. "This house can be seen in various forms all across the country in every region," says Mellins. "There are Howard Johnson's restaurants that are going on this. There are banks. There are funeral parlors. This becomes sort of a typical architectural image."
In the 1920s, Sears, Roebuck and Co. even sold a
mail-order home
modeled after Mount Vernon, confusingly called "The Jefferson." As the catalog billed, the eight-bedroom, two-bath southern colonial "spells success." The design called for a whitewashed brick exterior, borrowing from Mount Vernon's look. Washington's home is sided in wood, but the wood is covered with white paint laced with sand to give the appearance of stone blocks. The Sears blueprint also included a front porch that bore a resemblance to Mount Vernon's back porch, facing the Potomac River. "The outdoor porch is a key element of the American home that resonates through to today," says Mellins.
Monticello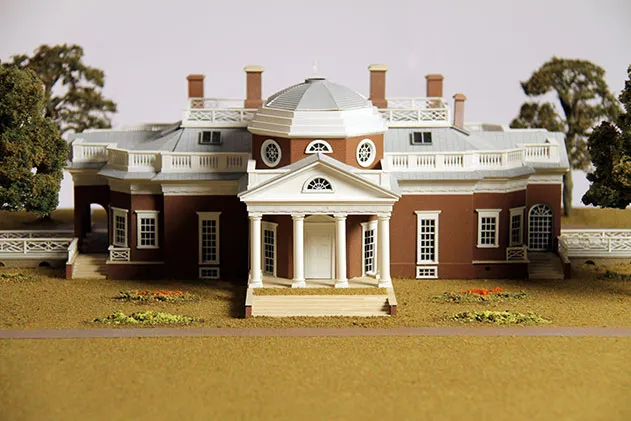 Thomas Jefferson designed Monticello, his home outside of Charlottesville, Virginia, to incorporate classical architectural features, such as columns and a dome. "He was using the forms of classical Greek and Rome to make a very strong statement about America—that we were going to inherit the democratic traditions of Greece and the republican traditions of Rome, and that this was going to be the classical world born anew on this continent," says Mellins.
But Americans were not as enamored with the Italian Renaissance architect
Andrea Palladio
as Jefferson was, and they did not clamor to build villas in Monticello's likeness. "It was a highly idiosyncratic house," says Mellins. Jefferson used its rotunda as a kind of museum of the New World, displaying artifacts Lewis and Clark collected on their expedition. "It so powerfully expresses his ideas that I am not sure it was something that people could so easily accommodate to express their own personalities," adds Mellins.
Nevertheless, certain elements of the historic home have become widely used. The exhibition's curators cite the
Amos Patterson House
, a home in Union, New York, listed on the National Register of Historic Places, as an example. Built in 1800, the home has a temple-fronted portico and Palladian windows reminiscent of Monticello.
William G. Low House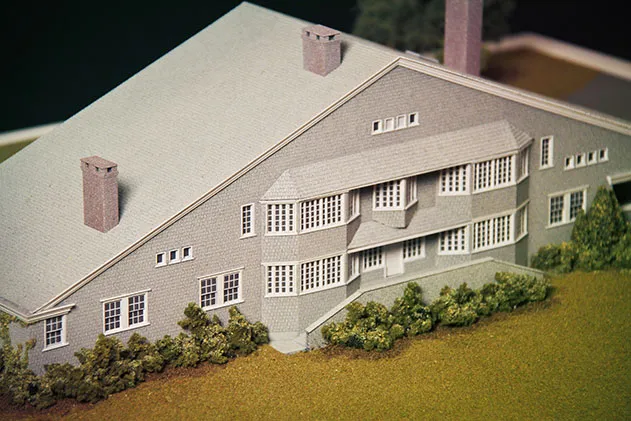 The William G. Low House, built in 1887 and demolished in 1962, was very much a product of its time. "It is just past the centennial," says Mellins. "The country is old enough by the time this is built to have a past." The firm McKim, Mead & White designed the seaside home in Bristol, Rhode Island, to reflect that past. The house is rooted in colonial building traditions, and yet its scale is exaggerated, reflecting a growing affluence in America.
The prominent feature of the William G. Low House is its sprawling, 140-foot-long gable. "The roof was the house," wrote architectural historian Richard Guy Wilson.
The residence is regarded as a signature example of Shingle-style architecture, a genre known for simple geometries, flat, shingled surfaces and horizontality. "This continues to be a popular building vocabulary," says Mellins.
Vizcaya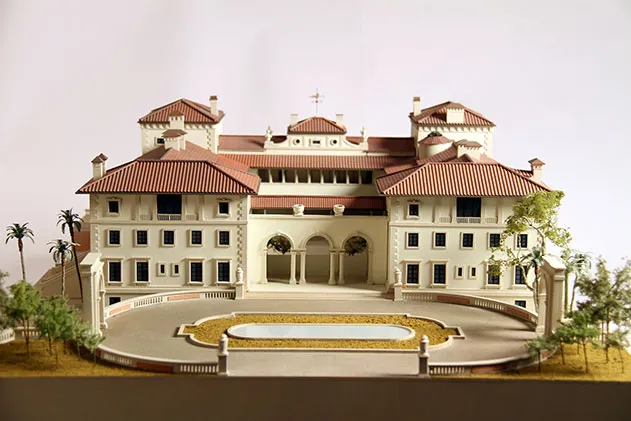 When James Deering, a former vice president of agricultural equipment giant International Harvester, decided that he wanted a winter home in Miami, he toured Europe and its grand homes for inspiration. The 18th-century Villa Rezzonico, near Venice, Italy, became his muse.
Deering named his masterpiece, a 70-room mansion on Biscayne Bay, Vizcaya. Completed in 1916, the stucco residence is trimmed with Florida limestone and roofed with red tile. Inside, there is a central loggia, or roofed courtyard, a welcoming place for visitors arriving by boat.
Vizcaya has been a huge influence on architecture throughout Miami, where homes often incorporate stucco, tile roofs and courtyards. Today, the site is open to the public.
Fallingwater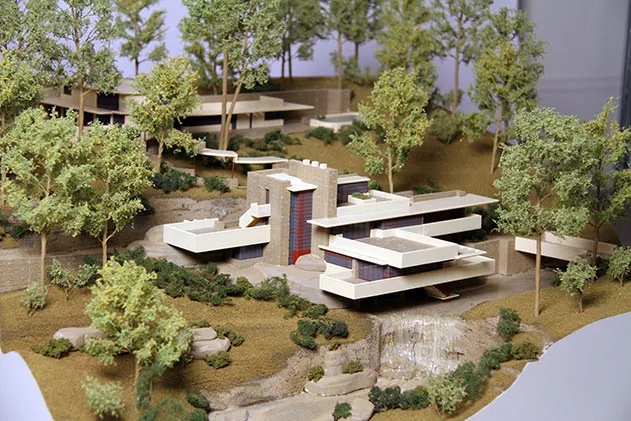 In the 1930s, Pittsburgh department store owner Edgar J. Kauffman commissioned Frank Lloyd Wright to build him a vacation home on Bear Run, a tributary in southwest Pennsylvania. Wright rose to the challenge, and built
Fallingwater
practically within the stream's waterfalls.
The house has a central stone chimney that stands like a tree trunk, with whole wings extending from it like branches. "This is really about nestling into the landscape as much as possible," says Mellins. Some of the concrete terraces hover over the rushing water.
"Frank Lloyd Wright is certainly using this house as a search for something uniquely American," says Mellins. Later building projects, including the
Aluminum City Terrace
, built in a Pittsburgh suburb in 1942, draw from Fallingwater, in their overall shape and style.
The Glass House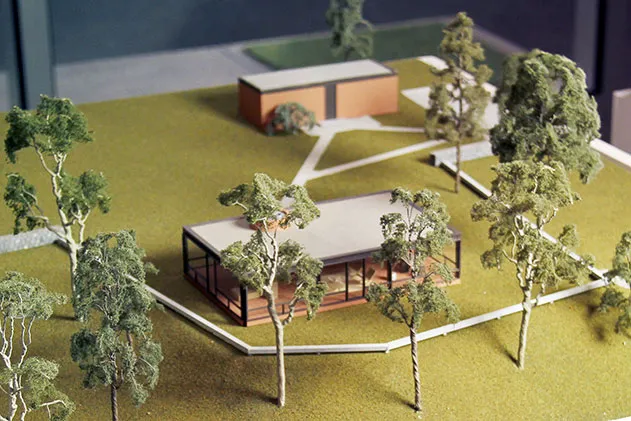 Over a 50-year period, architect Philip Johnson used his 47-acre property in New Canaan, Connecticut, as an architectural laboratory of sorts. He built 14 modernist structures, including his famous Glass House.
Built in 1949, the Glass House is a single room surrounded by floor-to-ceiling glass walls. Johnson once said that he wanted the outside landscape to be "wallpaper, where the sun and the moon and the stars make different patterns."
The Glass House hasn't been a popular design to copy, as most homeowners do not want to feel so exposed. "But the impact of that house does ripple out into culture at large," says Donald Albrecht, also a guest curator of the exhibition. "It can be argued that the use of glass walls is reflected in suburban homes that have patios and sliding glass doors."
Sea Ranch, Condominium One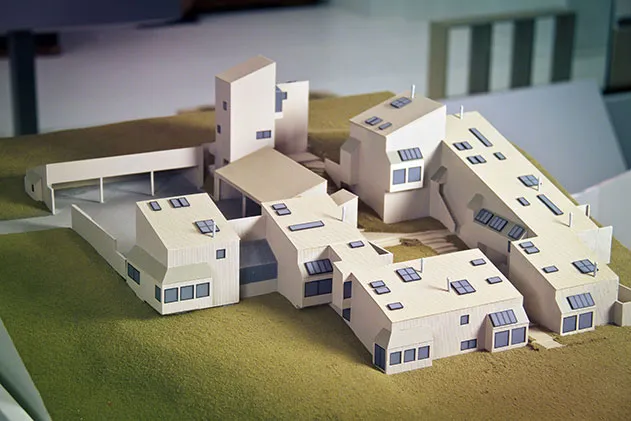 Sea Ranch is community of homes on 10 miles of Sonoma County coastline in northern California. Organized in clusters, the structures, begun in the 1960s, were built with a particular awareness to their environment. Their roofs are sloped for strong ocean winds to sweep over them and their wood siding is unpainted and naturally weathered. Any landscaping is restricted to native species.
"It runs counter to the idea that houses have to be individual, or on their own property. This had an enormous impact," says Mellins. "The very dramatic geometries of the roofs become a kind of signature of vacation houses across the country."