Unflinching Portraits of Pearl Harbor Survivors
Seventy years after the day that lives on in infamy, the soldiers stationed at Pearl Harbor recall their experiences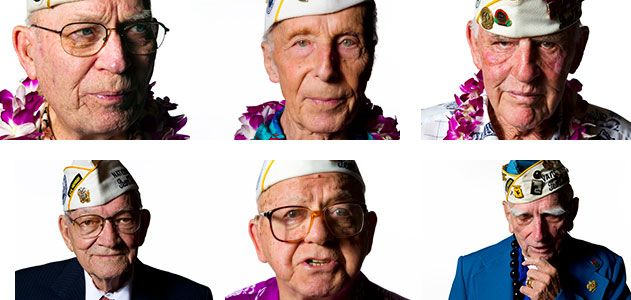 William Temple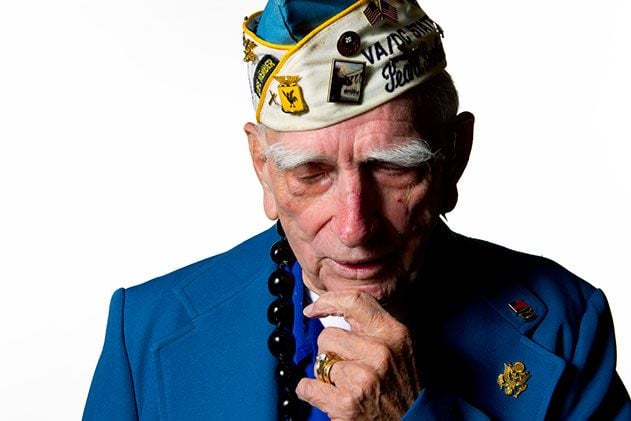 Just before 8 a.m. on Sunday, December 7, 1941, sailors stationed at Pearl Harbor near Honolulu were starting to stir—dressing for church, swabbing the deck, or already sunning themselves at local beaches on their day off—when the first of two waves of Japanese fighter planes attacked the base.
At 8:10 a.m., Japanese bombers dropped a 1,760-pound torpedo on the USS Arizona, and within nine minutes the battleship sank with 1,177 men onboard. In just two hours, the death toll from the attack on the harbor climbed to about 2,400, with nearly 1,200 wounded. "A date which will live in infamy," President Franklin Delano Roosevelt called it, before declaring war on Japan and entering the United States in World War II.
Seventy years later, only about 3,000 of the 60,000 military personnel estimated to have been at Pearl Harbor that day survive (including William Temple, above). "We are losing this 'greatest generation' faster than we can imagine," says Marco Garcia, a Honolulu-based photographer who has made it his mission to photograph survivors before it is too late.
Garcia moved from New York City to Hawaii in 2003, and shortly after he began attending the ceremonies held at the USS Arizona Memorial each year on the anniversary of the attack. As a son of a Korean War and Vietnam War veteran, the photographer says, "War was just a part of my life, hearing about wars all the time, seeing old war movies." So when he went to Pearl Harbor and saw survivors, he says, "I thought, 'Wow, these aren't these young, fresh actors that were in the movies. These are real people.'"
Richard Laubert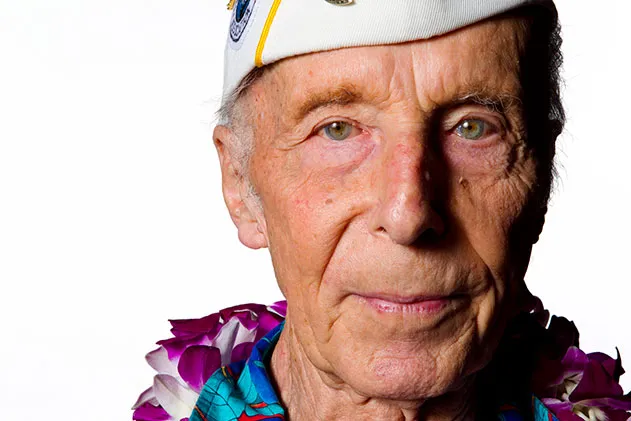 Last December, at a banquet for survivors at the Hilton Hawaiian Village, Garcia positioned himself near an entrance with his Canon EOS 1D Mark IV camera and a white backdrop. "There were about 15 guys that I was able to get in front of my lens," he says.
As he clicked away, Garcia had the survivors, like Richard Laubert (above), tell their stories of the attack. "Once you got them to open up about what they experienced, they really started to show their character," says Garcia. "I just found myself xeroxing what was in front of me. I didn't have to pose them. I didn't have to tell them to stand this way, look at the camera, look left, look right, look up, look down. They were experts in what they wanted to say and how they wanted to show it."
Garcia wanted the portraits to be intimate. He zoomed in on his subjects' faces— their stubbly chins and wrinkly skin—and found himself focusing on their eyes. "It is their eyes that saw the planes coming over. It is their eyes that saw the torpedoes flying at them. It is their eyes that saw their friends being torn apart," says Garcia. "Every single one of them has a story to tell with their eyes."
Jack Evans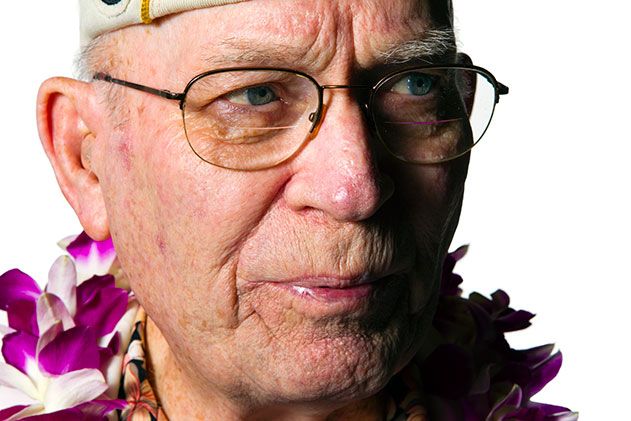 On the eve of the attack on Pearl Harbor, Jack Evans (above), a 17-year-old seaman aboard the USS Tennessee, was cajoled into dancing with Pat Campbell, a local 10-year-old girl, in a jitterbug contest at a Navy band competition. The pair won the top prize. The USS Arizona Memorial has the trophy in its collections, which, as National Park Service historian Daniel Martinez told Tom Brokaw in a 2006 interview, turned out to be "a footnote compared to the events that would unfold the next day."
Evans was dressed that December 7 and thinking about what church service to attend when general quarters sounded, signaling him to his battle station. His job was to spot aircraft from a lookout in the foretop, a platform on the mast at the ship's bow.
"When the Arizona blew, there was a chunk of metal as large as a locomotive that went spiraling up over my head and into the smoke that built up so rapidly I couldn't see the thing anymore. I have no idea where it landed but it was a terrific jolt," Evans recalled at a symposium in Pearl Harbor on the 65th anniversary of the attack. Two bombs struck the USS Tennessee during the battle, one of which drove shrapnel into Evans' legs. "I didn't even know it. I felt absolutely no pain. I guess that is the way you feel when you've got a real big charge of adrenaline in your body," said Evans. "It must have been an hour or so later when someone said, 'Hey Jack, you're bleeding,' and I looked down. By this time there were several tracks of blood going down each leg, and the blood had dried, it was that old."
For nearly 60 years, Evans' dance partner, later named Pat Thompson, wondered if the sailor survived. In 1999, she wrote a story about the jitterbug contest that was published in a veterans' newsletter. Evans happened to read it. The two connected, and as chance would have it, they discovered they had lived a mere 15 miles away from each other in San Diego for about 40 of the lost years. At the 65th anniversary in Hawaii, they shared a dance. Evans, who received a Purple Heart, served in the Navy for 33 years.
Ralph Lindenmeyer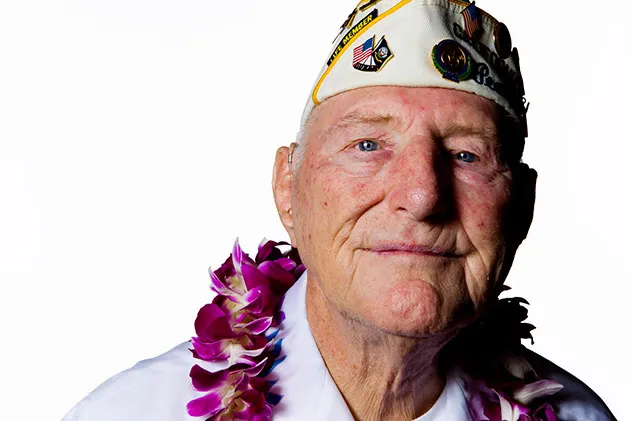 When director Michael Bay commissioned a script for his 2001 film, Pearl Harbor, he called upon Ralph Lindenmeyer (above), a former president of the San Diego chapter of the Pearl Harbor Survivors Association, to critique it. The movie had some inaccuracies, Lindenmeyer said, and too much cussing, which he persuaded the director to tone down. But he was glad to provide advice, because the project upheld the association's motto: "Remember Pearl Harbor, Keep America Alert."
In 1941, Lindenmeyer was stationed at Ford Island in Pearl Harbor as an aviation machinist's mate, inspecting, maintaining and repairing aircraft engines and propellers. He was in his barracks, looking forward to a day off at the beach in Waikiki, when the building started to tremble. "Every time a bomb would hit, the whole island would shake," he once told San Diego Magazine. He remembers seeing a squadron of Japanese planes flying over his base toward nearby Battleship Row, a group of seven ships moored at Ford Island.
After the attack, Lindenmeyer went to a mess hall to pick up sandwiches for his comrades, where he found wounded servicemen draped over tables and wet, weary sailors who had swum from damaged ships.
Mal Middlesworth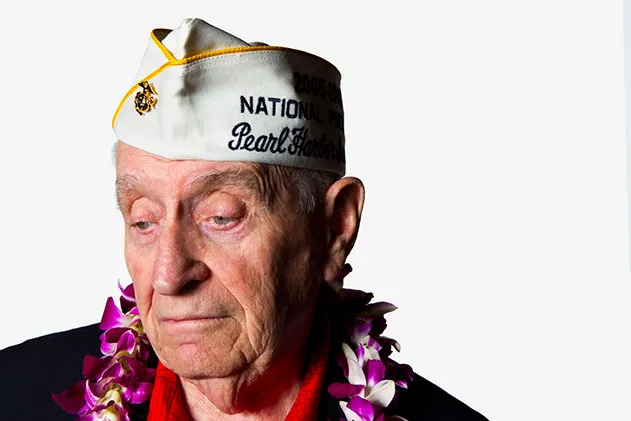 Mal Middlesworth (above) was on his way to the fantail, or rear, of the USS San Francisco to hoist the flag and begin his 8 a.m. to noon watch when he saw the first explosions on Ford Island. Initially, he thought it was a drill, with dummy bombs. But that changed when a Japanese torpedo plane whizzed by just 30 or 40 feet from him.
The USS San Francisco was a sitting duck; docked in the harbor for repairs and upgrades, the heavy cruiser had no fuel or ammunition for its large artillery. Yet miraculously the ship was not hit, and its crew suffered no injuries.
Middlesworth's post, from which he observed the battle, afforded him, as he has put it, "a front-row seat to history." He joined the Marines just two months earlier, at age 18, and served for four years—a tenure that would come to define him. "I wasn't a Marine. I am a Marine," he told Garcia. He proudly touts 17 scars from 15 major battles he fought in.
Sam Fryefield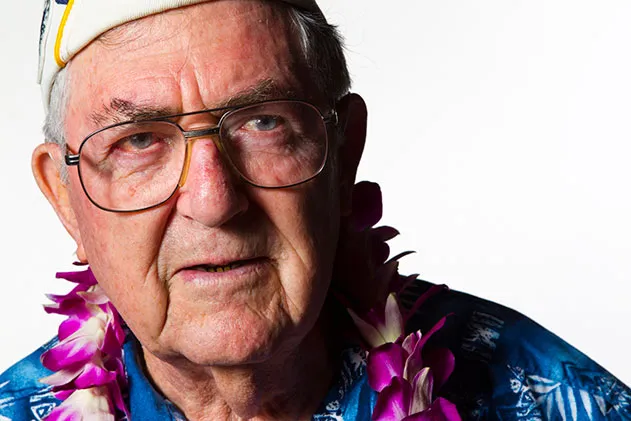 Sam Fryefield (above) was in the breakfast chow line on the USS Detroit, a light cruiser positioned in the harbor, when the air raids began. He ran to the ship's deck, where he saw torpedoes in flight, and then retreated to his battle station. "Wherever he was down below, he bit all his fingernails off, he was so scared," says Garcia.
Torpedoes came close to hitting the USS Detroit, including one that passed ten yards astern and lodged somewhere in the mud or coral below. But the ship went unscathed. In fact, after the battle ended, the USS Detroit surveyed the west coast of Oahu and searched for any signs of a retreating Japanese flotilla. Fryefield was relieved that he and his shipmates did not come into contact with the Japanese, who significantly outnumbered them.
Earl Smith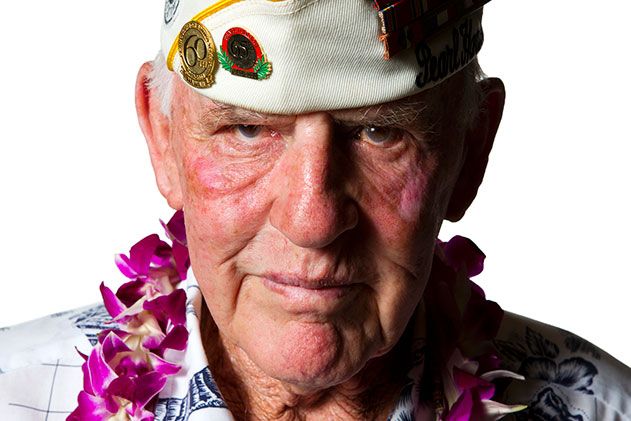 Startled awake by thunderous explosions, Earl Smith (above) scrambled up a ladder to the deck of the USS Tennessee. He slipped and chipped a tooth in the process but made it to his post in the gunnery department.
After the battle, Smith swam among burning oil slicks in an attempt to rescue men from the water. But he doesn't remember finding anyone alive. He tied ropes to the ankles of the bodies so they could be pulled from the water. "That was his task," says Garcia. "He has a macho veneer. But he more or less said it was like a horror movie." As Garcia photographed him, Smith pointed out scars covering his arms. The square-chinned seaman is a "tough guy," says Garcia, but to this day he still cannot shake the smell of burning flesh.
Michael Ganitch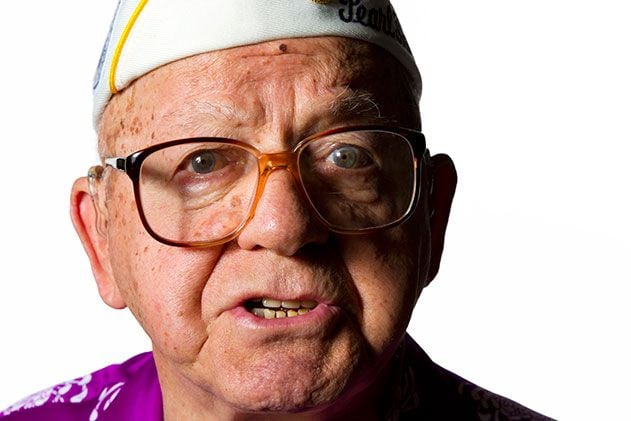 Michael "Mickey" Ganitch (above) was in his first of 23 years of active duty when he fought to defend the USS Pennsylvania at Pearl Harbor. The sailor, a farm boy from Ohio and member of the ship's football team, was supposed to play the crew of the USS Arizona that afternoon. So it was in his football uniform that he manned the ship's crow nest.
In the second wave of the Japanese air raid, a 500-pound bomb hit the USS Pennsylvania just 45 yards from Ganitch, significantly damaging the ship and killing about two dozen men. Ganitch escaped injury, even though machine gun bullets clipped the mast he climbed to get to his post.
While telling Garcia his story, Ganitch sprung into a three-point stance. "It was so natural, even though he was an 80-something year old man," says Garcia. "I pulled back and snapped it. But it was one of those unexpected moments that I just couldn't catch."
John Rauschklob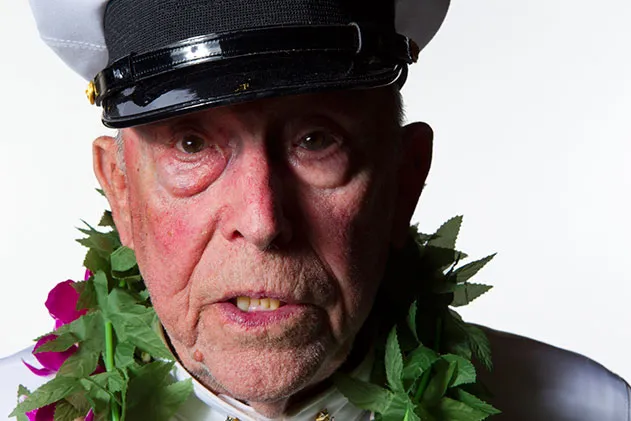 Seven torpedoes and two bombs struck the USS West Virginia. John Rauschkolb (above), then just 20 years old, felt the USS West Virginia shake violently as the torpedoes slammed into its portside below where he stood as a Navy signalman. He witnessed comrades die within feet of him and recalls explosions occurring in spots where he had just been standing. The crew managed to counterflood a portion of the ship to prevent it from capsizing, but the USS West Virginia sunk into the muddy harbor floor, its deck left just above the water's surface. In a small boat, Rauschkolb made his way to the even worse stricken USS Arizona, where he helped recover bodies.
More than 100 men on the USS West Virginia died. Rauschkolb was reported missing in action. His family, in Belleville, Illinois, held memorial services for him on December 19, 1941, and then received a telegram: "Navy Department is pleased to advise you later reports received indicate that your son, previously reported lost, is a survivor. The great unnecessary anxiety caused you is deeply regretted." After agony, ecstasy. The next night, Rauschkolb, reunited with his family and friends, celebrated his 21st birthday.
Rauschkolb was discharged from the Navy in 1977 after 39 years of service. In Pearl Harbor, on the 65th anniversary of the assault, he shook hands in a gesture of peace with Japanese war veteran Takeshi Maeda, who fired a torpedo into the USS West Virginia.
Art Herriford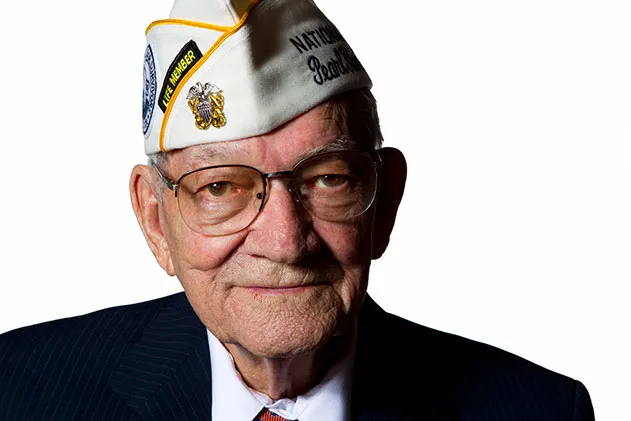 Art Herriford (above) has a photograph of Pearl Harbor taken just before the attack that conjures up memories. He recalls sitting down to a bowl of cereal that morning on the USS Detroit and never taking a bite. He was lucky, in that his ship and its crew were unharmed. But he observed firsthand the tragedy that befell the USS Arizona.
"I was looking directly at the Arizona when she went sky-high," Herriford, president of the Pearl Harbor Survivors Association, once told the Associated Press. "It's still hard to believe that in the time period of the snap of a finger, 1,177 lives could be wiped out."
Garcia plans to take more portraits at this year's reunion. A part of him fears that the day that Roosevelt declared would "live in infamy" might be forgotten as the number of survivors dwindles. "That is why I feel this is important to do," says Garcia. "I don't want this history to be forgotten."