The True Story of the Monuments Men
Without the work of these curators and professors, tens of thousands of priceless works of art would have been lost to the world forever
Captain Robert Posey and Pfc. Lincoln Kirstein were the first through the small gap in the rubble blocking the ancient salt mine at Altausee, high in the Austrian Alps in 1945 as World War II drew to a close in May 1945. They walked past one sidechamber in the cool damp air and entered a second one, the flames of their lamps guiding the way.
There, resting on empty cardboard boxes a foot off the ground, were eight panels of The Adoration of the Lamb by Jan van Eyck, considered one of the masterpieces of 15th-century European art. In one panel of the altarpiece, the Virgin Mary, wearing a crown of flowers, sits reading a book.
"The miraculous jewels of the Crowned Virgin seemed to attract the light from our flickering acetylene lamps," Kirstein wrote later. "Calm and beautiful, the altarpiece was, quite simply, there."
Kirstein and Posey were two members of the Monuments, Fine Arts, and Archives section of the Allies, a small corps of mostly middle-aged men and a few women who interrupted careers as historians, architects, museum curators and professors to mitigate combat damage. They found and recovered countless artworks stolen by the Nazis.
Their work was largely forgotten to the general public until an art scholar, Lynn H. Nicholas, working in Brussels, read an obituary about a French woman who spied on the Nazis' looting operation for years and singlehandedly saved 60,000 works of art. That spurred Nicholas to spend a decade researching her 1995 book, The Rape of Europa, which began the resurrection of their story culminating with the movie, The Monuments Men, based upon Robert Edsel's 2009 book of the same name. The Smithsonian's Archives of American Art holds the personal papers and oral history interviews of a number of the Monuments Men as well as photographs and manuscripts from their time in Europe.
"Without the [Monuments Men], a lot of the most important treasures of European culture would be lost," Nicholas says. "They did an extraordinary amount of work protecting and securing these things."
Nowhere, notes Nicholas, were more of those treasures collected than at Altaussee, where Hitler stored the treasures intended for his Fuhrermuseum in Linz, Austria, a sprawling museum complex that Hitler planned as a showcase for his plunder. On that first foray, Kirstein and Posey (portrayed in pseuodyminity by actors Bob Balaban and Bill Murray, respectively) had also discovered Michelangelo's Madonna, which was spirited out of Bruges, Belgium, by the Nazis in September 1944 as the Allies advanced on the city. Within days, they'd also found priceless works by Dutch painter Johannes Vermeer.
They summoned the only Monuments Man for the job, George Stout, who had pioneered new techniques of art conservation before the war working at Harvard's Fogg Museum. Early in the war, Stout (given the name Frank Stokes as played by George Clooney in the film) unsuccessfully campaigned for the creation of a group like the Monuments Men with both American and British authorities. Frustrated, the World War I veteran enlisted in the Navy and developed aircraft camouflage techniques until transferred to a small corps of 17 Monuments Men in December 1944.
Stout had been crossing France, Germany and Belgium recovering works, often traveling in a Volkswagen captured from the Germans.  He was one of a handful of Monuments Men regularly in forward areas, though his letters home to his wife, Margie, mentioned only "field trips."
Monuments Men like Stout often operated alone with limited resources. In one journal entry, Stout said he calculated the boxes, crates, and packing materials needed for a shipment.  "No chance of getting them," he wrote in April 1945.
So they made do. Stout transformed German sheepskin coats and gas masks into packing materials. He and his small band of colleagues rounded up guards and prisoners to pack and load. "Never anywhere in peace or war could you expect to see more selfless devotion, more dogged persistence in going on, much of the time alone and empty-handed, to get it done," Stout wrote to a stateside friend in March 1945.
(Map designed by Esri)
The Allies knew of Altaussee thanks to a toothache. Two months earlier, Posey was in the ancient city of Trier in eastern Germany with Kirstein and needed treatment. The dentist he found introduced him to his son-in-law, who was hoping to earn safe passage for his family to Paris, even though he had helped Herman Goering, Hitler's second-in-command, steal trainload after trainload of art. The son-in-law told them the location of Goering's collection as well as Hitler's stash at Altaussee.
Hitler claimed Altaussee as the perfect hideaway for loot intended for his Linz museum. The complex series of tunnels had been mined by the same families for 3,000 years, as Stout noted in his journal. Inside, the conditions were constant, between 40 and 47 degrees and about 65 percent humidity, ideal for storing the stolen art. The deepest tunnels were more than a mile inside the mountain, safe from enemy bombs even if the remote location was discovered. The Germans built floors, walls, and shelving as well as a workshop deep in the chambers. From 1943 through early 1945, a stream of trucks transported tons of treasures into the tunnels. 
When Stout arrived there on May 21, 1945, shortly after hostilities ended, he chronicled the contents based on Nazi records: 6,577 paintings, 2,300 drawings or watercolors, 954 prints, 137 pieces of sculpture, 129 pieces of arms and armor, 79 baskets of objects, 484 cases of objects thought to be archives, 78 pieces of furniture, 122 tapestries, 1,200-1,700 cases apparently books or similar, and 283 cases contents completely unknown. The Nazis had built elaborate storage shelving and a conservation workshop deep within the mine, where the main chambers were more than a mile inside the mountain.
Stout also noted that there were plans for the demolition of the mine. Two months earlier, Hitler had issued the "Nero Decree," which stated in part:
All military transport and communication facilities, industrial establishments and supply depots, as well as anything else of value within Reich territory, which could in any way be used by the enemy immediately or within the foreseeable future for the prosecution of the war, will be destroyed.
The Nazi district leader near Altaussee, August Eigruber, interpreted the Fuhrer's words as an order to destroy any objects of value, which required the demolition of the mines so the artwork would not fall into enemy hands. He moved eight crates into the mines in April. They were marked "Marble - Do Not Drop," but actually contained 1,100 pound bombs.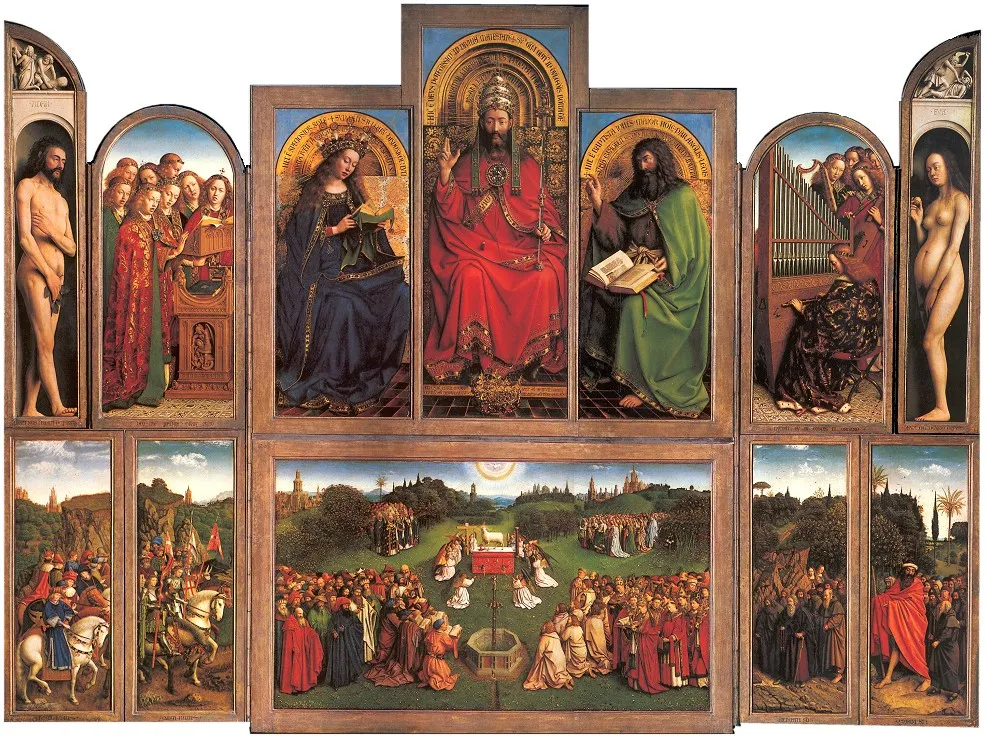 His plans, however, were thwarted by a combination of local miners wanting to save their livelihood and Nazi officials who considered Eigruber's plan folly, according to books by Edsel and Nicholas. The mine director convinced Eigruber to set smaller charges to augment the bombs, then ordered the bombs removed without the district leader's knowledge. On May 3, days before Posey and Kirstein entered, the local miners removed the crates with the large bombs. By the time Eigruber learned, it was too late. Two days later, the small charges were fired, closing the mine's entrances, sealing the art safely inside.
Stout originally thought the removal would take place over a year, but that changed in June 1945 when the Allies began to set the zones of post-VE day Europe and Altaussee seemed destined for Soviet control, meaning some of Europe's great art treasures could disappear into Joseph Stalin's hands. The Soviets had "Trophy Brigades" whose job was to plunder enemy treasure (it's estimated they stole millions of objects, including Old Master drawings, paintings, and books).
 Stout was told to move everything by July 1. It was an impossible order.
"Loaded less than two trucks by 11:30," Stout wrote on June 18. "Too slow. Need larger crew."
By June 24, Stout extended the workday to 4 a.m. to 10 p.m., but the logistics were daunting. Communication was difficult; he was often unable to contact Posey. There weren't enough trucks for the trip to the collecting point, the former Nazi Party headquarters, in Munich, 150 miles away. And the ones he got often broke down. There wasn't enough packing material. Finding food and billets for the men proved difficult. And it rained. "All hands grumbling," Stout wrote.
By July 1, the boundaries had not been settled so Stout and his crew moved forward. He spent a few days packing the Bruges Madonna, which Nicholas describes as "looking very much like a large Smithfield ham." On July 10, it was lifted onto a mine cart and Stout walked it to the entrance, where it and the Ghent altarpiece were loaded onto trucks. The next morning Stout accompanied them to the Munich collecting point.
On July 19, he reported that 80 truckloads, 1,850 paintings, 1,441 cases of paintings and sculpture, 11 sculptures, 30 pieces of furniture and 34 large packages of textiles had been removed from the mine. There was more, but not for Stout who left on the RMS Queen Elizabeth on Aug. 6 to return to home on his way to a second monuments tour in Japan. In her book, Nicholas says Stout, during just more than a year in Europe, had taken one and a half days off.
Stout rarely mentioned his central role campaigning for the Monuments Men and then saving countless pieces of priceless art during the war. He spoke about the recoveries at Altaussee and two other mines briefly in that 1978 oral history, but spent most of the interview talking about his museum work.
But Lincoln Kirstein didn't hold back to his biographer. Stout, he said, "was the greatest war hero of all time – he actually saved all the art that everybody else talked about."