The True History of Suffragette
Emily Wilding Davison was a tireless and ingenious activist for the cause of women's suffrage in Britain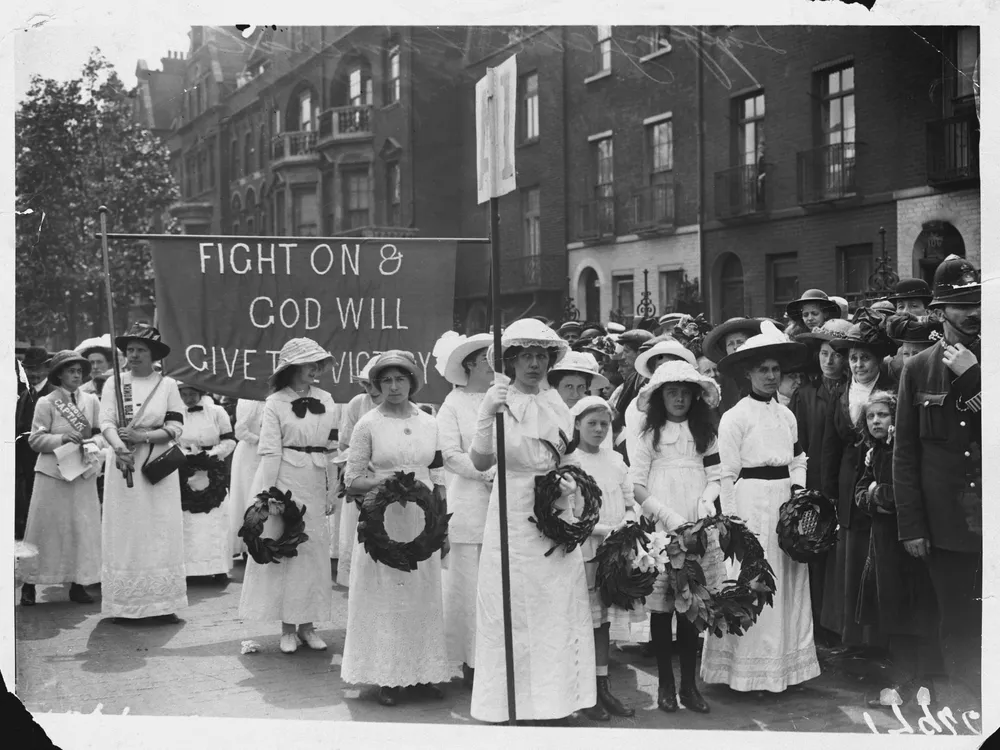 In the final scene of the movie Suffragette, actress Carey Mulligan disappears into a scene more befitting a Ken Burns documentary. As the fictional laundress-cum-suffragette Maud Watts, Mulligan steps out into the London street and her full-color film world dissolves into genuine black-and-white archival footage. A parade of white-gowned suffragettes marches past in what was a very real funeral procession, held June 14, 1913, for Emily Wilding Davison, a peripheral but pivotal character in Suffragette.
Unlike Davison, (played by Natalie Press) who was a notorious figure in suffragette circles, Mulligan's Maud and the other leads are fictional composites drawn from six years of exhaustive research by director Sarah Gavron and screenwriter Abi Morgan. They read unpublished diaries and letters (many from the suffragette collection at the Museum of London) as well as police reports - some of which were only made public in 2003.
The filmmakers deliberately modeled Maud on the stories of working class suffragettes, whose activism put their jobs, marriages and even custody of their children, at risk. "I think what was interesting for us was to create a rich ensemble of composite characters who we felt would carry the voices of these women who hadn't been heard and allow them to segue and intersect with these extraordinary moments of history," says Morgan.
The soulful faces in the movie's final shot drive home that although Maud was fictional, her desperate circumstances as well as key events in the movie - the bombing of Chancellor of the Exchequer David Lloyd George's empty country house and Davison's fatal protest at the Epsom Derby - were real. After decades of peaceful protest with no result, suffragettes, particularly those in Emmeline Pankhurst's (Meryl Streep in a brief cameo) Women's Social and Political Union (WSPU), followed the motto "Deeds Not Words." Taking pains not to hurt people, they created mayhem by attacking property - including slashing a Velázquez in the National Gallery  - and disrupting government meetings.
Although voting reforms of the mid-19th century had extended the franchise to many British men, it took decades before women, and even some non-landowning men, would be allowed to vote for Parliament. Even in early democracies like France and the United States, women had to campaign vigorously for equal voting rights. New Zealand, then a largely self-governing British colony, enfranchised women in 1893. In 1906, Finnish women were the first in Europe to cast ballots. Both British and American women began actively pushing for "Votes for Women" around the middle of 19th century.
While each country has its suffragette heroes, curious U.S. moviegoers more familiar with the stories of Susan B. Anthony or Elizabeth Cady Stanton will most likely have to Google Davison, the former governess, whose final protest gives the movie its dramatic ending. At the Epsom Derby Horse race on June 4, 1913, the 40-year-old slips under the spectator railing and cuts between horses galloping toward the finish line. Pathé newsreel footage shows her briefly reaching up toward the heads of the oncoming horses with something in her hand. Almost instantly she is trampled by Anmer, King George V's horse. Her intentions, whether to sacrifice herself in protest or to attach a scarf with the suffragette movement's colors of violet, white and green to a horse's bridle, have been parsed in books, academic papers and documentaries for a century.
Today, Davison's gravesite in Morpeth, Northumberland, is a feminist shrine that attracts visitors from around the world. Post-filming, Mulligan got a small tattoo on her wrist reading "Love that overcometh" words used by the WSPU to memorialize Davison.
The particular clip of nitrate film that ends Suffragette is part of Davison's still unwinding story. It was a lucky find, discovered undeveloped at the British Film Institute while the feature film was in production. The nameless Edwardian marchers brushing by the camera with somber gazes are some of the estimated 100,000 are who turned out for Davison's funeral. "Some people say it was the largest feminist gathering ever been in London," says June Purvis, professor emeritus of women's and gender history at the University of Portsmouth and a consultant in the film.
"What is extraordinary about that footage is you can see that this wasn't a small movement of ladies who meet for tea in Kensington," says Suffragette's screenwriter Abi Morgan.  "This was a national and international movement.
Davison was born on October 11, 1872, into circumstances worthy of a "Downton Abbey" subplot. Her parents, who were distant cousins, had an upstairs-downstairs courtship. Her mother, Margaret, a teenage housekeeper from Northumberland was called to take care of the younger of the nine children of Charles Davison, her father, who was a wealthy businessman, and a widower, 28 years her senior. Soon, Margaret had given birth to the couple's first child. They eventually married and had four children of their own.
Emily, their third, lived in and around London most of her early life, enjoying the advantages her middle-class father could afford, good schools, study abroad in France and Switzerland and leisure activities. The thin redhead skated, bicycled and won medals for swimming, writes biographer Lucy Fisher, a Times of London correspondent and distant relative. Gifted with a feistiness that later allowed her to buck convention, the future suffragette once told a nanny, "I don't want to be good."
Charles Davison died when Emily was 20, leaving the family in vastly reduced circumstances. Margaret moved back to Northumberland, and Emily was forced to drop out of Royal Holloway College in Surrey, a women's school.
Emily took teaching positions and governess jobs, scrapping together enough money to complete her studies at another women's college, St. Hugh's College at Oxford. Although she received high honors on her English Language and Literature finals in 1895 at age 23, she was not technically given a degree, as Oxford did not bestow them to women until 1920.
Davidson pursued one of the only career paths open to an educated woman, working as teacher and a live-in governess, and somehow managing to complete courses at the University of London, where she earned a degree in the arts in 1906 and one in Modern Languages in 1908.
In 1906, at age 34, she attended her first meeting of the WSPU and immediately joined the organization. By 1909, she left her last governess job and became a full-time activist and writer.
Davison was tireless and ingenious. She was arrested nine times for offenses ranging from breaking windows at Parliament to firebombing letterboxes. One of her more creative stunts was sneaking into a closet in the House of Commons one night in 1911 so she could claim Parliament as her place of residence on the official census. It was a subversive double protest. In one act, she could - as many suffragettes were attempting - avoid being counted as a citizen by a government that didn't recognize her right to vote while if she were counted, it would be at the address of the center of that same discriminatory body.
After her first arrest she wrote gleefully to a friend. "Did you read about it? We went outside Lloyd George's Budget meeting at Limehouse, and protested at women being kept out, etc. I was busy haranguing the crowd when the police came up and arrested me." She describes breaking windows in her jail cells and adds "What do you think of me?" before signing off "your loving and rebellious friend." This letter is among those collected by Carolyn P. Collette, professor emeritus at Mount Holyoke College, in a volume of Davison's writings.
Davison also wrote articles for the WSPU publications, Votes for Women and Suffragette, as well as letters to newspaper editors.  She traveled Great Britain giving speeches. There are no extant copies of her speeches, however Collette does include a draft of a talk to the London Westminster and County Bank Literature and Debating Society in 1911. Davison begins by saying, "There is not a single question in this country which touches men that does not also touch women."
She then takes on a slew of issues including the wage gap. Her words are depressingly contemporary. "Women are cheap today," she wrote. "Women are being ruined in body and physique by having to live on sweated wages." She cites female clerks, civil servants and teachers who are all paid less than their male counterparts. Elaborating on the status of her own former profession, she says female teachers "often have larger classes and receive less pay. Now all this is bad and unfair."
In what would be her final incarceration in 1912—sentenced to six months for lighting mailboxes on fire—Davison threw herself down an iron staircase, injuring her head and spine, to protest the brutality of force feedings (she herself suffered 49 of them), which involved holding women down, prying their mouths open with metal implements, and threading tubes down their throats through their noses. Writing about the ordeal, she said, "The idea in my mind was 'one big tragedy may save many others.'" Collette,  says the toll of the incident was evident in Davison's handwriting, which took on a spidery aspect after her fall.
Then came the Epsom Derby. Whether the 40-year-old went alone or with friends, and whether she thought she would die or thought she could nimbly pass through running horses to attach a suffragette scarf onto the King's horse, as depicted in the movie, is all still debated. 
"No one can be absolutely sure. Historians will dispute it to the end of time," says Morgan. "My belief is that it was a reckless act of protest and she had not fully thought it through."  Purvis says Davison, as a devout Anglican, would not have deliberately committed suicide.
BBC horse racing expert Clare Balding made an entire documentary, "Secrets of the Suffragette", which includes enhancing the newsreels of the day. Davison's position on the race track, the contents of her purse and pockets and future plans have all been dissected trying to divine her motives. "I think it was a demonstration rather than sabotage, but unfortunately, it ended up being fatal to her," Balding says.
Did her protest work? "I think it woke England up," says Purvis "and shamed them a bit."
With England's entry into World War I the next year, all suffrage activity stopped. With so many men in the battlefield, women took on many important roles in society and business, effectively proving their worth. By 1918, women householders over 30 years old  and lower class, and non-property owning men over 21, who had also been disenfranchised, received the vote. Universal suffrage finally came in 1928.
One hundred years on the cause and controversies continue. "I think what feminism means is it means that you believe in equality between the sexes and I can't understand why anyone wouldn't believe in that," says Suffragette director Sarah Gavron.
Suffragette the movie ends with a one-two punch. The first hit is the poignant mourners at Davison's funeral march. Immediately after, some unusual credits roll. They are a list of countries ordered chronologically according to when their female citizens could vote. Women in the U.S. gained suffrage in 1920 (Although African-American women and men of the American South would have to wait until the Civil Rights Movement of the 1960s for full voting rights.) France waited until 1944. With independence from Britain, Indian women could vote in 1947. Swiss women had to wait until 1971 to cast ballots in national elections. Pulling up the rear is Saudi Arabia, where women went to the polls for the first time in December, that is if they could get a man to drive them.