The Trashy Beginnings of "Don't Mess With Texas"
A true story of the defining phrase of the Lone Star state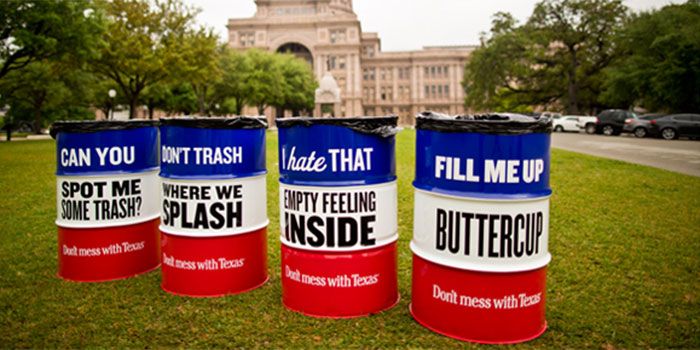 The indoctrination to love and live Texas begins at a young age in the Lone Star State. Beginning in early childhood, Texans learn to "Remember the Alamo," chant the seemingly infinite lyrics to "Deep in the Heart of Texas," and recite the pledge of allegiance to the Texas flag—after, of course, pledging to the American flag. Most people quickly learn to "hook 'em," "gig 'em" "sic 'em" or put their "guns up" based on family loyalties to their respective Texas universities. 
But "Don't mess with Texas" is a phrase that inspires Texans of all regions and all alma maters and incites mass derision from the rest of the country.  Although this mark of Texas swagger is used to elicit Texas pride in a myriad of situations, it was, and continues to be, a relatively trashy call to arms. Literally. The slogan was developed by the Texas Department of Transportation for an anti-littering campaign.
"It's not just a prideful remark, trying to pick a fight," says Jeff Austin III, commissioner on the Texas Transportation Commission.  "It's don't litter in Texas, don't mess up Texas. We want to keep it a beautiful state. Texas is our home."
In the late 1980s, the Texas Department of Transportation had a mess on its hands. It was spending $20 million annually on trash pick-up, and that number was increasing by about 17 percent year over year. Trash littered the highways and it only seemed to be getting worse - everything is bigger in Texas, after all. So the department put out a request for a marketing campaign to address the rubbish.
Tim McClure and his colleagues at Austin-based advertising agency GSD&M were just a few weeks away from the deadline, without a clever concept to pitch.  On an early morning walk, McClure noted the trash in his own neighborhood and thought, "This is a mess,"—just  like his mother used to say about his childhood bedroom. That's when it hit him that his team was going about this the wrong way. Texans don't talk about "litter" in their daily lives but they do say "mess," and just like that "Don't mess with Texas" was born. 
Along with the agency's catchy slogan came hard data indicating whom the campaign should target. Research compiled by Daniel B. Syrek, a Californian who specialized in measuring trash, indicated that young men between the ages of 16 and 24 were the major perpetrators.
Within a month of convincing the department to invest in "Don't mess with Texas," McClure and his team were stashing bumper stickers spouting the slogan in truck stops and fast food restaurants, places frequented by their target demographic. But this paraphernalia wasn't labeled as from the TxDOT and had no clear indication about its true meaning, an intentional ploy by McClure.
"We thought the way to get it into the public's consciousness quickest was to let Texans own it," says McClure. "I don't think they would have put something that said 'Don't Litter Texas.' 'Don't Trash our State.' I don't think they'd do it, but because it had that Texas bravado to it they adopted 'Don't mess with Texas' as their own battle cry."
The campaign officially launched on New Years Day, 1986, during the television broadcast of the 50th annual Cotton Bowl. That year's game, held as always in Dallas, saw Texas A&M trounce Auburn and its Heisman Trophy-winning running back, Bo Jackson. Viewers saw a commercial starring Texas blues musician Stevie Ray Vaughan strumming a guitar in front of a large Texas flag at the Austin City Limits studio. A narrator's voice drifts over the music reminding the audience of the expense and illegality of littering.  The spot ends with Vaughan's unwavering command, "Don't mess with Texas." 
So well-received was the commercial that viewers started calling their local television stations asking for the "music video" that played during the Cotton Bowl. By the end of that year, the agency released four more commercials starring singers and athletes, plus a radio advertisement.
And it worked. When Syrek counted Texas trash one year later, he found a 29 percent reduction in litter on the road. The next year it was down 54 percent and by 1990, it was down 72 percent from 1986. The campaign continues today, featuring many famous Texas faces from Willie Nelson to Erykah Badu to Matthew McConaughey.
And Texans really have adopted the phrase as a battle cry. In his acceptance speech at the 2000 Republican National Convention, then-Texas Governor George W. Bush dropped the line in his mention of the late Bob Bullock, who died while serving as Bush's lieutenant governor in Texas.
Fans of the University of Texas at Austin paired the phrase with the school's signature burnt orange on t-shirts, and in recent years, advocates for women's health in Texas have doctored the phrase to read "Don't mess with Texas women" to use on protest posters.
It wasn't until 2002 that the Texas Department of Transportation trademarked the phrase to receive royalties from its use. They've engaged in a few lawsuits since, as in 2012 when author Christie Craig titled her racy romance novel Don't Mess with Texas. Reasonably, the Texas government wasn't keen on associating its precious slogan with the story of the late-night shenanigans between a woman suspected of murdering her philandering boyfriend and a private investigator out to prove her innocence. The state won the case and Craig renamed her book Only in Texas.
Today, special "Don't mess with Texas" trashcans are sprinkled around the state, commercials still run and there's plenty of merchandise to be purchased.  Plus, the state is still measuring "visible litter" on roadways. Most recently, in 2013 Sherry Matthews Advocacy Marketing conducted a study in which researchers concluded that 434,509,848 pieces of visible litter accumulate on Texas roads each year. According to the study, this was a 34 percent reduction from the study conducted in 2009.
Whether its reducing trash or reinforcing Texans' hubris, "Don't mess with Texas" has, in the words of McClure, " so reached into Texans' DNA that I think they just feel like it's been around forever."