On September 29, 1923, ahead of the football season's opening kickoff, Jack Trice stepped onto the field at Iowa State College as the school's first Black athlete. According to the student yearbook, the Iowa State Cyclones easily defeated Simpson College, whose first dropkick "was neatly blocked by Trice, star tackle."
Nine days later, Trice was dead at age 21. The cause of death: "traumatic peritonitis" from internal injuries sustained during the second football game of the season.
Iowa State's first Black athlete
It was 1922 when Trice first arrived in Ames, Iowa, with three of his teammates from East Technical High School in Cleveland. They were accompanied by their former coach, Sam Willaman, who'd recently become Iowa State's new head football coach. Willaman had persuaded the athletes to help form the nucleus of a powerful team in Ames, but since NCAA regulations barred freshmen from competing on varsity squads, they would need to wait a year to take the field for a major game.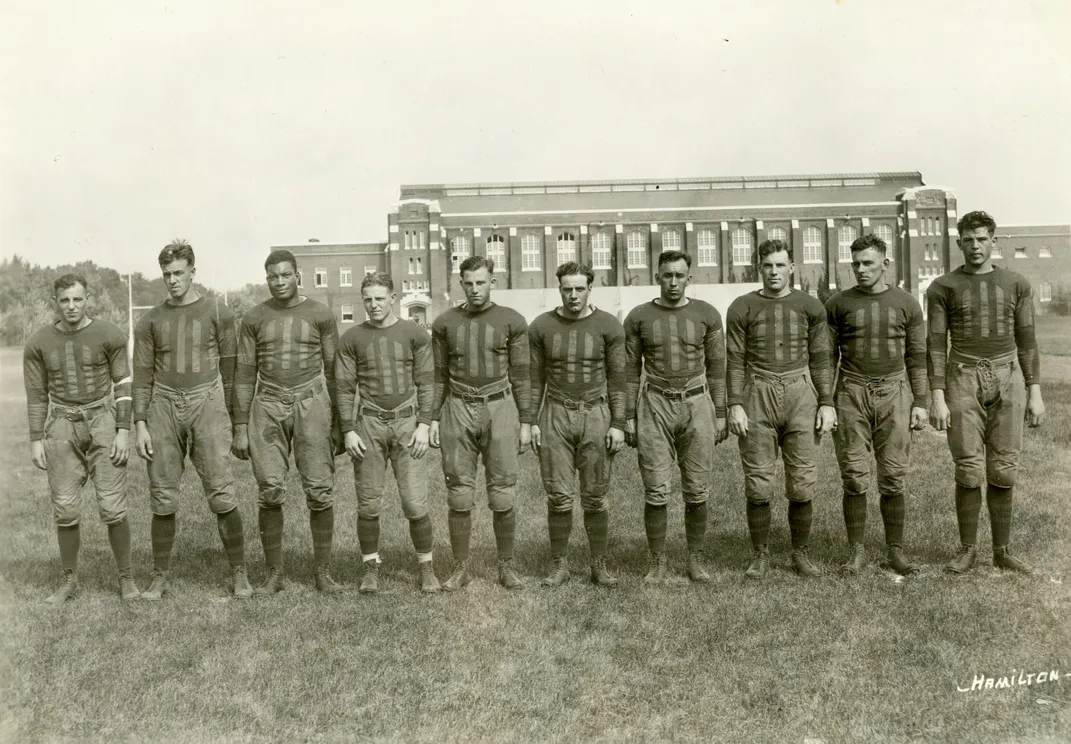 Back home, Trice and his teammates had dominated Ohio football circles. In the 1920 season—their junior year—they made it to the national championship game but lost to Everett High School. The next season, East Tech was set to play for the title against Bryan High School in Texas, but the team backed out after learning Trice would not be allowed to compete on account of his race. As a player told the local newspaper, "[Trice] gave us the best he had—we owe it to him."
In a column for the Waco News-Tribune, Texas sports commentator H.H. "Jinx" Tucker suggested Bryan allow Trice to play, ominously predicting that he would be "carried off the field at Cotton Palace park. More than likely, he would be embalmed." Tucker knew his audience: It's possible some readers were among the 10,000 people who participated in the gruesome lynching of farmhand Jesse Washington in nearby Waco in 1916. Many more were complicit in Texas' institutionalized system of segregation.
At Iowa State, Trice majored in animal husbandry and competed on both the freshman track and football teams. As the son of a farmer, he wanted to use his degree to uplift other Black farmers throughout the Cotton Belt.
Ames was a community with very little diversity. According to a 2010 journal article by historian Dorothy Schwieder, only "20 or so Black students were enrolled at [Iowa State], a college of around 4,500 students." Most lived in downtown Ames, separated from their classmates by an unofficial policy barring non-white students from living with white students.
Trice brought his wife, Cora Mae Trice, to Ames in the summer of 1923, around the same time that members of the Ku Klux Klan officially formed a local chapter in the city. It didn't take long for the Klan to start burning crosses in Ames. Nationally, the Klan was in the middle of a huge expansion, capitalizing on cultural upheaval and white Protestants' desire to maintain the status quo to fill the ranks of their white supremacist organization.
The 1923 Simpson game marked Trice's much-anticipated varsity debut. Iowa State fans watched Trice tear around the field, using his speed and power to create havoc. Among them was Cora Mae, attending her first game in Iowa.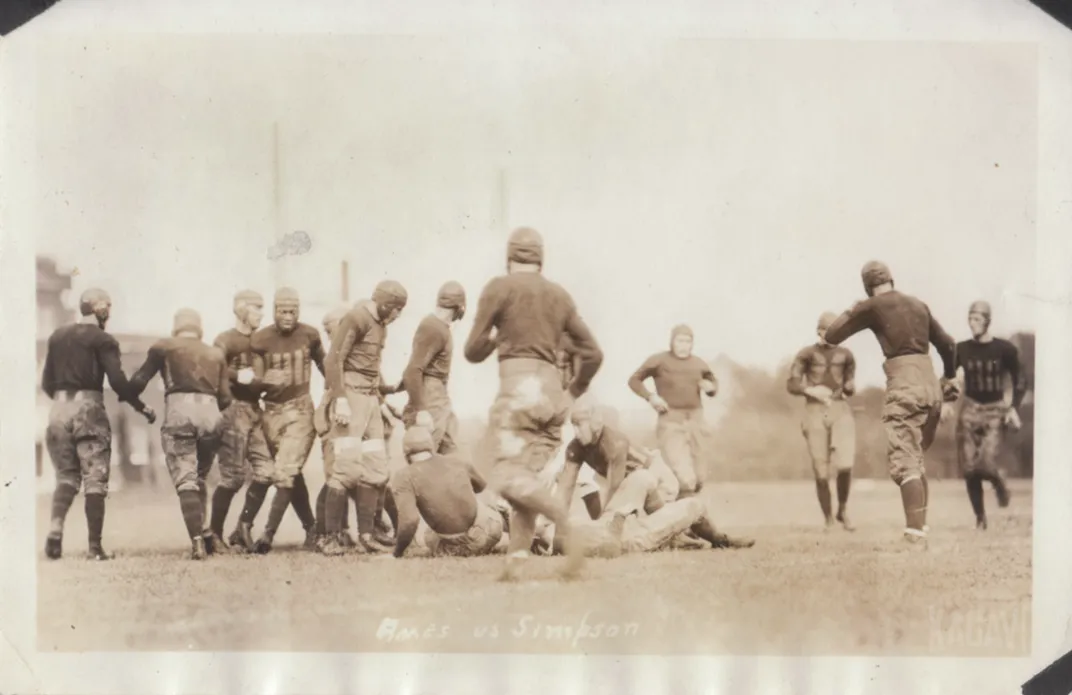 A photograph of Trice taken during the Simpson match is the highest-quality snapshot among the few surviving images of him in action on the football field. Startling in its immediacy and sharpness, the image captures a brief moment in between plays. In those days, games moved quickly. Endurance was necessary, because players had to play both offense and defense. As an offensive lineman, Trice opened up holes for the backfield to dart through; as a defensive end, he held down the line of scrimmage.
Iowa State won the Simpson game despite less-than-stellar conditions on the "muddy, slippery field," as the student yearbook noted. The team was eagerly looking forward to its next game against the University of Minnesota, which was considered the season's first major match because Simpson was "a much smaller school than [Iowa State] and not regarded as a serious threat," according to Schwieder.
A fatal injury
Before catching the overnight train to Minneapolis with his team, Trice bid farewell to Cora Mae. It was an experience she never forgot. "He came to tell me goodbye," she recalled in a 1988 letter. "We kissed and hugged, and he told me that he would come back to me as soon as he could."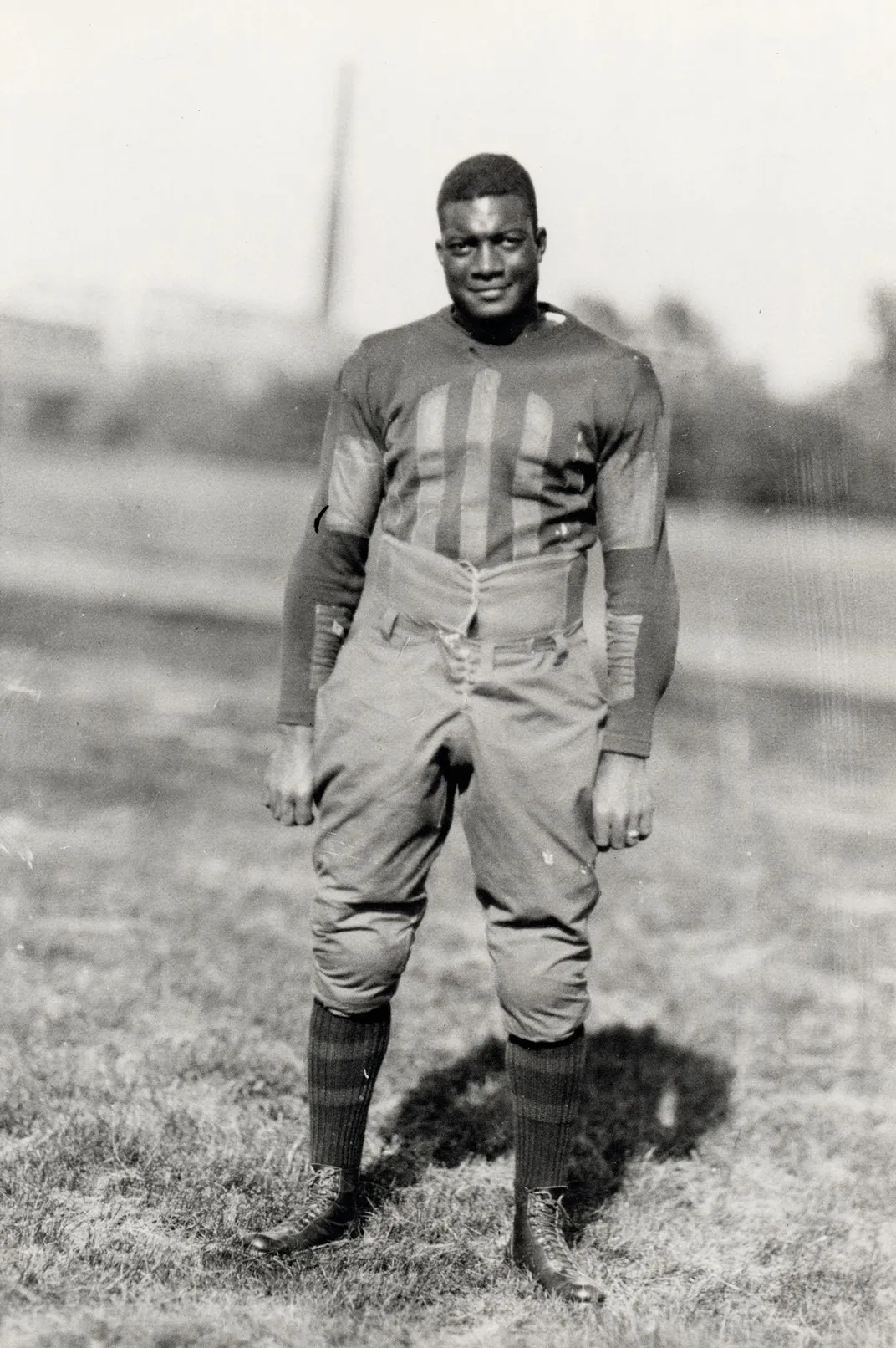 When they took the field in Minneapolis on Saturday, October 6, the Iowa State athletes donned new gold jerseys utilizing the latest design advancements in college football. "Our intention is to reduce the weight and gain speed without sacrificing protection to the individual player," Willaman told the Iowa State Student. Pads were built into the elbows, and manufacturers started adding friction cloth to the front and sleeves. Athletic catalogs offered several design options, the most popular being two ovals or vertical stripes on the chest.
The jersey redesign spoke to a fundamental shift in college football after World War I. Scarred by the carnage of the Great War, Americans embraced entertainment and pleasure, including college sports. Major universities started building new concrete stadiums. Some were named Memorial Stadium in honor of American soldiers killed during the conflict. The rapid expansion of radio brought thrilling football plays to living rooms and turned athletes into stars.
Waiting for the Cyclones in Minnesota were the Golden Gophers, led by All-American Earl Martineau and Coach William Spaulding. They posed a formidable challenge, but the Iowa State team was ready.
Once the game started, the Gophers targeted Iowa State's star players, including Trice. He suffered a serious shoulder injury in the first half (later identified as a possible broken collarbone) but insisted he was still able to play. During an offensive play in the third quarter, Trice tried to perform a rolling block, but the Minnesota backfield overwhelmed him, knocking him to the ground and trampling him. Whether the intensity of the team's response was motivated by racism remains the subject of debate, but Iowa State apparently didn't think so. After Trice's death, Willaman scheduled another game with Minnesota for the 1924 season.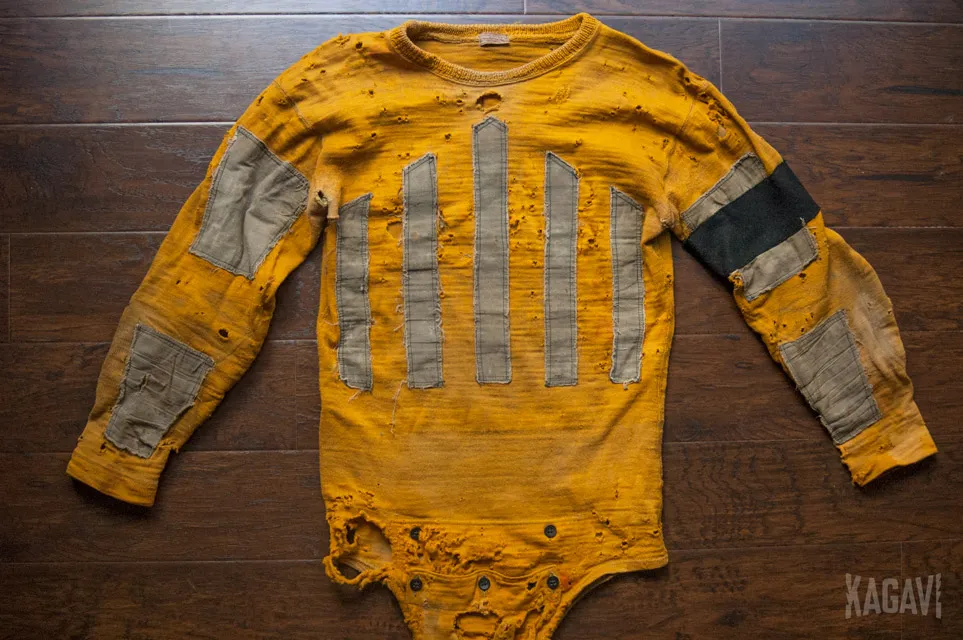 After the trampling, team captain Ira Young and lineman Harry Schmidt helped Trice off the field. (Young's torn, stained football jersey is the only known artifact to survive from the game.) "He was removed from the game immediately, against his wishes, and taken to [the] university hospital," where a doctor "at once pronounced his condition serious," the Minneapolis Star reported.
The game concluded with a 20-17 victory for Minnesota. But the Iowa State players had more pressing matters on their minds than the loss. Physicians decided Trice was healthy enough to endure the long overnight train ride back to Ames, where, on Sunday morning, he was whisked away to the campus hospital. As his condition worsened, doctors brought in a stomach specialist from Des Moines, but nothing could be done. Trice's friends and family could only pray.
The end came on Monday afternoon. As Cora Mae wrote in her 1988 letter, "He looked at me, but never spoke. I remember hearing the Campanile chime 3 o'clock. That was Oct. 8th, 1923, and he was gone."
Commemorating Jack Trice
On Tuesday, October 9, Iowa State canceled classes, and several thousand people attended Trice's funeral, which was held on the lawn near the iconic Campanile. Speaking to the crowd from a raised platform behind Trice's coffin, Iowa State President Raymond Pearson started reading a letter found in the athlete's personal possessions after his death.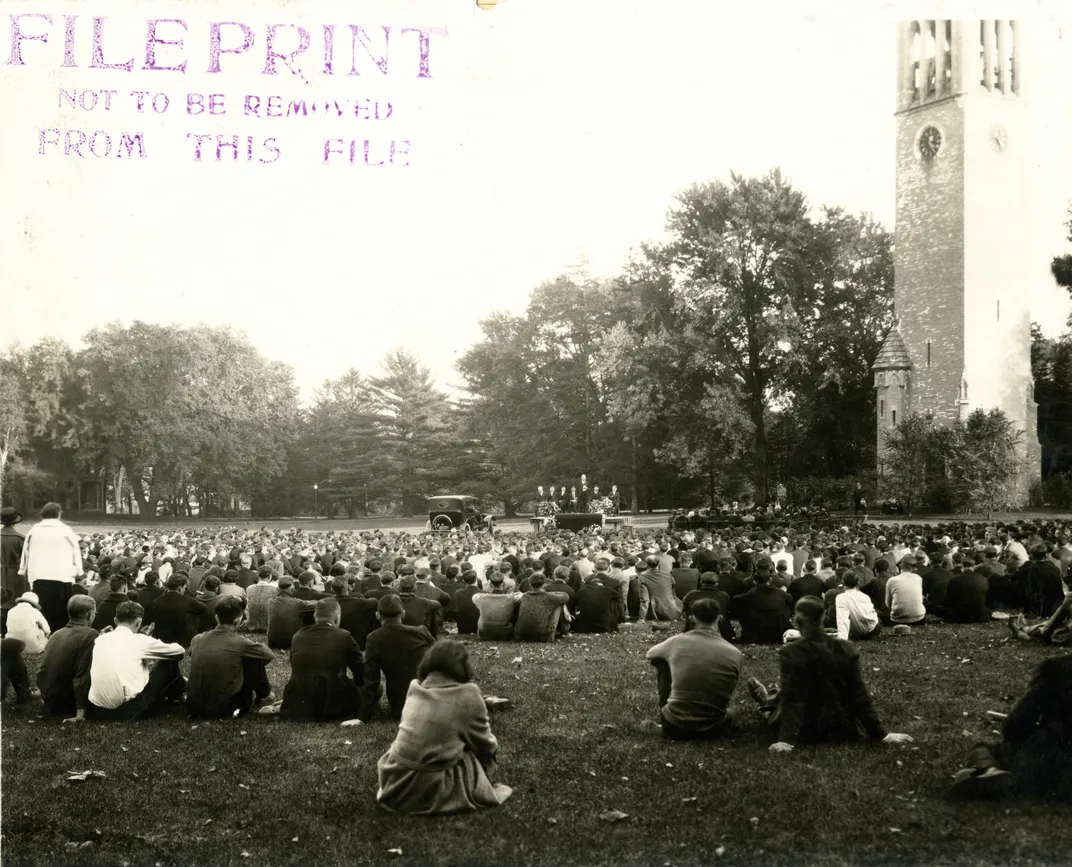 The day before the Minnesota game, the Iowa State team had checked into the Curtis Hotel in downtown Minneapolis. While Trice was allowed to stay at the hotel, he was barred from eating in the dining room with his teammates or being around white guests. Isolated in his room, Trice began writing on a small sheet of hotel stationery:
To whom it may concern:

My thoughts just before the first real college game of my life. The honor of my race, family and self are at stake. Everyone is expecting me to do big things. I will! My whole body and soul are to be thrown recklessly about on the field tomorrow. Every time the ball is snapped, I will be trying to do more than my part.
Trice's letter was reprinted in newspapers across the country. A few months later, his words were memorialized on a bronze tablet in the Iowa State gymnasium.
Cora Mae dropped out of school and returned to Ohio to mourn. She went back to Iowa State the following year but never graduated. She remarried in 1926 and died in 1993. Trice's mother, Anna Trice, didn't arrive in time to see him before he died, but she returned to Ames several times. In a letter to Pearson, Anna wrote, "He was all I had, and I am old and alone. The future is dreary and lonesome."
Jack Trice Stadium
In the decades after Trice's death, his story receded from memory, only resurfacing every so often. In 1957, Iowa State student Tom Emmerson learned about Trice and wrote an article on him for a student magazine, but it attracted little response.
It was only in 1973, on the heels of the civil rights movement's calls for Black equality, that Trice's achievements garnered more widespread attention. According to a 2008 journal article by Jaime Schultz, Alan Beals, a counselor in Iowa State's athletic department, happened upon Trice's memorial plaque—by then "covered in rust, dust and bird droppings"—and decided to co-write a story on him for the student newspaper. English professor Charles Sohn, who had already discussed Trice with Beals, assigned his freshman students to look into Trice's life. Their efforts helped spark a student movement to name the school's new football stadium after Trice. But university leaders refused, preferring Cyclone Stadium to honor all athletes.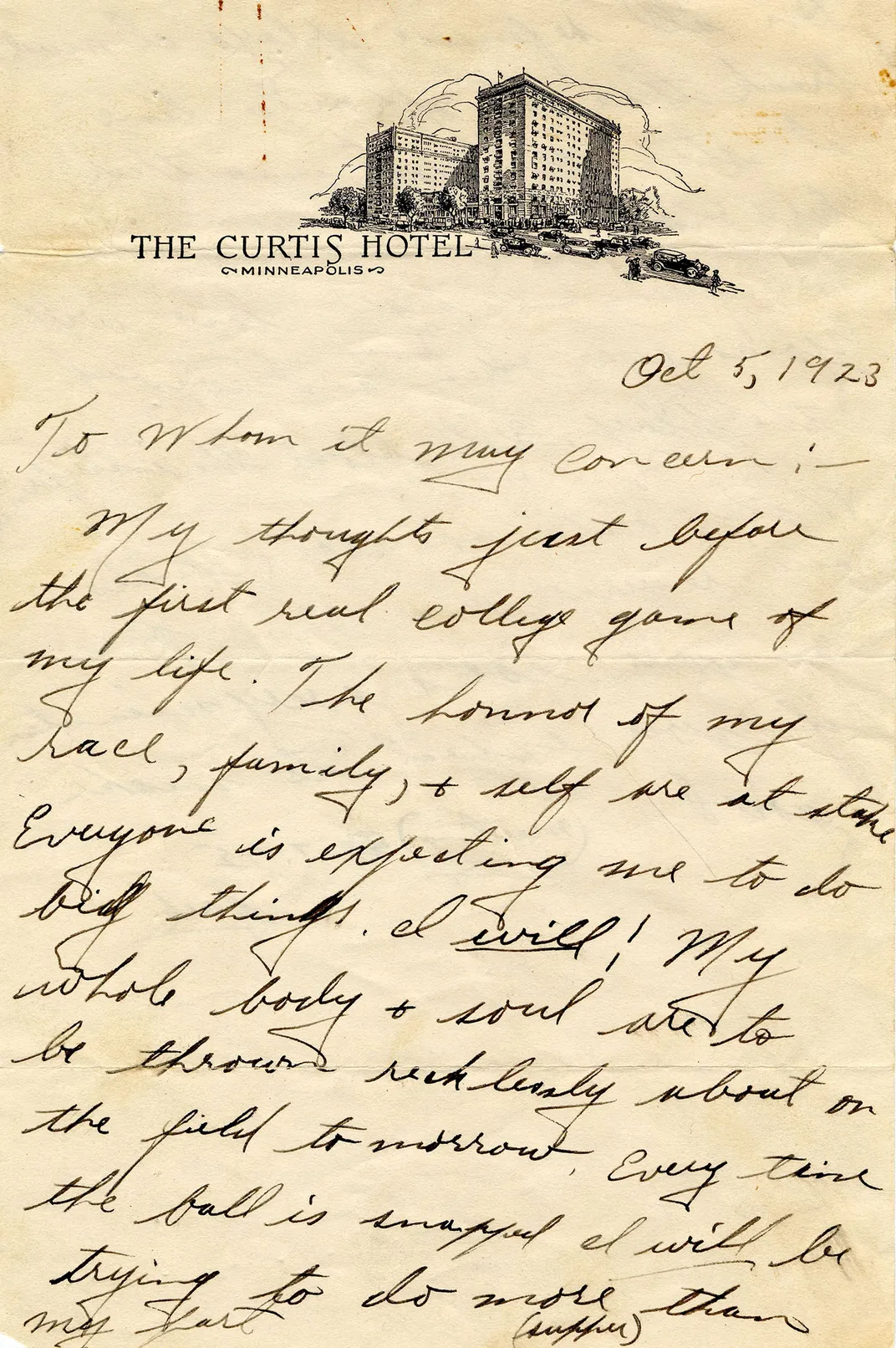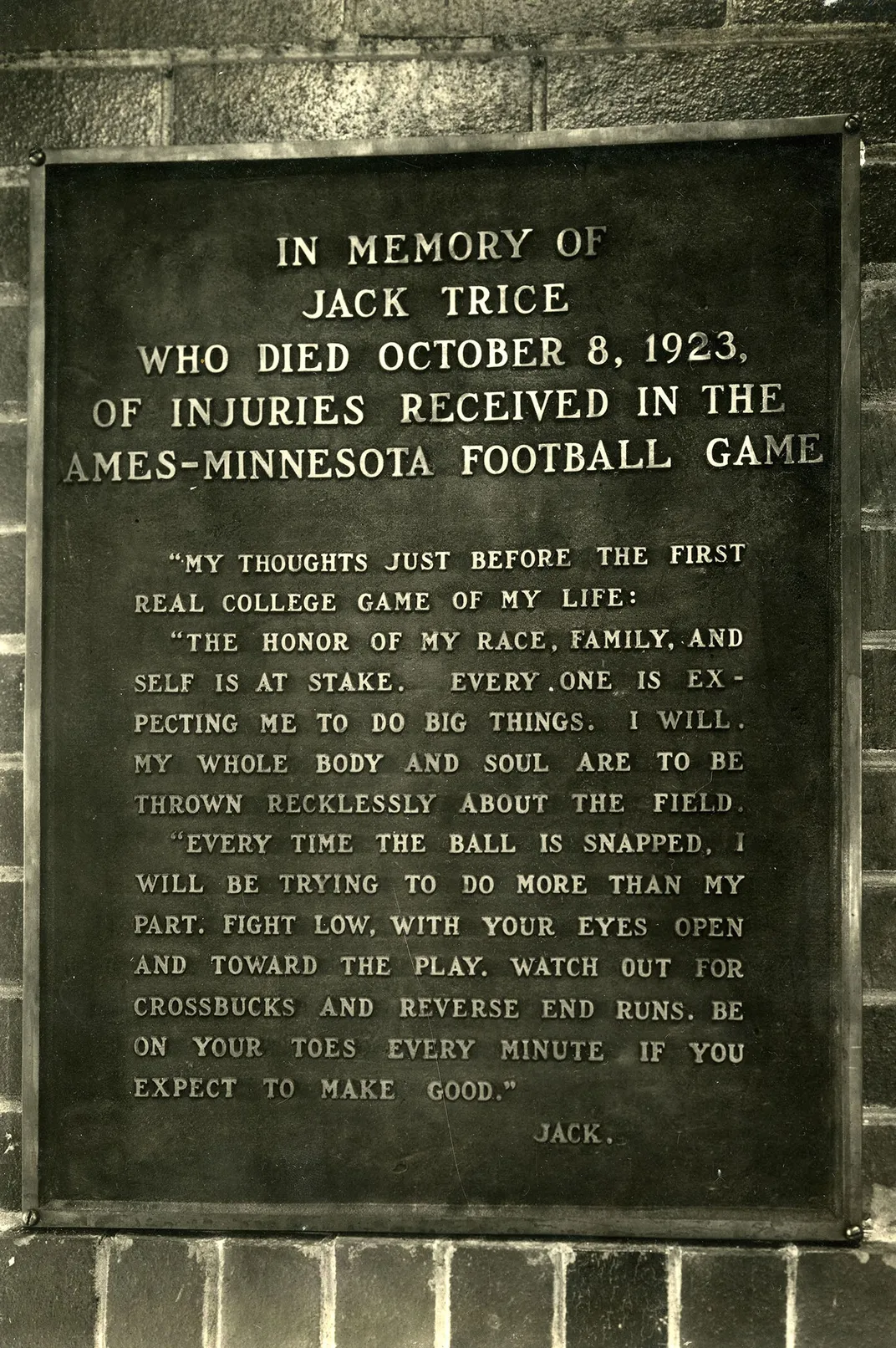 The fight to name Iowa State's stadium Jack Trice Stadium continued for a decade. One key figure in the campaign was the irascible Des Moines Register writer Donald Kaul, who continually revisited the issue in his columns.
Kaul needled officials who kept deflecting or delaying with no real resolution. "They mumble low, they mumble high, and soon the question is borne aloft on clouds of mumble," wrote Kaul in 1975. In a separate column, he claimed to have visited "a witch I know in Georgetown" and asked her to place "a conditional curse … on the team." He reportedly told her, "If the university officials, a small band of willful men much given to thwarting the popular will, should fail to give Jack Trice the recognition he deserves … the school should not win a game in the stadium."
In 1984, Iowa State tried to appease everyone by formally naming the stadium Cyclone Stadium and the playing field Jack Trice Field. Kaul lamented the compromise, later writing, "Iowa State has had to be dragged kicking and screaming" to it. The matter seemed settled, but remarkably enough, Trice proponents kept pushing. Finally, in 1997, Iowa State President Martin Jischke formally renamed the arena Jack Trice Stadium.
To honor, to emulate, to elevate. pic.twitter.com/KoFw81Clon

— Iowa State Football (@CycloneFB) April 22, 2023
In recent years, the Iowa State football program has honored Trice with a new logo modeled on his jersey and a patch on players' uniforms. The logo is emblazoned on the side of the school's football facility, visible from Jack Trice Stadium.
Last fall, a century after Trice's arrival in Ames, Iowa State began a yearlong commemoration of him. The school's slate of events include the unveiling of a new sculpture at Jack Trice Stadium and an inaugural Jack Trice Legacy game against Texas Christian University on October 7. During the game, the team will wear special throwback uniforms inspired by Trice's story.
"Trice committed himself to being an honorable, stand-up man," Greg Bailey, head of Iowa State's special collections and university archives, tells Smithsonian magazine. "[This] was exemplified in his ideals of service." Today, Jack Trice Stadium is the only Division I Football Bowl Subdivision stadium across the United States to bear the name of a Black man.