There's Great Drama Within the Truths of "The Looming Tower"
How filmmaker Alex Gibney brought a documentarian's eye to the story of the 9/11 attacks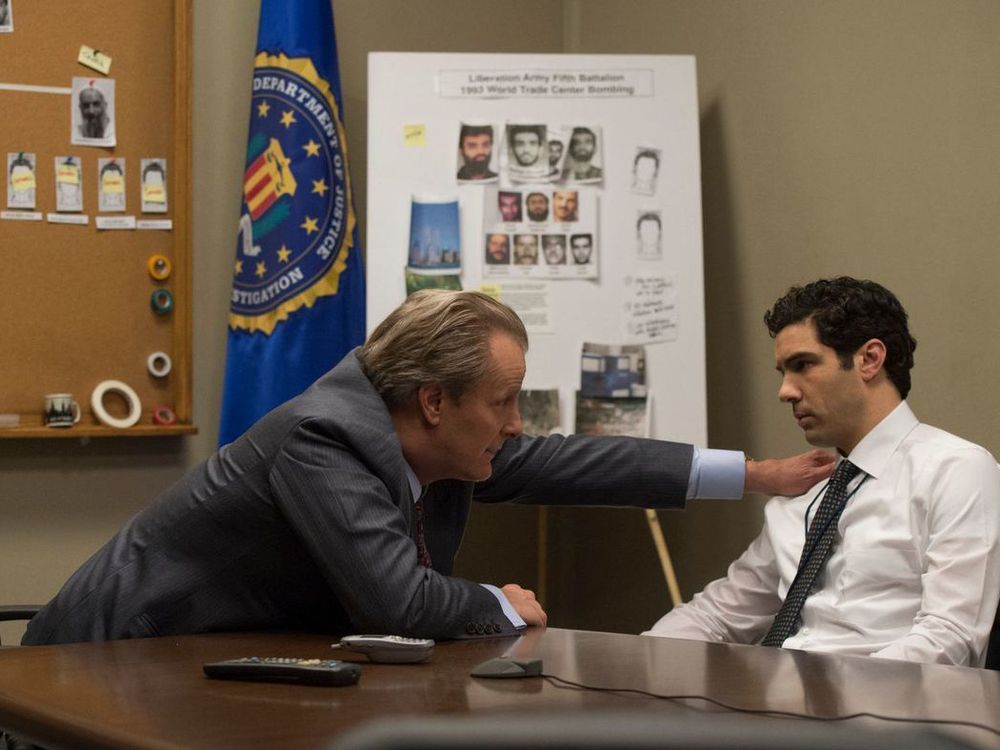 New series based on actual events (like FX's "American Crime Story" or "Feud") have prided themselves on hewing to truth, often basing themselves on well-researched books or screenplays that in turn are based on multiple interviews with the principals involved.
"The Looming Tower," on Hulu, is not only based on the Pulitzer Prize winning book by journalist Lawrence Wright about the run-up to 9/11, it's executive produced and partly directed by award-winning documentarian Alex Gibney. Wright spent five years and interviewed 600 people for his book, but says, "the main thing I decided was I had to find a way to take this vast tragedy and make it human."
"And how do you do that?," he asked at a press session last month in California, "In my experience, you find individual stories that encapsulate the tragedy."
For Wright, and the series, that individual was John O'Neill, an outspoken FBI special agent and counter-terrorism expert, played by Jeff Daniels in the show.
As explained in Wright's book, the lack of communication between intelligence agencies was a major factor in the failure to uncover the 9/11 plot before it happened. O'Neill is now considered a legendary figure who in frustration quite the FBI, where he helped bring the 1993 World Trade Center bombers to justice, only to die in towers on 9/11.
"[O'Neill] had been asked out of the bureau. He had taken a job as the head of security at the World Trade Center. And I thought: how ironic," says Wright. "The man who was supposed to get bin Laden didn't get him; bin Laden got him."
While O'Neill's inclusion in the ten-episode series grounds the show in fact, other key characters, such as Peter Sarsgaard's CIA agent Martin Schmidt, are composites. For Gibney, known for his documentaries on topics from Enron to Guantanamo Bay, mixing the truth with dramatized elements offers an engaging narrative striation that non-fiction films can't always deliver.
"It's inspired by true events," Gibney says of "The Looming Tower." "And I think there are some key aspects of this central story that are absolutely vital to understand and that are essentially true. But in the context of creating a drama that's compelling, inevitably the characters are sometimes composited and the story is rendered in dramatic terms."
Why not do a non-fiction series?
"It just seemed like a story that couldn't be told in pure documentary terms, the idea of getting inside it this way," says Gibney.
"Not all stories, to me, have that kind of dramatic arc," says "Looming Tower" screenwriter Dan Futterman. "[They don't] have those interesting characters that are dealing with demons within themselves that spill over into their professional and personal lives. This one had that in spades. And it comes from [Wright's] research and from his book, which reads not like a non-fiction book, but, in certain ways, like a thriller."
Adapting the story for a television drama also meant telescoping some events and inventing scenes and dialogue, in addition to creating composite figures. But there are some surprising real-life characters, such as Ali Soufan, a Muslim Lebanese-American FBI agent played by Tahar Rahim who was O'Neill's protégé and made it his mission to stop those who used Islam to justify terror. Other newsmakers like NSA counter-terrorism chief Richard Clarke, portrayed by Michael Stuhlbarg and CIA director George Tenet, played by Alec Baldwin, make appearances.
Gibney says his experience as a documentarian was useful when he was directing, as he could rely on the writing and performances "rather than having to force something on it."
"Remember the phrase 'Connect the dots?' Wright says in an interview, to explain the composites amid the real figures. "If you imagine the dots are like boulders in a river and you're trying to get from one side to theater, as a dramatist you have to find this happened and this happened - what's the through line?"
"And, how to draw that line through characters that are dramatic," Gibney adds. "It's in those lines that more fiction is made. But the boulders are real boulders."
Enumerating the boulders, Gibney says, "In this first season you'll see things like the Nairobi bombing. You'll see the [USS] Cole bombing. You'll see the 9/11 tragedy. Those are all real events."
Interagency squabbles between the counter-terrorism divisions of the FBI and CIA will continue throughout the season, with the 9/11 attack expected to end the season.
But where would a second season of "The Looming Tower" go?
"We have no idea," Futterman says. "I think there's a possibility of going forwards in time. It's something we haven't spoken about very extensively. Obviously, without giving too much away, some cast would have to change. We would lose certain cast. But I think there's a lot of story to tell within this world of counter-terrorism."
For the first season, the drama will have its hands full considering all the factors that led to 9/11. As he says, "understanding is a good place to start."
"The Looming Tower" begins Feb. 28 on Hulu, with new episodes streaming weekly.