The Very First Troop Leader
A new biography tells the story of Juliette Gordon Low, founder of the Girl Scouts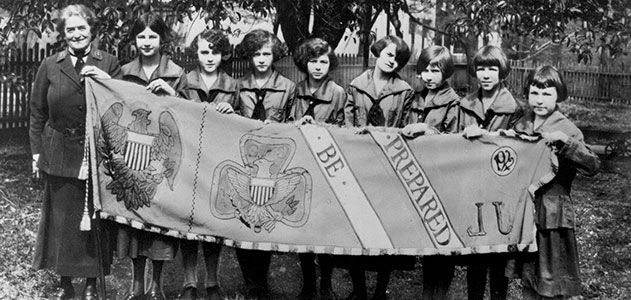 Stacy A. Cordery was a Brownie the first time she heard the name Juliette Gordon Low. She was instantly fascinated by the woman, who founded the Girl Scouts in 1912, and by the fact that she was hearing impaired for most of her adult life. "Her deafness made me want to learn sign language, which I attempted as a young girl," says Cordery, now a historian and professor at Monmouth College in Illinois.
But, while in high school, and college and graduate school at the University of Texas, Cordery noticed that Low was absent from history textbooks and lectures. "The older I got, the more I thought we don't know enough about her," says Cordery. Low's legacy is monumental: Now celebrating its 100-year history, the Girl Scouts is the largest educational organization for girls in the world, with 3.3 million current members. Over the years, some 50 million women have worn the uniform and earned badges for its sash.
Cordery's new biography, Juliette Gordon Low: The Remarkable Founder of the Girl Scouts, pieces together Low's life story, from her beginnings in Savannah, Georgia, at the outbreak of the Civil War to her establishing the first troop of Girl Scouts in the United States. From diaries, letters, institutional correspondence and photographs, Cordery describes Low's time as a Georgia debutante, the years she spent in England married to an aristocrat named William Mackay Low, Willy's adultery and his death during their divorce proceedings, and her discovery of Robert Baden-Powell, founder of the Boy Scouts and Girl Guides in England.
Why did you want to learn more about Juliette Gordon Low?
Every biographer has some autobiographical connection to his or her subject. For me, it was not just that I was a Brownie, but that my mother was a Girl Scout and my grandmother was a troop leader. My mother always kept her Girl Scout uniform. I still have it. And I thought, what was it about this organization that was so important that my mom kept her Girl Scout uniform in the same box as her wedding dress?
By having access to primary source documents you were privy to Low's personality a bit. How would you describe it?
She was impetuous like her mother. She was thoughtful like her father. She was more organized than I think people gave her credit for. She loved literature. She was deeply spiritual and at the same time phenomenally superstitious. She had a family commitment to duty.
I think she had the biblical instruction to do good in the world, and she had been doing good in the world in her own way ever since she was putting on plays as a girl and charging admission to send off to missionaries. When she was hanging out with the aristocracy in England, she called herself a "woman of ease." She simultaneously enjoyed that and felt horribly guilty about it. Willy, her husband, was not a supporter of women's rights and did not believe that women should be out of the home. Consequently, Juliette Low had to do her good deeds in secret.
After Low led three groups of Girl Guides in the United Kingdom, she formed the first troop of 18 American Girl Guides, as the Girl Scouts were originally called, on March 12, 1912. How were they received?
In the United States, there was not a tremendous backlash against Girl Guides as there was in England. There were complaints, in England, about mannish girls and girls not being peaceful if they were in a uniform that looked like a military uniform. There were concerns about girls being overly athletic or indulging in sports, games or outdoor activities that were not appropriate for their gender. But, in the United States, there were already progressive era movements afoot suggesting that children needed outdoor exercise, to play, to get out of the classroom and to be able to run and be free.
On part of Low's land in Savannah by her home, girls could play tennis and basketball. Basketball was a pretty new sport in our country. She strung up this canvas curtain to keep these girls in their skirts with their basketballs away from the eyes of passersby, for fear she would offend some of them. Of course, it made everyone want to know what the heck was going on. I don't believe she hung up the curtain in order to heighten interest in her organization, but that's the effect it had. Little kids had to peek through, and it just looked terrifically fun.
What skills did Low want Girl Scouts to learn?
Most women were going to be wives and mothers and she knew that, so, better to train girls to be really exceptional homemakers. She wanted them to learn about cooking and preserving food. She wanted them to know how to run a sterile kitchen. She taught about nursing—taking care of invalids and sick children—and sewing. Anything that a wife and mother should do she thought she could train her girls to do better.
Low understood how it was possible that any woman might find herself in the situation of needing to take care of herself. So, she emphasized career training for girls. Some of the early badges were about flying, typing, telegraph skills and farming.
Then there was this whole path of outdoor activity, which ranged from gardening to camping. Her program taught you how to identify a poisonous mushroom from a nonpoisonous mushroom and how to pitch a tent and which kind of wood was useful to burn in a fire and which kind wasn't. There was a fear that some of these ideas were beginning to fade.
Then, there was the part of her program that had to do with citizenship. She wanted her girls to know something about the Constitution of the United States, the history of the United States, geography, then particularly as World War I came along, military preparedness, so semaphore, Morse Code and how to prepare for civic emergencies of any kind.
What do those skills say about her idea of a woman's role in the world?
I think that Juliette Gordon Low, by the time she was 51 years old and had founded the Girl Scouts, understood that a woman's life was no longer predictable and that you could not count anymore on being a pampered wife and a beloved mother and grandmother. It behooved you as a teacher of young girls to train them for unexpected futures.
All kinds of girls joined scouting—middle-class girls, elite girls, poor girls, factory girls and orphans, from every religious and ethnic background. And, they all joined for different reasons. Girl Scouting was equal parts of fun and education. Juliette Low wanted girls to become better women.
Do you consider her a feminist?
That word wasn't even really used in this country until about the time she founded the scouts. I do not have a single scrap of paper where she self-identifies as a feminist. I know she supported suffrage. Do I think that a broad general definition of feminist today applies to Juliette Low? Yes, I do. Do I think it always applied to her? No. It definitely applied to her as an adult.
In the late 1800s and early 1900s, other similar girl scouting groups sprung up. What, culturally speaking, do you think was going on that inspired the need for scouts?
Historians talk about the end of the 19th century and early 20th century as a time of industrialization, immigration and urbanization. American factories were chugging away at a tremendous pace. The 1920 census for the first time told us that more people were living in urban areas than rural areas. People were coming from all over, and we weren't certain how that was going to work out.
Juliette Low wanted immigrant girls in Girl Scouting. She thought it would help to Americanize them, which can be an ugly thing to think about from the perspective of 2012 but wasn't seen as a bad thing in 1912. Urbanization also comes into play because these children in cities didn't have access to fresh air and fresh water and fields to run in and hills to roll down, like Juliette had had when she was a little girl. Girl Scouting picked up on the fresh air movement and the other camping movements of the time and said, let's get kids out of the city. Girl Scouting and other reforms of the progressive era were an attempt, in part, to mitigate the worst excesses of industrialization, to help immigrants become Americans and succeed here both personally and professionally, and to make sure that we all did this in an atmosphere of friendship and trust.
Some things are impossible to know about Low's life. What are you most curious about?
That's the biographer's question. If you had your subject over to tea, what three questions would you ask her? I would ask her the professional question: How did you feel in 1920 when you voluntarily gave up the presidency of the Girl Scouts? I think that must have been one of the hardest decisions she ever had to make. Then, the personal, gossipy question: What's the dish about Robert Baden-Powell? I'd like to know whether they were really in love or if they decided they would just make good mates. And, I think the historian's question I would ask would be, were you aware of all the other reforms and reformers around you? As a historian, that is what really puzzles me. I kept thinking I would see, in her correspondences, letters to prominent reformers of her time, and they just are not there. There is no letter to Florence Kelley. There is no long, thoughtful missive from Jane Addams, saying let's talk about how you're working with youth and I'm working with youth. While she was contributing to reforms of the progressive era, she was not connected to the progressive era women we know so well. I just want to know why that connection wasn't made.
What lessons does her life story impart?
There has got to be some kind of lesson about not letting your worst mistake get the best of you. I think her worst mistake was marrying Willy Low. In her own estimation, her life was in shambles. She had failed to have a successful marriage, and she had failed to produce children. She could have been a bitter old woman sitting on her pots of money. She could have been angry and withdrawn, but somehow she wasn't. From that rose this dogged, determined, passionate, committed dynamo of a woman who threw herself into girl scouting. She opened doors for girls that were closed to her. I think her story says something about resilience and optimism.