The Trailblazing, Multifaceted Activism of Lawyer-Turned-Priest Pauli Murray
New documentary tells the story of a Black and LGBTQ thinker who helped lay the legal groundwork for fighting gender- and race-based discrimination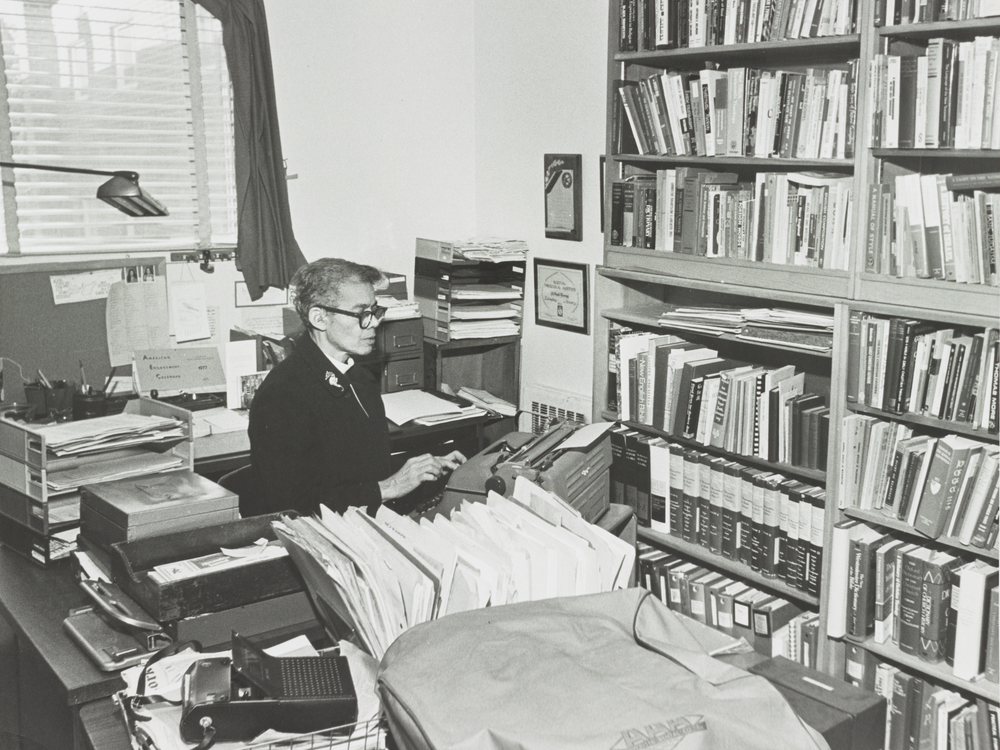 "I've lived to see my lost causes found," legal trailblazer Pauli Murray once said.
Murray—a lawyer, academic, writer and priest—is the multihyphenate subject of the recently released documentary My Name Is Pauli Murray. And the "lost causes" Murray championed, including fighting against systemic racism and sexism, are potent rallying cries for activists today.
Born in Baltimore in 1910, Murray became a prolific writer who decried entrenched inequalities via what the activist dubbed "confrontation by typewriter." Murray's ahead-of-the-times vision and influence are evident across 20th-century social movements: Supreme Court justice Thurgood Marshall called a tome compiled by Murray the "Bible" of civil rights litigation. As a law student in the 1940s, Murray participated in Washington, D.C. restaurant sit-ins long before the 1960 Greensboro counter protests. The activist was also the first female-presenting African American Episcopalian priest and has since become one of the church's saints. Murray counted First Lady Eleanor Roosevelt as a confidant, took part in the same artist's colony as James Baldwin and inspired Ruth Bader Ginsburg's landmark arguments against gender discrimination.
This list only skims the surface of the depth and breadth of Murray's life and legacy. Despite Murray's accomplishments, the name isn't a familiar one. In comparison to directors Julie Cohen and Betsy West's previous documentary about one particularly notorious Supreme Court justice, RBG, "it wasn't an easy sell," says producer Talleah Bridges McMahon. "There weren't a ton of studios and funders clamoring to get this out into the world."
The 93-minute documentary introduces viewers to Murray, who grew up in a multiracial family in Durham, North Carolina, and was rankled by injustice from the beginning. After graduating from Hunter College as one of only a handful of Black students and hitchhiking in search of work, Murray became involved in the labor movement and advocated against segregation. (Fifteen years before Rosa Parks refused to yield her seat to a white man, Murray and a friend met with NAACP lawyers after being arrested for violating bus segregation laws—but the case went nowhere.) In sharply worded letters to politicians and local newspapers, Murray critiqued Jim Crow policies, later coining the term "Jane Crow" to describe the compounded effects of racial and gender discrimination that Black women faced.
In private life, Murray existed outside of mid-20th century society's rigid understanding of gender as binary, dressing in androgynous or masculine clothing, forming romantic relationships with women, and unsuccessfully asking doctors for testosterone and gender-affirming care. The aunt who raised Murray fondly referred to her sister's child as "my boy-girl."
Despite being rejected by various graduate programs on racist and sexist grounds, Murray eventually accrued a J.D., a master's degree and a doctorate in judicial science. In a law school paper, Murray even outlined legal reasoning later used by a professor in Brown v. Board of Education. "I had entered law school preoccupied with the racial struggle and single-mindedly bent upon becoming a civil rights attorney, but I graduated an unabashed feminist as well," Murray once told an interviewer.
The activist sharply criticized the civil rights movement for its sidelining of women. Murray also helped found the National Organization for Women (NOW) and joined the board of the American Civil Liberties Union (ACLU), pushing the group to oppose gender discrimination by citing the 14th Amendment. (In acknowledgement of this foundational work, Ginsburg, before she became a Supreme Court justice, listed Murray as a co-author on a winning brief that argued an Idaho law stipulating "males must be preferred to females" was unconstitutional.)
"We were not inventing something new," Ginsburg recounts in the documentary. "We were saying the same things Pauli had said years earlier at a time when society was not prepared to listen."
In addition to authoring a poetry collection and an autobiography, Murray helped establish the American Studies program at Brandeis University and—after a loaded dispute—was granted tenure. The death of partner Irene Barlow in 1973, however, prompted the peripatetic scholar to change course and attend seminary at a time when the Episcopal Church was not yet ordaining women.
It's a tall order for a single documentary to capture such a multifaceted person. "We knew, going into this, that we were not telling the definitive story of Pauli Murray," says McMahon, adding that she hopes the project leads viewers to "then go do a deep dive into Pauli Murray's life." (To learn how Murray's Proud Shoes: The Story of an American Family created a template for Black genealogy research, readers can consult online resources from the Smithsonian's National Museum of African American History and Culture.)
Murray, who died in 1985 at age 74, had been dead for more than 30 years by the time Cohen and West filmed their first interview (with Ginsburg, in 2018). The creative team relied heavily on primary sources, scholarship and interviews with contemporaries who knew their subject in real life: Murray's great-niece, students and classmates like Rep. Eleanor Holmes Norton. "What we did was really try to rely on Pauli's words as much as possible," says McMahon.
Fortunately, Murray left behind a comprehensive written trail. In addition to audio and published non-fiction and poetry, Murray's personal letters, photos and other documents fill some 140 boxes at Harvard's Schlesinger Library. (Murray personally arranged for the donation to the women's studies repository, which now includes letters detailing Murray's rejection from Harvard Law School and subsequent battle against its men-only admissions policy.) McMahon made several multi-day trips from Los Angeles to Boston to scan and pore over the archival materials. Shortly before the pandemic began, she found a documentarian's treasure: largely unseen letters exchanged by Barlow and Murray that showcased the couple's affection and playful signoffs, such as "007" or "Charlie Brown." The handwriting in these missives arcs across the screen in the film, making tangible a relationship that was kept quiet.
In telling Murray's story, the creative team had many conversations about cultural sensitivity. Murray used she/her pronouns in written work but lived at a time when more flexible or gender-affirming pronoun usage wasn't widely accepted. McMahon says the group talked through pronoun usage with people from the trans community, including Chase Strangio, an LGBTQ rights attorney at the ACLU who suggested using "Pauli" in lieu of pronouns as a respectful option. (Strangio is one of several transgender activists interviewed about Murray in the documentary.) Instead of labeling Murray posthumously, West explains to Slate, "We made an effort to let people speak about Pauli in the way that they chose, but to be sensitive about using the pronoun 'she/her' too aggressively."
In depicting Murray's experiences as an African American person confronting racism, Cohen and West, who are both white, were telling a story beyond the limits of their own personal experiences. McMahon says the pair listened to her and editor Cinque Northern, both of whom are Black, when they offered feedback on the film's handling of race. In a scene featuring Murray's former Brandeis students, for example, McMahon and Northern pushed for an ending that they thought showed genuine affection between professor and pupils: Murray, unlike younger activists, strongly preferred the term "Negro" over the lowercased "black," and, knowing the students disagreed, would tell them, "You need to learn something, Negro."
"[The directors] were underwhelmed with that ending, but Cinque and I were like, 'It's so endearing. ... Please just trust us,'" McMahon recalls. The directors did.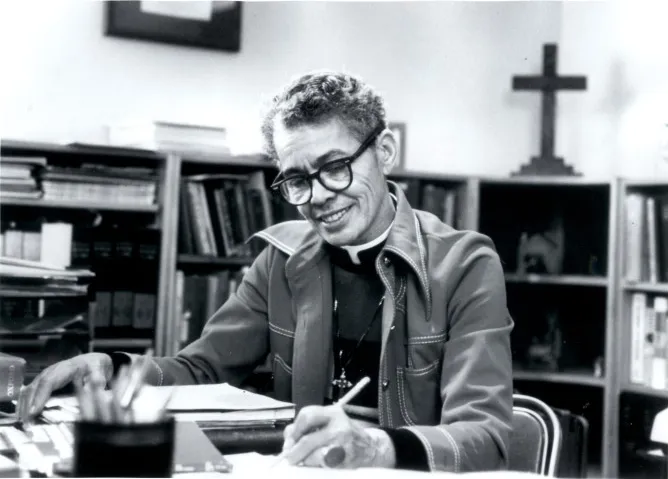 The documentary takes pains to highlight the varied facets of its subject's identity—and how they all collided to shape Murray's revolutionary perspective. "As a human being, I cannot allow myself to be fragmented into Negro at one time, woman at another or worker at another, I must find a unifying principle in all of these movements to which I can adhere," in a 1967 letter. (Murray had helped create the "NAACP for women" but soon became disillusioned by its infamous lack of intersectionality.)
"What Pauli Murray really did was fight to create the kind of world in which every part of her could live," writes Dolores Chandler, a former coordinator at the Pauli Murray Center, which "lifts up the life and legacy" of its namesake, for Scalawag magazine.
Murray was a pathfinder who pointed out legal arguments against societal injustice—paths that other better-remembered individuals would later help pave. My Name Is Pauli Murray makes that underappreciated impact visible, and in doing so, asks the implicit question of why Murray lacks name recognition today. As Cohen tells the Washington Post, "Murray's story overall, and I'd say even the film specifically, is arguing for a deeper, more inclusive look at history."