The Senator and the Gangsters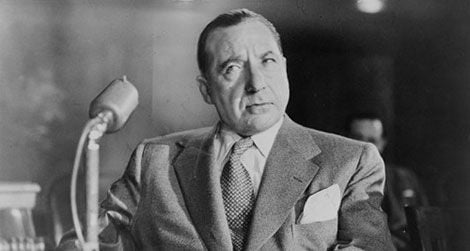 Americans had seen nothing like it before—not in their own living rooms. Three years before the Army-McCarthy hearings and 22 years before Watergate, the Kefauver Committee hearings in the winter of 1951 brought a parade of gamblers, hoodlums, crooked sheriffs and organized-crime figures out from the shadows to sit and testify before the white-hot lights and television cameras. Housewives were glued to their sets day after day, while in barrooms and cafeterias, men gathered on their lunch breaks to witness the proceedings. Stores and offices across the country piped in day-long radio broadcasts. Colorful criminals, sweating and tapping their fingers nervously, seemed to step off the set of Hollywood gangster movies, speaking in broken English, under oath, about their activities. Some just sat in stony silence, refusing, as one witness said, to "criminate" themselves.
All of it came courtesy of a deliberate-speaking, endlessly polite Southern senator in horn-rimmed glasses named Estes T. Kefauver.  Chairing the Senate Committee to Investigate Crime and Interstate Commerce, the Tennessee Democrat organized a barnstorming tour across the country, handing down subpoenas from New York to New Orleans to Detroit to Los Angeles and sweeping into local courtrooms to expose thugs, politicians and corrupt law enforcement agents. The tour began quietly in January of 1951, but by February, in a serene postwar America where house and apartment doors were not always locked, "Kefauver Fever" gripped the nation, and the perception of a ubiquitous underground crime wave added to the country's anxieties over communism and nuclear confrontation during the Cold War.
Born in 1903, Estes Kefauver studied at the University of Tennessee and at Yale University where he received his law degree in 1927.  He returned to Tennessee to practice law, taking an interest in finance and taxation, married  a Scottish woman, Nancy Pigott, and started a family that would include four children. Kefauver was elected to the House of Representatives in 1939 and re-elected four times; his support for President Franklin Roosevelt's New Deal legislation made him stand out in conservative Tennessee. Kefauver then made a bid for a Senate seat in 1948, running against E. H. Crump, the mayor of Memphis and boss of Tennessee's Democratic Party. After Crump accused Kefauver of being a raccoon-like communist sympathizer, Kefauver calmly donned a coonskin cap for his next speech and said, "I may be a pet coon, but I'm not Boss Crump's pet coon."
With his new cap (which he was later depicted wearing in a portrait on the cover of Time), Kefauver was elected to the U.S. Senate and assumed office at a time when newspapers were beginning to report on extensive political corruption and government ties to organized crime. In 1950, he introduced a Senate resolution to establish a committee to investigate labor racketeering in interstate commerce.  In January of the next year, the Kefauver Committee took to the road, crisscrossing the country to ferret out likely targets who could be exposed.
Lawyers for the Committee arrived ahead of the chairman, terrifying local law enforcement as the committee drew up subpoenas and prepared for hearings to be broadcast on both television and radio. Kefauver would then arrive, as he did in the Committee's first stop in New Orleans, and begin his questioning of, say, corrupt sheriffs, who would admit they did not exactly enforce the law when it came to gambling and prostitution in the parishes of Louisiana. "Diamond Jim" Moran, the owner of La Louisiane Restaurant in New Orleans, took advantage of the free publicity and repeatedly plugged his restaurant, which was teeming with illegal slot machines. "Food for kings," he said.
When the Committee arrived in Detroit two weeks later, two local stations interrupted their regularly scheduled programming to cover two days of hearings featuring, as the Daily Boston Globe put it, "a parade of hoodlums of every description… the records of their dealings with murderers, dope peddlers, gamblers." It was estimated that 9 out of 10 televisions had been tuned in. The general manager at WWJ-TV, where the station's switchboard was jammed with appreciative callers, said the hearings were "the most terrific television show Detroit has ever seen."
In St. Louis, the city's squirming police commissioner said he couldn't recall any details about his net worth before his life as a public official. Then the betting commissioner, James J. Carroll, refused to testify on television, stating that it was an invasion of privacy.
"This is a public hearing and anyone has a right to be here," Kefauver told him. "Mr. Carroll, I order you to testify!"
"This whole proceeding outrages my sense of propriety," Carroll shouted back. "I don't expect to be made an object of ridicule as long as television is on."
Kefauver warned Carroll that he'd be cited for contempt by the Senate, but Carroll refused to answer any questions, meandering nervously around the courtroom. The argument was captured by television cameras, as Carroll simply picked up his coat and began to walk out.
"Television," Kefauver said calmly with a smile, "is a recognized medium of public information along with radio and newspapers. We've had several witnesses who seemed much less timid and experienced … I refuse to permit the arrangements for this hearing to be dictated by a witness."
The bars and taverns in St. Louis did more business than they did when the World Series was broadcast three months earlier. But the Kefauver hearings were only beginning to capture the public's attention. The Committee went west to Los Angeles, taking testimony from a handcuffed Allen Smiley, one of mobster Benjamin "Bugsy" Siegel's former associates. Then Kefauver headed north to San Francisco, uncovering a vast pattern of illegal payouts from lobbyists to state legislators.  The hearings on the West Coast drew the largest audiences recorded in daytime television.
By the time the Kefauver Committee arrived in New York, in March of 1951, five of the city's seven television stations were carrying live proceedings, broadcast to dozens of stations across the country.  The entire metropolitan area had become obsessed with the drama. There were "Kefauver block parties," and attendance on Broadway wilted. For eight straight days, mobsters were dragged before the committee. None of the witnesses made the impact of Frank Costello, who started out by refusing to testify because, he said, the microphones would prohibit him from privately consulting with his attorney, sitting next to him.
Kefauver arranged a compromise. The television cameras would not show his face, but focus only on his hands.  Never mind that newsreel cameras captured Costello's entire face and body as he spoke—the highlights of which were shown on newscasts later that evening. On live television, the cameras zoomed in on the mobster's meaty hands as he nervously fingered the eyeglasses resting on the table, or moved to dab a handkerchief to his off-screen face as he dodged question after question, making him appear all the more sinister to daytime viewers. When asked by the Committee to name one thing he'd done for his country, Costello snapped, "Paid my tax!" The Los Angeles Times said it was "the greatest TV show television has ever aired," and Variety estimated that ratings were "among the highest ever achieved" to that time.
Costello was a tough act to follow, but Kefauver found the star of the show in Virginia Hill Hauser—an Alabama-born former waitress and moll to the late Bugsy Siegel. Wearing a mink cape, silk gloves, and a large hat, and with the presence of a movie star, Hauser strutted into the U.S. Courthouse in Foley Square. She wasn't about to let some stuffy senators from Washington, D.C. rough her up the way they had Costello.
In a defiant tone and her nasal voice, Hauser regaled the Committee with remarkable stories of friendships with "fellas" who gave her gifts and money. But as to how those men came into their money, Hauser said, she didn't know "anything about anybody." She and Bugsy had had a fight in a Las Vegas hotel, she said, after "I hit a girl at the Flamingo and he told me I wasn't a lady."
When she finished, she had to fight her way past the throng of scribes, slapping one female reporter in the face and cursing the photographers. "I hope the atom bomb falls on every one of you," she shouted as she left the building. Hauser soon after hopped on a plane and fled the country to evade a tax evasion charge by the Internal Revenue Service.
After seeing Hauser's appearance at the hearings, the columnist Walter Winchell contemplated the seemingly timeless paradox of reality television when he wrote, "When the chic Virginia Hill unfolded her amazing life story, many a young girl must have wondered: who really knows best?  Mother or Virginia Hill?  After doing all the things called wrong, there she was on top of the world, with a beautiful home in Miami Beach and a handsome husband and baby!"
The hearings made Estes Kefauver so popular that he decided to seek the Democratic Party's presidential nomination in 1952. Remarkably, Kefauver beat the incumbent, Harry S. Truman, in the New Hampshire primary, leading Truman to abandon his campaign for renomination. Although Kefauver won the majority of Democratic primaries, he lost the nomination to Adlai Stevenson, who then lost the general election to General Dwight D. Eisenhower. And even though Kefauver ran as Stevenson's vice presidential candidate in the Democrats' losing 1956 bid, it was the crime hearings that would cement the Tennessee senator's legacy.
The Committee ultimately produced an 11,000-page report and exposed millions of Americans to organized crime for the first time. But in fact, the Kefauver hearings had little impact in the cities the Committee visited: He and his men swept in and then just as quickly swept out, leaving behind titillating news coverage and an unforgettable  television experience. The Committee's recommendations on how to clean up organized crime were largely ignored, and the crime syndicates went back to business as usual, often with the same shadowy characters from the hearings still in control.
Sources:
Articles: "Frank Costello's Hands: Film, Television and the Kefauver Crime Hearings," by Thomas Doherty, Film History, Volume 10, No. 3,  1998.  "Hearings to Recall Earlier Investigations in Same Setting: McCarthy and Kefauver," by John Chadwick, The Lewiston Daily Sun, May 13, 1973.  "Remembering Estes Kefauver," by Theodore Brown, Jr. and Robert B. Allen, The Progressive Populist, 1996, http://www.populist.com/96.10.kefauver.html. "'Outraged' Over Video at Hearing, Carroll, Bet Expert, Defies Senators," by William M. Blair, New York Times, February 25, 1951. "Sheriff's Ex-Wife Tells Senators How He Accumulated $150,000," New York Times, January 27, 1951.  "Crime Attracts 1,000,000 TV Fans," by John Crosby, Daily Boston Globe, March 4, 1951. "Costello Defies Senators, Walks Out of Hearing Here; Faces Arrest on Contempt," by James A. Hagerty, New York Times, March 16, 1951. "Slain 'Bugsy' Siegel's 'Girl Friend' Steals Senate Crime Inquiry Show," by Emanuel Perlmutter, New York Times,  March 16, 1951.  "Senator Kefauver Wows 'Em on TV," by John Crosby, New York Herald Tribune, March 5, 1951.