The Science Behind Why Pandas Are So Damn Cute
There's a reason why millions adore these furry exemplars of China's "soft power"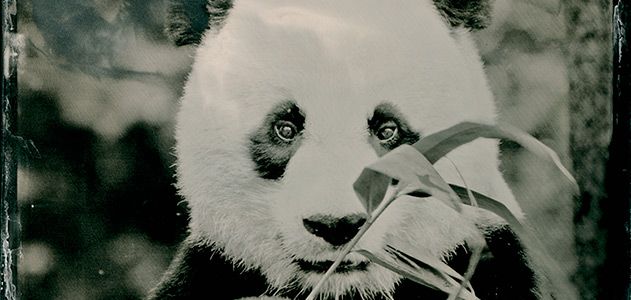 When China gave the United States two giant pandas in 1972, in honor of President Richard Nixon's historic diplomatic visit that year, we reciprocated with a pair of...musk oxen. Milton and Matilda arrived at the Beijing Zoo, one reportedly with a case of the sniffles and the other a nasty skin infection. Their long fur—which is what musk oxen are best known for, along with their odor—began to fall out. Meanwhile, back at the National Zoo in Washington, D.C., the pandas appeared only to grow cuter.
Perhaps the people of China got a raw deal. Or maybe they had discovered the perfect export. Giant pandas are highly addictive critters.
Neuroscientists speculate that their snub noses, generous cheeks and toddling gaits may excite circuitry in our brains normally related to interactions with human infants. Likewise, babies have supersized eyes, and pandas' trademark black patches make their eyes appear larger by a factor of ten. (Part of a "facial mask" that likely evolved to repel predators, the eye patches seem to have the opposite effect on us.) Pandas are also one of the only animals to have a pseudo-thumb, a flexible wrist bone that allows them to manipulate objects in a cunning manner. They can stand on their hind legs, they like to frolic in the snow—the list goes on. They even somersault.
And they inspire similar antics in us. At the National Zoo, troops of Girl Scout Brownies have been known to serenade the current pandas—Mei Xiang and Tian—and their famed offspring, Tai Shan. Besotted zoogoers sport panda tattoos and commission panda vanity plates and knit matching black-and-white scarves for all the panda keepers. It's no wonder when 4-year-old Tai Shan was returned to China in 2010, a SWAT team escorted the youngster to the airport. Even now, his American fans go on pilgrimage to the Bifengxia Panda Base in Sichuan Province and pay money for the privilege of mucking out his cage.
So pandas have power over us, what University of Oxford scholars called "soft, cuddly power" in a recent journal article analyzing the political role of China's ambassador bears. "What other countries see is this cute, cuddly creature, but there's a lot going on behind the scenes," says Kathleen Buckingham, lead author of the paper, which appears in the latest issue of Environmental Practice. She adds, "From a Chinese perspective, sharing the care of such a precious animal strengthens the bonds that China has with its 'inner circle' of countries."
Chairman Mao's 1972 gift to America, and a similar present to the Soviet Union in 1965, marked communist China's efforts to forge international friendships after decades of isolation. Then, in 1984, China began to lease its pandas at the monthly rate of $50,000 each, which some observers saw as signaling a new embrace of capitalist principles. Today most of China's main trading partners have had chances to rent pandas, though the rate is at least $500,000 a year. Sometimes, Buckingham notes, the offer of a coveted panda lease seems to coincide with a significant business deal. For instance, Scotland recently agreed to sell China billions of dollars' worth of Land Rovers, salmon meat and other goods, and while negotiations were underway the Edinburgh Zoo just happened to score two pandas.
Yet the dynamics of panda power depend on nature as well as international relations. The giant panda is an endangered species, with only about 1,600 living wild in mountainous central China and more than 300 in captivity worldwide. After an earthquake rocked the panda's native habitat in Sichuan, damaging state-run facilities for breeding the notoriously slow-to-multiply bears, China brokered more panda leases as it looked for temporary homes for the animals, Buckingham says. Thanks to the long history of panda diplomacy, there already were breeding programs abroad.
Which is where the United States excels. Working with China, the Smithsonian's National Zoo has celebrated two live births—including one this August—and zoos in San Diego and Atlanta have also enjoyed success. These cubs represent collaborations across oceans and politics, in the name of another species—you might say, humankind's gift to the panda.
Smithsonian's staff writer, Abigail Tucker has previously covered all sorts of wildlife, journeying to Greenland in search of narwhals and diving in a submersible off the coast of the Bahamas to see bioluminescent organisms.