The Rise and Fall and Rise of Zahi Hawass
The long-reigning king of Egyptian antiquities has been forced into exile—but he's plotting a return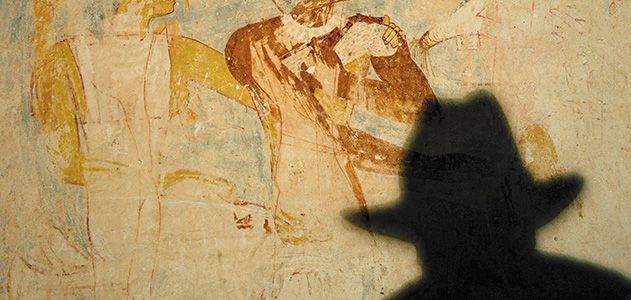 Zahi Hawass doesn't like what he's seeing. Clad in his familiar denim safari suit and wide-brimmed bush hat, the famed archaeologist is standing inside the burial vault of the Step Pyramid of Djoser, a six-tiered, lopsided mound of limestone blocks constructed nearly 5,000 years ago. The huge, gloomy space is filled with scaffolding. A restoration and conservation project, at Saqqara outside Cairo, initiated by Hawass in 2002, has been shoring up the sagging ceiling and walls and staving off collapse. But the February 2011 revolution that toppled Hosni Mubarak—and also ended Hawass' controversial reign as the supreme chief of all Egypt's antiquities—is now threatening to unravel Hawass' legacy as well. With tourists nearly gone, funds dried up and the Ministry of Antiquities leadership reshuffled several times in the past two years, preservation work on the pyramid has ground to a near halt. The new minister has diverted reconstruction money into hiring thousands of unemployed archaeology graduates, claims Hawass, in a desperate move to stop protests. "He has done nothing," Hawass says, with perhaps a touch of schadenfreude in his voice, scrutinizing the rough limestone ceiling and walls.
Hawass alights on the subterranean floor and shines a flashlight on the Pharaoh Djoser's granite sarcophagus. I follow him on hands and knees through a low tunnel, part of a network of five miles of passages that workers burrowed beneath the pyramid in the 27th century B.C. The air is redolent of mud and dust. "The dead king had to go through these tunnels to fight wild creatures until he could become Osiris, the god of the underworld," he tells me, stepping back into the sunlight.
***
In Egyptian mythology, Osiris ruled on earth as the all-powerful king, until the jealous god Set murdered him and usurped his throne. Osiris' fall set in motion a drama of rivalry and revenge in which Set was finally defeated—and Osiris resurrected. Only through the return of the king could order be restored to Egypt.
For more than a decade Zahi Hawass was, arguably, the Osiris of antiquities. A regal combination of showman and scholar, he ruled a netherworld of tombs and temples, investigating age-old mysteries—the burial place of Antony and Cleopatra, the cause of death of Tutankhamun—for rapt television audiences. Hawass' megalomania was legendary: In "Chasing Mummies: The Amazing Adventures of Zahi Hawass," a reality television series on the History Channel, the archaeologist led his trainees on Howard Carter-type adventures, an exercise in self-aggrandizement so unabashed that it prompted a New York Times critic to smirk: "One hopes...Dr. Hawass will unearth some ancient Egyptian chill pills and swallow a generous helping." Yet he also earned the admiration of peers and millions of fans. The National Geographic Society named him explorer-in-residence in 2001, an honor he shared with primatologist Jane Goodall, filmmaker James Cameron and paleontologists Meave and Louise Leakey. He wrote best-selling books. He commanded lecture fees ranging from $10,000 to $50,000. A traveling exhibition he put together of five dozen artifacts from the Egyptian Museum, "Tutankhamun and the Golden Age of the Pharaohs," earned $110 million for Egypt during its tour of seven cities in Europe and the United States. It was one of the most lucrative museum shows of all time.
It all ended with the revolution. Hawass was vilified when protests against President Mubarak erupted in Tahrir Square in January 2011. Protesters called him "the Mubarak of Antiquities" and accused him of corruption. Underlings in the antiquities department and jobless and frustrated archaeology graduates besieged his office, demanding his ouster. "And take your hat," they shouted. In April 2011 he was sentenced to a year in jail, stemming from an alleged case of rigged contract bidding at the Egyptian Museum in Cairo. (The verdict was later overturned.) In July 2011, after serving two successive post-Mubarak governments, Hawass finally was obliged to give up his job. According to one Egyptian blogger, Hawass was "escorted out the back door of the ministry into a cab, showered with insults and angry chants from young archaeologists," an event captured on video and watched by thousands of Egyptians.
Today, Hawass finds parallels between his fall and that of Osiris. "I had lots of enemies—the enemies of success," he says. "They are the friends of the god Set, the evil desert god in ancient Egypt." Many in the archaeological community seem to agree. "No one in Egyptology...has accomplished even a tiny fraction of what Zahi has. That, plus his fame, enrages people," says Peter Lacovara, an Egyptologist at Emory University in Atlanta who has known Hawass for decades. "Zahi is a lightning rod, because he's got so much energy and passion, and he doesn't pull any punches," says one noted Egyptologist in the U.S., who insisted on anonymity because her museum wants to stay on the sidelines. "People became envious of how high his profile became." Others say that his blustering style and sometimes belittling manner, as well as his utter misreading of the public mood on the eve of Mubarak's overthrow, all but assured his downfall.
Whatever its ultimate cause, Hawass' departure has raised concerns about the future of Egypt's antiquities. He may have antagonized people, but he was also an effective and enthusiastic manager who "cut through the bureaucracy," says Naguib Amin, a consultant and friend since their days as graduate students in the U.S. Now many projects, including Saqqara, have stalled, and some say that Hawass' fall has adversely affected both fund-raising and stewardship of the country's treasures. "Antiquities are collapsing in front of my eyes," Hawass says. Lacovara says that the new director of antiquities, Mohamed Ibrahim Ali, "is well respected and has done an excellent job....He has restored stability [and] things are running smoothly." But Hawass says that Lacovara, who has ongoing projects in Egypt, may be reluctant to criticize the new boss. "I wanted to support Ibrahim, I wanted him to be good, but he is not doing anything," he insists. Some colleagues in the ministry agree, saying that Ibrahim lacks Hawass' dynamism, and has been forced to slash budgets because of a steep decline in revenue.
Egyptian tourism, a big piece of the country's economy, has declined by as much as 50 percent since 2010, raising questions about whether the government will decide that it needs Hawass and his famous face to revive it. President Mohamed Morsi has never discussed the issue publicly, and Hawass has been critical of the Muslim Brotherhood, the Islamist movement to which Morsi belonged and whose members dominate his administration. However, he also points out that in 2010, Muslim Brotherhood members overwhelmingly supported a bill he introduced to impose more severe sentences for antiquities theft and ban domestic trafficking in ancient artifacts. "Mubarak's party was against me," he adds, and only a watered-down version passed. Some former colleagues believe that Morsi may have no other choice but to bring back Hawass. "His charisma was bringing in money," says Ali Asfar, the director of the Pyramids. "Nobody can fill his shoes." Kamal Wahid, the director of Saqqara, concurs. "Every site misses him," he said. "Tourism [at Saqqara] is down to 10 percent of what it was before the revolution. We are waiting until Dr. Hawass comes back again."
***
I first met Hawass on a cool morning last December, at the office that he now uses on the ninth floor of a dilapidated high-rise apartment building in a busy Cairo neighborhood near the Nile. Hawass' two-room suite is at the end of a gloomy hallway redolent of home cooking. He shares the space with a female assistant and a protégé, Tarek El Awady, whom Hawass hired as a field archaeologist, sent to graduate school and later appointed as director of the Egyptian Museum. Determined to snatch Egyptology out of the hands of Westerners who had dominated the field since the days of the emperor Napoleon, Hawass "encouraged training and opportunities for young Egyptians to a degree never seen before," says Lacovara.
El Awady, now on a leave of absence from the museum, escorted me to Hawass' small office. There the former antiquities chief, wearing denims, was sitting behind a cluttered desk, talking on the phone to members of a Russian television crew that was due to interview him in a few minutes. Suddenly, Hawass began screaming in Arabic into the phone. The tirade went on for 20 seconds. Face bright red, he hung up and looked at me apologetically. "Stupid man," he said, shaking his head. He explained that he had attempted to give directions to the crew's Egyptian driver, who had interrupted him. Hawass' temper is legendary—the History Channel reality series shows him berating his colleagues unmercifully—but I was surprised that he had shown me that side of his personality within a few seconds of meeting him.
I had planned to join Hawass at a lecture for foreign tourists he was scheduled to deliver inside a temple at Luxor that evening, but the sponsors had pulled the plug because there had been too many cancellations. The past week had been among the most violent since the revolution. Six people had died the night before in clashes between supporters of Morsi and his opponents, and crowds were gathering around the presidential palace in Heliopolis to demand that Morsi rescind a decree giving him near-dictatorial powers in advance of Egypt's constitutional referendum.
"Morsi is worse than Mubarak, he doesn't listen to the people," Hawass told me, as his assistant brought in two cups of green tea. He is a burly man with a dominating manner and, despite his recent troubles, an air of total self-confidence. "What he did with the constitution is dictatorship. I always say give the opportunity to Muslim Brotherhood to rule. But they are not trained to rule....I think it is going to be civil war."
Hawass is still fighting the legal problems that ensnared him during the revolution. Last spring the prosecutor general banned him from traveling outside Egypt, pending investigation of dozens of charges of impropriety and corruption brought against him by a pair of former colleagues. Hawass stands accused of wasting public money and exposing Egyptian antiquities to possible theft by shipping them overseas without permission. He gave up his National Geographic contract, an arrangement that paid him $200,000 a year, after questions were raised about possible conflict of interest. As antiquities chief, Hawass administered many sites that the Geographic used in its television programs and other projects. (He insists that he left because "I can make more money" without an exclusive arrangement for his lectures and books.)
His relationship to the former first lady, Suzanne Mubarak, has also come under scrutiny. Investigators are probing his involvement in the Suzanne Mubarak Children's Museum in Cairo (renamed the Children's Civilization and Creativity Center when it opened in January 2012), which was funded by donations raised by Hawass on a lecture tour and funneled into her charity. Hawass may have violated the law by using his public office to raise money for a private organization. Hawass maintains that his relationship with Suzanne Mubarak was beyond reproach. "I've never been a politician in my life," he told me. "I was not a friend of anyone."
He rose from behind the desk. "I'm a famous guy, and if you go to TV and say 'Zahi Hawass is an asshole,' they will write that," he told me. He had been assured that the travel ban had been lifted, he said, but the paperwork had fallen between the cracks during the political crisis: "Egypt is in chaos now. Nobody cares about Zahi Hawass."
Hawass insisted that he has rarely been happier. His enforced retirement has given him the leisure to do what he always wanted, he told me, writing books and newspaper articles about Egyptian history, including a weekly column for Asharq Al-Awsat, the London-based Arabic newspaper. "Before I can write only between telephone calls," he said. He works out daily in a gym, meets with visiting archaeologists and spends his evenings dining in cafés with a wide circle of friends. "I think he's quite relieved to be out of it," Naguib Amin would tell me. "He's very tired." Hawass says he's glad to be freed of his administrative responsibilities, and the political intrigue that marked his last turbulent year. "All I miss are my excavations," he insisted. "I'm not sobbing, crying. Why I have to cry? Never!" he banged his hand on his desk. "Never in my life was I depressed."
***
Hawass was born in 1947, in a village near the Nile Delta city of Damietta. He originally wanted to become a lawyer, but earned degrees in Egyptology at Cairo University, and Greek and Roman archaeology at Alexandria University, then worked as an inspector, a combination archaeologist and administrator, at the Pyramids. At 33, he won a Fulbright Fellowship to attend the University of Pennsylvania, where he obtained his doctorate. For Hawass, the period marked the beginning of a lifelong love affair with the United States, and it established his reputation as a man of large appetites.
"I went to see Zahi once in Philadelphia, when he was a PhD student, and we went to this singles bar," Naguib Amin, his friend from graduate school, told me as we returned with Hawass by rental car from Saqqara to Cairo. "Zahi picked us up two girls, they were cashiers in a supermarket, and he was trying to sell himself continuously, talking about the Pyramids. Finally one told her friend, 'I don't want him to talk, I just want to...'"—and here Amin used a word not suitable for publication in this magazine.
"It was New York, not Philadelphia," Hawass remembered. "Naguib was wearing a Yasser Arafat scarf, and he looked like a terrorist." The memory led him into a defensive monologue about how his enemies have used sex rumors to harm his reputation. "I've never slept with a prostitute in my life," he said. "You know what they wrote about me in the revolution? They said I am married secretly to an American lady and I have a girl from her. The Italians wrote this." (Hawass is still known as a ladies' man. He has lived apart from his wife for many years; they have two grown sons, one a physician, the other a restaurateur, both living in Cairo.)
Hawass spent most of his seven years stateside studying and working. "I lived inside the university," he says. He was head of the Egyptian Students Union on campus, and traveled widely, giving lectures at colleges and other venues across Pennsylvania. He made contacts that would serve him in his fund-raising, and developed a confident speaking style. "I went as a quiet young man, I didn't know my talents, but I learned how to choose my words, and how to become a public lecturer." His admiration for the U.S. grew. "I found out that the American people are the most beautiful people," he says. "You can take friends for your life." Until his travel ban, Hawass returned to the U.S. at least once a month, holding lectures that drew audiences as large as 4,000.
Hawass returned to Egypt in 1987, and was hired as director of Giza and Saqqara. Near the Sphinx, three years later, he made a breakthrough discovery: an ancient cemetery containing 600 graves and 50 larger tombs belonging to the builders of the Pyramids, their families and their overseers. Rich with hieroglyphics that described ritual offerings and everyday activities such as grain grinding and beer making, the graveyard provided unprecedented insight into the lives of ordinary Egyptians during the Fourth and Fifth dynasties. Three years later, in a foreshadowing of his future troubles, he was accused of neglect and fired after a valuable ancient statuette in his custody was stolen from Giza; Hawass says a rival set him up. A year later, he got his job back, and in 2002 he was chosen to run the Egyptian Supreme Council of Antiquities. The post gave him oversight of Egypt's thousands of archaeological sites, and a platform to build his celebrity.
A 1997 terrorist attack that killed 62 people, mostly tourists, at the Temple of Hatshepsut outside Luxor, followed by the attacks of 9/11, had nearly killed off tourism in Egypt. Hawass probably did more than anyone else to lure back foreign visitors. His TV shows, museum tours, high-profile excavations and rehabilitation of ancient sites "made Egyptology dynamic," says his longtime friend Rainer Stadelmann, the former head of the German Archaeological Institute in Cairo. Hawass launched a vocal campaign to repatriate Egyptian artifacts that had been carted off by Europeans—the bust of Nefertiti, now at Berlin's Neues Museum, the Rosetta Stone at the British Museum in London—irking some world leaders and curators while raising his profile.
In 2009 Hawass demanded that the Louvre hand over five limestone wall paintings, purchased by the museum in 2000 and 2003 at a gallery and at auction after being stolen from a Luxor tomb in the 1980s. When the museum director ignored him, Hawass blocked a Louvre-sponsored excavation at Saqqara. "This was like a bomb," he says. "At 8:45 a.m. I was giving a lecture, Mubarak called me. 'Zahi, Sarkozy just phoned me, he said you stopped the Louvre, what happened?' I explained it, and he said, 'What you did was perfect.'" The Louvre returned the pieces in 2009. "This return became a symbol everywhere," says Hawass. "In 2006 they named me among the Time [magazine] 100 [Most Influential People] because of all this courage, the things I did in the world."
Hawass reveled in his stardom. He cruised Cairo in a chauffeured SUV, drank $300 bottles of wine, flaunted his friendship with the actor Omar Sharif, attended occasional parties at Mubarak's villa. In June 2009 he escorted President Barack Obama on a tour of the Pyramids. Obama signed a photo of the pair in front of the Sphinx with the message, "thank you for sharing your wisdom and insight," and it hangs prominently in Hawass' office. He marketed a replica of his Indiana Jones-style fedora and made a deal with an American firm to put out his own clothing line. The New York Times described it as "a line of rugged khakis, denim shirts and carefully worn leather jackets" meant, according to the catalog copy, to hark "back to Egypt's golden age of discovery in the early 20th century." The deal collapsed in the wake of the revolution.
***
Despite his accomplishments, Hawass managed to antagonize many constituencies. Preservationists said that he "Disneyfied" ancient sites such as Luxor and Saqqara by renovating them with inappropriately modern materials, including cement, brick, wood and metal. His policy of limiting access to sites to protect them from theft and vandalism—building a wall around the Pyramids, for example, and channeling visitors through two guarded entrances—created what some view as a form of apartheid. "He has built an emotional and physical wall between Egyptians and their cultural heritage," says Monica Hanna, a former colleague who now teaches archaeology at Humboldt University in Berlin.
Scholars say that he often blurred the line between show business and science. Some challenged Hawass' claim, in 2007, that he "positively identified" the mummy of Queen Hatshepsut, the 18th-dynasty Pharaoh. Hawass matched a tooth found in a box associated with Hatshepsut to the jaw socket of a mummy found in Luxor's Valley of the Kings, the ancient royal necropolis. Skeptics say that the mummy's tomb was too humble for a queen, and that Hatshepsut's stepson almost certainly hid his mother's corpse in a location far from Luxor. "Zahi has a tendency to present theories as facts," says a noted U.S. museum curator and Egyptologist who knows him well.
He also came under fire for forbidding archaeologists from announcing their own finds, demanding that they be first vetted and announced by him. After an Egyptologist at the University of York, Joann Fletcher, unilaterally declared that she had discovered the mummy of Nefertiti, wife of the late 18th-dynasty Pharaoh Akhenaten, in a tomb near Luxor, Hawass called the find "pure fiction," reprimanded her and banned her from working again in Egypt. "I made her life miserable," he tells me. "I was really severe. There is no mercy with me." Defenders say his approach was long overdue. "Critics said he took credit for all the discoveries in Egypt, but he was really publicizing them and running the information through the proper channels," says Peter Lacovara. Colleagues grumbled that he hogged the limelight. "What can I do?" he asks. "God gave me this charisma, he did not give it to anyone else. Who is the star now? Tell me. Do you know the name of any Egyptian antiquitist? Two years I am away, who is the star?"
***
On January 31, 2011, in the middle of the revolution, Prime Minister Ahmed Shafiq offered Hawass the newly created position of minister of state for antiquities in a hastily reassembled cabinet. The change of government was part of a last-ditch attempt to appease the protesters and save Mubarak. The Egyptian Museum had just been looted—artifacts including 54 ancient bronzes were snatched by thieves who had broken in through the skylight—and Hawass had spent hours on international television, trying to assure the world that the losses had been minimal. Says Hawass: "Shafiq told people, 'Zahi's face was in TV all over the world, the Egyptians love him, and if we make this new ministry for him, he will never say no.' I thought, 'this is a time that my country needs me. If I do nothing this is bad.' Then I accepted."
Colleagues say that it was a miscalculation. "He had an idea that 'I have to do my duty,'" said Rainer Stadelmann, as we sat with Hawass at dinner at one of his favorite restaurants, Trattoria, in the affluent Zamalek neighborhood, owned by the son of Omar Sharif. Hawass keeps a personal collection of fine wines in the cellar. "Egypt was in chaos, the Egyptian Museum had been looted," Stadelmann continued. "He did not see the anger toward Mubarak. He was politically naive." In early February, while regime thugs were beating and killing protesters in Tahrir Square, Hawass praised the president on the BBC and said he supported Mubarak's proposal to preside over an orderly transition. For hundreds of thousands who were demanding Mubarak's immediate ouster, Hawass seemed to be throwing his weight behind a reviled dictator.
Two years later, Hawass is unapologetic. He maintains that he was "never close" to the former president—"I suffered a lot from the Mubarak regime. Ministers attacked me, fought with me"—but he respected Mubarak as a leader. When the revolution started, "I said, if you want Egypt to be stable, give Mubarak the opportunity to stay until September, make elections. And in the end I was proven to be correct." Mubarak did make mistakes in his later years, he concedes. "Mubarak never announced publicly that his son [Gamal] will not become the president. I was against this," Hawass says. "Number two, he became old, I could see in the meetings, when he opened them, his mind is not there. And that allowed bad people, like the head of the Parliament, the head of the ruling party, to become strong." But no other figure in the country, he contends, had the ability to hold Egypt together. "Mubarak as a man was not bad," he says. "For 20 years [his rule] was good. Thirty years was too much."
***
At 9:30 on a Saturday night in Cairo, Hawass is in a petulant mood. Seated at a VIP table inside a smoke-filled ballroom of the Four Seasons on the Nile, Hawass rolls his eyes as the Cairo Opera Ballet Company performs an excruciatingly slow dance routine. "This is the most boring cultural event I've ever seen in my life," he grumbles.
The occasion is a fund-raising dinner for the Swiss Egyptian Business Association, packed with diplomats and members of the Cairo elite—many of them with ties to the ancien régime. Across the table, Mubarak's former secretary huddles with an ex-columnist from the state-owned Al-Ahram newspaper, who has just been fired by the new editor, a member of the Muslim Brotherhood, for writing critically of Morsi. With power now in the hands of the Islamists, these members of the old guard are bitter, idle, fearing the future. "Morsi needs to listen to the people," says Hawass. Then, in the next breath, he says that Egyptians "don't understand democracy," and "need a strong dictator."
Hawass' own future remains cloudy. The archaeologist claims that he doesn't want his old job back, but he can't stop talking about the decline of the Ministry since he left nearly two years ago. "When I was there, the building was like a fire, people were working 9 to 6 every day, but now they do nothing," he claims. "Who is there now? Someone with no experience, wearing a tie and suit."
Indeed, in unguarded moments, Hawass already seems to be laying plans for his resurrection. Last year, 2012, he tells me, marked the 100th anniversary of the removal of the 3,300-year-old bust of Nefertiti from Egypt to Berlin by the German archaeologist Ludwig Borchardt. Hawass campaigned for its repatriation, only to be rebuffed by German officials, who maintained that the removal was legal and that the statuette would be damaged by moving it. Momentum for the return faded with the revolution, but Hawass hasn't given up. "Next Thursday I am going to write an article on Nefertiti," he tells me, as waiters circulate and the band begins to play. "And I will tell the Germans that the battle is not finished." He is expecting, he says, a call from the Morsi government. "If they need me, and I'm sure they will, I am willing to help," he says. "And if they want me to return to antiquities, I will." Like Osiris, Hawass seems to sense that Set's triumph is only a temporary one.