The Oldest Modernist Paintings
Two thousand years before Picasso, artists in Egypt painted some of the most arresting portraits in the history of art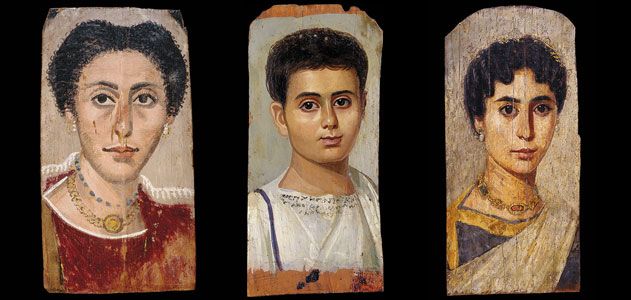 Between 1887 and 1889, the British archaeologist W.M. Flinders Petrie turned his attention to the Fayum, a sprawling oasis region 150 miles south of Alexandria. Excavating a vast cemetery from the first and second centuries A.D., when imperial Rome ruled Egypt, he found scores of exquisite portraits executed on wood panels by anonymous artists, each one associated with a mummified body. Petrie eventually uncovered 150.
The images seem to allow us to gaze directly into the ancient world. "The Fayum portraits have an almost disturbing lifelike quality and intensity," says Euphrosyne Doxiadis, an artist who lives in Athens and Paris and is the author of The Mysterious Fayum Portraits. "The illusion, when standing in front of them, is that of coming face to face with someone one has to answer to—someone real."
By now, nearly 1,000 Fayum paintings exist in collections in Egypt and at the Louvre, the British and Petrie museums in London, the Metropolitan and Brooklyn museums, the Getty in California and elsewhere.
For decades, the portraits lingered in a sort of classification limbo, considered Egyptian by Greco-Roman scholars and Greco-Roman by Egyptians. But scholars increasingly appreciate the startlingly penetrating works, and are even studying them with noninvasive high-tech tools.
At the Ny Carlsberg Glyptotek museum in Copenhagen, scientists recently used luminescence digital imaging to analyze one portrait of a woman. They documented extensive use of Egyptian blue, a copper-containing synthetic pigment, around the eyes, nose and mouth, perhaps to create shading, and mixed with red elsewhere on the skin, perhaps to enhance the illusion of flesh. "The effect of realism is crucial," says the museum's Rikke Therkildsen.
Stephen Quirke, an Egyptologist at the Petrie museum and a contributor to the museum's 2007 catalog Living Images, says the Fayum paintings may be equated with those of an old master—only they're about 1,500 years older.
Doxiadis has a similar view, saying the works' artistic merit suggests that "the greats of the Renaissance and post-Renaissance, such as Titian and Rembrandt, had great predecessors in the ancient world."