The Monuments That Were Never Built
In a new exhibit at the National Building Museum, imagine Washington D.C. as it could have been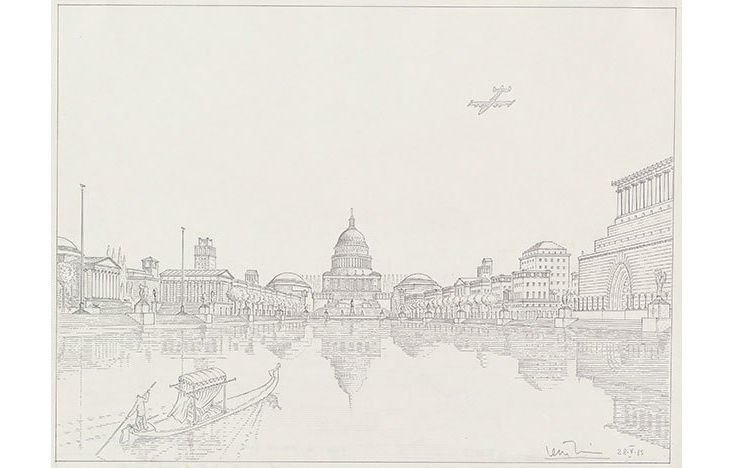 Projected Improvements to the Washington Monument and National Mall by B.F. Smith, 1852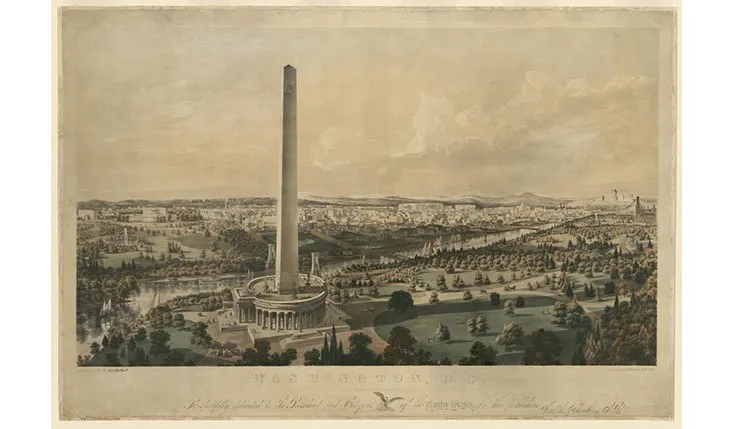 "Unbuilt Washington," the newest exhibition at the National Building Museum in Washington, D.C, highlights over 100 architectural projects proposed for the nation's capital since 1791. All of the monuments, bridges, museums and other buildings were never executed—at least not according to plan. Yet, from their sketches and models rises a quirky, arguably influential cityscape that curator G. Martin Moeller calls the "the Washington that could have been."
A close approximation of Robert Mills' winning competition entry for the Washington Monument, for instance, is prominently figured in a lithograph (above) of the National Mall, made in 1852. The architect envisioned a 600-foot obelisk with a circular structure at its base. The pantheon would be 100 feet high and 250 feet in diameter, with 30 Doric columns, one for each state in the Union as of 1845. On top, he planned to mount a statue of George Washington in a horse-drawn carriage.
Though Mills' design was accepted in 1845, and begun three years later, construction ground to a halt in 1856. When it resumed after the Civil War, the pantheon was scrapped, the obelisk's dimensions height was lowered to 555 feet and its point was sharpened.
Lincoln Memorial Proposal by John Russell Pope, 1912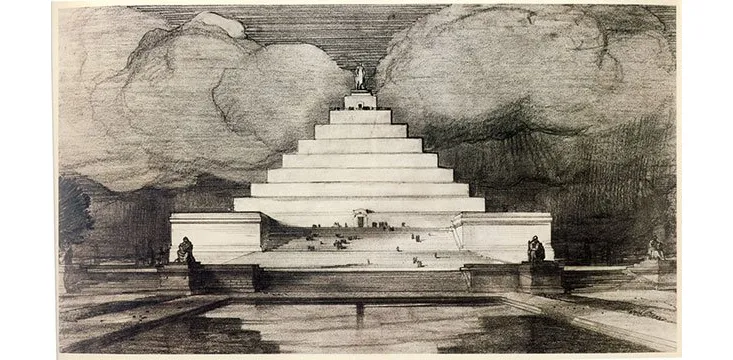 John Russell Pope, who over 20 years later would design the Jefferson Memorial, submitted some rather bizarre proposals for the Lincoln Memorial. In this one, from 1912, a statue of Abraham Lincoln is placed, like a cake topper, on a step pyramid. Why would anyone think to build a pyramid to honor Lincoln? "Arguably why would we build a Greek temple to a man who was born in a log cabin?" says Moeller, of the actual memorial, designed by Henry Bacon and completed in 1922.
Apparently, Pope was not a fan of the site chosen for the Lincoln Memorial in 1913. Some historians believe that he created radical designs in a last-ditch effort to discourage the Lincoln Memorial Commission from using the swampy location, west of the Washington Monument. When he presented his many proposals to the commission, he only briefly touched on his pyramid series before strongly pitching ideas he had for other sites in the city.
Preliminary Proposal for the National Cultural Center (later Kennedy Center) by Edward Durrell Stone, 1959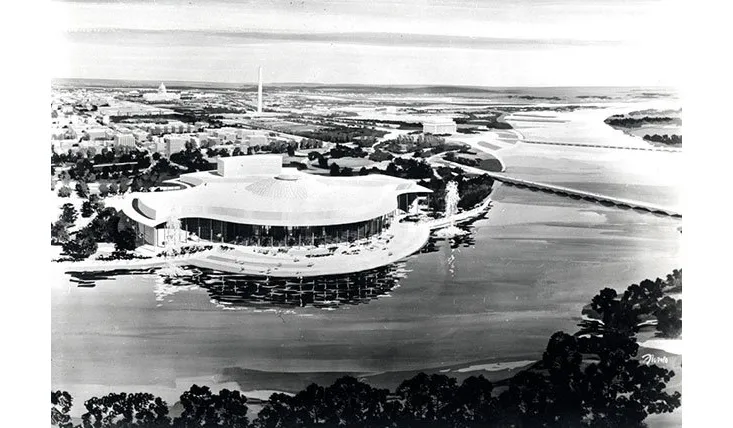 The Kennedy Center, on the Potomac River near Georgetown, is actually a simpler, more affordable stand-in for the architect's original design. Edward Durell Stone's preliminary proposal in 1959—for which he was hired—put forth an elaborate venue with three performance halls attached to a round, domed rotunda. A terrace outside the rotunda's glass periphery jutted out over the river, and the architect, channeling Venice, imagined guests and performers arriving by boat. Another view, sketched by Stone, shows the center's glitzy interior. "You can see Zsa Zsa Gabor swooping through in a sequined dress," says Moeller.
Proposed Executive Mansion on Meridian Hill by Paul J. Pelz, 1898
In the late 1800s, Mary Foote Henderson, wife of a former Missouri senator, was intent on elevating the status of her neighborhood. A formidable businesswoman, she developed a dozen or so mansions along 16th Street, Washington's first Embassy Row. Diplomats, as neighbors, were one thing. But, ultimately, she wanted the president to live across the street from her.
In 1898, architect Paul J. Pelz, whom Henderson hired, designed an executive mansion of Versailles-like proportions for Meridian Hill, north of the White House. Had it been built, the opulent residence would have changed the presidency. "How could it not?" says Moeller. "Buildings have an impact on how we behave. We don't know what the details of the interior would have been like, but it would have been a place where it would be hard to be humble."
Congress nixed Henderson's plan in the bud. In 1910, the government purchased the land, and four years later, the Interior Department asked landscape architect George Burnap to design a park. Horace Peaslee, another landscape architect, put his polishing touches on Burnap's drawings, and construction began. Meridian Hill (or Malcolm X) Park has been managed by the National Park Service since 1933.
Proposed Memorial Bridge in honor of Gen. U.S. Grant by Smithmeyer and Pelz, 1887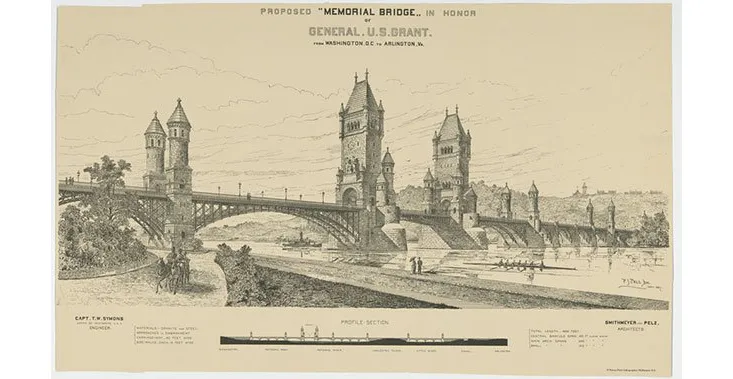 In 1887, just three years after a similar design by another architect was accepted for London's Tower Bridge, the architectural firm Smithmeyer and Pelz, in collaboration with the Army Corps of Engineers, proposed a Memorial Bridge honoring Gen. Ulysses S. Grant. The bridge, connecting Washington to Arlington, Virginia, was medieval-looking, with two, tall stone towers near its center and pairs of round turrets at other points along it. Talk of actually building the bridge, though, soon fizzled out. Instead, 45 years later, a low-rise Memorial Bridge was built in approximately the same location, extending from the backside of the Lincoln Memorial to Arlington Cemetery. Towerless, it does not obstruct any views.
Main elevation of Capitol competition entry by James Diamond, 1792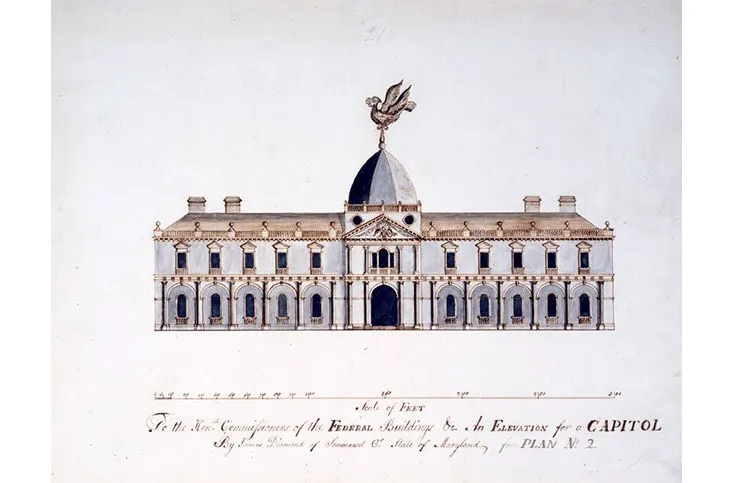 George Washington's city planner Pierre Charles L'Enfant was initially charged with designing the Capitol. But he was canned when he refused to produce official drawings for the concept "in his head." In 1792, a design competition was launched. "The competition was fascinating because it shows the status of architecture in America at the time," says Moeller. "That is to say, there wasn't one." Most of the entrants were amateurs, even Thomas Jefferson submitted designs.
Eighteen drawings by 10 draftsmen survive, including one by James Diamond, a builder most likely from Maryland. "This is the one that we all adore, in a funny way," says Moeller. The design shows a basic understanding of composition on Diamond's part. And yet, says Moeller, "It is hard to get past what we call the 'screaming chicken.'" The weathercock on the building's dome is clearly out of proportion.
Proposed Mothers' Memorial, by John Geddes, 1922-30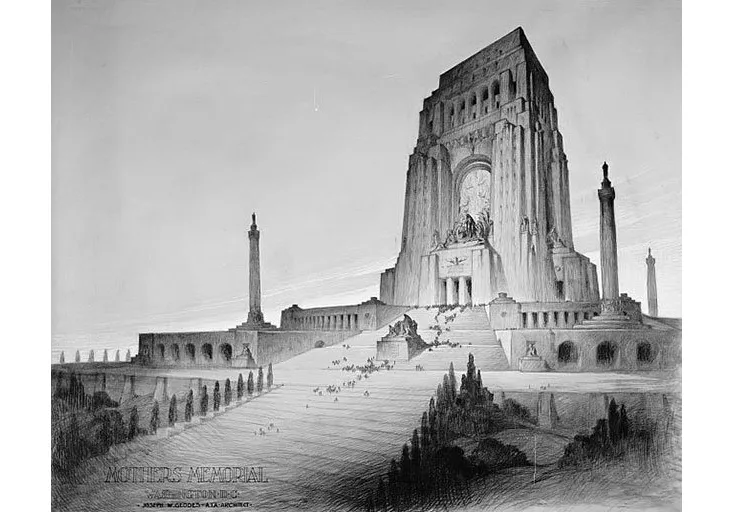 On May 12, 1929, Daisy Calhoun, a 65-year-old socialite, mother and founder of the Woman's Universal Alliance, addressed a crowd at a groundbreaking ceremony for a Mothers' Memorial in Washington. "The world has memorialized fighters, thinkers, monarchs and prophets, sea kings and generals," she said. "But as yet no monument to the mother genius had been raised in imperishable stone, beautified by art and sculpture, to proclaim the debt each mortal owes to the woman who risked her own life to give life."
Of course, a Mothers' Memorial was never constructed. The U.S. Commission of Fine Arts was not too keen on the idea to begin with, and then the Great Depression, of course, made fundraising difficult. But a few designs for such a monument were considered in the 1920s. Architect Joseph Geddes, in 1925, proposed a massive tower, bearing a resemblance to a skyscraper, with a grand staircase approaching it. Positioned on high ground near the Naval Observatory on Massachusetts Avenue, the memorial would have been a dominant part of the skyline. "It always makes me wonder what this guy's relationship with his mother was like," says Moeller.
Proposal for "Housing on the Avenue," by Hugh Newell Jacobsen, 1974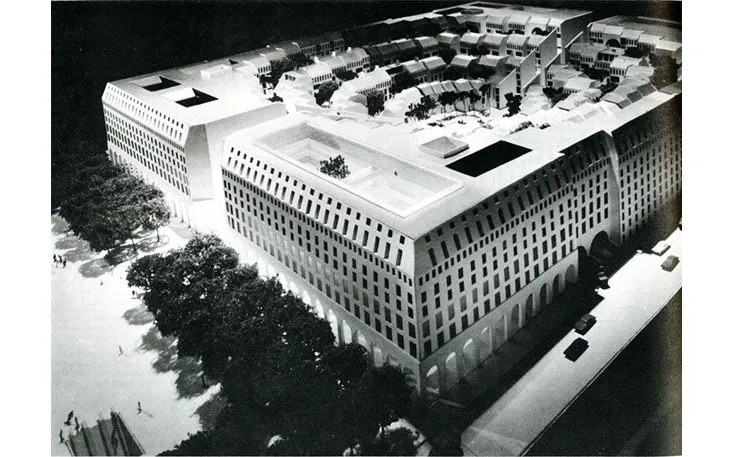 In Pierre L'Enfant's original plan for Washington, the stretch of Pennsylvania Avenue from the Capitol to the White House was a grand thoroughfare. But by the mid-20th century, the area had become rundown and dangerous. President John F. Kennedy took initiative and created a commission to look into ways to improve the corridor. From that, came the Pennsylvania Avenue Development Corporation, which revived the area in the 1970s, '80s and '90s. In 1974, the public/private partnership asked local architect Hugh Newell Jacobsen to draft a housing complex for the avenue.
Jacobsen's conceit looked like a typical office building from the street level. But in its core, the building was an amphitheater of more than 1,500 townhouses. The tiered setting, reminiscent of an Italian hill town, had underground parking, shops and restaurants on the ground floor, offices above and then the apartments.
While other building proposals bundled into the 1974 plan for Pennsylvania Avenue were implemented, Jacobsen's housing complex was not. "Things changed as attitudes changed," says Moeller. Today, Market Square—two, curved, neoclassical residential buildings on the avenue—instead form a great arch around the Navy Memorial.
Winning Entry to the Theodore Roosevelt Memorial Competition by John Russell Pope, 1925

In 1920, just one year after Theodore Roosevelt died and 11 years after he left the White House, Congress authorized the Theodore Roosevelt Memorial Association to construct a monument on the southern banks of the Tidal Basin. John Russell Pope proposed a 200-foot tall fountain, surrounded by concentric pools and bracketed by two curving colonnades in 1925. "In a way, it is the conceptual opposite of what is there now," says Moeller.
Today, the Jefferson Memorial, also designed by Pope, occupies the very same site. As opposed to an open plaza, the memorial is a solid, neoclassical structure that breaks the line of sight from the White House to the Potomac River.
So, how did this happen? Well, many people thought that it was too soon after Teddy Roosevelt's death to create a memorial to him. In 1931, the Theodore Roosevelt Memorial Association purchased the 88.5-acre Analostan Island in the Potomac River and turned it into a public park instead, in keeping with Roosevelt's avid support for the natural environment. (A statue of the president, stones with some of his quotations and two smaller fountains were erected on the island in the 1960s.) Soon thereafter, President Franklin Delano Roosevelt pushed for the memorial to Thomas Jefferson on the Tidal Basin.
Design for National Galleries of History and Art by Franklin Webster Smith, 1900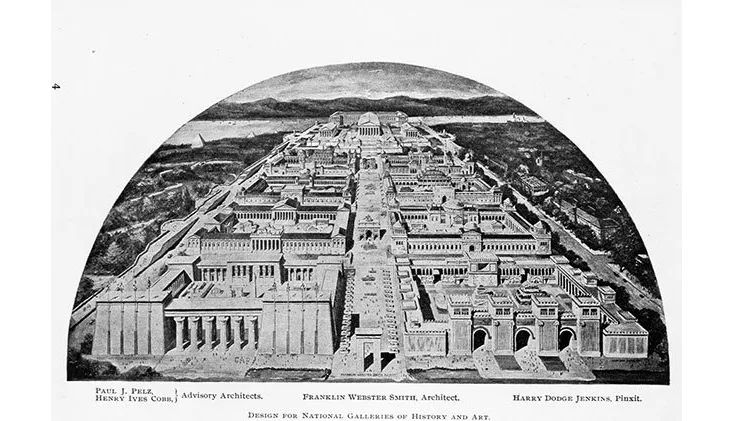 Franklin Webster Smith was a Boston hardware magnate with no real connection to Washington or to politics. Yet, he ardently believed that the capital should be a cultured place. In 1900, using his own money to promote the idea, he drew up plans for the National Galleries of History and Art, a 62-acre complex extending from 17th Street near the White House to the Potomac River.
"It was this outrageous mélange of just about any architectural style you can imagine—Roman, Egyptian, Assyrian, Babylonian, things coming out of the Indian subcontinent and the Mediterranean," says Moeller. On a north-south axis through the center of the institution, there was an avenue leading to a replica of the Parthenon, which would serve as a Memorial Temple of the Presidents of the United States.
Smith opened a showroom, called the "Hall of the Ancients" at 1312 New York Avenue NW, where visitors could preview what he had in mind for the galleries' interior. The New York Times reported that the space included models of Greek, Roman and Egyptian homes and temples that were historically accurate, down to the furniture and the frescoes on the walls.
"He wanted people to be exposed to different cultures in every respect—in costuming, in food, in design, art, architecture," says Moeller. "A three-dimensional encyclopedia is how he thought of it."
Smith presented his plans to the Senate. In fact, his illustrated proposal was turned into a book, published by the Government Printing Office. But any actual discussions about building the National Galleries of History and Art—an ambitious and expensive project—were killed in committee and never saw the full Senate floor.
"Plan for the Completion of Washington, D.C," by Léon Krier, 1984-85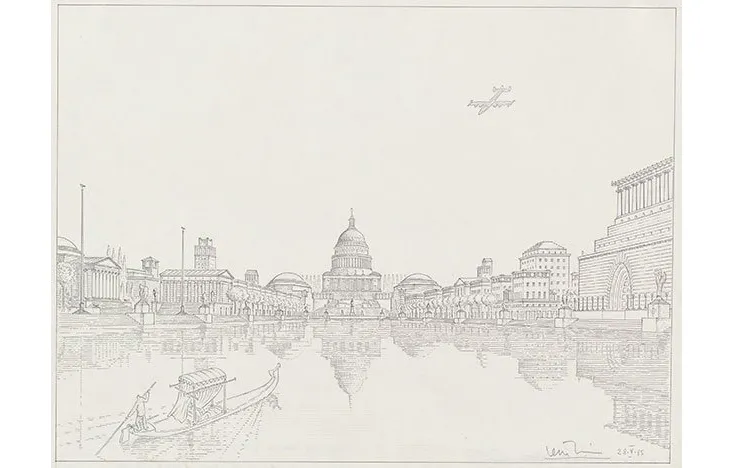 Your eyes aren't playing tricks on you. That is a gondola plying through water in front of the Capitol. When the Museum of Modern Art commissioned urban planner Léon Krier to rethink Washington in 1984 (in advance of the city's bicentennial in 1991), his master plan replaced the green swath of the National Mall with a Venetian-like canal flanked by pyramids and other examples of ancient architecture.
"If you can get past the flooding of the Mall, there are actually some interesting ideas in this," says Moeller. In his critique of the urban landscape, Krier suggested mixing work and play by building four village-like communities, offering all types of amenities, in what seemed to him to be a wasteland of federal buildings near the Mall.
Original design of National Cathedral by Ernest Flagg, 1896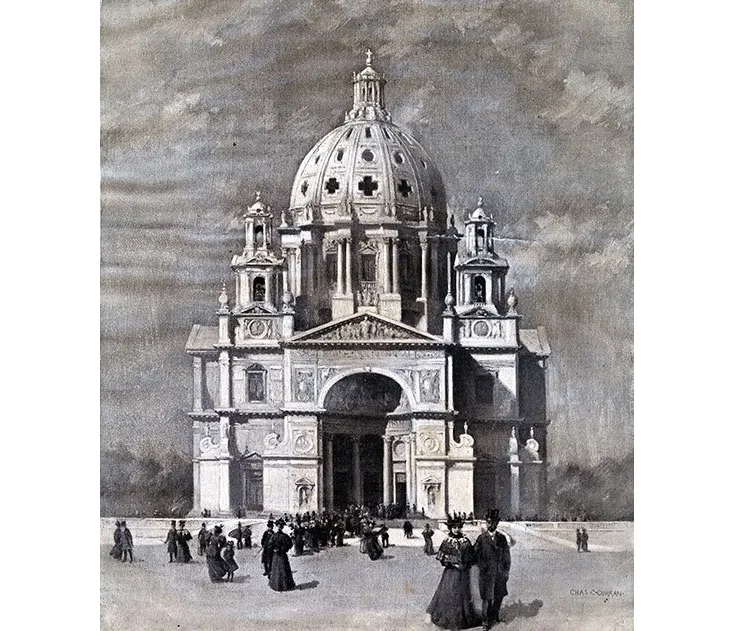 "Many people assume it was a foregone conclusion that it was Gothic," says Moeller. But the original design for the National Cathedral was in a Renaissance style. Architect Ernest Flagg, of New York, supplied the Protestant Episcopal Cathedral Foundation with drawings. The cathedral had a 208-foot-tall rotunda, a dome with cutouts of simple Greek crosses and, notes Moeller, a particularly interesting entryway. "It is a real niche, pulling people in," he says. "There was a certain sculptural sense to that. I can imagine that being a very memorable experience."
Raising funds for the church proved to be a challenge, however. Years passed, and opinions changed. Henry Yates Satterlee, the first bishop of the Episcopal Diocese of Washington, hired an English architect of Anglican churches named George Frederick Bodley to build the Gothic-style cathedral with three towers and flying buttresses that stands today. The National Cathedral was completed in 1990, after 83 years of construction.