The Last Civil War Veterans Who Lived to Be Over 100… Or Did They?
As America prepared to commemorate the 100th anniversary of the Civil War, two centenarians told their tales — only one was telling the truth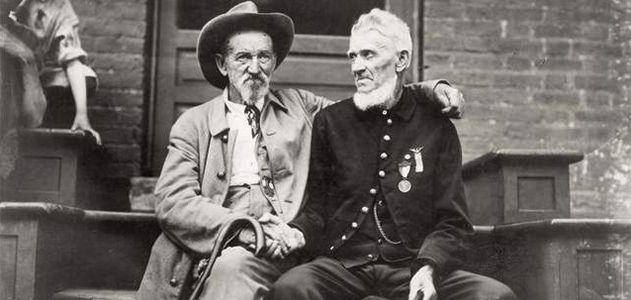 Albert Woolson loved the parades. For Memorial Day in Duluth, Minnesota, he rode in the biggest car down the widest streets of his hometown. The city etched his name in the Duluth Honor Roll, and he was celebrated at conventions and banquets across the North. Even the president wrote him letters on his birthday. Because everyone said he was the last surviving member of the Grand Army of
the Republic, a fraternal organization of Union veterans once nearly half a million strong, they erected a life-size statue of him on the most hallowed ground of that entire horrible conflict—Gettysburg.
Though deaf and often ill, he was still spry enough that, even at 109 years of age, he could be polite and mannerly, always a gentleman. He was especially fond of children and enjoyed visiting schools and exciting the boys with stories of cannon and steel and unbelievable courage on the fields around Chattanooga. The boys called him "Grandpa Al."
But Woolson could be fussy. His breakfast eggs had to be scrambled and his bacon crisp. He continued to smoke; he had probably lit up more than a thousand cigars just since he had hit the century mark. And no one kept him from his half-ounce of brandy before dinner.
His grandfather had served in the War of 1812, and when guns were fired on Fort Sumter in 1861, his father went off to fight for Lincoln. He lost a leg and died. So, as the story goes, young Albert, blue-eyed and blonde-haired, a mere five and a half feet tall, took his father's place. With just a year left in the war, he enlisted as a drummer boy with the 1st Minnesota Heavy Artillery Regiment, rolling his snare as they marched south to Tennessee.
But that had been long ago, more than 90 years past. Now Albert Woolson's days were fading, the muffled drum of his youth a softening memory. At St. Luke's Hospital in Duluth, his health deteriorating, he would sometimes feel his old self, quoting Civil War verse or the Gettysburg Address. But then on a Saturday in late July, 1956, he slipped into a coma. Just before he drifted off, he asked a nurse's aide for a dish of lemon sherbet. She gave him some soft candy too. As she shut the door she glanced back at her patient. "I thought he was looking very old," she recalled. For a week he lay quietly in his hospital bed, awaiting death.
Down in Houston, old Walter Washington Williams had sent Woolson a telegram congratulating him on turning 109. "Happy birthday greetings from Colonel Walter Williams," the wire said.
Williams was blind, nearly deaf, rail-thin, and confined to a bed in his daughter's house. He had served as a Confederate forage master for Hood's Brigade, they said, and now he was bound and determined to be the last on either side still alive when America's great Civil War Centennial commemoration began in 1961. "I'm going to wait around until the others are gone," he said, "to see what happens."
Williams had ridden in a parade too. He was named in presidential proclamations and tributes in the press. Life magazine devoted a three-page spread to the old Rebel, including a photograph of Williams propped up on his pillows, a large Stars and Bars flag hanging on the wall. An American Legion band serenaded at his window, and he tapped his long, spindly fingers in time with "Old Soldiers Never Die." But Williams was a Southern boy deep in his bones. He would have preferred "Cotton-Eyed Joe" on the radio:
O Lawd, O Lawd,

Come pity my case.

For I'm gettin' old

An' wrinkled in de face.
Like Woolson, Williams could be cantankerous. On his last birthday, when he said he was 117, they served him his favorite barbecued pork, though his daughter and a nurse had to feed him. His bed was piled high with cards and telegrams, but he could not read them. He could hardly pick them up. "I'm tired of staying here," he complained in his son's ear. The son smiled and told visitors how they had hunted deer together when his father was 101. "He rode a horse until he was 103," the son said.
Williams' last public outing was in an Armed Forces Day parade in Houston in May 1959, when he rode in an air-conditioned ambulance. As he passed the reviewing stand, he struggled to raise his arm in salute. Then they took him home and put him back to bed.
Four times he suffered bouts of pneumonia; twice they hung an oxygen tent over his bed. His doctor was doubtful, and his daughter feared the worst. "There's too many years; too many miles," she said.
And so the clock ticked down, not just on Albert Woolson and Walter Williams, but for a whole generation, an entire era, the closing of a searing chapter in American history: four years of brutal civil war. Like the old soldiers, memories of the North and South and how they had splintered and then remade America were slowly dying out too. Starting in the 1920s, '30s, and '40s, Civil War soldiers began passing away in rapid numbers, nearly three a day. The glorious reunions of proud veterans at Gettysburg and the cities of the South were coming to an end; there were too few healthy enough to attend. The Grand Army of the Republic closed its last local chapter. The Rebel yell fell silent. The campfires went dark. Echoing down the years were Gen. Robert E. Lee's last words: "Strike the tent."
By the start of the 1950s, about 65 of the blue and gray veterans were left; by 1955, just a half dozen. As their numbers dwindled they became artifacts of a shuttered era, curiosities of an ancient time, sepia-toned figures still inhabiting a modern world from their rocking chairs and oxygen tents. They had gone to war with rifles and sabers and in horse-mounted patrols. They had lived off hardtack and beans. Now they seemed lost in a new American century that had endured two devastating world wars fought with armored tank divisions, deadly mustard gas, and atomic bombs that fell from the sky.
Bruce Catton, long a chronicler of the Civil War, could recall his boyhood in the "pre-automobile age" of rural Michigan and how a group of old Union veterans in white whiskers and blue greatcoats had delighted his young eyes. He remembered one selling summer berries from a pail he hooked over the stub of his forearm, an arm he had lost in the Battle of the Wilderness. A church deacon had fought with the 2nd Ohio Cavalry in Virginia's Shenandoah Valley, burning barns and killing livestock. Another had returned to Gettysburg for the 50th anniversary there, and when he arrived back by train and his buggy was late, the 70-year-old simply hoisted his bag and walked the five miles home. "They were grave, dignified, and thoughtful," Catton would write of his hometown heroes. "For the most part they had never been 50 miles away from the farm or the dusty village streets; yet once, ages ago, they had been everywhere and had seen everything. . . . All that was real had taken place when they were young; everything after that had simply been a process of waiting for death." Eventually, one by one the old men were carried up a small hilltop to the town cemetery. "As they departed," Catton wrote, "we began to lose more than we knew we were losing."
By the close of the 1950s, as the nation was preparing for the 100th anniversary of the Civil War, much of the pubic watched transfixed, marking the passing of each of the final veterans, wondering who might be the last, wondering if any would make it to the centennial, curious how anyone could live so long. Could anyone be so old?
That question seemed never more poignant than when a Confederate veteran from Georgia disrupted a Civil War museum and jabbed his cane in sudden bayonet thrusts, threatening the portraits of Yankee soldiers hanging on the wall. "Let me at him!" he yelled at a painting of Union hero Gen. William Tecumseh Sherman, the scourge of Atlanta. Sadly, the old Rebel appeared a pitiful figure, a misfit, more a caricature of himself than a gallant hero from an epic time.
Because it turns out that many of the men were not so old after all.
Many who claimed to be well over 100 and survivors of that great war were really imposters, some flat-out frauds. In truth they had been mere children and too young to march off to war in the early 1860s. Or they had not even been born. Yet as they grew old, they fabricated stories about past heroic adventures and brazenly applied for Civil War pensions during the long, lean years of the Great Depression. Some backdated their birth dates. Some made up the names of comrades and commanding officers. Some lied to their friends and neighbors and to newspapers and government officials. Over the years, some accepted so many accolades as Civil War veterans that they never could muster the courage or the humility to own up to the truth, even as they lay near death. Many ended up believing their own fabrications. Driven by money, ego, or a craving to belong to something grand and glorious, these men defrauded a nation. They especially dishonored those who had served, those who had been wounded, and above all those who had died. Many of them fooled their own families. One fooled the White House.
The last veteran who said he fought for the Union was Albert Woolson; Walter Williams said he was the last Confederate. One of them indeed was a soldier, but one, according to the best evidence, was a fake. One of them had been living a great big lie.
This is an excerpt from Last of the Blue and Grey by Richard A. Serrano, published by Smithsonian Books. Order your own copy NOW.