The History of Soap Box Derby
For nearly 80 years, kids have steered their gravity-powered racers toward a coveted national championship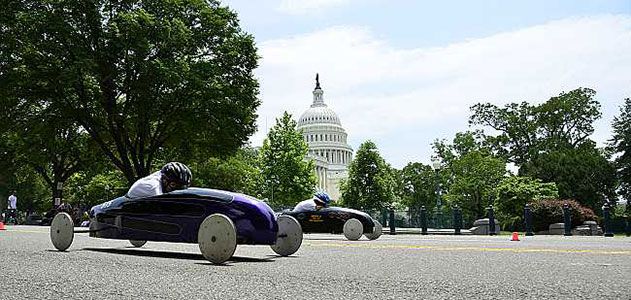 Ava Pell, 12, of Bristow, Virginia, climbs into her sleek soapbox derby car. She lies back as her father helps to tuck her long brown ponytail over one shoulder. He locks her white helmet into a nook in the back of the fiberglass car—painted a shiny eggplant and adorned with blue and pink flames—and closes the top hatch. Between the brim of her helmet and the top of her car is a quarter-inch slit. "It's like looking through a crack in a fence," says John Luense, one of the event's officials. Ava's father holds up two fingers near the nose of the car to test her visibility.
"Ready in Lane 1?" the starter asks Ava's competitor, enclosed in a pearlescent car with a galaxy of blue stars suspended above its front wheels. "Ready in Lane 2?" she says, looking to Ava. "Okay, on three. One… two… three." The starter presses a hand trigger, and the paddles holding the cars in their ramps slap to the pavement. The racers are off. "Have fun!" she yells.
On this third Saturday in June, the 70th running of the Greater Washington Soap Box Derby is underway. Thirty racers, ages 8 to 17, competing in three divisions—stock, super stock and masters—are racing down Constitution Avenue, in the shadow of the U.S. Capitol. The field in the double elimination tournament ranges from first-time drivers to seasoned veterans, and all have their eyes on the prize—the title of "local" champion, and an all-expenses-paid trip to Akron, Ohio, to compete against top racers from around the world at the All-American Soap Box Derby on July 23.
As some of the grandparents in attendance can attest, the Washington, D.C. derby is nearly as old as the sport itself. In 1933, Myron Scott, a photographer for the Dayton Daily News in Ohio, came across three boys racing hand-made, motorless cars down a local hill. Tickled by the sight, he invited the boys to come back a week later, with friends, and he would officiate a more formal race. Nineteen hardscrabble racers showed up. Feeling encouraged, Scott approached his editor. "My boss agreed, somewhat reluctantly, to let me promote a race," Scott once told a reporter. With $200 from the paper, he hosted a larger derby in Dayton on August 19, 1933. A total of 362 kids brought cars with chassis made of fruit crates and scrap wood propped up on wheels pilfered from baby buggies and roller skates. According to police estimates, 40,000 people gathered to watch the spectacle.
The success of Scott's inaugural race prompted Editor & Publisher, a monthly magazine focused on the newspaper industry, to run a story, and newspapers across the country took Scott's lead, sponsoring their own soapbox races. In April 1938, the Washington Star announced in its back pages that it and the American Legion were sponsoring the first derby in the nation's capital. In daily articles, the newspaper covered the race's rules and tips for building a car, while schools incorporated car construction into their wood shop curriculums. On July 23, 224 boys showed up to race a stretch of New Hampshire Avenue. Fourteen-year-old Norman Rocca of Southeast D.C. won and advanced to the fourth-annual All-American Soap Box Derby at Akron's Derby Downs, a three-lane, 1,100-foot-long racetrack, complete with stadium seating, that was built in 1936 by the Works Progress Administration, an arm of President Roosevelt's New Deal.
The sport sailed into its heyday in the late '40s, 50s and 60s. Boys' Life magazine reported in May 1959 that about three million people witnessed or took part in some form of derby activity each year, whether it was one of over 160 local derbies or the All-American, which drew 75,000 spectators alone. As the official sponsor of the All-American, Chevrolet distributed wheels, axles and rulebooks at their dealerships and awarded college scholarships to top finishers.
The two soapbox cars in the National Museum of American History's collection show how the sport has evolved. Twelve-year-old Connecticut native Robert Pusateri spent hundreds of hours building and sanding his wooden soapbox car, painting it baby blue and scrawling the name of his sponsor The Hartford Times on its side, before he raced it in the finals at Akron in 1961. But, today, cars, much like "Lightning Laura," a fiberglass car, also in the museum's collection, which carried Laura Shepherd, a teenager from Ohio, to a fourth-place finish at the 1995 All-American, are built from kits that cost anywhere from $430 to $465 and take just four to six hours to assemble. (Girls started competing in the 1970s. The museum actually has the helmet worn by Karen Stead, the first girl to win the All-American in 1975.)
A week prior to the Greater Washington Soap Box Derby, officials inspected the racers' cars. Driver included, stock cars must weigh 200 pounds; super stocks, 230 pounds; and masters, 255 pounds. On race day, each heat consists of two trips down the hill. For the sake of fairness, the two racers swap lanes and wheels after the first run. "It's important," says Bill Rayle, whose family has been involved in the derby for the past 40 years. "They learn how to play by the rules."
For the kids, it is all about the speed. On Constitution Avenue, the cars can reach 25 miles per hour. "I like going down the hill and feeling the wind on my face on a really hot day," says Jessie Crowley, 11, of Crownsville, Maryland. Her super stock car is painted an orange and black tiger print. When Brandon Sorli, 13, of Waldorf, Maryland, is at the start line, he says, "I usually just clear my head and think about racing."
Rayle, a volunteer official, convinces me that I ought to try it, and I soon find myself crouching low in a bright blue car with a single white star on its hood, facing off against Jim Hagan, the regional director of soapbox derbies. I've been told that a good driver steers the car down the hill, as water would flow down it. "See that dark seam in the road?" says Rayle. "Just straddle it." I am so concentrated on staying the course and then skidding to a stop after the finish, that I am only pretty sure that I won. It is a rush, and I can see why the kids are so enthusiastic.
In recent years, however, soapbox derby has been struggling to shake its old-fashioned image. The Greater Washington Soap Box Derby, which has had stints on different hills throughout the city, was moved to Capitol Hill in 1991, in large part to gain more exposure. Congressman Steny Hoyer of Maryland is a loyal supporter, having sponsored the bill to allow the event to take place on Capitol grounds for 20 years now. "The soap box derby is not just a race," he said on the House floor in 2009. "It is an enriching way to engage our youth, and teach them the importance of ingenuity, commitment and hard work." And yet, this year, the event's officials scrambled to recruit 12 stock drivers, 12 super stock and six masters—the minimum number of racers in each division for it to count as a "local" and send three division winners to Akron. A couple of years ago, in an effort to make the All-American more relevant, its board considered adding a category at the world championship in which older kids raced wind- or solar-powered vehicles uphill.
Passionate families are keeping the sport alive. Rayle, for example, has never outgrown it. He first competed in the Greater Washington Soap Box Derby in 1978. His brother competed. His brother's kids competed, and so did his own. "As a family, we've been to Ohio 21 times to race," he says. Up until a couple of years ago, he and his family traveled the soapbox rally circuit, with his two kids competing in races within an eight-hour drive from D.C. almost every weekend. If racers accumulate 180 points by participating and placing in rally derbies, they too can go to Akron. In 2008, his daughter Courtney won the local derby and went on to beat competitors from around the world at the All-American. There is a YouTube clip of Courtney's final race, and when she crosses the finish in first place, Rayle, as he puts it, "jumps up and down like a crazy man." As if he needs to justify himself, he says, "That's 40 years of anticipation there."
"It's like I tell all the guys at work," says Rayle, a commander in the police department's homicide unit in Prince George's County, Maryland. "Have you ever been world champion of anything?"