The History of Pardoning Turkeys Began With Tad Lincoln
The rambunctious boy had free rein of the White House, and used it to divert a holiday bird from the butcher's block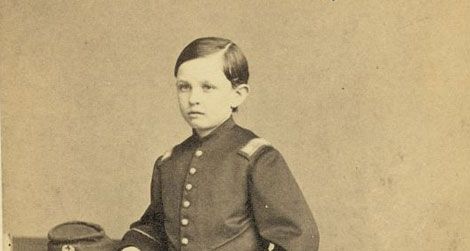 It's believed that the Thanksgiving tradition of the President pardoning a turkey dates back to 1947, when President Harry Truman, standing outside the White House, was presented with a holiday bird by the National Turkey Federation. But there's no evidence that Truman did anything different from his successor, President Dwight Eisenhower, who, with his family, consumed all eight birds the NTF presented them.
In 1963, President John F. Kennedy became the first president to see the word "pardon" used with reference to a Thanksgiving turkey, but he did not officially spare a bird in a pre-Thanksgiving ceremony in the Rose Garden. Kennedy simply announced that he would not eat the bird, and newspapers reported that the president had "pardoned" the gobbler given to him by the California Turkey Advisory Board. Just days before that year's Thanksgiving, he was assassinated in Dallas.
Ronald Reagan was the first president to use the word "pardon" in connection with a Thanksgiving turkey, in 1987, in response to media queries about whether he might pardon Lt. Col. Oliver North or any of the other figures involved in the Iran-Contra scandal. Reagan joked that if that year's turkey had not already been destined for a petting farm, "I would have pardoned him."
In fact, it was President George H.W. Bush who began the tradition, in 1989. "Not this guy," Bush said when a holiday turkey was presented. "He's been granted a presidential pardon as of right now, allowing him to live out his days on a farm not far from here."
Bush pardoned a turkey in each remaining year of his presidency, as has every president since. However, the earliest known sparing of a holiday bird can be traced to 1863, when Abraham Lincoln was presented with a Christmas turkey destined for the dinner table and his young, precocious son Tad intervened.
Thomas "Tad" Lincoln was just 8 years old when he arrived in Washington, D.C., to live at the White House after his father was sworn into office in March 1861. The youngest of four sons born to Abraham and Mary Todd Lincoln, Tad was born after Edward "Eddie" Lincoln died in the winter of 1850 at the age of three, most likely of tuberculosis. Both Tad and his brother William "Willie" Lincoln were believed to have contracted typhoid fever in Washington, and while Tad recovered, Willie succumbed in February of 1862. He was 11.
With the eldest Lincoln son, Robert, away at Harvard College, young Tad became the only child living at in the White House, and by all accounts, the boy was indomitable—charismatic and full of life at a time when his family, and the nation, were experiencing tremendous grief. Born with a cleft palate that gave him a lisp and dental impairments that made it almost impossible for him to eat solid food, Tad was easily distracted, full of energy, highly emotional and, unlike his father and brother, none too focused on academics.
"He had a very bad opinion of books and no opinion of discipline," wrote John Hay, Lincoln's secretary. Both Lincoln parents, Hay observed, seemed to be content to let Tad "have a good time." Devastated by the loss of Willie, and both proud and relieved by Robert's fastidious efforts at Harvard, the first couple gave their rambunctious young son free rein at the executive mansion. The boy was known to have sprayed dignitaries with fire hoses, burst into cabinet meetings, tried to sell some of the first couple's clothing at a "yard sale" on the White House lawn, and marched White House servants around the grounds like infantry.
On one occasion, a politician leaving the White House told a companion he had "just had an interview with the tyrant of the White House," then made it clear he was referring to Tad.
Tad took it upon himself to raise money for the United States Sanitary Commission—the Civil War equivalent of the Red Cross—by charging White House guests a nickel to be introduced to his father, the president, in his office. Lincoln tolerated his son's daily interruptions until he learned what the boy was up to, and then quickly put an end to Tad's charity work. But the boy still saw commercial opportunity in the countless visitors to the White House, and it wasn't long before he had set up a food vendor's stand in the lobby, selling beef jerky and fruit for those waiting for an audience with his father. The profits, of course, were marked for the boy's favorite relief organization.
The Lincolns allowed Tad to keep two ponies in the White House stables, which he would ride while wearing a military uniform, and when the Lincolns were given two goats, Nanko and Nannie, Tad caused quite the stir by hitching them to a chair and driving them, as if on a sled, through a crowded reception in the East Room hosted by the First Lady.
The boy also spent a great of time listening to the tales of White House visitors who would come to meet his father, and if Tad found the stories particularly moving (one woman's husband was in prison, her children hungry and cold), he would insist that his father snap into immediate action. Lincoln, unwilling to disappoint him, agreed to free one such prisoner, and when Tad returned to the woman with the good news of a promised release, the two "openly wept" with joy together.
Thanksgiving was first celebrated as a national holiday in 1863, after Abraham Lincoln's presidential proclamation, which set the date as the last Thursday in November. Because of the Civil War, however, the Confederate States of America refused to recognize Lincoln's authority, and Thanksgiving wouldn't be celebrated nationally until years after the war.
It was, however, in late 1863, when the Lincolns received a live turkey for the family to feast on at Christmas. Tad, ever fond of animals, quickly adopted the bird as a pet, naming him Jack and teaching him to follow behind as he hiked around the White House grounds. On Christmas Eve, Lincoln told his son that the pet would no longer be a pet. "Jack was sent here to be killed and eaten for this very Christmas," he told Tad, who answered, "I can't help it. He's a good turkey, and I don't want him killed." The boy argued that the bird had every right to live, and as always, the president gave in to his son, writing a reprieve for the turkey on a card and handing it to Tad.
The boy kept Jack for another year, and on election day in 1864, Abraham Lincoln spotted the bird among soldiers who were lining up to vote. Lincoln playfully asked his son if the turkey would be voting too, and Tad answered, "O, no; he isn't of age yet."
On the night, five months later, when the president and first lady went to see Our American Cousin at Ford's Theater, 12-year-old Tad was taken by his tutor to see Aladdin and His Wonderful Lamp nearby. Just minutes into the children's show, a theater official burst down the aisle, shouting that the president had been shot. The stunned silence was soon broken by the sobs of a young boy pining for his father. "They've killed him," Tad cried. "They've killed him."
The boy was taken back to the White House and did not see his father again until Lincoln's embalmed body was displayed in an East Room ceremony, attended by General Ulysses S. Grant and the new president, Andrew Johnson.
"Pa is dead," Tad told a nurse. "I can hardly believe that I shall never see him again… I am only Tad Lincoln now, little Tad, like other little boys. I am not a president's son now. I won't have many presents anymore. Well, I will try and be a good boy, and will hope to go someday to Pa and brother Willie, in heaven."
Mary Todd Lincoln moved with him to Chicago, where boarding schools tried to make up for his practical illiteracy. The two traveled to Germany, where Tad attended a school in Frankfurt. On a trip back to the United States in 1871, he became severely ill, most likely with tuberculosis, and never recovered. He was just 18. Tad Lincoln, the "tyrant" of the White House and tireless advocate for turkey rights, was buried in Springfield, Illinois, beside his father and two brothers.
Sources
Articles: "What Was Tad Lincoln's Speech Problem?" by John M. Hutchinson, Journal of the Abraham Lincoln Association, Vol., 30, No. 1 (Winter 2009), University of Illinois Press. "Tad Lincoln: The Not-so-Famous Son of A Most-Famous President," By R.J. Brown, HistoryBuff.com, http://www.historybuff.com/library/reftad.html "The Death of Willie Lincoln," Abraham Lincoln Online, http://showcase.netins.net/web/creative/lincoln/education/williedeath.htm "Tyrant Tad: The Boy in the White House," Ten Boys From History by K.D. Sweetser, http://www.heritage-history.com/www/heritage-books.php?Dir=books&author=sweetser&book=tenboys&story=tyrant "Tad Lincoln," Lincoln Bicentennial 1809-2009, http://www.abrahamlincoln200.org/lincolns-life/lincolns-family/tad-lincoln/default.aspx "Pets," Mr. Lincoln's White House, The Lincoln Institute, http://www.mrlincolnswhitehouse.org/content_inside.asp?ID=82&subjectID=1 "Young Tad Lincoln Saved the Life of Jack, the White House Turkey!" by Roger Norton, Abraham Lincoln Research Site, http://rogerjnorton.com/Lincoln65.html
Books: Doug Wead, All the Presidents Children: Triumph and Tragedy in the Lives of America's First Families, Atria, 2003. Julia Taft and Mary Decradico, Tad Lincoln's Father, Bison Books, 2001.