The 92-Year-Old Queen Who Shaped the History and Future of Drag
Darcelle XV, the world's oldest performing drag queen, died in March, but her spirit will live on
On November 13, a line snaked down the sidewalk on NW Third Avenue in Portland, Oregon. People were bundled up in coats, most holding wrapped gifts and chatting. As newcomers made their way to the back of the hour-long line, they exchanged hugs and kisses with others waiting; occasionally a performer, many times half in drag, bustled past the line and into the venue.
It was all for the 92nd birthday celebration of Darcelle XV, the oldest performing drag queen in the world, according to Guinness World Records, and founder of the Darcelle XV Showplace, a Portland mainstay Darcelle opened more than 50 years earlier that boasts the longest continually running drag show on the West Coast. Inside, attendees handed over their gifts (all donated to children in Darcelle's honor), sat for dinner (the menu boasted burgers, mozzarella sticks and other bar fare), and exchanged their big bills for singles via queens working the room and holding wads of cash. They were all gathered for a classic cabaret-style drag show replete with a full-cast opening and closing number, sharp and sometimes bawdy jokes in the venue's trademark style by host Poison Waters, and more. And at the end of the stage sat Darcelle, who at her busiest had put on 15 shows per week between the spot's four walls, and who was still at it on her 92nd birthday, performing The Rose" and "What'll I Do?" that she sang live in her low, gravelly voice.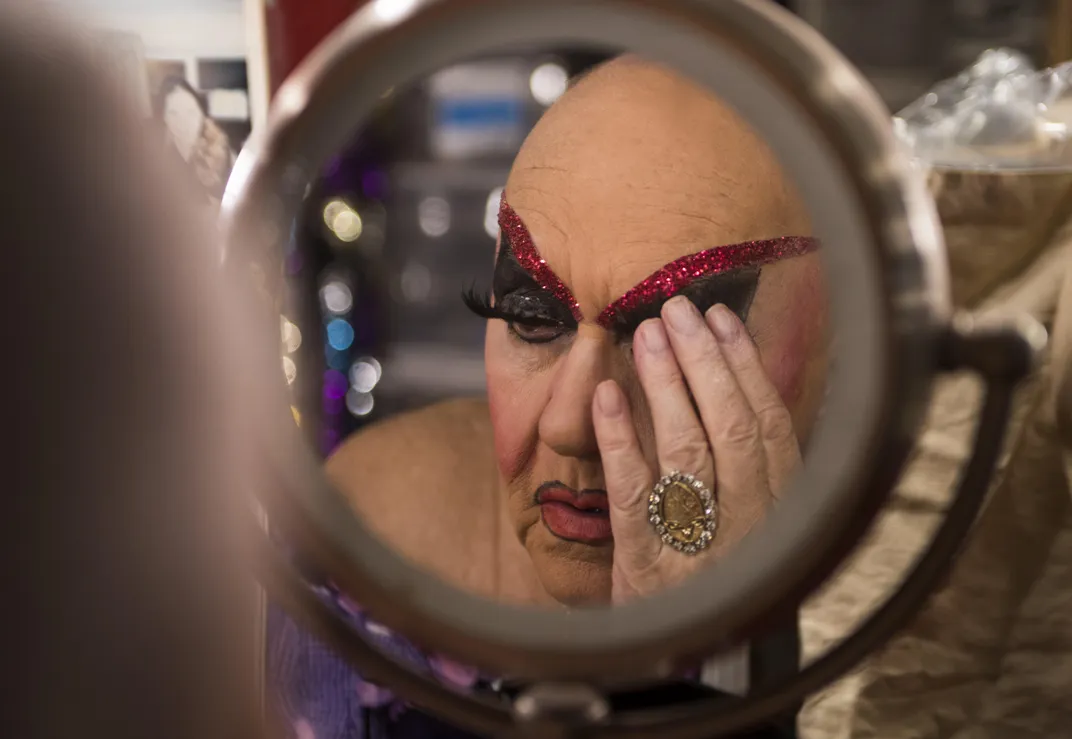 Darcelle began as the stage persona of Walter Cole, who died last month from natural causes; a flood of online tributes have celebrated her life, a local street was temporarily renamed in her honor, and Cole will receive a public memorial service in Portland on April 25. Over 92 years, Cole achieved a global profile as Darcelle, the drag queen who became a cultural touchstone in Portland and was often hailed as a local celebrity at charitable functions and festivals. Throughout, Cole was a dedicated advocate for gay rights. Darcelle built a family in the city, both biological and adopted, and presided like a matriarch over a much-needed safe space for the queer community.
"Walter Cole, in the guise of Darcelle XV, provided a public and popular face to queer culture in Portland for many years, beginning before Portland had any city-level gay-rights ordinance, before the state of Oregon rescinded its sodomy laws, and when it remained especially difficult for many of us to come out," says Peter Boag, a historian at Washington State University and author of books on LGBTQ+ history in the American West. "Darcelle was and remained a beacon of light and hope for many."
Born in 1930 in Portland's Linnton neighborhood, Walter Cole was bullied in his early years. At school, the quiet, shy child was often called a "four-eyed sissy." After his mother died when he was 9 years old, Cole's life changed, as the disposition of his father, an alcoholic, soured and became abusive, and an aunt moved in to take care of the household.
Cole married his high school sweetheart, Jeanette Rossini, in May 1951; entered boot camp for the Army that September; and was eventually stationed in Italy for three years. His stint in the military was the only time Cole ever lived outside of Portland, and even while in uniform he was a part of the military's theater program.
After his service, Cole returned to Portland and established a conventional life for himself: He got a day job at Fred Meyer, a supermarket chain, but also bought Caffe Espresso in downtown Portland in the late 1950s, where he claimed to have installed the first espresso machine north of San Francisco. Within a few years, he expanded on the business, operating a jazz club. He opened an ice cream parlor he named Café Trieste. He also had two children with his wife: a son, Walter Jr., and a daughter, Maridee. The businesses were eventually taken over by the city, which tore down the building to expand Portland State University. With the compensation he received, in 1967 Cole bought Demas Tavern—the site that would become his empire.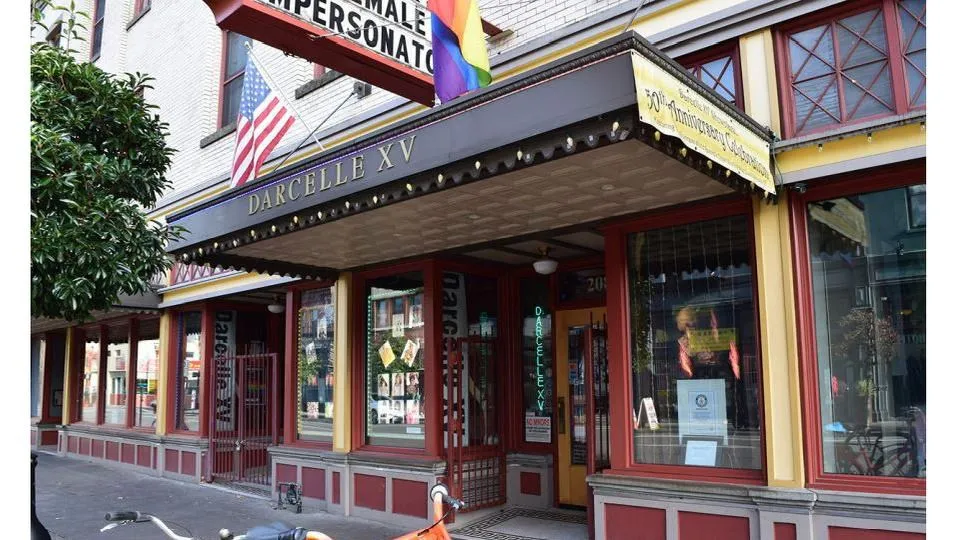 As was common at the time with gay men, Cole had also begun to live a covert life. While frequenting local establishments with gay clientele like the Hoyt Hotel—Portland police did not raid gay clubs as much as cops did in other cities—Cole had made friends with a bevy of important locals, including Roc Neuhardt (a man who danced under the name Roxy LeRoy), who would go on to become his partner in life and business. It was Neuhardt who first encouraged Cole to try drag, which he did for the first time in 1967 at the age of 37; Neuhardt also suggested the performing name "Darcelle," inspired by Denise Darcel, a vaudeville performer Neuhardt had worked with in Las Vegas. By 1969, Cole separated from his wife (though they never divorced) and left his family to live his life as a gay man with Neuhardt, who died in 2017 at 82. Cole loosely based Darcelle's look on Gracie Hansen, a comedian, singer and boisterous presence on the Portland scene who had been Neuhardt's boss.
"It all started as a lesbian bar to entertain our lesbian friends," Darcelle once said of Demas Tavern, which later became the Darcelle XV Showplace. The establishment was in Portland's Skid Row, and gay men wouldn't visit the neighborhood. "But lesbians would." Darcelle put a popular lesbian bartender named "Papa Scott" behind the bar and, working with Roxy and Tina Sandell, a Native American performer with a regional following, began putting on shows six days a week. They used banquet tables as a stage, a slide projector as a spotlight and a home stereo system that crackled when a new vinyl was put on to supply music. Shortly thereafter, they renamed the spot Darcelle's. The XV was added in 1974 after Darcelle was crowned the 15th Empress of Portland's Imperial Sovereign Rose Court, one of the nation's oldest nonprofit LGBT organizations.
During much of the 1960s, gay life was conducted in secret, or within the walls of bars and clubs. After the 1969 Stonewall riots, though, an "out of the bars and into the streets" mentality emerged, and gay figures across the country became more visible in the 1970s. In 1974, Darcelle helped fundraise and back the Portland Town Council, Oregon's first LGBT umbrella group dedicated to civil rights for lesbians and gay men. In the '90s, Darcelle raised money to help fight the AIDS epidemic, and throughout her life she made frequent appearances at charity events around the state for various other causes. Darcelle's advocacy had the side effect of raising the profile of the club, stamping it as a Portland institution.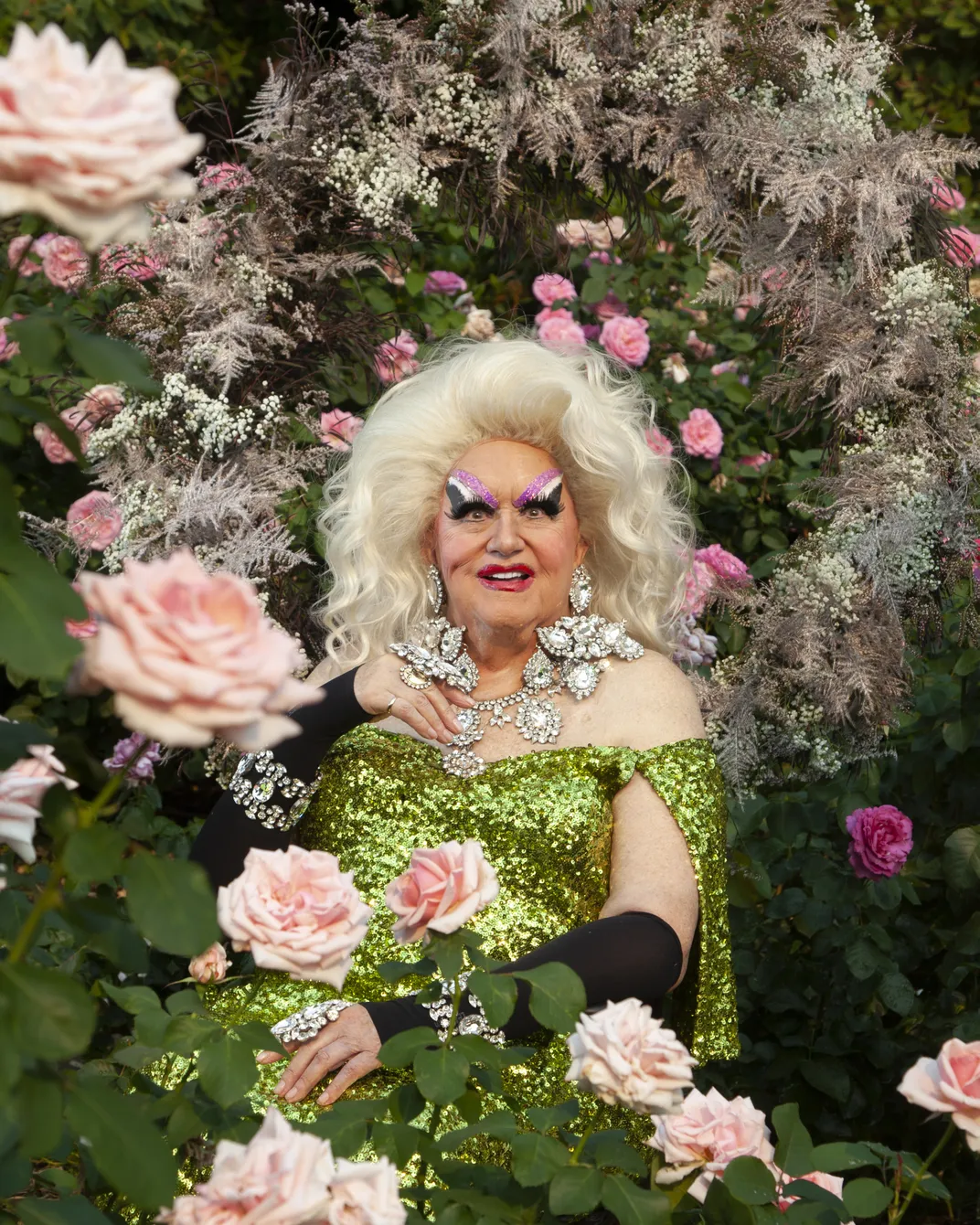 Several of Darcelle's closest friends began as fans. When Mitchell Underwood discovered Darcelle XV in 1981, it was because of a boyfriend. After finding out the man he was dating worked as a female impersonator at the club, he finagled his way through the door (he was underage at the time) and got a prime seat.
"I'd never seen [my boyfriend] in drag before," Underwood says. "Then Darcelle was on stage, and I was just like, this whole thing is amazing. I have to figure out how to get involved."
Underwood has now been involved for 42 years, first serving as a dresser, helping to zip queens in and out of their looks, then as a stagehand learning curtain cues. He joined the ensemble at the end of 1981 as a male entertainer, honing an Elton John impression while also working backstage as Darcelle's personal dresser, and later as show coordinator. He now stands as the longest-running member of the cast. Darcelle considered him family.
Darcelle's biological children and grandchildren took on work in various parts of the business, and the burgeoning matriarch built a tight-knit group among her staff. Mitchell says that during some of the busiest years of the establishment, when the cast would do three shows a night, Darcelle would invite everyone back to her 18-room home, which she and Neuhardt purchased in 1978.
"It would be about 2 o'clock in the morning and everyone would be really exhausted, and Darcelle would go, 'We're going to my house!'" Underwood says. "So everybody would get out of drag and we would go and sit around in her kitchen and she'd make waffles." In February 2020, that house, which Darcelle and Neuhardt had restored, was added to the National Register of Historic Places as an outstanding example of Queen Anne-style residential architecture in Portland.
"[Cole] really loved having people over," says Poison Waters, another long-standing member of Darcelle's "family" who will now take over the main hosting duties at the club. In addition to late-night waffles, Waters says Darcelle would invite the whole cast out to lunch after Tuesday rehearsals and host raucous gatherings on the back porch in the summers.
The club has changed a bit through the years, of course. For one thing, over the past two decades, Darcelle XV's Showplace has become a favorite for birthdays and bachelorette parties among straight women, and straight patrons often outnumber the queer ones these days, Waters says. In 2020, the club became Oregon's first LGBTQ+ site added to the National Register of Historic Places.
At the center of the Darcelle XV Showplace is a row of columns, remnants of a wall that Darcelle and customers had taken down piece by piece over the first few years after opening. One load-bearing post still stands in a slightly awkward position, directly in front of the stage.
"Darcelle has always just had a presence, even when she was just standing there," Underwood says. "We used to joke and say, 'OK, Darcelle, just stand in front of the post and we'll work around you.' So, you know it became her presence. We always built our show numbers around it, and it'll always be there.
"Just like Darcelle."