The 1958 Plan to Turn Ellis Island Into a Vacation Resort
Give me your huddled masses yearning to go shopping and swimming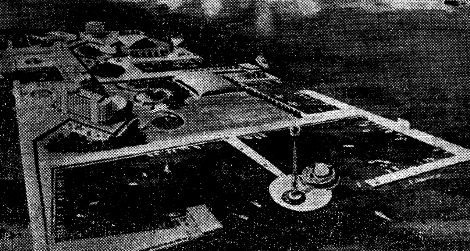 After Ellis Island was closed in November 1954, no one was quite sure what to do with it. The 27-acre government facility located in New York Harbor had stopped processing immigrants coming into the United States and no government entity was stepping up with a plan for the site. So in 1956 the U.S. government started soliciting bids for any private corporation or person that wanted to buy it.
As Vincent J. Cannato notes in his book American Passage: The History of Ellis Island, there were a number of different proposals:
"…a clinic for alcoholics and drug addicts, a park, a "world trade center," a modern and innovative "college of the future," private apartments, homes for the elderly, and a shelter for juvenile delinquents. Other proposals were less realsitic. Bronx congressman Paul Fino suggested a national lottery center would be in keeping with the history of the island, since immigrants "gambled for a new life in this land of ours."
But perhaps the most lavish idea came from the highest bidder, Sol G. Atlas. Mr. Atlas offered the government $201,000 and wanted to build a $55 million resort. According to the February 17, 1958 issue of the Monessen Valley Independent in Pennsylvania, "The plans call for a 600-room hotel, museum, language school, music center, swimming pool, convention hall, shops and a promenade. The island would also have a heliport, seaplane base and ferry slip."
The government declined Mr. Atlas' offer — they thought that the facility was worth at least $6 million — and Ellis Island sat dormant for years. In 1965, President Lyndon B. Johnson signed a proclamation that made Ellis Island part of the Statue of Liberty National Monument, dashing once and for all any plans for a swanky resort. A museum about the history of immigration was opened at the site in 1990 and today it is one of the most popular tourist destinations in the National Park Service—even without swimming pools.