The Stark Reminders of the Birmingham Church Bombing
Upon the 60th anniversary of the tragic attack, these stained glass shards recall the day that saw four girls killed in Alabama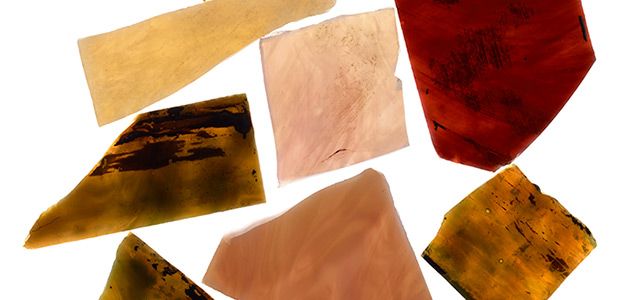 On September 15, 1963, 14-year-old Cynthia Morris Wesley and three other members of the Sixteenth Street Baptist Church youth choir left their Sunday school class to freshen up for their roles as ushers in the main service. The lesson for the day had been "The Love That Forgives." Eleven-year-old Denise McNair met Cynthia and her classmates in the women's lounge, in the northeast corner of the basement.
Carole Robertson, 14, was the most mature of the girls. She was wearing medium-high heels for the first time, shiny black ones bought the day before. Carole's mother had gotten her a necklace to go with the shoes and put a winter coat on layaway for her.
Also in the lounge was 14-year-old Addie Mae Collins. One of eight children, Addie was a little on the shy side, but she looked radiant in her white usher's dress. Cynthia and Carole also wore white. The three ushers were standing with young Denise by the window, which looked out onto Sixteenth Street at ground level. So elegant was this church that even the restroom window was made of stained glass.
Addie's younger sister Sarah Collins stood at the washbowl. At the request of a Sunday school teacher, 15-year-old Bernadine Mathews came into the lounge to encourage the girls to return to their classrooms. Cynthia said she needed to push her hair up one more time. "Cynthia," Bernadine chided her, "children who don't obey the Lord live only half as long."
At 10:22 that morning there was a resonant thud, as if someone had hit the world's largest washtub, followed by a ripping blast that sent a streak of fire above the church. Closed doors flew open, and the walls shook. As a stale-smelling white fog filled the church, a blizzard of debris—brick, stone, wire, glass—pelted the neighborhood. Some of those inside believed the Russians were coming.
A motorist was blown from his car. A pedestrian calling his wife from a pay phone across the street was whooshed, receiver still in hand, into the Social Cleaners, whose front door had been whipped open.
Pastor John Cross moved toward the fog that clung to the northeast side of his church. There was a 7- by 7-foot hole in the wall of what had been the women's lounge. The bomb had made a crater 2 1/2 feet deep and 5 1/2 feet wide, demolishing a foundation that had been a 30-inch-thick mass of stone facing over a brick-and-masonry wall.
Cross walked through the gaping hole. Some deacons and civil defense workers began digging into the wreckage. Strewn about were blood-spattered leaflets printed with a child's prayer: "Dear God, we are sorry for the times we were so unkind."
A gingerly excavation uncovered four bodies. They were stacked horizontally, like firewood. Cross had no idea who they were. They looked like old women, and he knew that the basement had been filled with Sunday school children.
"Lord, that's Denise," said Deacon M.W. Pippen, owner of the Social Cleaners. Denise McNair was Pippen's granddaughter. Only then did Cross realize the corpses were girls. Pippen had recognized Denise's no-longer-shiny patent-leather shoe. The clothes had been blown off the girls' bodies.
Samuel Rutledge, looking for his 3 1/2-year-old son, instead found a female buried alive, moaning and bleeding from the head. He carried her through the hole toward the street. "Do you know who she is?" people asked one another. Again, Cross thought she had to be 40 or 45 years old. But Sarah Collins was only 12. After being loaded into an ambulance (colored), she sang "Jesus Loves Me" and occasionally said, "What happened? I can't see." The ambulance driver delivered Sarah to University Hospital and returned to pick up his next cargo, the corpse of her sister Addie Mae.
Approaching her father in the crowd on the sidewalk, Maxine Pippen McNair cried, "I can't find Denise." M.W. Pippen told his daughter, "She's dead, baby. I've got one of her shoes." Watching his daughter take in the significance of the shoe he held up, he screamed, "I'd like to blow the whole town up."
Word of the bombing reached Martin Luther King in Atlanta as he was about to step up to the Ebenezer Baptist Church pulpit. "Dear God, why?" he had silently asked. Then he appealed to secular powers, writing President John F. Kennedy that unless "immediate federal steps are taken," the "worst racial holocaust this nation has ever seen" would come to pass in Alabama. His telegram to Gov. George Wallace charged, "The blood of our little children is on your hands."
King prepared to go back to Birmingham, to another riot scene. The now-familiar assortment of law enforcement officials stood guard with their shotguns at the Sixteenth Street Baptist Church while two FBI lab men flown down on a military jet sifted through the debris.
One of the stained-glass windows had survived the explosion. Only the face of Jesus had been blown out.
Prosecutions in the killings of Denise McNair, Addie Mae Collins, Cynthia Morris Wesley and Carole Robertson were delayed by the reluctance of witnesses and a dearth of physical evidence. One suspect died in 1994 without having been charged; three others were convicted of murder between 1977 and 2002.
From Carry Me Home, by Diane McWhorter. Copyright © 2001 by Diane McWhorter. Reprinted by permission of Simon & Schuster, Inc.
A native of Birmingham, Alabama, Diane McWhorter is the author of Carry Me Home, an account of "the climactic battle of the civil rights revolution" in her hometown in 1963, which won the 2002 Pulitzer Prize for general nonfiction.