Revisiting Samuel Eliot Morison's Landmark History
The famous historian's eyewitness accounts of the Navy during World War II—now being reissued—won't be surpassed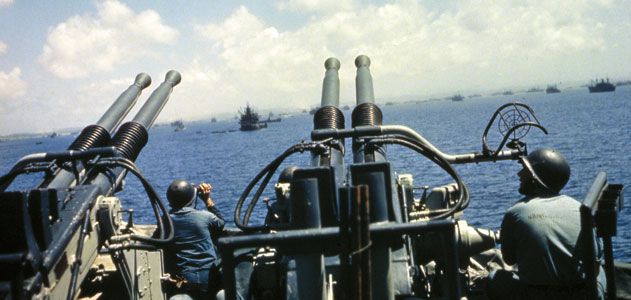 On March 23, 1942, the historian Samuel Eliot Morison wrote to his friend President Franklin D. Roosevelt to offer himself as a "sea-going historiographer" to chronicle the activities of the U.S. Navy in World War II. "In order to do it the right way," he told Roosevelt, "I must have a living, intimate connection with the Navy flagrante bello. An armchair history job after peace is concluded won't do." Before April was out, Morison was meeting with Navy officials to accept a commission as a lieutenant commander and discuss the logistics of his globe-spanning assignment.
That July, he boarded a destroyer and pressed into the cold swells of the Atlantic to witness the war against Germany's U-boats. In ten other ships, over three years, Morison amassed the eyewitness experience that buoyed his 15-volume History of United States Naval Operations in World War II. The series, published between 1947 and 1962, was not only a comprehensive report on the Navy's projection of power over two oceans, but a classic of historical literature that stands as the definitive treatment of its subject. And now that the Naval Institute Press is reissuing the series, with Volumes 7 through 9 due this spring, Morison's masterwork is worth considering as a lesson in how history can have both blue-ribbon scholarship and popular appeal—and why works of such scale are almost never published anymore.
Morison (1887–1976) was one of the pre-eminent historians of his generation—among his many honors were two Bancroft Prizes and two Pulitzers—but he worried about who read history and why. "When John Citizen feels the urge to read history, he goes to the novels of Kenneth Roberts or Margaret Mitchell, not to the histories of Professor this or Doctor that," he lamented in his 1946 pamphlet, "History as a Literary Art: An Appeal to Young Historians." As Morison saw it, academic historians had only themselves to blame: "They have forgotten that there is an art of writing history." For Morison, fine writing required deep living.
He grew up on Boston's swank Beacon Hill, in a red-brick house whose mantelpiece had come from Daniel Webster's living room. In 1904, at the age of 17, he crossed the Charles River to attend Harvard, which would be the fulcrum of his academic life until he retired in 1955. But he did his most important work far from Cambridge.
To research a biography of Christopher Columbus, Morison spent five months aboard a three-masted sailing ship, retracing the explorer's routes 10,000 miles across the Atlantic and around the Caribbean. The resulting book, Admiral of the Ocean Sea: A Life of Christopher Columbus (1942), made Morison's name as a scholar who was not content to dwell in the archives. It also gave him entree. "That Columbus book...brought me a welcome from sailors everywhere," he once said. "It did me more good than the [naval] commission. Columbus was my passport."
When Morison visited the Navy Department in 1942 to discuss his intention to write about its operations during the war, Adm. Ernest J. King, the commander in chief of the U.S. fleet, "looked bleak, wintry," Morison recalled in 1960. Famously obsessed with secrecy, King viewed anyone who presumed to write about his dear Navy through gimlet eyes. Then, Morison recalled, came a flash of recognition: King said, "Oh, you're that fellow." Morison was on his way, with access to all the Navy's personnel, records, ships and facilities. There were no restrictions on what he could write. The Navy would sign the contract for the series with Little, Brown, but the history would be Morison's, not an "official" one.
Thus Morison plunged into the war, crossing the Atlantic aboard the destroyer USS Buck. He would lament later that a "whole generation has passed without producing any really great works on American history. Plenty of good books, valuable books, and new interpretations and explorations of the past; but none with fire in the eye, none to make a young man want to fight for his country in war or live to make it a better country in peace." That was the sort of work he had set out to produce.
He built his narratives around brightly rendered visuals and used the present tense to describe actions he witnessed firsthand, such as the Battle of Kolombangara in July 1943. "A gallant sight at that hour," he wrote of the U.S. combat squadron's steaming toward the confrontation in the Solomon Islands, "the cruisers so proud and handsome with their curling bow waves and frothy wakes, the destroyers thrusting and turning, now golden with the sun, now dark shadows against the sea; and this is a gorgeous afternoon, with bright cumulus clouds under a thin layer of cirrus and Ironbottom Sound blue as the Gulf of Maine."
Of course, serious histories are made of more than fire in the eye and muscle in the prose. Morison, wrote the Yale historian Edmund S. Morgan, had the "courage to simplify." All historians do so, Morgan observed, but not always to good effect. "To simplify where you know little is easy," Morgan wrote in a 1964 essay about Morison in the New York Times. "To simplify where you know a great deal requires gifts of a different order: unusual penetration of mind and, above all, sheer nerve."
Morison's nerve was evident in his habit of holding the reader tightly in the moment, then soaring away to view events from great heights. He could evoke the immediate terror of battle, then pivot toward a context reaching to antiquity. A lesser writer might have noted that the Battle of Leyte Gulf rendered traditional lines of big-gunned dreadnoughts obsolete. Morison wrote: "When Mississippi discharged her twelve 14-inch guns at Yamashiro at a range of 19,790 yards, at 0408 October 25, 1944, she was not only giving that battleship the coup de grâce, but firing a funeral salute to a finished era of naval warfare. One can imagine the ghosts of all great admirals from Raleigh to Jellicoe standing at attention as [the] Battle Line went into oblivion, along with the Greek phalanx, the Spanish wall of pikemen, the English longbow and the row-galley tactics of Salamis and Lepanto."
Morison also had the nerve to use "we" or "you," and to speak on behalf of the nation—sometimes in the same sentence. ("However you look at it, the Battle for Leyte Gulf should be an imperishable part of our national heritage.") Embedded reporters today guard against such a stance for fear they will give the appearance of bias, but Morison identified with his subjects and sources. "Historians in years to come may shoot this book full of holes," he wrote in the preface to Volume 1, "but they can never recapture the feeling of desperate urgency in our planning and preparations, of the excitement of battle, of exultation over a difficult operation successfully concluded, of sorrow for shipmates who did not live to enjoy the victory."
Historians did take their shots. Some critics saw his treatment of the Japanese as narrow and xenophobic. According to H. P. Willmott, who wrote the introduction to Volume 3, Morison indeed viewed the Japanese as "little more than a vicious and unprincipled enemy." (Similarly, Morison and Henry Steele Commager faced criticism for crudely stereotyping African- Americans in their textbook Growth of the American Republic.) Morison also avoided the controversy of the initial Pearl Harbor inquiry, infamous for scapegoating commanders in Hawaii, Adm. Husband E. Kimmel and Lt. Gen.Walter Short. And he reflected a bias in the argument over prewar naval policy by commissioning the former Navy senior historian Dudley Knox to write the introduction to the series; Knox had been sharply critical of the Harding administration's consent to naval arms limitation treaties. In its new edition, the Naval Institute has replaced his piece with an essay by Naval Academy historian Robert W. Love Jr., who calls Knox's introduction a "pejorative, factually inaccurate distortion of American foreign and naval policy."
Ultimately none of these complaints would dislodge the series from its pedestal. Edmund Morgan called it "no mere adventure story, no mere working up of salty flavor to make dull facts more palatable. It is, instead, what all great history and indeed all great literature must be, a commentary on man." "Commentary" is an apt word, for Morison's authority came from his willingness to assert his judgment, which in turn earned him a connection with his readers. Richard B. Frank, an author and historian of the Pacific war, sees no diminution in the series' value over time. "As long as World War II at sea is remembered," he says, "Morison will remain the touchstone."
Today, the odds seem remote that any publisher would assume the risk of commissioning a 15-volume series by a single author. "Publishers don't like to commit to multiple volumes because they don't think readers will commit to reading them," says H. W. Brands, a historian at the University of Texas. "The most successful multivolumes have occurred by accident, so to speak, and are typically biographical." (Arthur Schlesinger Jr., for example, got "carried away," Brands says, when he produced three volumes about FDR.) At the same time, market forces are not unkind to historical works: good narrative-driven history is published every season and has never been more popular; authors such as David McCullough and Doris Kearns Goodwin are fixtures on the best-seller lists. So the state of the market only partially explains why Morison's series remains singular. As a writer of naval history myself, and as a writers' agent, I see another, and possibly more powerful, factor at work: an optimal convergence between writer and subject.
As surely as Morison had intellectual depth and literary talent, he also had luck. When he sailed on the Buck he was 55 years old—mature enough to be confident in his judgment but young enough to undertake so monumental an effort (unlike, say, William Manchester, whose failing health before his 2004 death at age 82 doomed his hope to complete a trilogy on Winston Churchill). His circumstances, with his talents and his access, allowed him to take full command of his subject.
And what a subject. As Hanson W. Baldwin, the former New York Times war correspondent and editor once put it, "World War II is one with man's Homeric yesterdays—an epoch, like the Trojan wars, to be read about, studied, imagined." With its vast geography and far-flung campaigns, it all but demanded the treatment Morison was allowed to give it. In epic scale, moral clarity and personal relevance to Americans, it may surpass even the American Revolution and the Civil War. Ultimately, that is why Morison's masterwork seems destined to stand alone.
For more than two generations since, our wars have been less conclusive and more divisive. They tend to lack the large-scale set-piece dramas that characterized wars between similarly armed nations. They no longer conclude with treaties and victory parades. But the American experience in World War II still inspires readers. Several authoritative writers—including Richard Frank, Rick Atkinson and Ian W. Toll—are at work on trilogies about that war. But only Morison will ever be, in Baldwin's words, "a modern Thu­cydides." Like the great Greek historian who chronicled the Peloponnesian War from living witness, Morison explored the whole turning world at war and made it his own.
James D. Hornfischer is the author of a new World War II history, Neptune's Inferno: The U.S. Navy at Guadalcanal.