Is Reunification Possible for North and South Korea?
North Korea has taken up the South's invitation to the Olympics, but a quick look at the history suggests that unity is not as close as it may seem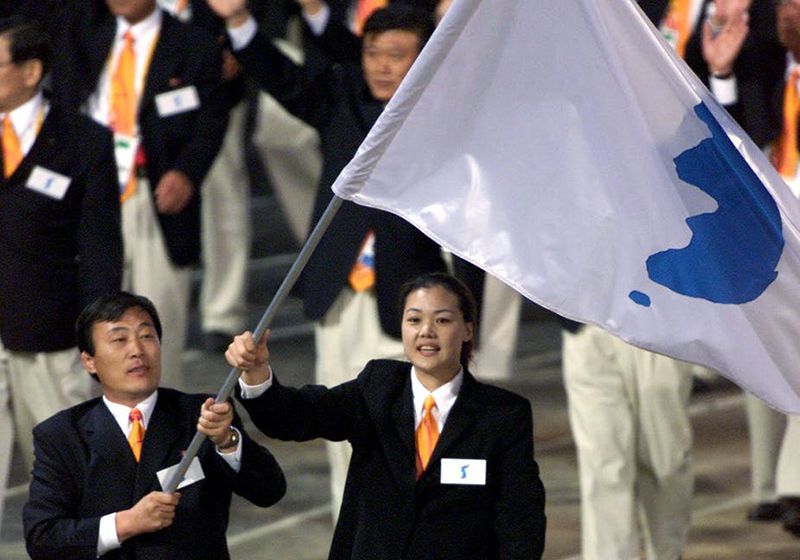 North and South Korean athletes will march under one flag during the opening ceremony of the 2018 Pyeongchang Winter Olympics in South Korea.
The "Korean Unification Flag" is both a highly symbolic marker of reconciliation and a reminder of a divided Korea, a condition that has lasted since 1945.
As a scholar of East Asian international relations, I'm fascinated by the question of reunification that has been a mainstay of reconciliation and dialogue between North and South Korea. Unfortunately, history suggests such efforts to reunite the peninsula as a single country often don't go far.
What Koreans think
Most South Koreans are not optimistic about reunification. According to a 2017 Unification Perception Survey conducted by Seoul National University's Institute for Peace and Unification Studies, 24.7 percent of South Koreans don't think that unification is possible. Only 2.3 percent of South Korean respondents believe that unification is possible "within 5 years," while 13.6 percent responded "within 10 years."
However, the same survey indicates that 53.8 percent of South Koreans believe that reunification is necessary.
Beyond that, however, there is little consensus as to what kind of country a unified Korea should be. Nearly half of South Korean respondents want to keep South Korea's democratic political system, while 37.7 percent support some form of hybrid, a compromise between the South and North Korean systems. Still, 13.5 percent of South Koreans answered that they prefer the continued existence of two systems within one country.
Three strikes
The first time North and South Korea held talks since the 1950-53 Korean War was in 1971. They agreed on basic principles of the reunification. According to the July 4 South-North Joint Communique, reunification should be achieved through 1) independent efforts of the two Koreas, 2) peaceful means, and 3) the promotion of national unity transcending differences in ideologies and systems.
Despite its significance for later agreements, this détente soon collapsed due to the leaders' lack of genuine intention to follow through. North Korea viewed the inter-Korean dialogue as a way to wean South Korea away from the U.S. and Japan. South Korean leader Park Chung-Hee saw it as a useful tool for consolidating his authoritarian rule.
In the late 1980s, tides shifted as the Cold War broke down and inter-Korean reconciliation once again seemed possible. The 1988 Seoul Olympics spurred South Korea to pursue improved relations with communist countries to ensure their participation. The Olympics hosted a record number of countries from both blocs of the Cold War, including the Soviet Union and China. This, even in the face of North Korea's attempt to throw the games off by bombing a South Korean airliner killing 115 people in 1987. With the help of South Korea's rising international status and active diplomacy toward normalizing relations with the Soviet Union and China, Pyongyang agreed to talks with Seoul.
By 1991, North and South Koreans had once again come around to the idea of reconciliation and signed the Basic Agreement. In it, Koreans defined their relationship not as two separate states, but rather one going through a "special interim" – a process toward ultimate reunification. In 1992, they produced the Joint Declaration of the Denuclearization of the Korean Peninsula. However, by the end of 1992, inter-Korean relations grew seriously strained. North Korea refused to accept inspections by the International Atomic Energy Agency and objected to the resumption of a U.S.-South Korea joint military exercise.
Another milestone took place in 2000. North and South Korea held the first summit that amounted to the most substantial and frequent engagement between the two Koreas yet. South Korean President Kim Dae-Jung and his successor Roh Moo-Hyun's Sunshine Policy meant to provide for a gradual change of North Korea toward the reunification through inter-Korean cooperation on humanitarian, economic, political, social and cultural issues. But in the face of Pyongyang's continued provocations and nuclear development program, this type of engagement-oriented policy had serious limits. Over time, it became less and less popular with the public.
The conservative governments that followed upheld the goal of the reunification, but made inter-Korean reconciliation conditional upon Pyongyang's behavior. North Korea's nuclear and missile tests, and provocations like a torpedo attack on a South Korean navy ship and the shelling of a South Korean island, backpedaled much of the progress made during the 2000 summit.
After three major attempts and failures, is reunification feasible in 2018?
What these past talks show is that reconciliation has not been sustainable without the tangible progress in eliminating North Korea's nuclear capabilities.
At the same time, the current South Korean President Moon Jae-In is more open to departing from the more conservative approach and pursuing engagement without such assurances. This may be a game changer. Without a doubt, he is much more proactive about creating opportunities for inter-Korean reconciliation.
President Moon faces the same harsh realities as his predecessors. With Pyongyang's increased threat, the South Korean government will have to work more closely with other countries currently implementing sanctions against Pyongyang. If Seoul works out a deal for inter-Korean exchanges and joint projects and North Korea continues to engage in a provocation, skeptical South Koreans will not likely support the government's engagement policy.
This article was originally published on The Conversation.

Ji-Young Lee, Assistant Professor, American University School of International Service