Power Balls
Out of the park: signed balls soar into the stratosphere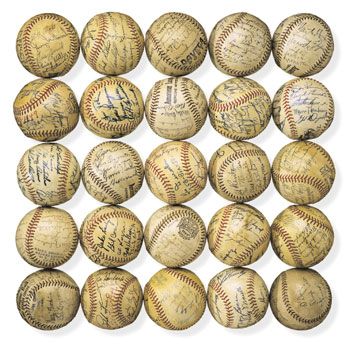 In 1927, five-year-old Elliot Spencer contracted a life-threatening infection of the blood, causing the New York City Health Department to post a quarantine notice on the door of his family's Bronx apartment. When a microbe-phobic neighbor noticed the sign, she went so far as to sprinkle yellow disinfectant powder on the Spencers' doorstep. As fate would have it, her husband was Doc Woods, the fabled Yankees trainer of the 1920s. Once he discovered what his wife had done, Woods roundly chastised his spouse. The next day, a contrite Eugenie Woods showed up at the Spencers' threshold bearing not more sulfurous powder but a baseball that her husband—along with the entire team, including sluggers Lou Gehrig and Babe Ruth—had signed.
The baseball must have possessed curative powers, for young Spencer recovered and grew up to enjoy a career as a chemical engineer, living to age 71. Long before his death in 1994, the baseball had become a family heirloom.
Last year, Elliot's son Brad donated the autographed ball to the Smithsonian's National Museum of American History, adding to the more than 100 baseballs in its collection. "The Spencer family ball is really important," says curator Ellen Roney Hughes, "because it lends a personal story, provides a window into the importance of baseball in the minds and hearts not only of this particular family but also of many Americans."
Other treasures include a 1937 ball signed by Buck Leonard and other players for the Homestead Grays, the legendary Washington, D.C. Negro League team, and a ball bearing the autograph of Jackie Robinson from 1953, six years after he joined the Brooklyn Dodgers and integrated the game. In 1983, Betsy "Sockum" Jochum, an outfielder and pitcher for the All-American Girls Baseball League, donated a baseball inscribed by her team, the 1951 South Bend, Indiana, Blue Sox.
One remarkable acquisition contains the signatures of sluggers from two generations. In 1983, as Hughes conducted a guided tour in the exhibition hall where some of the baseballs are on display, a visitor approached and asked whether she might be interested in a ball signed by both Babe Ruth and Hank Aaron. Would she indeed!
The donor, William P. Mulvaney, now an 81-year-old retired surgeon from Cincinnati, Ohio, recalls that the ball had been given to him by a grateful patient, whose son had owned it when it was signed only by Ruth. Then, when Aaron hit the homer that broke Babe Ruth's lifetime record in 1974, another patient took the ball to Aaron and asked the Atlanta Braves' right fielder to autograph it.
Mulvaney, who recalls the day his sons "couldn't find a regular baseball and I caught them going out the door with it," felt the ball belonged in the Smithsonian: "So eventually, there we were, standing before the baseball exhibit, and I realized that they would preserve it here."
The custom of signing baseballs antedated Ruth, of course. But for the first half-century of the game—beginning in the 1870s or so—an autographed ball was quite a rarity. The major leagues ordained that balls were to be kept in play until they were no longer usable, and spectators were obligated to throw back any horsehides that came their way. Not until 1920, the year the Red Sox traded Ruth to the Yankees, did the leagues keep fresh balls in good supply and allow spectators to keep what fell in their laps. Fans, especially kids, began lying in wait after games for players to sign their trophies.
As recently as the 1970s, collectors could nab treasures for modest amounts of money. In 1973, for example, a ball signed by Babe Ruth went for $150 to $225. Today, it's appraised at $12,000 to $15,000. One could pick up a Jackie Robinson-autographed ball for $50; that prize now would fetch $4,000.
"The sport isn't cultivating a new crop of collectors," says James Spence, a leading authenticator of sports memorabilia. (He recently verified a Babe Ruth bat, valued at $250,000.) "Most kids have been pushed out of the hobby. It's strictly for the disposable income crowd now, for people 30 and over."
The evocative power of the signed baseball, however, remains undiminished. "It's possible," says Spence, "to view a player's entire career through the baseballs he signed. For a minor league rookie, the autograph is often hesitant. If a veteran player gains the fame of a Ruth or a Jackie Robinson, the signature will become accomplished from a thousand repetitions." Babe Ruth's signature, he says, "maintained its vibrancy even toward the end of his life," while the autograph of Negro League great Buck Leonard reflected the hardship that overtook the player: "He suffered a stroke which forced him to sign with his right hand instead of his left."