Picturing the World Series of the Future
After a brutal postseason, can London finally beat New York City?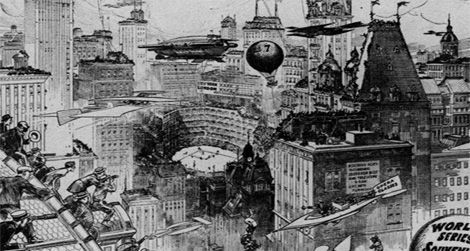 Last night, the Texas Rangers played the St. Louis Cardinals in the first game of the 2011 World Series. Almost 100 years ago, in the year 1912, Harry Grant Dart illustrated for Life magazine what the World Series of the future might look like. If you look closely, you'll notice that the scoreboard shows New York is squaring off against London, as it was common for sports fans of the time to imagine that one day the World Series might truly include baseball teams from around the world. Naturally, airships (similar in appearance to another illustration by Dart from circa 1900) are sailing above the stadium. Some of the airships appear to be selling score cards, others peddling souvenirs, and one is even selling opera glasses to the spectators perched on nearby buildings. While some spectators peek through telescopes trying to get a free look at the game, others have purchased reserved seats in bleachers atop nearby roofs. One sign reads "Reserved Seats Including Elevator Ride and Telescope – $4.00." This entire set up reminds me of the seating you'll see on roofs just outside of Chicago's Wrigley Field, where some apartment building owners began building bleachers in the 1990s. To prevent people from watching the game for free, some stadiums will even construct spite fences to obstruct the view from nearby rooftops.
Harry Grant Dart is hands down one of my favorite cartoon artists of the early 20th century—and though he's relatively obscure, he has thankfully gained better recognition over the last few years with the rise in popularity of the steampunk movement. Dart's often humorous depictions of life in the future graced the pages of magazines like Life, Literary Digest, All Story and Judge.
The scan of this cartoon comes from the book Predictions: Pictorial Predictions from the Past by John Durant.