Peace at Last?
Though political tensions linger, terrorists agreed to a cease-fire this past March. Will it mean peace at last?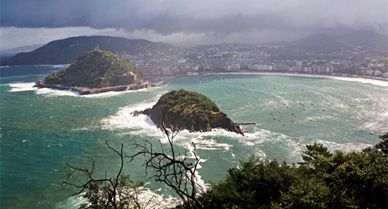 The first blast reverberated through the old quarter of San Sebastián at one o'clock in the afternoon. It rattled the windows of the ornate buildings around the 18th-century Santa Maria del Coro church and sent a flock of pigeons into the sky. We were standing in a cobblestone plaza outside one of the town's most famous pintxos—tapas—bars, La Cuchara de San Telmo, eating braised rabbit and sipping red Rioja wine when we heard it. A minute later came a second explosion, and then a third. "Let's go see what's happening," said my companion, Gabriella Ranelli de Aguirre, an American tour operator married to a San Sebastián native, who has been living there for nearly 20 years.
I didn't know what to think. This was Basque Country, after all, the homeland of Euskadi Ta Askatasuna, or ETA (Basque for "Basque Homeland and Freedom"), which has been waging a violent campaign for independence from Spain for nearly four decades. True, the group, which has killed some 800 people and maimed hundreds more, had not carried out a bombing or shooting for three years, and momentum appeared to be building toward a lasting peace.
This past March, in a communiqué that stunned Spain and the world, the group had even declared a "permanent cease-fire" and said it was committed to promoting "a democratic process." Batasuna, ETA's political arm—which had been banned by the Spanish supreme court in 2003—has engaged in quiet talks with the Basque Nationalist Party and other Basque political parties about establishing a road map to a permanent peace. And, in another sign of changing times, Gerry Adams, the head of Sinn Fein, the IRA's political wing, and Gerry Kelly, a convicted bomber turned Sinn Fein deputy, traveled to the Basque Country last spring to give Batasuna advice on peace negotiations. The Sinn Fein leaders, who once gave ETA counsel on bomb-making technology, have also been lobbying the Spanish government to drop charges against top Basque separatists, legalize Batasuna and move 700 ETA prisoners held in Spanish and French jails closer to their families. "We are approaching the beginning of the end of ETA," Prime Minister José Luis Rodríguez Zapatero declared in February 2006.
But as Ranelli and I raced toward the harbor, I had to wonder if the group had returned to its old tactics. Then I saw the cause of the commotion: a white-haired man wearing a blue Napoleonic military uniform with epaulets and brandishing a musket was firing into the air. He belonged, he explained, to Olla Gora, one of San Sebastián's dozens of "eating societies," male-only clubs dedicated to the pursuit of socializing and gastronomic indulgence. "It's our [society's] centennial," he said, and its members were reenacting the Napoleonic battles that raged here in the 19th century. As Ranelli and I made our way back down through the quaint alleys of the old quarter—rebuilt after 1813, when British and Portuguese troops burned down almost all of it—she said my reaction was all too common. "San Sebastián is a wonderful town," she went on, "but the violence has eclipsed everything else. A lot of my friends have had the impression that this is a scary place—another Beirut."
Comparisons to Lebanon may be exaggerated. But this rugged region in the shadow of the Pyrenees has long been an anomaly—an enclave marked by an ancient language, a tradition of fine food and wine, and a political culture soaked in blood. Feeding on Basque pride and decades of repression by Spanish dictator Francisco Franco, ETA's campaign of terror turned elegant cities such as San Sebastián and Bilbao into caldrons of fear and violence. At the height of its violent campaign for independence, in 1980, the separatists murdered 91 people, and countless business enterprises have fallen victim to ETA extortion over the past four decades. "Everybody in Basque Country has a cousin or an uncle who has either been a victim or a member of the group," one Basque journalist told me.
Now ETA is widely regarded as an anachronism, a holdover from the days when radical groups such as Italy's Red Brigades and West Germany's Baader-Meinhof gang were recruiting European youth with their Marxist-Leninist rhetoric and desperado chic. In 1997, the United States government designated ETA a foreign terrorist organization. Since then, a number of developments—the Basque Country's growing prosperity; a post 9/11 crackdown on terrorist groups; widespread revulsion at violent tactics in the aftermath of Al Qaeda's 2004 Madrid train bombing (for which ETA was initially blamed); arrests of ETA fugitives in both Spain and France; and a waning enthusiasm for ETA's aim of independence—have drained the movement of much of its vigor.
The peace process, however, is still fragile. In recent years, ETA has declared other cease-fires, all of which collapsed. The main Spanish opposition party, led by former prime minister José María Aznar, has urged the government not to negotiate. The peace initiative is being challenged by victims of ETA terror, and any deal is likely to leave unresolved the still contentious issue of Basque independence. Zapatero, in June 2006, warned that the process would be "long, tough and difficult," saying that the government would proceed with "prudence and discretion."
Then, a series of setbacks jolted the Spanish government and raised fears of a return to violence. First, in August, ETA publicly criticized the Spanish and French governments for "continuous attacks" against the Basques, apparently referring to the arrests and trials of ETA members that have gone on in spite of the cease-fire. Three hooded ETA members read a communiqué at a pro-independence rally in late September, confirming the group's "commitment to continue fighting, arms in hand, until independence and socialism is achieved in Euskal Herria [Basque Country]." A week later, a hiker in the woods in French Basque Country, near the Spanish border, stumbled across hidden weapons—including guns and chemicals for bomb-making—sealed in plastic bins, evidently intended for ETA. Later in October, some 350 guns disappeared from a gun store in Nîmes, France; it was suspected that ETA had engineered the theft. It was perhaps the starkest indication yet that the group could be preparing for the collapse of negotiations, and the resumption of attacks.
But despite all the obstacles, the mood is upbeat. Traveling around Basque Country, from the avenues of San Sebastián to mountain villages deep in the Basque heartland, I encountered a sense of optimism—a belief that the Basques have a real chance of a lasting peace for the first time in decades. "I still remember the day I heard the news [about the cease-fire]. It gave me goose pimples," says Alejandra Iturrioz, mayor of Ordizia, a mountain town where a dozen citizens have been killed by the group since 1968.
In Bilbao, Basque Country's biggest city and an emerging cultural capital (home to architect Frank Gehry's Guggenheim Museum), the change is already being felt. "More people came this summer than ever before," says Ana López de Munain, the communications director for the striking titanium-and-glass creation. "The mood has become more relaxed. We just hope it stays that way."
Nowhere are the benefits of waning tension more evident than in San Sebastián, a cosmopolitan seaside resort that comfortably straddles the Basque and Spanish worlds. Twelve miles west of the French border, along a rugged, horseshoe-shaped bay facing the Bay of Biscay, San Sebastián was a Basque fishing and trading town until the mid-19th century; in 1845 Spanish queen Isabel II, stricken with a skin ailment, came to bathe in the Bay of Concha on her doctor's orders. Aristocrats from Madrid and Barcelona followed, throwing up beachfront cabanas and Belle Epoque villas, wedding-cake structures adorned with turrets and spires. Along the Rio Urumea, a tidal river that empties into the Bay of Concha and divides the city in two, I strolled the Paseo de Francia—a faux stretch of the Ile St. Louis, with a Seine-like promenade.
San Sebastián itself has been the scene of political violence: in 1995, an ETA gunman walked into a downtown bar and shot dead one of the city's most popular politicians, Gregorio Ordoñez. Six years later, thousands marched silently through the streets to protest the murder of newspaper executive Santiago Oleaga Elejabarrieta. But there hasn't been a shooting or bombing here in years. Real estate is booming, with two-bedroom condominiums facing the sea fetching up to a million euros.
I went to lunch in the affluent Gros neighborhood with Gabriella Ranelli and her husband, Aitor Aguirre, a 39-year-old former professional player of pelota, similar to the sport better known in the United States as jai alai, the indoor game played with a hard rubber ball and gloves with basket-like extensions. (Pelota is the most popular sport in Basque Country.) We stopped by Aloña Berri, a pintxos bar known for its exquisite food miniatures, and ordered plates of Chipiron en Equilibria, a tiny square of rice infused with squid broth, served with sugar crystals spun around a wooden stick that spears a baby squid. Sophisticated establishments like this one have transformed San Sebastián into one of the culinary centers of Western Europe. Aguirre told me that these days the city is dedicated far more to the pursuit of good times than political agitation. "The roots of the Basque problems are in the provinces, where Basque culture is strongest, the language is spoken all the time and people feel that their identity is more threatened," he added. "Here, on the coast, with the cosmopolitan influence, we don't feel it as much."
Still, San Sebastián remains distinctly Basque. About 40 percent of its population speaks Basque; identification with Spain is not strong. Here, separatist politics still stir emotions. Spanish director Julio Medem's documentary La Pelota Vasca (The Basque Ball), featuring interviews with 70 Basques about the conflict, created a furor at the 2003 San Sebastián film festival. And memories of Franco's brutalities are etched into the city's psyche. The palace, where Franco vacationed for 35 years, has been shuttered since his death in November 1975; the city still debates whether to turn it into a museum, a hotel or a memorial to his victims.
One rainy afternoon, after taking in an exhibition of Russian paintings at Bilbao's Guggenheim Museum, I made the 30-minute drive to Gernika, set in a narrow riverine valley in Vizcaya Province. Gernika is the spiritual capital of the Basques, whose ancient culture and language, some believe, date back several thousand years. From medieval times, Castilian monarchs met here, beneath a sacred oak, to guarantee the Basques their traditional rights, or fueros, including special tax status and exemption from serving in the Castilian army. But in 1876, at the end of the second Carlist War in Spain, these guarantees were finally abrogated, and the Basques' dreams of autonomy or independence from Spain were indefinitely deferred.
I parked my car at the edge of town and walked to the main square, the site of the Gernika Peace Museum, which commemorates the event that has come to define the town. When the Spanish Civil War broke out in 1936, the Basques allied themselves with the Republican government, or Loyalists, against the fascists, led by Franco. On April 26, 1937, the Italian and German Air Forces, on Franco's orders, carpet-bombed and strafed Gernika, killing at least 250 people, an event immortalized by Picasso's painting named for the town. (The artist used an alternate spelling.) "Gernika is seared into the heart of every Basque," I was told by Ana Teresa Núñez Monasterio, an archivist at the city's new Peace Museum, which features multimedia displays chronicling the bombing.
Franco's fascist forces defeated the Loyalists in 1939; from then on, the dictator waged a relentless campaign to erase Basque identity. He drove the leadership into exile, banned the Basque flag and traditional dancing, and made even speaking Basque punishable by a prison term. Some families reverted to speaking Spanish, even in the privacy of their homes; others taught the language to their children in secret, or sent them to clandestine schools, or ikastola. Children caught speaking Basque in regular schools were punished; teachers would pass a steel ring from one student caught speaking Basque to the next; the last one to hold the ring each day would be whipped. Margarita Otaegui Arizmendi, the director of the language center at the Deusto University in San Sebastián, recalls, "Franco was very successful in instilling fear. A lot of the children grew up without a knowledge of Basque—we call them 'the generation of silence.'"
After Franco's death, King Juan Carlos took power and legalized the Basque language; in 1979, he granted autonomy to the three Spanish Basque provinces, Alava, Guipúzcoa and Vizcaya. (Basque separatists also regard the Spanish province of Navarra as part of their homeland.) In 1980, a Basque parliament elected a president and established a capital at Vitoria-Gasteiz, beginning a new era. But ETA, founded by a small group of revolutionaries in 1959, has never given up its goal—full independence for the Spanish Basque provinces and unification with the three Basque-speaking provinces on the French side (where the nationalist movement is less fervent). For many Spanish Basques, the goal of independence has come to seem meaningless. "There's a whole generation of people under the age of 30 who have no memories of Franco," a Basque journalist told me. "We have prosperity, we have autonomy, we're pretty well off on all counts."
The journey from San Sebastián to Ordizia takes only 30 minutes by road through rugged hills cloaked in forests of oak, apple and pine, but it bridges a gap as wide as that between, say, Washington, D.C. and Appalachia. It had been raining nonstop for three days when I set out; the mist shrouding the slopes and red-tile-roofed villages conveyed a sense of a world cut off from Europe. Located in the highlands of Guipúzcoa, regarded as the most "Basque" of the three provinces, Ordizia is a town of 9,500 that was founded in the 13th century. When I arrived, crowds were flocking to the market in the town square, beneath an Athenian arcade-style roof supported by a dozen Corinthian columns. Elderly men wearing traditional wide, black berets, known as txapelas, browsed through piles of fresh produce, wheels of Idiazabal sheep cheese, olives and chorizo sausages. Outside rose green hills covered by concrete high-rises; Franco had ordered them built in the 1960s and packed them with workers from the rest of Spain—a strategy, many in Ordizia say, intended to weaken Basque identity.
With almost no unemployment and fertile highlands, Ordizia is one of the wealthiest corners of Spain. Yet almost everybody here has been touched by violence: there is the Basque policeman, posted out of town, who keeps his job secret from his neighbors for fear of being killed, the stationery store owner whose daughter, a convicted ETA bomb-maker, languishes in a Spanish prison hundreds of miles away. In a seedy bar clubhouse in one of the high-rises on the outskirts of town, I met Iñaki Dubreuil Churruca, a Socialist town councilman: in 2001, he narrowly escaped a car bomb explosion that killed two bystanders. I asked him how many people from Ordizia had been murdered by ETA, and he and a friend began counting, rattling off a dozen or so names: "Isidro, Ima, Javier, Yoye....We knew them all," he said.
Later I walked through the town center to a flagstone plaza, where a single rose painted on a tile marked Ordizia's most notorious killing: that of María Dolores González Catarain, known as Yoyes. An attractive, charismatic woman who joined ETA as a teenager, Yoyes tired of life in the group and, with her young son, fled into exile in Mexico. After several years she grew homesick and, reaching out to ETA's leaders, received assurances she would not be harmed if she came back. In 1986 she moved to San Sebastián and wrote a critical memoir about her life as a terrorist. That September, she returned to Ordizia for the first time since her exile to attend a fiesta and, in a crowded plaza, was shot dead in front of her son. David Bumstead, an English teacher who ran a language school in the town, later observed the scene. "I remember seeing her body, covered in a sheet, lying on the cobblestones," he says, recalling that "sadness enveloped the town."
Though Yoyes' murder caused widespread revulsion in Ordizia, enthusiasm for Basque independence has never flagged here. In 1991, Batasuna received 30 percent of the votes in municipal elections and came close to naming the town's mayor. (A coalition of other political parties formed a majority and blocked the appointment.) In a dank, smoke-filled bar beside the town's marketplace I met the man who nearly won the post, Ramon Amundarain, a grizzled former Batasuna politician. He told me that 35 percent of the highland population favored independence. "I didn't even speak Spanish until I was 10," he said. "I don't feel Spanish at all." He pulled an Euskal Herria ID card out of his wallet. "I carry it in protest," he told me. "I could be arrested for it." When I asked whether he believed violence was an acceptable way of achieving his goal, he answered, cautiously, "We did not reject it."
The next day I drove farther south into the province of Alava, part of the Rioja wine-producing region. Alava is considered the least Basque, and most Spanish, of the Basque Country's three provinces. Here, the weather cleared, and I found myself in an arid, sun-splashed valley framed by gray basalt mountains. Jagged mesas loomed over groves of cypress trees and a rolling sea of vineyards, and medieval walled villages climbed hillsides; the landscape, the climate, all seemed classically Spanish.
The 12th-century village of Laguardia was having one of its summer fiestas, this one celebrating San Juan, the town's patron saint. Then I heard a distant clattering of hoofs, and I leapt into a doorway just as half a dozen bulls roared down the main street. I had stumbled into one of the hundreds of "running of the bulls" festivals that take place every summer across Spain—this one, unlike Pamplona's a few dozen miles to the northeast, relatively unspoiled by tourists.
Later that morning, I made my way to Bodega El Fabulista, a wine cellar owned by Eusebio Santamaría, a third-generation winemaker. Santamaría has chosen to keep his operation small—he produces 40,000 bottles a year, entirely for local distribution—and he makes most of his money from the private tours of his cellar he conducts for tourists. Since the ETA cease-fire, he told me, the number of visitors had grown significantly. "The atmosphere across the Basque Country has changed," he said. I asked him whether people felt their Basqueness strongly here, and he laughed. "It's a mixture of identities here, Rioja, Alava and Navarra," he said. "I say I belong to all of them. Wine does not understand or care about politics."
But people do, and everywhere I traveled in Basque Country, debates over Basque identity and independence still raged. In Vitoria-Gasteiz, a modern city on the arid plains of Alava Province and the Basque capital, María San Gil vented her contempt for the cease-fire declaration. San Gil, 41, a gaunt, intense woman, saw the separatists' brutality firsthand in 1995, when an ETA gunman walked into a bar in San Sebastián and shot to death her colleague Gregorio Ordoñez, a popular, conservative Basque politician. Soon after that, she entered politics as a candidate for San Sebastián's city council, and is now president of the Populist Party in the Basque Country. San Gil has likened Batasuna's leader, Arnaldo Otegi, to Osama bin Laden and, despite ETA's truce, remains adamantly opposed to any negotiations. "These people are fanatics, and one cannot legitimize them at the political table," San Gil told me. She dismissed comparisons between ETA and the IRA, whose cease-fire call in 1997 was embraced by the British government. "Ours is not a war between two legitimate adversaries. It's a war between terrorists and democrats, so why do we have to sit down with them? It's like sitting down with Al Qaeda. We have to vanquish them."
Others, however, see such intransigence as self-defeating. Gorka Landaburu, the son of a leading Basque politician who fled into exile in France in 1939, also knows the extremists' brutality firsthand. Landaburu, 55, grew up in Paris and moved to San Sebastián in his 20s. There he began writing for French and Spanish newspapers and became a leading voice of ETA opposition. "My parents were Basque nationalists, but I've never been," he told me as we sat in a café in front of San Sebastián's Hotel Londres, a whitewashed, early-20th-century landmark with filigreed iron balconies and French windows, overlooking the seafront promenade. "We have our own taxation, our own laws, our own government. What do we need independence for? Money? We have the euro. Frontiers? The borders are open. Army? It's unnecessary."
Landaburu's critiques made him an enemy of the separatists. "I got my first warning in 1986—an anonymous letter, with the ETA seal"—a serpent coiled around an ax—"warning me to 'keep quiet,'" he said. "I ignored it." In the spring of 2001, a parcel bearing his newspaper's return address arrived at his home. While heading out the door to work the next morning, he opened the letter; five ounces of dynamite blew up, mangling his hands, destroying the vision in his left eye and lacerating his face. "I remember every second—the explosion, the burst of fire," he told me. He staggered out the door covered in blood; a neighbor took him to a hospital. "Every time I pick up a drink, button my shirt, I think about the attack, but I can't let it dominate me or I'd go insane," Landaburu said.
In the months after I spoke to Landaburu, increasingly belligerent pronouncements by ETA, increased incidents of street violence and the theft of the handguns in Nîmes seemed to strengthen the arguments of hard-liners such as María San Gil. But it was difficult to know whether ETA's vows to carry on the struggle were rhetorical or whether they foreshadowed another campaign of terror. Nor was it out of the question that a radical splinter group sought to sabotage the peace process—the Basque equivalent of the Real IRA, which killed 29 people in a car bombing in Omagh, Ireland, in August 1998 in reaction to the IRA's cease-fire the previous year.
Landaburu told me that he expected setbacks: the bitterness and hatred caused by decades of violence were too deeply engrained in Basque society to be overcome easily. Even so, he was willing to give peace a chance. "I'm not going to forgive, I'm not going to forget, but I'm not going to oppose the process," he told me. He took a sip of orujo blanco, a strong liquor distilled from white grapes, and gazed upon the Bay of Concha—the crescent of beach, the azure waters framed by forested cliffs, the hundreds of people strolling the promenade at sunset. "After 40 years of Franco's dictatorship, and 40 years of a dictatorship of terror, we want to live in a world without threats, without violence," Landaburu said. "I want peace for my kids, for my grandkids. And for the first time, I think we are going to get it."
Writer Joshua Hammer lives in Berlin. Magnum photographer Christopher Anderson is based in New York City.