Martha Stewart on How the Singer Sewing Machine Clothed the Nation
The master of home entertaining takes a look at one of the most game-changing inventions of the 19th century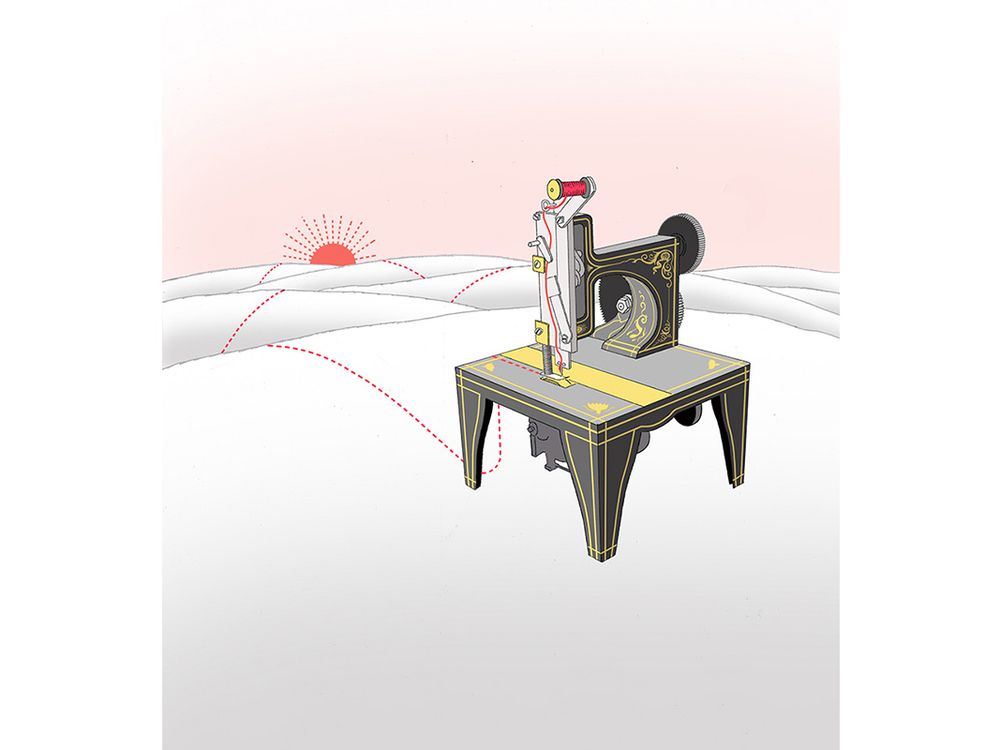 When I look at this iconic machine—sturdy, practical, dependable—I think about how it revolutionized homemaking in America and shaped my personal history as well.
Isaac Merritt Singer's Patent No. 8,294 was a vast improvement upon earlier versions, capable of 900 stitches a minute—at a time when the most nimble seamstress could sew about 40.
Though the machine was originally designed for manufacturing, Singer saw its domestic potential and created a lighter weight version, which he hauled to country fairs, circuses and social gatherings, dazzling the womenfolk. The $50 price tag was steep, but Singer sold thousands on the installment plan. His machine revolutionized manufacturing and industry, transforming the lives of millions and making Singer a very rich man—a classic American story.
My mother inherited a Singer machine from her mother, and she was constantly sewing—her own clothes, clothes for her three daughters, Halloween costumes for all six of her children, and gifts for friends and family. She kept the machine in a corner of our kitchen in Nutley, New Jersey.
My sisters and I started out with small projects like aprons and dishtowels, but we were mostly interested in clothes. I took sewing courses in the Nutley public schools and learned to make a blouse with set-in sleeves and a yoke and collar; a pair of cuffed shorts with a zippered-fly front; and a circle skirt. Mother taught me tailoring, interfacing, bias cutting and how to make bound and handmade buttonholes. These were early lessons in diligence, attention to detail and self-reliance.
I kept sewing throughout my college years and made all my fancy clothes from designer patterns I got from my friend's glamorous aunt, who owned a dress shop called Chez Ninon. I made Balenciaga and Dior and Givenchy and fell in love with couture. I even sewed my own wedding dress with the help of my mother, who assisted with the extensive tailoring.
As a newlywed, my first sewing machine was a Singer with the most up-to-date features of the 1960s, a gift from my in-laws. I learned a lot on that machine, sewing with it for many years and experimenting with construction and design. Even today I still examine seams, tucks, gathers, hems and all the different ways that clothes are made.
I still have my grandmother's Singer sewing machine, recently refurbished and in perfect working order. I keep it and several others in the craft room at my farm in New York. I love the feel of the advancing fabric and the hum of the engine. Just recently I made a dress for my granddaughter, Jude.
Now sewing is back in vogue, which gives me great pleasure. I often give basic Singer sewing machines to kids for their birthdays, bar and bat mitzvahs and other celebrations. I believe a sewing machine is as indispensable today as a personal computer or smartphone.
The best-selling author, publishing executive and TV personality has been called "America's Homemaking Queen." For this special issue, Martha Stewart considers the Singer sewing machine, an invention that brought automated sewing to the masses.
She fondly remembers using one as a girl. "Everybody should know the sense of achievement of sewing two pieces of fabric together and creating something practical, beautiful and unique," she says.