Lunch Atop a Skyscraper Photograph: The Story Behind the Famous Shot
For 80 years, the 11 ironworkers in the iconic photo have remained unknown, and now, thanks to new research, two of them have been identified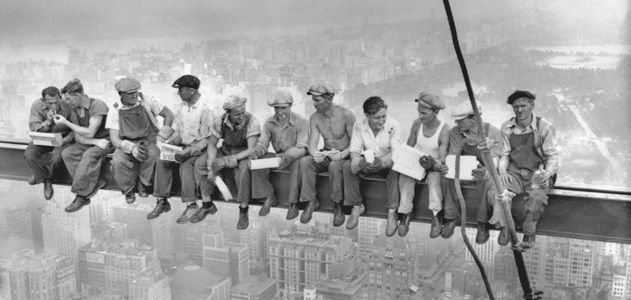 On September 20, 1932, high above 41st Street in Manhattan, 11 ironworkers took part in a daring publicity stunt. The men were accustomed to walking along the girders of the RCA building (now called the GE building) they were constructing in Rockefeller Center. On this particular day, though, they humored a photographer, who was drumming up excitement about the project's near completion. Some of the tradesmen tossed a football; a few pretended to nap. But, most famously, all 11 ate lunch on a steel beam, their feet dangling 850 feet above the city's streets.
You've seen the photograph before—and probably some of the playful parodies it has spawned too. My brother had a poster in his childhood bedroom with actors, such as Tom Cruise and Leonardo DiCaprio, photoshopped in place of the steelworkers. The portrait has become an icon of 20th century American photography.
But how much do you know about it?
For the Irish filmmaker Seán Ó Cualáin, the mystery surrounding the photograph is a large part of its appeal. "There are so many unknowns," he says. Who was the photographer? And who are the men?
"They could be anybody," says Ó Cualáin. "We can all place ourselves on that beam. I think that is why the photograph works."
Ó Cualáin did not plan to tell the story of the photograph, but that's exactly what he has done in his latest documentary, Men at Lunch, which debuted earlier this month at the Toronto International Film Festival.
"It was a happy accident," says Ó Cualáin. He and his brother, Eamonn, the film's producer, were in a pub in Galway, when they noticed a copy of the photograph hanging in a corner. Beside the photograph was a note from the son of a local immigrant who left Ireland for New York in the 1920s: "This is my dad on the far right and my uncle-in-law on the far left." They asked the bartender about the note, and "like all good Irish barmen," says Ó Cualáin, he put them in contact with Pat Glynn, the Bostonite who penned it, that very night.
The filmmakers' curiosity led them on a journey from the supposed relatives of a couple of the men pictured to the Rockefeller Center photography archives in New York City and a storage facility in Pennsylvania where the licensing company Corbis holds the original glass plate negative.
In the process, the Ó Cualáin brothers confirmed that the photograph is real, and not a darkroom trick, as has been speculated. They turned up three possible photographers and, for the first time ever, unquestionably identified two of the men on the beam.  
Click on the highlighted portions of the famous photograph, below, to learn more about its long-held secrets. The notes have been prepared based on conversations with Seán Ó Cualáin and Ken Johnston, director of historical photography at Corbis. The photograph is part of Corbis' prestigious Bettmann Archive.
Lunch atop a Skyscraper (PDF)
Lunch atop a Skyscraper (Text)