Long Live the King
A gunshot rang out in the king's bedroom in June 1946, ending one reign and beginning another. Uncertainty over how it happened has persisted ever since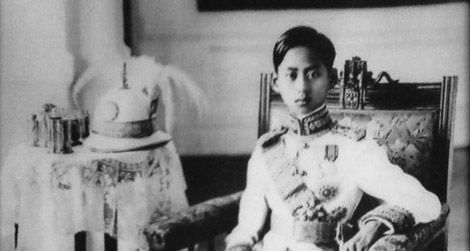 Ananda Mahidol was a slight and painfully shy boy. When he was nine years old in 1935, he became the eighth king of Siam and captured the hearts of his people. But his reign was painfully brief, ending in his bedroom with a single bullet fired into his head at close range. He was 20 years old. Within hours, Ananda's 18-year-old brother, Bhumibol, ascended to the throne, where he sits today. He has ruled for 65 years, longer than any current head of state, and has amassed a fortune estimated at more than $30 billion, making him the wealthiest royal in the world. His spending on schools and hospitals, as well as on disaster relief efforts, have helped bolster his considerable popularity among his subjects. Ananda's death, however, remains unsolved and largely unmentioned in Thailand today.
So what exactly happened in Thailand on that June morning in 1946? The answer is no clearer today than it was in the immediate aftermath of a death that shocked Thailand and resonated around the world. Ananda and his brother had been inseparable as children and, by all accounts, remained close as they grew up. One of their common interests was firearms; they were known to take target practice on the Grand Palace grounds in Bangkok. On the morning of June 9, 1946, Bhumibol said he entered his brother's bedroom chamber in the palace at 9:00 a.m., found him sleeping and left. Twenty minutes later, a gunshot echoed across the palace complex. The king's page, Chit Singhaseni, rushed into the room and, seeing no one but Ananda, shouted, "The king has shot himself!" The king's mother, Sangwal, followed the servant into the room. Ananda was lying in his bed, face up, with a bullet hole in his forehead and a Colt .45 pistol beside him on the bed. Sangwal pushed aside the mosquito net and threw herself onto the body, crying, "Alas, 'Nanda, my son!"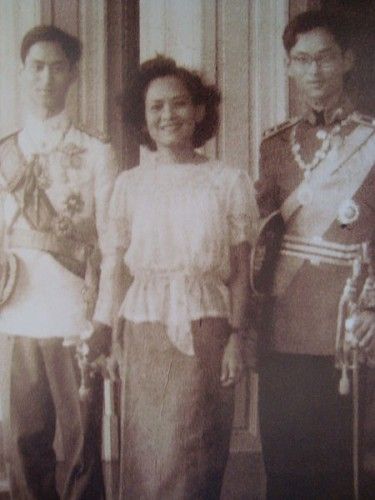 The initial press reports out of Bangkok said Ananda's death was accidental. "Diffident, bespectacled and boyish," the New York Times reported, the king was "a fancier of firearms" and always kept a weapon near. Ananda had been within days of a trip to the United States for visits to New York and Washington, D.C., before returning to Switzerland, where he had received most of his education, to finish his studies for a law degree. The Times made a point of describing the worldly young king as "more Western than Eastern in his tastes," as he "enjoyed playing a saxophone and driving an American jeep about the Palace grounds." In the days after his death, however, newspapers around the world raised the possibility that King Ananda had taken his own life. His relationship with a 21-year-old Swiss woman in Lausanne had broken off while he had returned to Thailand, and there were rumors that the king had been despondent. He was weakened by intestinal troubles, some reports said. He was a reluctant ruler and he'd been quarreling with his mother, noted others. But the Thai government quickly brushed aside any insinuation of suicide. It was simply inconceivable to the Buddhist people of Thailand that their enlightened king could kill himself. Besides, the government noted, the gun was discovered next to Ananda's less dominant left hand, and the nearly blind king was not wearing his glasses when he died.
By the end of the week, Thai officials—recognizing the need to solve the mystery of Ananda's death quickly—ordered a special commission of inquiry to investigate. The government, already riven by power struggles in the aftermath of World War II, was close to turmoil. "Any mention of the king in public," the Chicago Daily Herald reported from Bangkok, "has brought serious reprimands from the secret police." (Under Thailand's constitution and lèse majesté laws, criticism of the monarchy is banned.) The commission of inquiry appointed a committee of 15 medical experts, including one American, to report on the shooting. That panel had Ananda's body exhumed and made X-rays to determine the path of the bullet.
By the end of the month, the physicians submitted their report: King Ananda Mahidol of Siam had been assassinated, they concluded. "It was absolutely murder," said Chook Chotikashien, a prominent Thai member of the panel. The American physician, Edwin Cort, concurred. "The position of the wound and the bullet track seem to show that death was the result of assassination rather than suicide," Cort said. "Accidental death was improbable."
Louis Mountbatten, the Earl of Burma, who had visited Thailand in early 1946 and described Ananda as a "frightened, short-sighted boy, his sloping shoulders and thin chest behung with gorgeous diamond-studded decorations, altogether a pathetic and lonely figure," thought he knew who pulled the trigger. "King Bhumibol shot his brother to obtain the crown," he wrote in a letter to King George VI of England, according to author William Stevenson, who was granted unprecedented access to Bhumibol and the royal family for his 1999 book, The Revolutionary King. But no evidence to support the accusation has ever emerged.
The commission of inquiry took testimony from family members and staff at the Grand Palace. A page boy testified that when Sangwal, the Princess Mother had seen Ananda's body, she was so despondent that she turned to Bhumibol and said, "Let us take our lives, too." Fearing that she might indeed attempt suicide, the aide gathered up all the firearms in the vicinity. So many people at the scene handled the pistol used in Ananda's shooting that lifting fingerprints from it became impossible.
Police arrested a national assemblyman and began searching the homes of journalists who were reporting that the Thai government was suppressing information on the circumstances of Ananda's death. Premier Pridi Phanomyong reinstated a World War II state of national emergency, and officials censored the slightest hint of unfavorable reporting on the incident from Bangkok's newspapers. Rewards were offered for information leading to the conviction of anyone spreading anti-government statements.
In late July, King Bhumibol testified before the commission for six hours. He reiterated that he had left his sleeping brother's room before the shooting, and when asked "expressed no opinion as to the cause of his brother's death," in the words of a Reuters dispatch. There has been speculation among historians that Thai generals might have held the threat of a broader inquiry into the monarchy as a means to diminish royal influence in Thailand. Indeed, Bhumibol later said that in the weeks and months after Ananda's death, the agents of the military kept a watchful eye upon him, until late August, when Bhumibol and his mother left for Switzerland so he could finish his own studies in Lausanne. He would stay there for four years.
Over the next two months, the investigation continued amid a bloodless coup that saw a military regime take power in Thailand from the civilian government, led by Premier Pridi Phanomyong. Within a week, Pridi was in hiding, accused of having had a hand in Ananda's death. The king's former secretary, Senator Chaleo Patoomros, was arrested, along with two palace attendants, including Chit, the servant who had discovered Ananda's body. "There is definite proof that his late majesty was murdered," declared General Phin Chunhawn, Deputy Supreme Commander of the Siamese Army.
When Bhumibol returned to Thailand, in 1950, he surrounded himself with a formidable staff of Western-educated diplomats, advisers and financial experts who helped the young king navigate the monarchy's complex political relationships with the junta and the Thai Border Patrol Police (BPP), which was formed with the assistance of the United States Central Intelligence Agency. In an effort to foster a strong anti-communist ally in Thailand, the United States fully supported King Bhumibol, helping to promote his image as a wise and great king selflessly dedicated to his kingdom. As Bhumibol's fortune grew, he spent visibly on education, medical care and disaster relief. He married a beautiful and poised Thai woman, Sirikit, and they were a spirited and attractive young couple. In the early 1950s, his love of music prompted him to form the Aw Saw Band, which performed Western songs in a popular weekly radio concert. The people of Thailand were completely taken with the royal family. Photographs of the king could be found in every home and at every street corner. Bhumidol had effectively put a halo above his monarchy, and the generals had little choice but to publicly bow to the king if they hoped to hold sway with the Thai populace.
But eight years after Ananda Mahidol was discovered in his bedroom with a bullet hole in his head, the murder case had stalled in the courts. Investigation and trials had proceeded, but the main suspect, Pridi, the former premier, remained in exile. Ananda's secretary and the two servants were still incarcerated, but because there was practically no evidence against them, the lower courts would not convict. It wasn't until October 1954 that General Phao of the Siamese Army, who had continued to push for closure to the case, finally secured convictions, which the Supreme Court of Thailand upheld. The three were sentenced to death for conspiracy to murder King Ananda.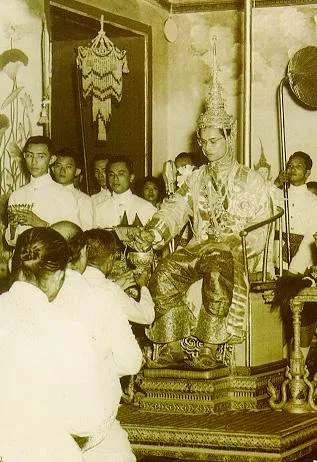 Four months later, on February 17, 1955, without fanfare, General Phao sent them before a firing squad. Decades later, Bhumibol suggested that the executions had "caught him by surprise while he was still considering commuting the sentences," as Paul M. Handley notes in his 2006 book, The King Never Smiles. Yet Bhumibol had given no public indication after the death sentences were handed down that he was considering any commutations. In a 2006 article he wrote for the Far Eastern Economic Review, Handley dismisses the possibility of a political assassination. "I have no idea whether Ananda shot himself or was killed by Bhumibol, the two possibilities most accepted among historians," he wrote. "If the latter, I clearly term it an accident that occurred in play."
King Bhumibol is 83 years old, a beloved figure in Thailand today. As recently as 1999, Time magazine speculated that he was "haunted by the death of his brother." In The Revolutionary King, William Stevenson insinuates that a notorious Japanese spy, Masanobu Tsuji, and not the three men executed in 1955, was responsible for Ananda's murder. Thai historians summarily dismiss the charge. So does Handley, who notes that Tsuji was nowhere near Bangkok at the time. But given Stevenson's unprecedented access to the king, it's hard to imagine that Bhumibol, who cooperated with the author, did not have any say in advancing the theory—leading some people to believe that the king must believe that three men were unjustly executed for his brother's death. Stranger still, as journalist Andrew MacGregor Marshall observes, in the last chapter of Stevenson's book, "even Stevenson—and Bhumibol—are doubtful about the theory" of Tsuji's involvement.
The fact is, Bhumibol was politically weak in the years after he returned from Switzerland. It is possible that he didn't speak out about the executions because he perceived a need to let the Thai legal system take its course. It is also possible that he, too, remained uncertain of the circumstances surrounding his brother's death.
Bhumibol has been a strong unifying force in Thailand, and his political skills have enabled him to maintain the throne's power in a country whose political history is rife with coups and military rule. But his health is now in question, and the people of Thailand are concerned about a future without him. One possible successor is his son, Crown Prince Maha Vajiralongkorn; cables from the U.S. Embassy recently released by Wikileaks say that Thailand's ruling elite considered him a political liability and that there were grave doubts about whether he could maintain a stable monarchy. However, one of Bhumibol's daughters, Crown Princess Maha Sirindhorn, is extremely close to her father, and just as beloved by the Thai people. Bhumibol is permitted to name his successor. The turmoil surrounding his accession highlights the importance of order in the palace.
Sources
Books: Revolutionary King: The True-Life Sequel to The King and I, by William Stevenson, Constable and Robinson, paperback, 2001. (first published in 1999) Paul M. Handley, The King Never Smiles: A Biography of Thailand's Bhumibol Adulyadej, Yale University Press, 2006. Andrew MacGregor Marshall, Thailand's Moment of Truth: A Secret History of 21st Century Siam, http://www.zenjournalist.com/
Articles: "Siam Boy King Shot to Death; Brother Rules", Chicago Daily Tribune, June 10, 1946. "Gun Kills Siam's Young King; Palace Death Held Accident", New York Times, June 10, 1946. "Brother Succeeds Siam's King; Shooting Accidental", The Christian Science Monitor, June 10, 1946. "Crisis in Siam", Christian Science Monitor, June 10, 1946. "Siam Declares a Full Year of Mourning for Slain King", Washington Post, June 11, 1946. "New Evidence Asked on Siam King's Death" , New York Times, June 16, 1946. "Mystery Death of Siam's King Stirs Politicos", Chicago Daily Tribune, June 21, 1946. "King of Siam's Coffin Opened; Body X-Rayed", Chicago Daily Tribune, June 22, 1946. "Report Murder Finding in Death of Siamese King", Chicago Daily Tribune, June 27, 1946. "King of Siam Slain, 12 Doctors Say", Chicago Daily Tribune, July 3, 1946. "Siamese Queen To Testify", New York Times, July 5, 1946. "Siam Puts Lid on Rumors of King's Murder", Chicago Daily Tribune, July 7, 1946. "Tension is Increased with Arrests in Siam", New York Times, July 7, 1946. "New King Aids Probe of Siam Ruler's Death", Chicago Daily Tribune, July 29, 1946. "Ananda Murdered, Siamese Declare", New York Times, November 17, 1947. "New Regime Links Aide of Ex-Leader To King's 'Murder'", Washington Post, November 17, 1947. "Siamese King's 1946 Gun Death Still Mystery: Material for a Thriller in Palace Tragedy", Chicago Daily Tribune, August 16, 1948. "Foreign News: Orchids for the Secretary", Time Magazine, February 28, 1955. "The King and Ire", Time, December 6, 1999.