Lewis and Clark: The Journey Ends
The triumphant return of the Lewis and Clark expedition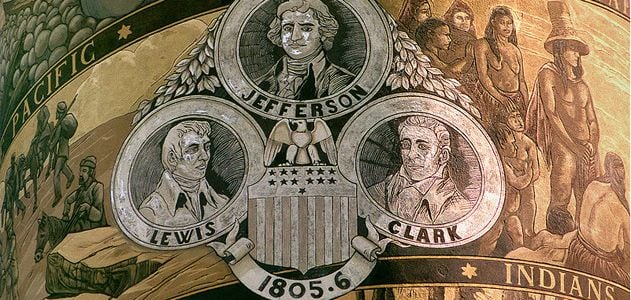 After reaching the Pacific Ocean in November 1805, the corps established Fort Clatsop, near present-day Astoria, Oregon, as its winter quarters. Then, on March 23, 1806, the weary explorers headed for home and St. Louis. They retrieved their horses from the Nez Percé Indians and crossed the Bitterroot Mountains. The expedition separated into two parties near today's Lolo, Idaho, to explore the country more thoroughly on the return trip; the groups would be apart for more than a month. During that time, Lewis' company was attacked by Blackfoot warriors, two of whom were killed in the fighting, the expedition's only bloodshed. Shortly afterward, the half-blind private Pierre Cruzatte mistook Lewis for an elk and shot him in the thigh. By the time Lewis was reunited with Clark, his leg was nearly mended. Reaching St. Louis on September 23, 1806, Clark noted, "We were met by all the village and received a harty welcom." The corps' 8,000-mile journey was over.
Sgt. John Ordway
Sergeant Ordway, one of the original members of the corps, had helped organize the expedition's first winter camp near St. Louis. Like the other sergeants, Ordway kept a journal, but he was the only one to record a daily entry. On September 21, 1806, as the corps reached St. Charles (in present-day Missouri), Ordway wrote: "Towards evening we arived at St. Charles fired three rounds and Camped at the lower end of the Town. the people of the Town gathered on the bank and could hardly believe that it was us for they had heard and had believed that we were all dead and were forgotton."
That fall, Ordway also accompanied Lewis and a delegation of Mandan and Osage Indians to Washington, D.C. to discuss future U.S. trade with these tribes. He later sold his journal to Lewis and Clark for $300, and moved to the Missouri Territory, where he married and began farming land near New Madrid. In December 1811 three major earthquakes struck the area; between 500 and 1,000 people perished. By the time a fifth earthquake hit, February 7, 1812, scarcely a house remained standing, and New Madrid became a ghost town. Little is known of Ordway after this; scholars speculate his farmland may have been rendered useless from the earthquakes and that he died in poverty.
Capt. Meriwether Lewis
On September 23, 1806, Lewis wrote to President Jefferson: "It is with pleasure that I anounce to you the safe arrival of myself and party.... In obedience to your orders we have penitrated the Continent of North America to the Pacific Ocean, and sufficiently explored the interior of the country to affirm with confidence that we have discovered the most practicable rout which dose exist across the continent by means of the navigable branches of the Missouri and Columbia Rivers."
Both Lewis and Clark were generously rewarded for their services, each receiving large parcels of land and double pay. President Jefferson appointed Lewis governor of the Territory of Upper Louisiana in March 1807; inexplicably, Lewis waited a year before going to St. Louis to take up his new duties. Once there, he got himself into debt by buying land and in preparing the expedition journals for publication. President James Madison, who had succeeded Jefferson, declined to reimburse him for expense money he requested to return the Mandan and Osage delegation to their homeland, and Secretary of War William Eustis intimated that Lewis would profit from the funds. In August 1809, a distressed Lewis wrote to Eustis: "I have never received a penny of public Money.... I have been informed Representations have been made against me,—all I wish is a full and fair Investigation." In late 1809, Lewis left St. Louis for Washington, D.C. to clear his name. Severely depressed, Lewis attempted suicide twice en route. Upon arriving at a roadhouse in Tennessee on October 10, the 35-year-old explorer ended his life by shooting himself with two pistols.
James Neelly, Indian agent to the Chickasaw Nation, immediately wrote to Thomas Jefferson: "It is with extreme pain that I have to inform you of the death of His Excellency Meriwether Lewis, Governor of upper Louisiana who died on the morning of the 11th Instant and I am sorry to say by Suicide.... [I] had him as decently Buried as I could in that place—if there is any thing wished by his friends to be done to his grave I will attend to their Instructions."
After Lewis' death, the Madison administration agreed to pay the balance of the disputed bills.
Capt. William Clark
Although Clark did not get the captain's commission that Lewis had recommended, Clark was granted two appointments: brigadier general of militia, and superintendent of Indian affairs for the Territory of Upper Louisiana. In 1813 he was appointed governor of the Missouri Territory, a position he held until 1820. After Lewis' death, the expedition journals were sent to Clark, who turned them over to editor Nicholas Biddle. The two-volume journals were presented to the public in 1814, ten years after the corps began its epic journey; their publication caused little stir.
Clark biographer Landon Y. Jones notes: "For 30 years after the expedition, William Clark ranked as the leading federal official in the West, the point man for six Presidents, from Jefferson to Van Buren, who trusted him with protecting American interests on territory bitterly contested by both Britain and Spain." Clark embodied the contradictions of his time; while he urged the government to treat Indians fairly, the treaties he brokered forced the relocation of tens of thousands. Clark died at age 68, in 1838, in the St. Louis home of his firstborn son, Meriwether Lewis Clark.
Sacagawea
Seven years after her reunion with the Shoshone, Sacagawea and her husband turned up at Fort Manuel, a trading post near present-day Bismark, North Dakota, where Toussaint had found work as an interpreter with the Missouri Fur Company. Journalist Henry Brackenridge wrote that Sacagawea was ill "and longed to revisit her native country." She never got the chance. On December 20, 1812, John Luttig, the fort's chief clerk, wrote in his logbook that Sacagawea "died of a putrid fever she was a good and the best Women in the fort." She would have been about 25. She left behind two biological children: 7-year-old Jean Baptiste and 4-month-old Lisette.
The following year Luttig, possibly representing William Clark (for whom he had worked), petitioned the Orphans' Court in St. Louis for guardianship of Jean Baptiste and Lisette. (By then, Toussaint was presumed dead, having not been seen for six months.) Luttig's name was eventually crossed out on the petition and replaced with that of Clark, who, at the very least, paid for Baptiste's education. (Baptiste later traveled to Europe, where he remained for six years. Upon returning to the United States, he worked as a trapper with Jim Bridger and Kit Carson.) Lisette's fate, and that of Sacagawea's nephew, is unknown.
Jean Baptiste
Over the course of the expedition, William Clark grew very fond of Sacagawea's baby, became his guardian and later financed his education at a St. Louis boarding school.
The known facts of Baptiste's life are few. In 1823, Duke Paul Wilhelm Friedrich Herzog of Wurttemberg, Germany, visited a trading post in present-day Kansas City, where he met the then 18-year-old man, who was working as a guide and interpreter. The two traveled to Europe, where Baptiste remained for six years. He fathered a child with a German woman, but the baby, a boy, died after three months, and Baptiste returned to the United States. He headed West, eventually working as a trapper with Jim Bridger and Kit Carson.
Baptiste settled in California, serving as alcalde, or magistrate, at the San Luis Rey Mission. In 1866, he joined gold prospectors headed for the Montana Territory. On the way, he developed pneumonia and died shortly thereafter, at age 61, in Oregon near the Idaho border, having outlived all of the members of the expedition except Sgt. Patrick Gass.
York
After the expedition ended, Clark traveled in 1807 to St. Louis to take up duties as chief Indian agent for the Territory of Upper Louisiana, bringing York with him. A rift developed between the two men: York had wanted to remain in Kentucky, near his wife, whom he hadn't seen in almost five years. He also petitioned Clark for his freedom—perhaps thinking of the double pay and 320 acres the other men received for their services on the expedition. These requests struck Clark as presumptuous coming from a slave. Clark eventually allowed York to return to Kentucky in 1808 for a short visit. But Clark wrote to his brother Jonathan: "If any attempt is made by york to run off, or refuse to provorm his duty as a Slave, I wish him Sent to New Orleans and Sold, or hired out to Some Severe master untill he thinks better of Such Conduct."
In a letter (now in the Jonathan Clark Papers—Temple Bodley Collection at the Filson Historical Society in Louisville) to his brother dated a few months later, Clark wrote: "I did wish to do well by him—but as he has got Such a notion about freedom and his emence Services, that I do not expect he will be of much Service to me again; I do not think with him, that his Services has been So great (or my Situation would promit me to liberate him)."
York returned to St. Louis in early 1809, but Clark still viewed him unfavorably. "He is here but of verry little Service to me," Clark wrote to Jonathan. "[York is] insolent and Sulky, I gave him a Severe trouncing the other Day and he has much mended Sence."
The last mention of York in William Clark's letters appears in August 1809; Clark was so displeased with him that he determined to hire him out or sell him. John O'Fallon, Clark's nephew, wrote in 1811: "The term for which [York] was hired to Mr. Young yesterday expired but I believe agreable to request Mr. Fitzhugh has again hired him to a Mr. Mitchell living about seven miles from this place.... I apprehend that he has been indifferently clothed if at all by Young...." O'Fallon further notes that York's wife had moved with her master and the rest of his household to Mississippi; it is unlikely that York and his wife saw each other again. Ten years after the expedition's end, York was still enslaved, working as a wagoner for the Clark family.
In 1832, writer Washington Irving interviewed Clark and asked of York's fate. Clark replied that he had finally freed York and said, astonishingly, that his former slave wasn't happy with his freedom and tried to return to Clark—dying of cholera along the way.
But did he? In 1832, fur trader Zenas Leonard, visiting a Crow village in north-central Wyoming, "found a Negro man, who informed us that he first came to this country with Lewis and Clark—with whom he also returned to the state of Missouri, and in a few years returned again with a Mr. Mackinney, a trader on the Missouri river, and has remained here ever since—which is about ten or twelve years."
On January 17, 2001, President Clinton promoted York posthumously to the rank of honorary sergeant, Regular Army.