Letters from Mothers to President Lincoln
A sampling of motherly missives to the president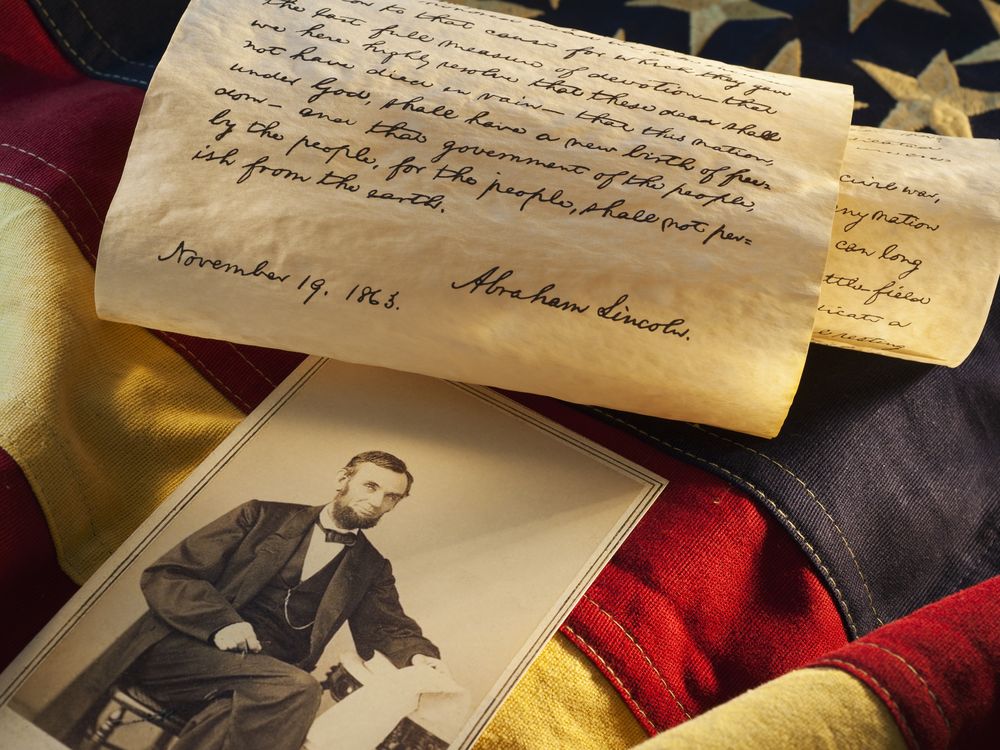 In the summer of 1818, when Abraham Lincoln was nine years old, his mother, Nancy, caught "the milk-sick," a then-mysterious disease caused by drinking the milk of cows that had eaten white snakeroot. (We know it today as brucellosis.) Her breath grew shorter, her skin turned sallow and cold, her pulse faded and slowed. Within a week she was dead. In adulthood, Lincoln confided to a friend about how lonely he felt in the months afterward, and how he found solace in the Bible stories his mother had told him; the words restored her voice to his mind's ear. "All that I am, or hope to be," he said, "I owe to my angel mother."
Doubtless Lincoln thought of his mother when he received letters from women whose sons were fighting in the Civil War. In honor of Nancy Lincoln—and American mothers from every century—we sample below motherly missives to the president. Letters have been edited for length, but retain their original spelling and grammar.
***
President U States

Hon. A Lincoln

Dear Sir

Will you excuse my daring to address you, and enclosing this petition for my eldest son, for, your kind consideration. It will tell you all I need, and allow me to say a few words. I know you will listen to them for you have a kind heart, and my story is a sad one. I am a widow left with only these two sons, who have both left me, to fight for the good cause and I am proud to send them forth allthough they leave me desolate, and, heart broken, as they were all I had, for my support, and were my only hope in this world, but I have given them up, but trust in God's mercy, to return them to me, some day. My eldest son is First Lieut in the 15th Regiment, and educated for the army wishes a permanent place in it my youngest son, is a Private soldier in Gen Duryea' 5th Regiment Advance Guards, now at Fort Monroe. he is a druggist by Proffesion and almost a Phycian. he was my only stay, because the youngest and to have him perhaps forever taken away from me almost kills me. My health is extremely delicate and if he could only have a higher place than a private in the Regiment, would make me feel better if he could assist in the Medical Staff in the Hospital, perhaps I am wild to ask such things but I know you can do all things.… Dont dear Mr Lincoln refuse to listen to a Widow'ed Mother prayer. Will you look favorable on this petition. Let me ask your forgiveness for trespassing but you will excuse a broken hearted woman.

Cornelia Ludlow Beekman

July 1861
***
To: The Hon. Pres. A Lincoln

I humbly pray you to pardon my son Benjamin F Stevens who is under arrest & probably sentenced for going to sleep on guard in the 49th regt Indiana Vols.… He is but sixteen years of age. I humbly ever pray

Mrs. Eliza J Stevens

Seymour, Indiana

April 1862
***
Excellent Sir   

My good friend says I must write to you and she will send it. My son went in the 54th [Massachusetts] regiment.  I am a colored woman and my son was strong and able as any to fight for his country and the colored people have as much to fight for as any. My father was a Slave and escaped from Louisiana before I was born morn forty years agone  I have but poor edication but I never went to schol, but I know just as well as any what is right between man and man.  Now I know it is right that a colored man should go and fight for his country, and so ought to a white man. I know that a colored man ought to run no greater risques than a white, his pay is no greater his obligation to fight is the same. So why should not our enemies be compelled to treat him the same, Made to do it.

My son fought at Fort Wagoner but thank God he was not taken prisoner, as many were  I thought of this thing before I let my boy go but then they said Mr. Lincoln will never let them sell our colored soldiers for slaves,  if they do he will get them back quck he will rettallyate and stop it. Now Mr Lincoln dont you think you oght to stop this thing and make them do the same by the colored men  they have lived in idleness all their lives on stolen labor and made savages of the colored people, but they now are so furious because they are proving themselves to be men, such as have come away and got some edication. It must not be so. You must put the rebels to work in State prisons to making shoes and things, if they sell our colored soldiers, till they let them all go. And give their wounded the same treatment. it would seem cruel, but their no other way, and a just man must do hard things sometimes, that shew him to be a great man.  They tell me some do you will take back the [Emancipation] Proclamation,  don't do it.  When you are dead and in Heaven, in a thousand years that action of yours will make the Angels sing your praises I know it….

Will you see that the colored men fighting now, are fairly treated.  You ought to do this, and do it at once, Not let the thing run along   meet it quickly and manfully, and stop this, mean cowardly cruelty.  We poor oppressed ones, appeal to you, and ask fair play.  Yours for Christs sake

Hannah Johnson

Buffalo, New York

July 1863
***
Sir,

     I have as you know, a son, an only and most dearly loved son, in the Southern Army; and I know, am well assured that if I can reach Richmond I shall be enabled to procure for him an honorable discharge from the army and an opportunity of being once more united (in a foreign land) to his mother and child. I ask you now for the permit to go south, and oh—Mr Lincoln by the love you bear to your dear ones who are yet spared to you, as well as that you bear for those, that whom God has called to await you in another and a happier world, grant my petition. Let me go, and if I should fail in the main object of my journey—still I shall once more see my child face to face, and his little boy, may take away a memory of his father, which otherwise he may never have.

     You may trust my honor, for taking nothing contraband, nor compromising my government by letter or word of mouth— Yield to my entreaties and receive the ever grateful remembrance of

Yours Respectfully

Harriette B. Prentice

Louisville, Kentucky

January 1864
***
dear Sir!

     Permit me the honor of an interview, with your excellency. I have ventured again alone my Husband's official duties debar him from accompaning me. Though my errand in behalf of my Son in-law Capt. John D. O'Connell of the Regular Army—necessitates immediate attention—The Captain's situation likewise compells his constant presence, where he is in comd. over the Recruit.g Service of the 14th Inft.y at Fort Trumbull New London, Conn. and where he has himself been recruiting his own health, from serious wounds, and I am most happy to inform your Excellency, that I had the pleasure of discharging him, my self from his bandages leather straps! and new set of teeth fills the void, made by a horse's foot, which almost dismembered his upper lip— Having been wedged under his dead horse shot under him, but before the fatal ball which did this mischief, it was first crimsoned by passing through the knee of its rider.…

     While he laid helpless from loss of blood, and wedged under his dead horse, another horse frantic from pain having been shot, plunged over him planting his fore foot over his upper lip from the base of the nose, completely carrying it away from the face, which hung to the cheek by a small fragment of flesh knocking out all his front teeth, out. When I journed to meet him, he presented a pitiful sight— But after careful watching and constant attention, my noble and daring Son-in-law is now ready to resume Field duties— again— He is not discouragd by his experience in defence of his Flag — And is ready to front the enemy — as soon as he is permitted His younger brother whom I equiped for the Field was killd in battle, with two of my nephews! All three young Lieuts. Brave Boys! I glory to claim them my own dear flesh & blood—and I am proud to inform your Excellency that I still am honored by having yet three more nephews at this hour, on Field duty. And my errand is to put another in the field yet more nearer me still, my only Son, whose prayer to me is to get him also in the Army he is now twenty one years old and craves a commission to some Regiment. He is now on field duty, in capacity of clerkship. Left college to serve his country. I am a Stranger here, and if required to be formally presented I really know not to whom I can call upon… Please honor me with a line if it be possible I can call on your excellency, and when? Not with the crowd but alone, as I will be alone with my little Daughter.

    I have the honor to remain your Excellency's humble Servt

Mrs Col. Martin Burke

Washington, D.C.

February 1864
***
     Our Most worthey presedent please Excuase Me for takeing this Liberty But I Cannot Express my Grate gratitude for your kindness in granting Me the order for My Son john H Bowden's of Chicago discharge what Goverment Bounty he has receved I have that Unbroken to refuned But the 1 hundred Dollers County Bounty I have Not Got It as I had to Use it Last winter to Maintain My Sick Boy and a dependant Sister I have Bin a widow Eleven years My Oldest Son a Loosing his health on Cheat Mountain Makes it Vary Bad for Us our kind president If you Can releave Me So that I Can take My Boy home with me I feel that God will reward you and I No he will Bless all your Undertakings please Answare Respectifully

Mrs Ann Bowden

Washington, D.C.

June 1864
***
     On the first of this month my Son Eugene N. C. Promie, aged 17 years old, with two other lads were enticed by two men, offering them situations to Learn the Engineering in the United States navy, being taken to New York against my Will or consent, after arriving there they were forced into A Carriage, taken to Williamsburg to the Provost Marshall's Office, and there Sold as Substitutes in the Army (the men I learn having made Nineteen hundred dollars by the act) and immediatly conveyed to Hart Island and from there sent to the front, his Father being in New York at the time my Son desired to see him, to get his consent, as that was the provision made, but was not allowed, but was forced away as before stated by threats, the Men are now in Prison for Abduction. My poor boy I have just received A Letter from who is now in the Chesapeak Hospital Sick and expected to be sent away; My Dear Boy is just from College inexperienced and but a Child

     And Oh! let not the appeal of a Mothers Grief be in Vain I am unable through my distressed feelings to dictate to you A more appealing letter… not the appeal of A Sorrowful Mother be in Vain…

Hoping the Prayer of A Mother may be heard through you and my Son restored to me

I remain your Esteemed Friend

Amanda A Promie

Philadelphia

June 1864
***
Mr Lincoln

     Allow me to congratulate you on your re-election. It is certainly a very great compliment to be invited to preside over the destinies of a great nation—a second term…. You have never refused me any thing I have asked—I hope I have not been unreasonable—or imposed on your naturally kind benevolent disposition.—I have a young son—Lemuel S. Hardin— who has been a short time in the Southern Army—has been severely wounded—he has made his way through the lines—and is now in Canada—He is crippled for life—and is anxious to return to his home and family—He has been a resident for the last three years in Louisville Ky. …

     After a young man has—"sown his wild oats"—or—"seen the elephant"—he is often better prepared to settle down and become a sensible man—he has a better appreciation of home and the advantage of a good position. Mr President—I claim your indulgance in favor of my petition—not on the merit of the case—but as an act of clemency to a wayward youth— My waif of a son is endowed with many of the good qualities of the noble man from which he comes—both of head and heart.

Yours respectfully—S E. Walworth

December 1864
***
To his Excellency Abraham Lincoln:

Sir,

    A sick and almost heartbroken mother again sentenced to make another appeal to you for the release of her dear son, Samuel Hardinge Jr., who, through gross misrepresentation and exaggeration on the part of enemies, was first confined in Carroll Prison; and afterward, without being allowed to vindicate his own innocence, transferred to Fort Delaware. [Hardinge was the husband of Belle Boyd, a Confederate spy.] In the only letters which I have received from him since he has been there, he thus writes: "Oh My God! How long am I to remain in this horrible place, full of rebels and secessionists. Oh my parents! Do all you possibly can to get me out of here. My God! My poor wife in England! She tells me in a letter—"For God's sake to send her some money!" And I in prison! Why should they put me in here! I who have taken the oath of allegiance to the U.S. Government and who have never done anything against it. Oh it is hard! And I pray God faily and nightly that President Lincoln may grant my release!"

    I transcribe his own words that you may see what his real feelings are. I told you, sir, in my recent interview with you, that he might, so far as I know, have been guilty of some small utterances, smarting as he was under the unfair and cruel suspicions cast upon him in the affair of the "Greyhound"; but, guilty of a single act against the good of his country—never! You, sir, can judge for yourself whether or not this is the language of a foe to the Government. Oh President Lincoln! I implore and entreat of you to grant my son's release! My health is rapidly failing under this dreadful blow! I appeal to your kindly nature!... When you think of the magnificent glorious Christmas gift which General Sherman presented to you, will you not confer upon a poor heartbroken mother, the—to you, small—News Years gift of the liberty of her dear son.

Sarah A. M. Hardinge

Brooklyn, New York

January 1865
***
Honble Abraham Lincoln

President of the U.S. America

 

     I have heard from good authority that if I suppress the Book I have now ready for publication, you may be induced to consider leniently the case of my husband, S. Wylde Hardinge, now a prisoner in Fort Delaware, I think it would be well for you & me to come to some definite understanding. My Book was originally not intended to be more than a personal narrative, but since my husband's unjust arrest I had intended making it political, & had introduced many atrocious circumstances respecting your government with which I am so well acquainted & which would open the eyes of Europe to many things of which the world on this side of the water little dreams. If you will release my husband & set him free, so that he may join me here in England by the beginning of

March—I pledge you my word that my Book shall be suppressed. Should my husband not be with me by the 25th of March I shall at once place my Book in the hands of a publisher.

 

Trusting an immediate reply,

I am Sir, Yr. Obdt. Sevt.

Belle Boyd Hardinge

England

January 1865
Lincoln made no notation on Belle's letter, nor did he indicate any knowledge of the "atrocious circumstances" to which she referred. Perhaps because the war was almost over, perhaps because Samuel Hardinge's only crime was being Belle's husband, perhaps because the president admired the rebel girl's audacity, the prisoner was released on February 3, ten days after Belle made her demand. She would name her baby daughter Grace, and, later, her son Arthur Davis Lee Jackson, after her favorite Confederate heroes.
Sources:
Books: Michael Burlingame. The Inner World of Abraham Lincoln. Urbana: University of Illinois Press, 1994; Harold Holzer. Dear Mr. Lincoln: Letters to the President. Reading, MA: Addison-Wesley, 1993.
Articles: Louis A. Sigaud. "When Belle Boyd Wrote Lincoln." Lincoln Herald, Vol. 50 (February 1948).
Online: The Abraham Lincoln Papers at the Library of Congress: http://memory.loc.gov/ammem/alhtml/malhome.html.