Lady Bird Johnson Wielded Power With a Delicate Touch
The First Lady was a trailblazer who flew under the radar as a quiet champion of Civil Rights and protecting the environment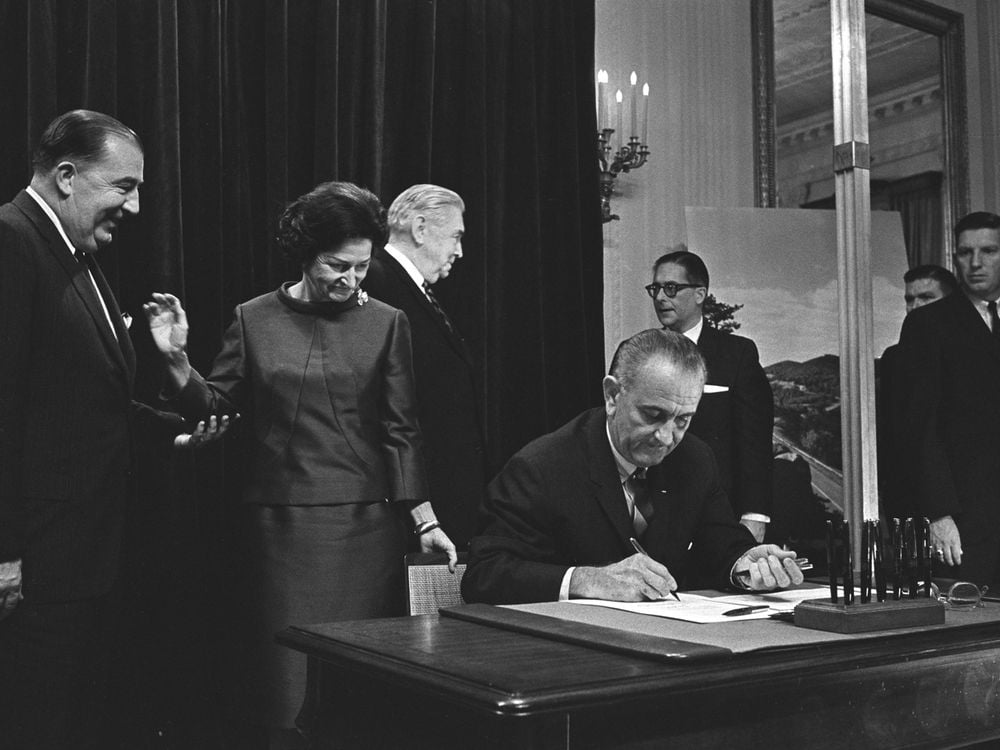 "Somebody else can have Madison Avenue," Lyndon Johnson once said. "I'll take Bird"—that is, his wife, Claudia Alta Taylor "Lady Bird" Johnson. (She got her elegant nickname as a toddler, when a nanny said she was as "purty as a lady bird.") The president recognized her political acumen. Not everyone did—or does. When Robert Schenkkan's play All the Way, about the fight for passage of the 1964 Civil Rights Act, appeared on Broadway, some friends and advisers said that Lady Bird Johnson was not given enough credit. The screen version, which appeared last month on HBO to much praise, recasts her as a more important figure in her husband's administration.
But I don't think it went nearly far enough. Her influence, like that of many first ladies, is still not fully understood and is often underestimated. She was wise to keep it that way while she was in the White House—as the example of more publicized first ladies perhaps shows. Now, she deserves more credit.
Lady Bird Johnson was a political adviser, moral compass, and informal therapist for her husband, who was, according to Lyndon Johnson's adviser Joe Califano, essentially a manic-depressive. "She helped him when he was down," he told me while I was researching my book about first ladies. "She leveled it out for him." Larry Temple, who served as special counsel to President Johnson, said "there was nobody closer during my time to LBJ than Lady Bird Johnson. Absolutely no one whose advice, whose counsel, whose judgment he sought and took more than Lady Bird Johnson." When the first lady occasionally left the White House, Temple knew to tread carefully. "If she were gone," he remembered, the president was "like a caged animal."
Lady Bird Johnson came into the White House in mourning after President Kennedy's assassination, unlike most first ladies who are celebrated with inaugural balls. But she wasted no time once she moved in. The Highway Beautification Act of 1965, which cleaned up the nation's highways and limited billboards, was her signature issue as first lady. But her job as a trusted adviser to her husband gave her influence on many other topics throughout LBJ's presidency. For example, she helped inform her husband's decision to push through Congress the historic Civil Rights Act, which overturned Jim Crow segregation laws. She knew that action needed to be taken after witnessing firsthand the humiliation of her family's cook, Zephyr Wright, when they drove together from the Johnsons' Texas ranch to Washington. Hotel managers in the South refused to offer her a room because Wright was African-American.
Johnson's first lady was furious at such discrimination. But she also knew the South well, as she grew up in a small East Texas town. During the presidential election campaign, she helped her husband to victory when she traveled 1,628 miles across eight southern states on her "Lady Bird Special." She rallied fellow southerners, some of whom resented her husband for forcing them to change their way of life with his civil rights legislation. She made 47 speeches on the whistle-stop train trip and bravely stood up to hecklers with signs that read, "Black Bird, go home!"
When she wasn't campaigning, Lady Bird Johnson wielded power quietly. Though she was a trailblazer—the first wife of a U.S. president to have her own press secretary and the first to campaign without her husband—she did not make her influence widely known. She was in the White House from 1963 to 1969, before many tenets of feminism were widely accepted, and she was expected to focus on being a wife and mother. If this meant that she did not get the praise she deserved, she also avoided much of the criticism heaped on other first ladies who came after her.
The most criticized first ladies were Nancy Reagan and Hillary Clinton. Much has been made of Reagan's covert power: She famously instigated the dismissal of her husband's chief of staff, Don Regan, and persuaded President Reagan to appoint more moderate Republicans as advisers. Men in the West Wing called her "Evita" (after Argentina's powerful first lady Eva Perón) and "The Missus" behind her back. She became a lightning rod for her husband's administration and had to shoulder the burden of criticism.
So did Hillary Clinton, who was equally unapologetic about her influence in her husband's administration. (Clinton is the only first lady to have run for public office, making her second bid for the presidency this year.) Many voters were aghast when Bill Clinton named his wife to head up his ambitious health care reform plan. She also took up an office in the West Wing—a controversial decision that she later told Laura Bush she regretted making.
Lady Bird Johnson, by contrast, worked out of a small blue sitting room overlooking the rose garden in the White House's second floor. She used her influence surreptitiously but effectively. Mornings, when the Johnsons breakfasted together in the bedroom, President Johnson would listen intently. "He felt that she had no alternative agenda except his best interest and she would tell him what he needed to hear whether he wanted to hear it or not," the Johnsons' daughter, Luci, told me. She laughed and explained that her mother was "that one person who's going to tell him if there's spinach in his teeth so he has a chance to get to a mirror and get it out."
He even asked her to grade his speeches. In a phone call after a news conference on March 7, 1964, Lady Bird Johnson asked her husband, "You want to listen for about one minute to my critique, or would you rather wait until tonight?" "Yes, ma'am," he replied. "I'm willing now." Her major takeaway: He needed to speak more slowly and stop looking down at his notes so often. "I'd say it was a good B-plus," she said. In 1968, right before LBJ shocked the nation in a live, nationally televised address when he said he would not be seeking another term, it was Lady Bird Johnson who walked into the Oval Office with a note. "Remember—," it read, "Pacing and drama."
It was also Lady Bird Johnson who, in 1964, insisted on releasing a statement in support of their close friend and top political adviser, Walter Jenkins, who was arrested on what was then called a "homosexual morals" charge in a YMCA men's room a few blocks from the White House. Lyndon Johnson wavered, suggesting they keep quiet for political reasons. But Lady Bird Johnson would not abandon their friend in his hour of need. "If we don't express some support to him," she said, "I think that we will lose the entire love and devotion of all the people who have been with us."
After the Johnsons retired to their Texas ranch in 1969, LBJ lived only four more years, dying of a heart attack in 1973 at age 64. Lady Bird Johnson outlived her husband by almost thirty-five years, but they were fulfilling ones for her. She continued her work on environmental causes in Texas, founding the National Wildflower Research Center. She planned her husband's library and could often be found working in her office there. And she became the grande dame of former first ladies, calling her successors to check in on them during difficult times in the White House. Rosalynn Carter told me that during the Iran hostage crisis, "Lady Bird Johnson often reached out with concern."
No one understood better how tricky a position the office of first lady could be. Her example shows that Americans seem to want their first ladies to be seen and not heard. Johnson knew this instinctively, and she was able to stay above the fray in a way that Reagan and Clinton were not. But that didn't mean Johnson wasn't powerful. Though it operated in the shadows, her influence was real and lasting.