Inside the Autopsy Room: The Details Doctors Gathered About JFK's Assassination
Fifty years ago, three pathologists at the National Naval Medical Center examined the president's fatal wounds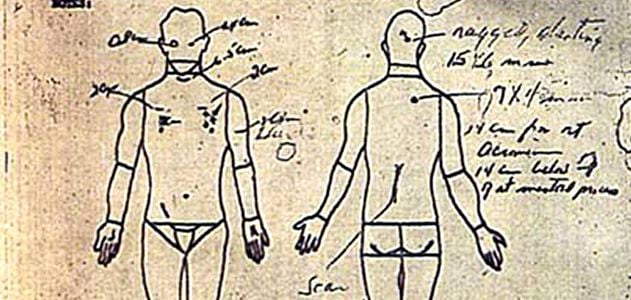 Click on the pins within the document to learn about some of the doctors' findings.
In the last century, there are few events that have been studied with greater scrutiny than the assassination of President John F. Kennedy. But, that is the problem, according to author and History Channel personality Brad Meltzer.
"Put together all of the official investigations, commissions, reports, official reinvestigations, independent reviews of the evidence, journalistic inquiries, reenactments, documentaries, movies, literally thousands of books (fiction and nonfiction), not to mention countless off-the-wall and over-the-top websites, and you've got a situation that's a perfect breeding ground for confusion, differing interpretations, allegations and refutations," he writes in his latest book, History Decoded: The 10 Greatest Conspiracies of All Time.
There have been those who believe that Lee Harvey Oswald did not act alone, that there were two shooters on that fateful day in Dallas, November 22, 1963. Others have tried to pin the blame on the Soviets, the CIA and the mafia.
One natural place to look for answers is the president's autopsy. Medical professionals at the National Naval Medical Center in Bethesda, Maryland, examined Kennedy's body just hours after he was pronounced dead, drawing what conclusions they could from his wounds about the cause of death and location of the assassin. In Dallas, the president's staff had hurriedly loaded his casket onto Air Force One, while city officials squabbled over a state law that required the autopsy to be performed in Texas. Just nine minutes after Lyndon Johnson took the oath of office on the plane it was wheels up.
President Lyndon Johnson gathered the Warren Commission, a group of Congressman and other prominent officials, a week later to investigate Kennedy's assassination. The investigators, out of respect to the president's legacy, saw neither the photographs nor the x-rays from the autopsy, though the decision to keep such medical evidence private has often been questioned. (In 1966, the Kennedy family donated these official images to the National Archives, where they remain sealed from the public.) One of the only visuals left for the group's consideration was this descriptive autopsy sheet, or "face sheet," which the pathologists filled out in the autopsy room, marking the figure with the two bullets' entry and exits points. The doctors referred to these notes when writing the more detailed autopsy report.
(Photo by Apic/Getty Images)