Inside the Intense Rivalry Between Eliot Ness and J. Edgar Hoover
Newly released files shed fresh light on the difficult relationship shared by the "Untouchable" Prohibition Bureau agent and the powerful FBI director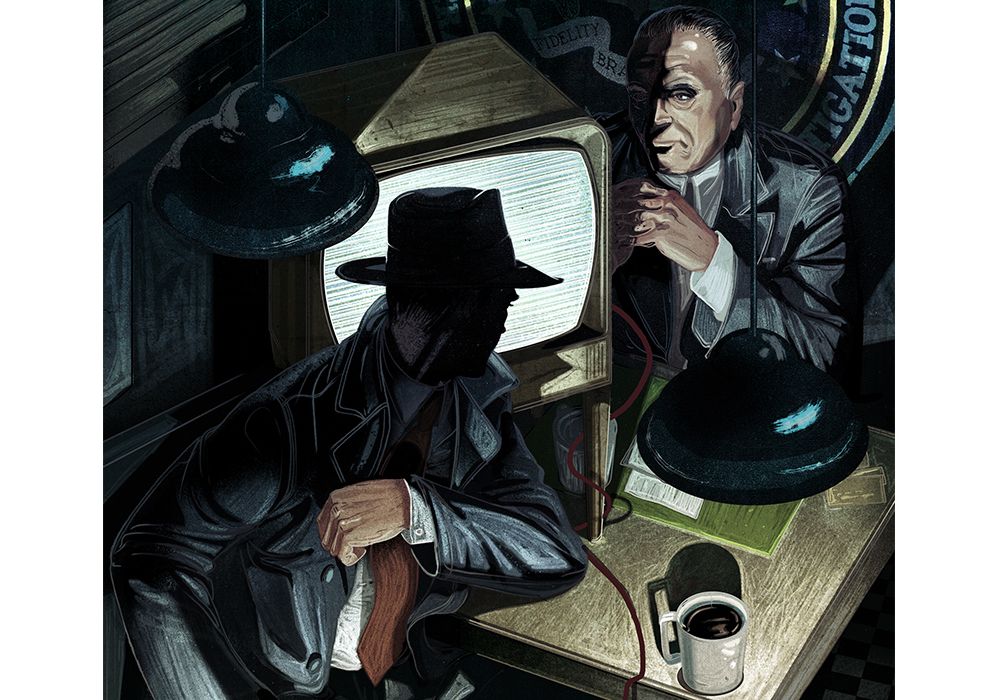 The massive warehouse took up a block on Chicago's South Wabash Avenue. Shades and wire screens blocked the windows. Iron bars reinforced the double doors. The sign read "The Old Reliable Trucking Company," but the building gave off the yeasty odor of brewing beer. It was an Al Capone operation.
At dawn on April 11, 1931, a ten-ton truck with a steel bumper rammed through the double doors. Alarm bells clanged as Prohibition agents rushed inside and nabbed five brewery workers. Then they set about blowtorching the brewing equipment, upending vats, hacking barrels open. They sent a cascade of beer worth the modern equivalent of $1.5 million into the sewer.
Eliot Ness had struck again. "It's funny, I think, when you back up a truck to a brewery door and smash it in," Ness told a reporter. No one had so brazenly challenged Capone before, but then, the Prohibition Bureau had few agents like Ness. In a force known for corruption and ineptitude, he was known for turning down bribes bigger than his annual salary. He was 28, a college graduate, with blue-gray eyes, slicked-back dark hair and a square-set jaw, and he had a way with the press. When he took to calling his men "the Untouchables," because the abuse they took from Capone's men reminded Ness of India's lowest caste, reporters adopted the nickname as a metaphor for the squad's refusal to take bribes. Soon newspapers across the country were celebrating Ness as Capone's nemesis.
But two years later, Ness' flood of raids, arrests and indictments was running dry. Capone was in prison, the Untouchables had been disbanded and the last days of Prohibition were ticking away. Ness had been reassigned to Cincinnati, where he chased moonshiners across Appalachian foothills. Hoping for another chance at glory, he applied for a job with J. Edgar Hoover's budding Division of Investigation—the future FBI.
A former U.S. attorney in Chicago wrote to recommend Ness. Hoover expedited a background investigation. One of his agents crisscrossed the Windy City and collected testimonials to the applicant's courage, intelligence and honesty. The current U.S. attorney told the agent Ness was "above reproach in every way."
Back in the Chicago Prohibition Bureau office for a weekend in November 1933, Ness spoke with a friend on the phone about his prospects. "Boss is using his influence," he said. "Everything appears to be OK." He said he would take nothing less than special agent in charge of the Chicago office. He said it loud enough for another Prohibition agent to overhear. Soon word reached the Division of Investigation's current special agent in charge in Chicago.
After seeing Ness' references, Hoover wrote him on November 27 to note that Division men started at $2,465 a year—well below the $3,800 Ness had listed as his senior Prohibition agent's pay. "Kindly advise this Division whether you would be willing to accept the regular entrance salary in the event it is possible to utilize your services," Hoover asked.
There is no record that Ness responded. Maybe he never got a chance.
The next day, the special agent in charge in Chicago began dispatching a string of memos to headquarters in Washington, D.C.—41 pages of reports, observations and transcripts. The memos make up the core of a 100-page FBI file on Ness that was held confidentially for eight decades, until it was released to me under a Freedom of Information Act request. Amid a catalog of innuendo and character assassination, the file includes a troubling allegation that the lead Untouchable was anything but. Beyond that, it illuminates the vendetta Hoover pursued against Ness throughout their careers—even after Ness was in his grave.
That vendetta was launched just a week after the director had inquired about Ness' salary requirements. On December 4, 1933—the day before Prohibition ended—Hoover sat with the file at his desk. Across a memo reporting the overheard phone conversation, he scrawled, "I do not think we want this applicant."
Eliot Ness' troubles began on a raid he did not make. On August 25, 1933, a Polish immigrant named Joe Kulak was cooking off a batch of moonshine in the basement of a house on Chicago's South Side when three Prohibition agents raided his 200-gallon still. Kulak handed them two notes, one typewritten, one penciled.
"This place is O.K.'d by the United States Senator's Office," read the typewritten note, which bore the name of an aide to Senator J. Hamilton Lewis of Illinois. The penciled note carried the same message but added Lewis' Chicago office address and: "Or see E. Ness."
Until then, E. Ness would have seemed destined to join forces with Hoover. Born in 1902 on the South Side, he was raised by Norwegian-immigrant parents. Peter Ness, a baker, and his wife, Emma, instilled in their youngest son a strict sense of integrity. After earning a bachelor's degree in business at the University of Chicago, he followed his brother-in-law into the Prohibition Bureau. Later he returned to the university to study under the pioneering criminologist August Vollmer, who argued that beat cops—typically poorly trained, beholden to political patrons and easily corrupted—should be replaced by men who were insulated from politics and educated as thoroughly in their profession as doctors and lawyers.
The United States needed such lawmen as the corruption of Prohibition gave way to more desperate crimes—the bank robberies and kidnappings of the Great Depression. In the summer of 1933, U.S. Attorney General Homer Cummings declared a new war on crime and gave Hoover free rein to build the once-obscure Bureau of Investigation into a powerful new division (which would be renamed the FBI in 1935). Hoover hired agents who had college degrees and respectable family backgrounds. He also punished them for leaving lunch crumbs on their desks, or overlooking a typo in their memos, or arriving for work even a minute tardy. Still, as Congress passed laws expanding the list of federal crimes, his unit became the place any ambitious lawman wanted to work.
Melvin Purvis was Hoover's kind of agent. He was the son of a bank director and plantation owner in South Carolina; he left a small-town law firm to join the division in 1927. Aloof and aristocratic, with a reedy voice and a drawl, he was, like Hoover, a bit of a dandy, favoring straw hats and double-breasted suits decorated with pocket squares. Hoover made him the special agent in charge in Chicago before he was 30, and he became the director's favorite SAC. In letters addressed to "Mel" or "Melvin," Hoover teased him about the effect he supposedly had on women.
Still, everyone knew Hoover could be mercurial, and in 1933 Purvis had reason to worry. He had run the Chicago office for less than a year. That September, he'd staked out a tavern two hours too late and blown a chance to catch the notorious bank robber Machine Gun Kelly. So when he got wind that Ness was angling for his job, he moved quickly.
A lot of the information he sent to Hoover was puffed up, undocumented or tailored to appeal to the director's prurient streak. Ness, he complained, had failed to take down Capone. (It was common knowledge then that Capone had been convicted of tax, not liquor, violations.) A disgruntled Untouchable had told him the squad held a drinking party. (If so, it was kept quiet; Prohibition Bureau personnel records mention no party-related infractions.) Ness' family looked down on his wife, and he preferred their company to hers. (Purvis knew Hoover liked to scrutinize his agents' fiancées or spouses and sometimes tried to break up relationships he found objectionable.)
But the most incriminating part of the file came directly from one of Ness' fellow Prohibition agents. His name was W.G. Malsie. Newly transferred to Chicago as the acting head of the Prohibition Bureau's office there, he didn't know Ness and wasn't inclined to defer to his reputation. When Joe Kulak reported for questioning the day after his still was busted, Malsie wanted him to explain his protection notes.
It turned out that they had been written by his friend Walter Nowicki, an elevator operator in the building where Senator Lewis kept an office. Nowicki accompanied Kulak to the interview. A transcript of the interrogation is among the documents released to me.
Nowicki told Malsie he'd gotten to know an aide to Lewis on elevator rides and eventually paid him $25 to $30 to protect Kulak's still. Twice, he said, he'd seen the aide talking with Ness. And once, in front of Ness, Nowicki asked the aide to put Kulak's still "in a safe position."
The aide "patted Mr. Ness on the back and told him to give the boys a break," Nowicki recalled. Then he wrote down the still's address and gave it to Ness, who tucked it into his inside coat pocket.
"What did Ness say?" Malsie asked.
"He said that it would be OK," Nowicki replied.
Later, Nowicki said, he approached Ness in the building's lobby and asked him again about Kulak's still. "He said that if the police bothered Joe there will be no case on it," Nowicki recalled.
"What did you say to Ness about giving him money for protection?" Malsie asked.
"I told him that I would take care of him," Nowicki said. "He shook his head and didn't answer."
In Nowicki's account, Ness speaks carefully. He never asks for or takes any money. It may be that he had no intention of protecting the still, but he certainly leaves the impression he's on board. And there is no record of his reporting the approach. If Nowicki's story is true, then Ness, who made sure all of Chicago knew he turned away the Capone gang's bribes, was less righteous when a political connection asked for an illegal favor.
The exact consequences of Nowicki's account are impossible to establish. A supervisor questioned Ness about it, but his answers—along with any other documents from 1930 to 1933—are missing from his file at the National Personnel Records Center. (Many famous employees' files were stripped by souvenir hunters or rogue researchers decades ago, an archivist told me.) Nor are they in the FBI's Ness file or Nowicki's case file. Malsie believed Lewis' aide was fired, according to the FBI file. But court records contain no indication that anyone
was indicted or tried in the matter.
A month after the raid on Kulak's still, Ness was transferred to Cincinnati. That could have been a routine reshuffling as the Prohibition Bureau shrank—or it could have been exile for a tainted agent.
That fall, the FBI file shows, Malsie relayed word of his interrogation and a report of Ness' overheard phone call to the Division of Investigation, where the information quickly landed on Melvin Purvis' desk. Soon Ness' chances with Hoover were gone.
The rejection may have been a blessing in disguise. In 1934, Melvin Purvis led the law-enforcement teams that gunned down John Dillinger and Pretty Boy Floyd. Suddenly he was the most famous G-man in the country, so famous that some missteps in the hunt for Dillinger—spotty surveillance, bumbling informants—were overlooked. Hoover never forgave him for outshining the bureau. Over the next few months, he pulled his former favorite SAC off prominent investigations, assigned him to interview job applicants and sent him to staff an outdoor firing range in midwinter. When Chicago Times editor Louis Ruppel called the FBI to pass on a rumor that Purvis had gotten drunk at a party and brandished a gun, Hoover demanded an explanation from his agent. ("An unmitigated and unadulterated lie," Purvis said.) In July 1935, he quit the bureau and traded on his fame to become a pitchman for Gillette razors and Dodge cars. Despite Hoover's attempts to scuttle his career, Purvis also served with an Army war-crimes office during World War II and served as counsel to two U.S. Senate committees.
Ness, meanwhile, found his escape in Cleveland, where he was transferred by the Prohibition Bureau, renamed the Alcohol Tax Unit. The nation's sixth-largest city was a correspondingly large den of vice—bootlegging, prostitution, gambling, union-led extortion rackets, all protected by paid-off police. Ness spent most of 1935 theatrically busting untaxed stills and caught the eye of Harold Burton, who became known as Cleveland's "Boy Scout mayor" for his personal rectitude and opposition to organized crime. That December, Burton shocked Clevelanders by making Ness his public-safety director. The new head of the police and fire departments was only 33.
"Racketeering here is rampant," Ness wrote to Vollmer, his former professor, after he started his new job. "Almost every business association in the city is paying some sort of tribute to a well-organized Sicilian gang here." He asked for advice on modernizing Cleveland's police force; Vollmer sent materials prepared for a new police academy started by the FBI.
In early 1936 Hoover warned his special agent in charge in Cleveland that Ness "was not very cordially disposed to the bureau" during his Chicago years (though the FBI's Ness file contains no evidence to suggest that). But while the director was wary of Ness, he detested the Cleveland police: He believed a Cleveland cop's tip had allowed the kidnapper Alvin Karpis, who was Public Enemy No. 1, to escape arrest.
In a contentious Senate budget hearing that April, Hoover was forced to make the humiliating admission that he had never personally arrested anyone. On May 1, after FBI agents found Karpis in New Orleans, the director flew down from Washington to join in on the collar, putting his name in headlines nationwide. A few days later, he went to Ohio and nabbed a Karpis crony in Toledo, then vowed to hunt down any locals who had harbored the Karpis gang, including police.
Ness promptly wrote him a letter offering to fire any Cleveland cop against whom the bureau had evidence. Hoover sent an FBI inspector to give Ness his regards. Ness said "he was a great admirer of you and the Bureau," the inspector reported back to Hoover. "He and his department were ready and anxious to cooperate with you and the Bureau in every way possible." When Ness visited Hoover a month later in Washington, the director agreed to admit a Cleveland police recruit to the FBI academy. It was the last favor he ever did Ness.
Over the next three years, Ness unmasked mob figures, crooked cops and union racketeers while modernizing Cleveland's police, drawing national notice for instituting more rigorous training, merit-based promotions and two-way radios in police cars. Many Clevelanders saw him as a potential mayor. The FBI's special agent in charge in Cleveland described him as "a very good friend of the bureau."
In return, Hoover put him on a list of people who were not to be given FBI literature at a police chiefs convention.
Ness, separated from his wife in 1938, became known for drinking and dancing late into the night at downtown bars and clubs, but in the fall of 1939 he remarried; his new wife, Evaline, was a 28-year-old illustrator with a slim face and light, pretty eyes. Mayor Burton was re-elected, giving Ness a measure of job security just as his winning streak was fading. A serial killer nicknamed the Torso Murderer was still on the loose after slaying a dozen Clevelanders. A strike at the Fisher Body plant had degenerated into a riot. A couple of mobsters escaped arrest after a crooked police lieutenant tipped them off.
And Hoover was about to sandbag Ness over plans to protect Cleveland in wartime.
After Germany invaded Poland in September 1939, President Franklin D. Roosevelt asked police and sheriffs across the country to give the FBI any information they obtained about "espionage, counterespionage, sabotage, subversive activities and violations of the neutrality laws." Hoover responded by reviving his radical-hunting General Intelligence Division, dormant since 1924.
At the same time, a confidential presidential directive authorized naval intelligence to investigate potential sabotage and espionage. Working with a reserve lieutenant with the Office of Naval Intelligence, Ness quietly convened a meeting of Cleveland industrialists. He told them he wanted to create a spy network in their factories, and he asked them to fund it through a sort of dues system. An FBI file on the network, also obtained through a FOIA request, notes that one of his investigators told a plant supervisor that the benefits of membership included "the good will of the Cleveland Police Department and police protection in the event of labor troubles."
Ness briefed the FBI's special agent in charge in Cleveland—who sent an alarmed letter to Washington. Hoover was appalled, by both the potential for interference and the appearance of extortion. "It looks more and more like either a labor-baiting move or a promotion racket—with a $50,000 budget," he wrote in his spiky cursive across a memo in the file.
Rumors of Ness' effort reached Cleveland's labor leaders. Mistakenly believing the FBI was involved, they demanded an explanation from Attorney General Frank Murphy. Hoover immediately sent Murphy a memo saying Ness' plan was "most repugnant to the bureau." Someone—either in the bureau or in Murphy's office—showed the memo to Cleveland CIO leader A.E. Stevenson, who went public with it.
"Mr. Hoover's description of the plan was that it was 'very repugnant' to him," Stevenson told the Cleveland Press, "a remark that hardly coincides with Mr. Ness' declarations in the daily papers that he is working in close co-operation with the Federal Government." (Ness did say that, but he was referring to the Office of Naval Intelligence.) Stevenson called for Burton to fire Ness. Burton declined, and Cleveland newspaper editors, who had attended the meetings about the spying plan, rose to Ness' defense in editorials.
Blindsided, Ness called FBI headquarters and asked to talk to Hoover directly. Hoover refused to take his call.
"I'm in charge of the city," Ness told the FBI's special agent in charge in Cleveland, according to an FBI memo, "and I'm worried about [someone] blowing up the downtown section or blowing up some Standard Oil tanks, which are all along the river....If anything happens, I'll collect the blame."
Ness traveled to Washington and asked one of Hoover's assistants why the FBI had disclosed confidential information about his work.
"I told Eliot Ness that the FBI had never shown anything to Stevenson," the assistant wrote in a memo to Hoover. "He...wondered why the information concerning the Director's attitude had been made available to an individual other than him....I informed Mr. Ness that he in effect was asking the Director to engage in a political controversy."
Hoover wrote that a "very nasty situation" was developing between Ness and the unions, and "it appears that Ness is trying to find some way whereby he can blame the FBI."
In a display of false neutrality, Hoover declined to comment publicly. While the FBI started its own plant-protection program, agents visited Cleveland factory owners to discourage them from joining Ness'. He launched it anyway, and it gave rise to a police "subversive squad" that investigated purported radicals for the next 30 years. The FBI file notes that private detectives in Ness' network maintained a secret office and shared the names of 76 suspect individuals with an FBI agent.
As his relations with the FBI soured, Ness lost his patron: Mayor Burton was elected to the U.S. Senate in 1940. For years, Ness had employed secret investigators to probe police corruption and hidden them as "laborers" on the city hall payroll. After Burton left, a city councilman outed them. Union-friendly newspaper columnist John W. Raper began to call the safety director "Neverwas G-Man Ness," mocking him for having been a mere liquor agent, not part of the increasingly renowned FBI.
When his friend Frank Lausche was elected mayor in 1941, Ness kept his job. But Lausche's support couldn't protect Ness from a disaster of his own making. On a snowy night in March 1942, he and his wife spent several hours dining, drinking and talking with friends at a downtown hotel. Driving home at 4:45 a.m., Ness hit another car. The other driver, a 21-year-old man, suffered a broken kneecap. Ness acknowledged he'd had "several drinks" that night but blamed the crash on an icy road. He resigned a month later—and moved to Washington, D.C., where he had an even harder time staying out of Hoover's way.
As director of the federal Office of Social Protection, Ness traveled the country to encourage local authorities to suppress prostitution near military installations. "Every soldier, sailor or war worker who is infected by a prostitute is put out of action just as effectively as if he were struck down by a Japanese bullet," he told the National Sheriffs Association in September 1942.
Though Ness spent much of his career battling vice, he was a reformer, not a prude. He believed that women in the sex trade had been "ostracized" and "blocked...out of legitimate employment." The Social Protection program, he wrote, should be approached as "a public health and protective measure without any suggestion of a moral crusade," because of Americans' "almost universal resistance" to "government supervision of sexual morality."
His problem was the May Act, a new law that defined prostitution near defense installations as a federal offense. When military officials invoked the law in parts of North Carolina and Tennessee, FBI agents arrested prostitutes by the hundreds. The bureau wanted the law invoked elsewhere, but the military and Ness' boss at the Federal Security Agency, Charles Taft, insisted that it be used only as a last resort.
One Saturday night in October 1942, Ness was in Norfolk, Virginia, where police chief John Woods had shut down the local brothels only to see them migrate just beyond the city limits. Woods and the Navy had assembled a shore patrol to pursue them. To give the shore patrol a chance to work, Ness told Woods, he would oppose an FBI takeover of anti-prostitution efforts in Norfolk. "Super-sleuths," he called the FBI agents, acidly.
Woods told the local FBI office, which passed word to headquarters.
"Ness is obviously the stooge for Taft, who[se] practical approach to this problem is startling in his abysmal ignorance," Hoover scrawled across a previously released FBI memo. When the Office of Social Protection asked the FBI for photos of convicted prostitutes for an exhibit, Hoover's confidant Clyde Tolson wrote, "This is [a] Ness outfit. I am opposed to any cooperation." In a handwritten reply, Hoover added, "I concur."
In another memo, FBI agent R.F. Cartwright recounted his effort to discredit Ness at an Army conference on sexually transmitted diseases. "[I] emphasized particularly the cooperation we receive from police in the May Act areas," Cartwright wrote. "This was done to counteract the efforts of Ness to set himself up as the liaison between the Federal Security Agency and the police authorities."
In 1943, Ness tried to persuade Woods to leave Norfolk and take his old job as Cleveland safety director. Woods asked the FBI for advice. "He is of the opinion that the Bureau does not hold Ness in very high regard," an FBI official wrote to Hoover, "and he would do nothing to incur the enmity of the Bureau."
"There is no advice I would give him," Hoover replied, "except to beware of Ness."
In 1944, Ness returned to Ohio to become chairman of the board of the safe and lock company Diebold Inc. Three years later, he ran for mayor of Cleveland against incumbent Thomas Burke and lost in a landslide. Afterward, according to Capone biographer Laurence Bergreen, he told a friend he blamed Hoover. It's uncertain why, but a close look at the race suggests two possible reasons.
In the weeks before the election, Burke announced a new program of cooperation between the FBI and the Cleveland police, undermining Ness' campaign claim that Burke was weak on crime. And when Ness accused Burke of allying with a communist faction in the CIO, Burke revealed that Ness, as public-safety director, had maintained a secret office staffed with private detectives—the same office that was mentioned in FBI memos from 1940. "We have seen enough of the Gestapo and secret police in recent years," Burke proclaimed. "It's not for us."
Forced out of Diebold for lackluster performance in 1951, Ness went to work for a struggling check-printing company. Divorced and remarried again, he and his third wife adopted a son, and he worried over how he would provide for his new family. Through a friend he met a United Press International sportswriter named Oscar Fraley, who persuaded him to collaborate on a memoir. Fraley embroidered Ness' recollections with accounts of gunplay and dime-novel tough talk and created a fiction with Ness as a solitary hero. Ness went along with some of the book's exaggerations and deceptions but asked Fraley to tone it down. Then he died of a heart attack at age 55 on May 16, 1957. A few months later, the book was published under the title The Untouchables.
Though the book didn't sell particularly well, Desi Arnaz, who owned Desilu Productions with his wife, Lucille Ball, optioned it for a television series. Arnaz had a cordial relationship with J. Edgar Hoover, but the project would test it. One of the first episodes, in October 1959, depicted Ness as leading the FBI's 1935 raid on the Florida hideout of the Barker Gang—the climactic gun battle of the bureau's war on Depression-era crime.
Hoover learned of the episode a few days before it aired and dispatched an agent to confront Arnaz. The producer agreed to kill planned episodes featuring the arrests of John Dillinger and Pretty Boy Floyd, which would have had Ness replacing Melvin Purvis in the hero's role. But he declined an FBI demand that a disclaimer include the line, "Eliot Ness and the Treasury agents featured in tonight's episode had nothing whatsoever to do with this case."
On October 22, 1959, Hoover sat down to watch the Barker Gang episode of "The Untouchables" and seethed. "I saw it and it was bad," Hoover scrawled across a memo in an FBI file on Arnaz. "We must find some way to prevent FBI cases from being used thr[ough] such subterfuge as in this instance. It is a fraud upon the public."
But he couldn't stop what Oscar Fraley set in motion. "The Untouchables," starring Robert Stack, ran on ABC from 1959 to 1963 and fixed Ness' image as an American folk hero. By then, the FBI so dominated federal law enforcement that viewers assumed Ness had been one of Hoover's men all along.