For His Patriotic Birthday, Five Facts About Calvin Coolidge
On Coolidge's would-be 146th birthday, celebrate with some little-known facts about our 30th President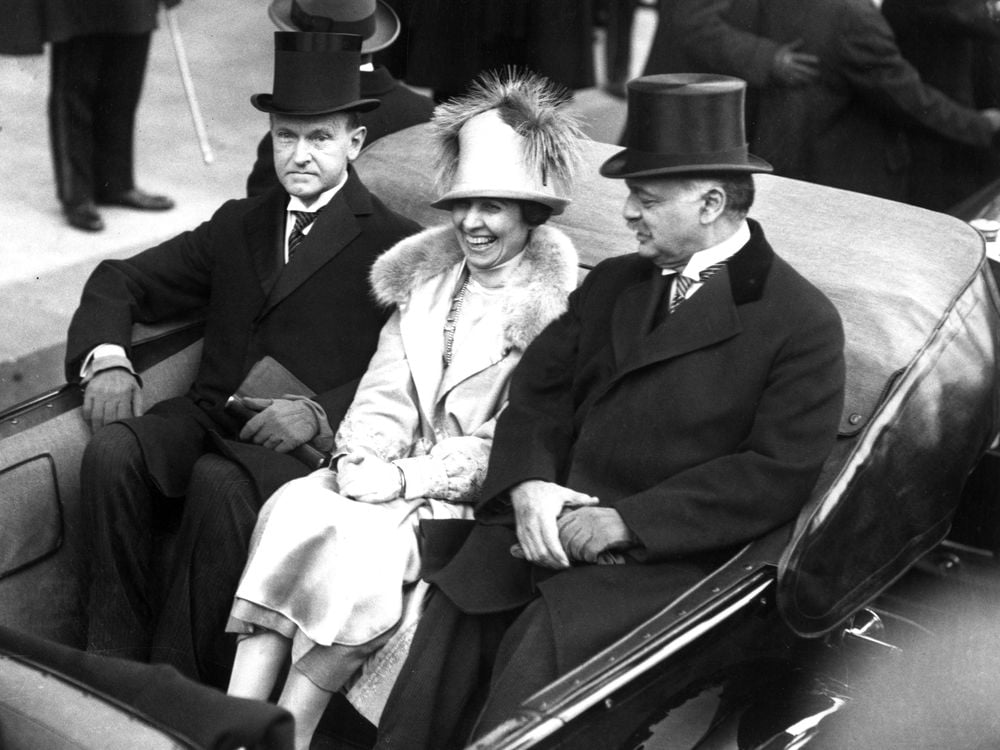 This week the skies will erupt with fireworks honoring the anniversary of our nation's independence. But a few lone sparklers may flicker for another patriotic cause: the birth of President Calvin Coolidge on July 4, 1872.
Silent Cal was most known for his brevity. Though perhaps apocryphal, one particularly infamous incident recounts a White House dinner guest smugly informing Coolidge she'd made a bet that she could get more than two words out of him. His single retort? "You lose." Even his parting gift to the word was verbally frugal: a last will and testament comprised of only 23 words.
What Coolidge lacked in words, however, he made up for in many other ways. Here are five things you may not have known about our 30th president:
1. He turned the White House into a veritable menagerie
Raised on a secluded farm in Plymouth Notch, Vermont, Coolidge took comfort in being surrounded by wildlife. He and his wife, Grace, owned pets both wild and domesticated: dogs, cats, birds and raccoons were among the many species that overran the White House during Coolidge's tenure, terrorizing milkmen and baffling the Secret Service. Just before Coolidge's inauguration in 1925, Edmund Starling, Coolidge's Secret Service Chief, moseyed down into the basement to find his new charge trying to stuff a black cat into a crate with a rooster. Coolidge was pithy as ever: he just wanted to see "what would happen."
Once the public got wind that their president had a penchant for the furry and feathered, stranger and stranger packages began to arrive to Pennsylvania Avenue.
"He was just flooded with animals," says David Pietrusza, historian and author of Calvin Coolidge: A Documentary Biography.
Some of these gifts were simply too wild for the Oval Office, though, and had to be transferred to Smithsonian's National Zoo. Among them were a pygmy hippo named Billy, a wallaby, and two lion cubs that Coolidge cheekily named "Tax Reduction" and "Budget Bureau."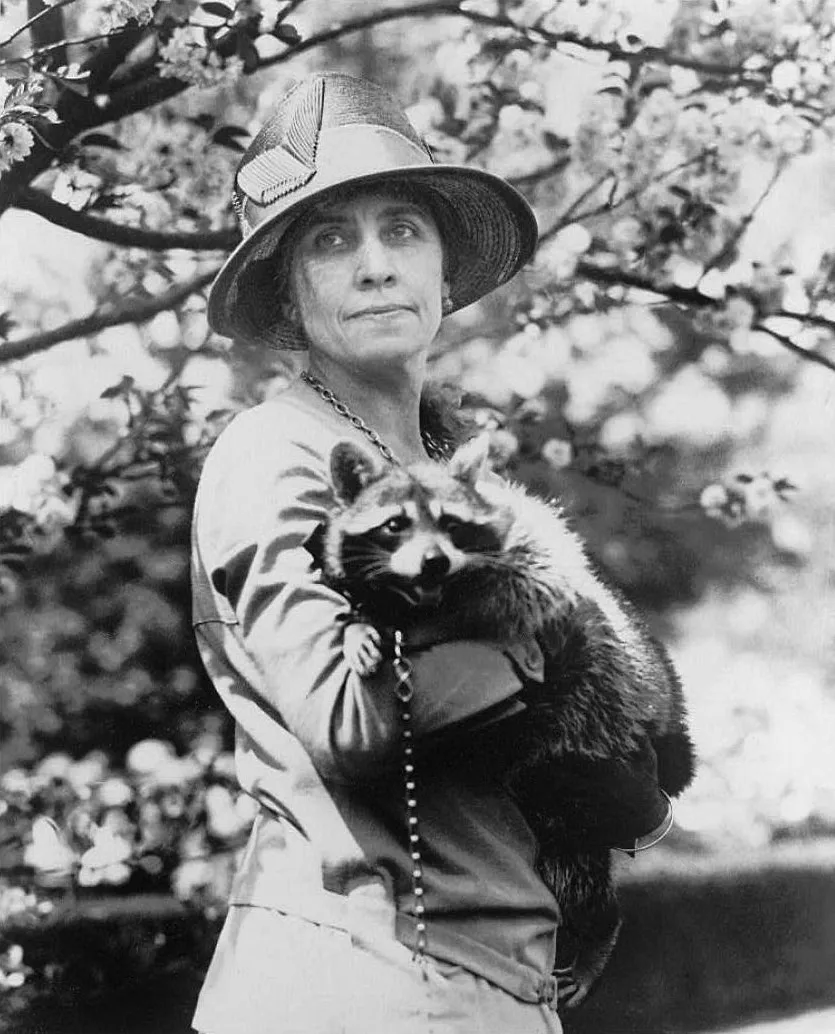 But perhaps the oddest pet repurposing happened in November of 1926. Hoping to win Coolidge over, a cohort of well-intentioned admirers shipped him a live raccoon with the intent of having it roasted as the centerpiece of his Thanksgiving dinner. But the Coolidges, finding the raccoon sweet and friendly, couldn't bear to see her killed—and so it was out of the frying pan and into the arms of the First Lady. Just a few short weeks later, the newest member of the Coolidge household got gussied up for Christmas, adorned in a red ribbon. Among the presented piled high by the Christmas tree was a shiny new collar, bearing the title "Rebecca Raccoon of the White House."
Like many other Coolidge pets, Rebecca was spoiled rotten. While she had likely dined in dumpsters before her relocation to Washington, D.C., Rebecca's diet in the White House consisted of chicken, eggs, green shrimp, persimmons and cream. According to Amity Shlaes, author of Coolidge, Rebecca was often toted around in her own basket by Grace, making public appearances at summer parties and Easter egg rolls. Just as often, Rebecca could be found draped around Coolidge's neck like a masked scarf as he went about his daily duties.
Eventually Rebecca got too unruly even for the Coolidges. After she made several botched escape attempts, they reluctantly moved her to the National Zoo. Fearing she might be lonely in her new home, Coolidge and Grace even found her a male companion named Reuben—but their blind date was, alas, ill-fated, and Reuben eventually fled the zoo.
Coolidge was deeply attached to his four-legged companions. When Rob Roy, a favorite collie, fell ill in 1928, Coolidge rushed him not to a veterinarian, but to Walter Reed Army Hospital for surgery. Sadly, Rob Roy didn't survive the night. In an outpouring of emotion that, for Silent Cal, was downright "gushy" according to Pietrusza, Coolidge wrote of the dog in his autobiography: "He was a stately companion of great courage and fidelity… I know he would bark for joy as the grim boatman ferried him across the dark waters of the Styx, yet his going left me lonely on the hither shore."
2. He installed a mechanical horse to keep in shape
In his youth, Coolidge was an enthusiastic horseman, and he carried his passion for riding to the White House—only to be pulled to a halt by Secret Service agents who insisted horseback riding was too dangerous an activity for a president. Coolidge was understandably grumpy about swearing off one of his favorite hobbies, and he complained loudly enough that New York banker Dwight W. Morrow decided to send him a mechanical hobby horse—because as luck would have it, Morrow had an extra one just lying around.
Instead of looking his 475-pound gift horse in the mouth, Coolidge rigged it up and resumed riding, this time from the comfort of the White House.
Thunderbolt, as the mechanical horse was nicknamed, was one of many health-conscious inventions by John Harvey Kellogg, whose legacy has filled the cereal bowls of countless early risers (Kellogg apparently also perfected a mechanical camel, which rocked side-to-side as opposed to the back-and-forth of his iron equine). While Thunderbolt was deemed a positive force on Coolidge's liver and weight management, the horse quickly began to wound his pride: Coolidge was mocked in and out of the White House for his emasculating "hobby horse."
Eventually, whether to preserve his waning machismo or simply out of boredom, Coolidge retired Thunderbolt, who is now immortalized at the Calvin Coolidge Presidential Library and Museum in Northampton, Massachusetts. While visitors to the museum are strictly forbidden from mounting the weary steed, Pietrusza admits he may or may not have furtively snapped a photo of himself atop Thunderbolt on one of his visits.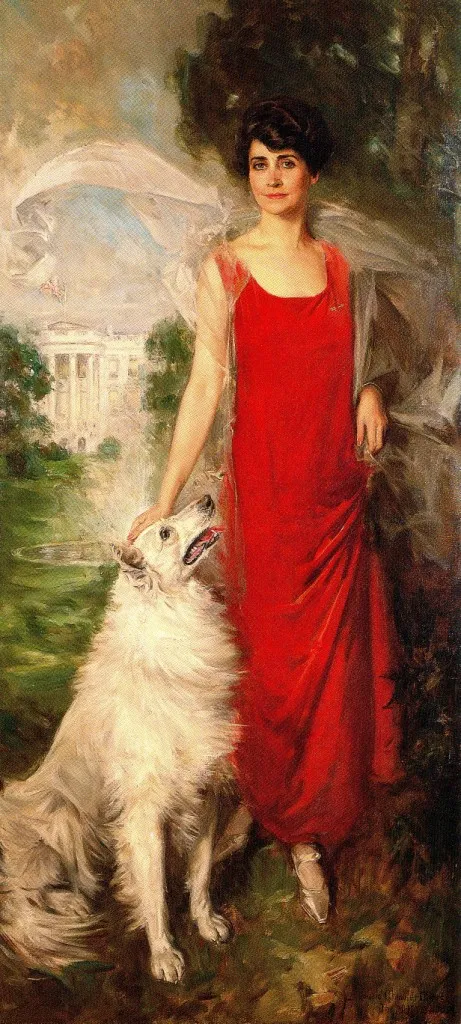 3. His marriage began and ended with a close shave
Calvin Coolidge and Grace Donahue were, by all accounts, happily married. The pairing was unlikely: stoic Coolidge courting the outgoing, vivacious Grace was a surprise to many, says Pietrusza. In their case, opposites certainly attracted.
The first time Grace saw Coolidge, she glimpsed him shaving through the window of a boarding house bathroom in Northampton. Coolidge was wearing nothing but underwear and one of his signature derby hats—but rather than being appalled at the indecency, Grace just burst out laughing.
"He wasn't angry, though," Pietrusza says. "He looked over and just thought, 'I like her.'"
On his many walks, Coolidge would frequent the storefronts of downtown Washington. While frugal in many other respects, if he saw a dress or hat he thought Grace might like, he almost always had it promptly packaged and sent to the White House. Reflecting on their marriage later in life, Coolidge once said, "We thought we were made for each other. For almost a quarter of a century she has borne with my infirmities, and I have rejoiced in her graces."
Their relationship was, of course, not without its hiccups. According to Pietrusza, Coolidge could be fiercely protective of Grace. In her most famous portrait, Grace was painted posing with the Coolidge's collie, Rob Roy. Envisioning the portrait rendered in a patriotic color palette, Grace donned a red dress to contrast with the dog's white coat, which the Coolidges had reportedly bleached to hide a few of Rob Roy's off-color spots. But bright colors were considered a bold fashion statement at the time, and Coolidge wryly remarked that Grace could achieve the same striking effects by simply dyeing the dog red and wearing white instead.
Coolidge died suddenly of complications from heart disease in 1933, after returning from a half-day at work. Grace was the first to find him on the floor of the bathroom in their home in Northampton, midway through shaving his face.
4. He was the original helicopter parent
But the person for whom Coolidge's patience most often ran short was his son John, with whom he could be stern. In 1924, while John was attending Amherst College, Coolidge wrote a letter berating John for failing to take his studies seriously.
"I want you to keep in mind that you have been sent to college to work," Coolidge wrote. "Nothing else will do you any good. Nobody in my class who spent their time in other ways has ever amounted to anything. Unless you want to spend your time working you may just as well leave college." Coolidge then more or less told John that, when it came to social engagements, he needed to know exactly what his son was doing and who he was doing it with.
"He took the hide off John," Pietrusza says.
In 1926, Coolidge indefinitely instated a Secret Service agent as a 24/7 bodyguard for John. The Coolidges had received a series of threatening letters, so the president was likely concerned for his son's safety—but perhaps cloaked beneath the veneer of security was Coolidge's underlying exasperation with his son's continued shenanigans.
From that point on, the agent shared quarters with John near the Amherst campus and rarely strayed from his side. While John was able to attend classes and occasionally spend time with friends outside of his company, the agent also became a bit of a personal life coach, advising the president's son on matters from his health to the quality of his companions.
5. Unlike his predecessor, he was a champion for civil rights
One of Coolidge's quieter legacies was the Indian Citizenship Act of 1924, wherein all Native Americans were granted U.S. citizenship. This step by Coolidge was one of several that reflected his interest in advancing civil rights. Over the course of his tenure in the White House, he fought (unsuccessfully) to make lynching a federal crime.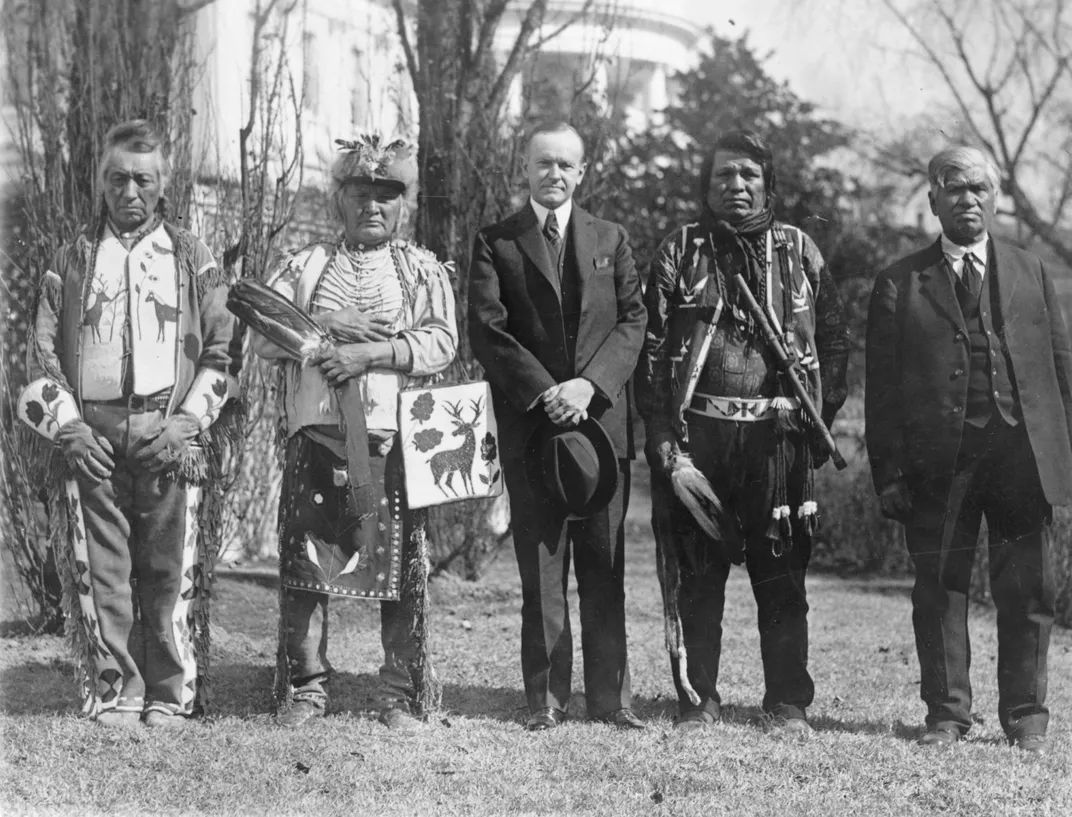 "He had a certain magnanimity," says Shlaes. "He understood that [diversity] brought a lot to the table."
In 1924, an angry voter wrote Coolidge complaining that a black man was attempting to run for Congress. Coolidge was so appalled by the letter that he published his own indignant reply: "During the war 500,000 colored men and boys were called up under the draft not one of whom sought to evade it. A colored man is precisely as much entitled to submit his candidacy [as any other citizen]."
Coolidge himself put it best in his address before the American Legion Convention at Omaha, Nebraska, in October of 1925: "Whether one traces his Americanism back three centuries to the Mayflower, or three years of the steerage, is not half so important as whether his Americanism of to-day is real and genuine. No matter by what various crafts we came here, we are all now in the same boat."