Happy Trails
As freshly carved toys or treasured heirlooms, well-bred rocking horses ride high in the affections of kids and collectors alike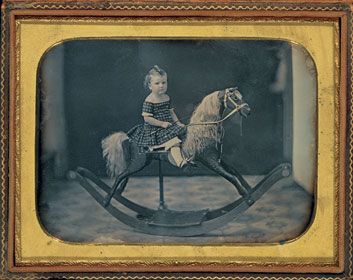 Crowds spilling onto the grounds of Queen Elizabeth's estate, WindsorGreatPark, outside London, for the Windsor Horse Trials this past May clustered around a dark green van parked off to one side on which gold lettering spelled out the words "Stevenson Brothers." When the van's side panel swung open, people began to ooh and aah at the sight of eight magnificent rocking horses. Of various sizes, some were painted a dapple-gray, others were burnished natural wood. "I always wanted a rocking horse when I was little," one woman said. "I'm going to buy one for my granddaughter for Christmas." She'd best check the price tag first. These steeds are the Secretariats of today's rocking horse world and, like their pedigreed counterparts, they don't come cheap—from about $2,000 to $25,000 each.
A Stevenson Brothers extra large black-walnut stallion, sturdy enough to carry an adult, costs $12,000. About $1,700 will saddle up a beautifully detailed medium dapple-gray—for children only. For those with extra deep pockets and a favorite colt or filly they'd like to memorialize, a full-sized sculpted replica costs some $26,000—plus tax. If that's a budget breaker, the Stevensons also turn out a rocking sheep, made with genuine fleece and mounted on a bow rocker, you can call your own for a mere $400.
The van, the horses and the reputation for fine craftsmanship all belong to Marc and Tony Stevenson, 46-yearold fraternal twins who, in the little village of Bethersden ("The Rocking Horse Capital of the World"), some 50 miles southeast of London, are carrying on a 62-year-old family tradition begun in 1940 by their maternal uncle, James Bosworthick. The brothers promote their creations as "future antiques" built to last for generations. (The handcrafted horses may also be sized up at stevensonbros.com.)
Robert S.L. Nathan, manager of the British Toymakers Guild, says the first time he saw the brothers' work 20 years ago, "I recognized immediately that their horses, with exceptionally fine carving and attention to detail, shone out like a good deed in a wicked world." Denise Blaney, who with her husband, Ivan, owns Canada's Mountain View Rocking Horse Farm, in Beamsville, Ontario, a prominent North American manufacturer of equine toys, says the Stevensons bridge past and present. "They uphold traditional Victorian designs," she says, "and yet they've also managed to innovate by increasing the quality of workmanship." England's Therese Lang, who oversees an on-line shopping network, puts it more simply: "They're the best."
Though small clay horses on wheels have been discovered in graves from as early as 1200 B.C., the first toy horse that could be ridden was the hobby, or stick, horse that dates to Greek and Roman times. One story has it that Socrates himself, frolicking with his young sons, was spotted cantering about on a pole adorned by a horse head.
The craftsman who first placed a wooden horse on rockers—a likely outgrowth of the cradle—is unknown, but by the end of the 18th century, rocking horses had evolved into ornately crafted, fiery chargers at full gallop, heads outstretched, horsehair manes and tails flowing, glass eyes gleaming. Queen Victoria's nine children insisted on bringing a dapple-gray on family vacations. Napoléon's young son, Joseph-Charles-François, treasured his painted pony. Sweden's King Karl XV and King Prajadhipok of Thailand rode rocking horses in their youth (as did the current heir to the British throne, Prince Charles, on a model carefully selected for him by Queen Elizabeth II).
For a long time, rocking horses were the purview of the rich. Then, with the increasing prosperity brought on by the Industrial Revolution, they became nursery fixtures of children born to an emerging middle class. There have been many permutations. In Germany, wooden and papier-mâché horse frames were often covered with calfskin. In bicycle-crazed France, velocipede rockers—wooden horses mounted on tricycles—were all the rage. Inventive Victorian manufacturers made horses with multiple seats to accommodate up to three children at a time, a model the Stevenson brothers have revived. In the United States, toymakers fashioned complicated if failure-prone springloaded horses that approximated a trotting motion.
Americans also produced some of the more flamboyant designs, adopting the style of carousel horses popular at fairgrounds and carnivals. An American also scored a safety breakthrough: in 1878, to guard against horse and rider going head over heels, not to mention scratching floors, bumping into furniture or squashing small fingers and toes, Philip Marqua of Cincinnati patented a safety stand to which the horse's legs are attached. (Purists, of course, disdain the stands.)
As immigrants poured into this country throughout the 19th century, craftsmen arriving from every corner of Europe applied their talents to America's rocking horses. Dozens of workshops, many of which employed Old World artisans, sprang up between the 1850s and the turn of the century. (The young Dwight Eisenhower earned pocket money sanding rocking horses at a now-defunct shop in Abilene, Kansas.) Few of these studios endured, in part because skilled wood-carvers flocked to the more lucrative market in carousel horses. One rocking horse manufacturer from that era, the Whitney Reed Corporation of Leominster, Massachusetts, survived for nearly 100 years, only to succumb in the 1950s to postwar parents' preference for such trendy playthings as hula hoops and Betsy Wetsy dolls.
Still, a handful of American artists are today reviving handmade rocking horses. Sculptor Crayne Hennessy, 55, based in Seattle, Washington, began designing and carving his distinctive versions in 1994. In the late 1980s, he had been living in London (his wife, Cecily, is British), supporting himself by crafting elaborate dollhouses. When he delivered some examples to a Gloucester toy store that displayed several handmade rocking horses, "I took one look at them and fell in love," he recalls. "Right there I vowed, 'I'm going to do this.'"
In the 1990s, after Hennessy, and his wife, son and two daughters had relocated to Seattle, his hometown, he set up a studio where he worked as a sculptor and also began carving rocking horses. "I wanted to show musculature, give a real feel for the power of these animals," he says. "I wanted to show them full-bodied, but I also wanted to convey their friendliness." Hennessy's lifelike horses feature removable bridles and saddles, real tack for children to handle. "Hey, part of the fun of riding is saddling up your horse," says Hennessy. "I wanted for kids to be able to experience that."
Almost immediately, Hennessy's work came to the attention of the famed New York City toy emporium FAO Schwarz. Buyers for the store took one look at photographs of his work and ordered several. Within a few years, they had upped their demand to 30 at a time. Suddenly, says Hennessy, "I was working night and day." Since 1998, he has produced scores of hand-carved steeds that retail from $2,500 to $12,000, depending on the labor involved. Recently, a custom creation found a home with the 2-year-old nephew of King Abdullah II of Jordan. (Hennessy's studio also is accessible on the Web at hennessyhorses.com.)
Whatever their country of origin, "there is something magical about rocking horses that's missing in today's toys," says Marc Stevenson. "A rocking horse frees a child's imagination. A child can jump over the moon and be back in time for supper. He can soar across the Grand Canyon, chase down and capture the bad guys—and always win the race." The appeal is not confined to children. Marc tells of a woman who ordered a custom-made rocking horse for her sister's 84th birthday. "We wrapped it up in a white cloth and tied a red ribbon around it. When the woman opened it, I saw the years fall from her face." Michael Jackson, Bruce Springsteen and Eddie Murphy are among many celebrities who have ordered Stevenson Brothers rockers.
Marc Stevenson had earned a degree in graphic design, and Tony was a self-taught sculptor when they decided to go into business together in 1982. In retrospect, the partnership seems inevitable. "Carpentry was in our genes," says Marc. "My dad was a shipwright, and my uncle, James Bosworthick, was a cabinetmaker who had been crafting rocking horses and other wooden toys for 40 years." When the pair decided to continue the family tradition, Marc recalls, "Uncle James seemed to be the key."
But when the two young wanna-be entrepreneurs went to see their uncle, he brushed them off. "They had never done anything serious in their lives," Bosworthick said not long ago over a glass of sherry at Hintlesham Hall, a 16thcentury manor house turned hotel. "I relented only after they had persisted for six weeks. In the end, I finally told them, 'I'll train one of you—for $1,500.'"
Tony, the sculptor, was chosen to attend his uncle's impromptu apprenticeship. Six weeks later, he returned with enough knowledge to teach Marc the tricks of the trade. With a band saw dubbed Oliver, some mallets and chisels, and a load of English lime tree wood they picked up in a borrowed cattle truck, the brothers set up shop in a former RAF fighter shed located on their sister Leslie's farm.
"We had rather lofty goals for 26-year-olds with almost no experience," says Marc. "We wanted to be the best rocking horse makers in the world." Working long hours, they glued together more than 30 blocks of wood to rough out the form of each horse. "Inside each blocked-up shape was a horse waiting to get out," says Tony, who did most of the carving. Marc made bridles and saddles.
On October 20, 1982, their 26th birthday, the twins sold their first horse (numbered 001 on a brass plaque bearing the date and the Stevenson Brothers name) for $600. "We literally ran to the bank with the money," Marc recalls.
Today, Stevenson Brothers is the largest producer of rocking horses in the world, turning out some 500 a year, with annual revenues of about $1.5 million. The brothers have abandoned their uncle's dowel and peg style to return to a Victorian method of mortise and tenon they feel is sturdier. They employ 18 workers in two administration buildings and a roomy workshop a mile down the road. Tony oversees the carvers; Marc directs promotion and sales, though when Christmas orders mount up, Marc takes his turn at the mallet and chisel as well.
And things can get hectic at any time. "Not long ago we had a rush order from Australia for six horses," says Tony. "I had to make them so fast I carved the last one with his tongue hanging out." One customer ordered a horse four years in advance. Marc asked: What's the hurry? "My child's just been born," was the reply. "He'll be ready by then."
Five days a week, the workshop hums with the whir of electric sanders; wooden and cardboard templates of legs and heads hang from hooks on a wall, and heads that didn't make the grade line a shelf. (One is cross-eyed, another missing an ear.) In the finishing room, assistant Matthew Clift combs real horsehair for manes and tails. Leatherworkers craft bridles, suede saddles and stirrups.
According to the Stevensons, most children prefer the brightly painted dappled horses that were popular during the Victorian era. Adults lean toward natural wood—walnut bays, maple palominos, and the ebonized walnut millennium horse, produced as a limited edition. Some grown-ups have special requests. A customer from Naples, Florida (about 20 percent of the Stevensons' output goes to the United States), asked for "soft eyes, please."
In the tiny village of Fangfoss, some 250 miles north of the Stevensons' workshop, Anthony Dew, 54, employs 12 craftspeople and turns out some 50 beautifully crafted rocking horses a year. As an art student at BingleyCollege near Bradford, West Yorkshire, in 1976, Dew read a newspaper story about the Stevensons' uncle, James Bosworthick, called him up and arranged a visit to his workshop. "It was hot, and I had to walk ten miles from the bus stop," recalls Dew, "but once I saw him surrounded by the horses he'd made and talked to him, I knew this was what I wanted to do."
Unlike the Stevensons, Dew (Web address: rockinghorse.co.uk) specializes in selling blueprints and parts for amateurs who want to make their own horses. "Most people think they can't do it," he says, "but with the right tools and instruction, they can." Dew estimates that some 35,000 people around the world have created rocking horses using his kits and designs. Robert Nathan of the British Toymakers Guild regards Dew as "one of a rare breed of craftsmen" who "not only possesses great talent but is prepared to share his expertise."
Dew also founded the Guild of Rocking Horse Makers, a loosely organized association whose only membership requirement is to have made at least one rocking horse using hand tools. Currently, the guild has 580 members in 14 countries around the world.
Over a pint of ale at a half-timbered pub near his shop, Dew echoed Marc Stevenson. "A child develops a more intimate relationship with a rocking horse than with a large, impersonal toy like a playground swing or a seesaw," he said. "It's not something you put in a cupboard at the end of the day, especially once you've given it a name and whispered your dreams and secrets in its ear."
Dew's daughter Lynn, 19, remembers that feeling. Although she and her sister Kate, now 22 and a university student, served as testers of their father's horses, when the younger girl was 8, he asked her what she wanted for Christmas. "I didn't need to think about my answer," Lynn, also a student, recalls. "I had to have a rocking horse of my own." To this day, Mathilda, as Lynn named the dapple-gray made of poplar and beech, still holds pride of place in the front hallway of the family's 1840s Victorian farmhouse. And says Lynn, "I still ride her now and then."