Gold Rush California Was Much More Expensive Than Today's Tech-Boom California
Back in 1849, a dozen eggs would cost you the equivalent of $90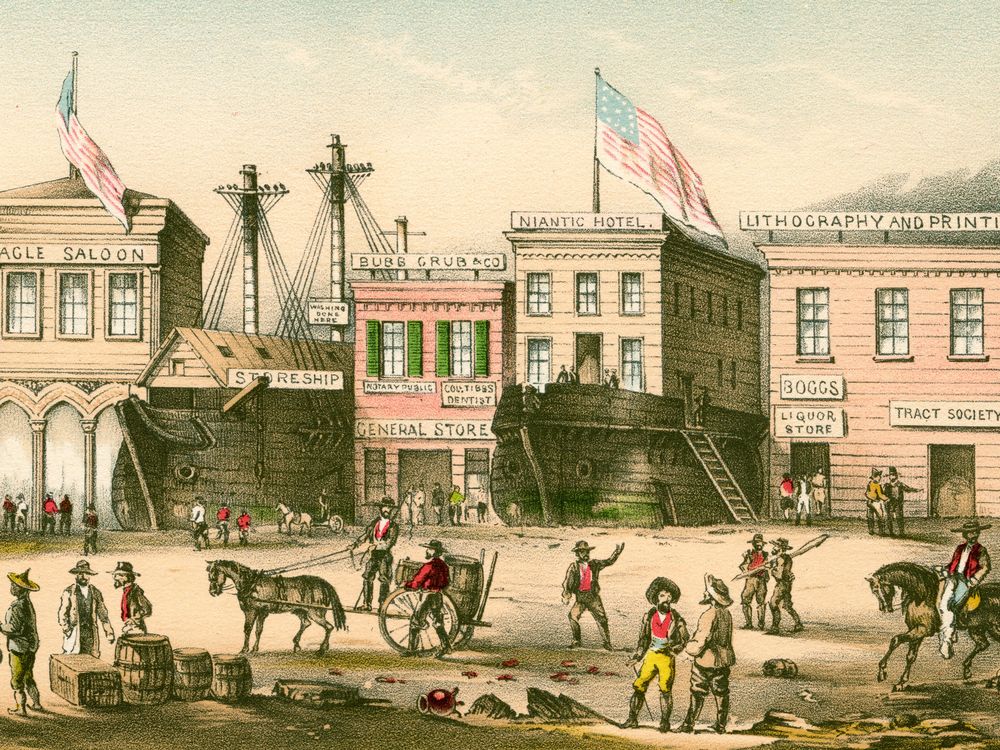 If you have ever wondered how California's modern-day rush for riches in Silicon Valley compares with the Gold Rush of 1849, look no further than the cost of buying a home.
Glenn Kelman, CEO of real estate startup Redfin, recently warned of an exodus of tech-specialists from Silicon Valley as the average price of property there topped $1 million – more than double the averages in Seattle, Boston or Portland.
It would be fair to say that property prices rose during the Gold Rush too, but that is where the comparison would have to end. Because back in 1849, they climbed to levels that would make modern Californians weep.
The writer Bayard Taylor arrived in San Francisco by ship in the summer of 1849 and feared that nobody would believe him when he wrote about the Gold Rush economy in his dispatches for the New York Tribune.
When the average wage for a laborer in New York might be one or two dollars a day, he was astounded to discover that individual hotel rooms were rented to professional gamblers for upwards of $10,000 a month – the equivalent today of about $300,000. (All inflation estimates are courtesy of Westegg.com.)
Taylor wrote:
"[One] citizen of San Francisco died insolvent to the amount of forty-one thousand dollars the previous autumn. His administrators were delayed in settling his affairs and his real estate advanced so rapidly in value meantime that after his debts were paid, his heirs had a yearly income of $40,000 [$1.2 million today].

"These facts were indubitably attested; everyone believed them, yet hearing them talked of daily, as matters of course, one at first could not help feeling as if he had been eating 'of the insane root'."
According to the consumer data website Numbeo, San Franciscans today face grocery bills and rents about 21 percent higher than the national average. That is an unfortunate figure, but again, it seems negligible when compared with the prices facing shocked gold-seekers as they arrived in the early days of the rush, when almost everything – tools, equipment food, clothing – was in short supply.
Edward Gould Buffum, author of Six Months in the Gold Mines (1850), described having a breakfast of bread, cheese, butter, sardines and two bottles of beer with a friend and receiving a bill for $43 – the equivalent today of about $1,200.
There were reports of canteens charging a dollar for a slice of bread or two if it was buttered, the equivalent of $56. A dozen eggs might cost you $90 at today's prices; a pick axe would be the equivalent of $1,500; a pound of coffee $1,200 and a pair of boots as much as $3,000 when today you could get a decent pair for around $120.
"Every newcomer in San Francisco is overtaken with a sense of complete bewilderment," wrote Taylor. "The mind, however it may be prepared for an astonishing condition of affairs, cannot immediately push aside its old instincts of value and ideas of business, letting all past experiences go for naught and casting all its faculties… Never have I had so much difficulty in establishing, satisfactorily to my own senses, the reality of what I saw and heard."
While some miners did strike it rich in the early days, those that made most money were the ones who "mined the miners." Imagine the joy of the woman who made $18,000 by baking and selling pies in the gold fields. Or of the foresighted man who arrived in San Francisco in July 1849 with 1,500 old newspapers which he sold to miners, hungry for news from back east, for a dollar each.
Some of America's best known businesspeople also began this way: Philip Armour was just 19 when he began selling meat to forty-niners in Placerville California (then called Hangtown); Levi Strauss, a Jewish emigrant from Germany, identified the need for tough clothing in the gold fields; Henry Wells and William Fargo made millions by setting up banking services in San Francisco; and John Studebaker's automobile empire began with him making wheelbarrows for California miners.
Their equivalents today – Facebook's Mark Zuckerberg, Microsoft's Bill Gates, Larry Page and Sergey Brin of Google, and so on – have made billions rather than millions. And, unlike most of the hapless gold miners, their employees have reaped considerable rewards. By comparison, their costs of living are much more bearable.