Gerda Weissmann Klein on American Citizenship
The Holocaust survivor, author and Medal of Freedom winner discusses liberation day and cherished freedoms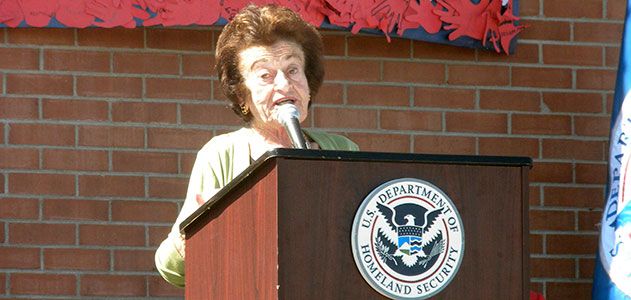 Gerda Weissman Klein has an incredible story. After being torn from her family and home in Bielsko, Poland, in 1942, she survived three years in concentration camps and a 350-mile death march before American forces rescued her in 1945, from an abandoned bicycle factory in the Czech Republic. As chance would have it, she married the officer who liberated her. Then, she immigrated to the United States and became a U.S. citizen.
Her memoir, All But My Life, has been a mainstay on high school reading lists since it was first published in 1957. HBO, in partnership with the United States Holocaust Memorial Museum, adapted it in 1995, into the Academy- and Emmy award-winning documentary "One Survivor Remembers."
But it was sharing her story at a naturalization ceremony held at a middle school outside of Cincinnati, Ohio, less than a decade ago, that led her to her latest endeavor. In 2008, at age 84, Klein founded Citizenship Counts, a nonprofit that teaches young students in communities across the country about civic rights and responsibilities by having them actively participate in a naturalization ceremony. For this and other humanitarian work, President Obama awarded her a Presidential Medal of Freedom this past February, along with other luminaries including George H.W. Bush, Maya Angelou, Jasper Johns and Warren Buffett.
This Tuesday, Klein is the keynote speaker at a Flag Day naturalization ceremony for 20 new citizens at the Smithsonian's National Museum of American History. Thanks in part to Citizenship Counts, 160 students from Oklahoma, California, New York, Texas, Washington, D.C. and the Virgin Islands attended.
Many Americans take their freedoms for granted, but, knowing what it was like to be denied yours, you do not. Can you share a bit about what you endured during the Holocaust?
I was 15 years old, and it was similar to a tsunami when my life that I knew and loved was irrevocably taken away. I lived first in the basement of our home with my parents. My brother was taken away immediately, and, when I was 18, I was separated from my parents never to see any member of my family again. I was in a succession of slave labor and concentration camps. At the end, as Germany was losing the war, our conditions, of course, became much worse. We were on a forced death march.
My father made me wear my skiing boots when I left home in June. I remember arguing. I said, "Papa, skiing shoes in June?" My father said, "I want you to wear them," and, of course, you didn't argue with your father in those days. So I wore them, and they were instrumental in saving my life on that winter's march. We started with 2,000 girls. There were 120 left on liberation day, which was May 7, 1945.
What are your most vivid memories of liberation day?
The night before, we heard American planes overhead, knowing that in all likelihood if we were lucky, we'd survive. We were herded into an abandoned bicycle factory, and attached was a time bomb. I know, it sounds like a cheap thriller. Blessedly, the bomb did not go off. The doors were opened and people were running and calling, "If anyone is there, get out. The war in Europe is over."
It is impossible to take something that you have been dreaming for six long years and praying for every waking moment and suddenly that should be real. So at that moment, I don't recall any emotions. When the doors were thrust opened, I ambled to the doorway, and I saw something rather incredible. I saw, on close-by hills, a strange car coming down. It was no longer green, and its hood was not a swastika but the white star of the American Army. Two men sat in that vehicle. One jumped out and came running toward me. I was still worried, so I did what we were, of course, made to say. I looked at him, and I said, "We are Jewish, you know?" For what seemed to me a very long time, he didn't answer me. Then finally, he said, "So am I." It was, needless to say, an incredible, incredible moment. He asked me if he could see the other ladies, an address obviously unknown to us. I told him most of the girls were inside. They were too ill to walk.
To give you a picture of that moment, I weighed 68 pounds. My hair was white. I was in rags. I was going to be 21 the following day. He did something which I, at first, didn't understand. He simply held the door open for me and let me precede him. In this incredible gesture, he restored me to humanity.
Never could I have imagined that I would marry him [U.S. Army Intelligence Officer Kurt Klein] a year later in Paris, and he would bring me home to this country. I love this country with a love that only one who has been lonely and hungry can understand.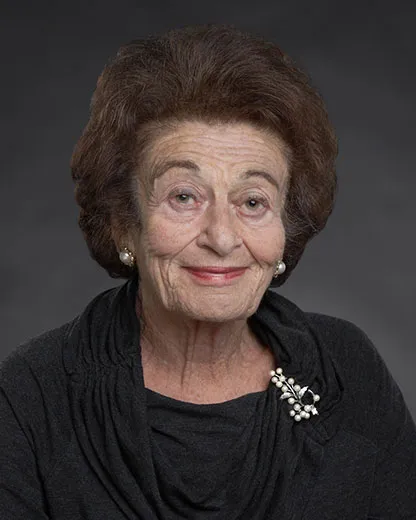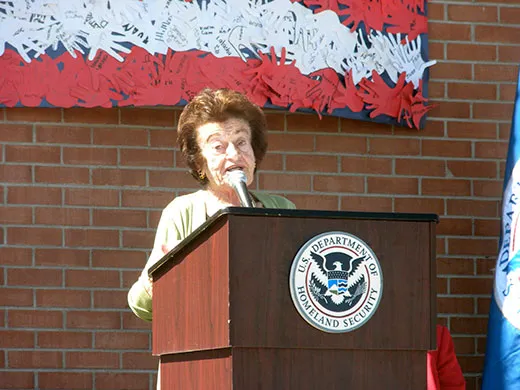 You and your husband moved to Buffalo, New York, in 1946, where you became an American citizen. What was your own naturalization ceremony like?
I was very fortunate. Normally, it takes five years. If you marry an American, it takes three years. But my husband was in the service, so I got it after two years. To me, it was a homecoming, a sense of belonging. When you had no rights as a citizen as I had, and they deprive you of everything, and suddenly all this is given to you, it's unbelievable.
What is it like now to watch other immigrants become citizens?
I know that a lot of people have hoped and prayed for that moment. A lot of people have come from places where they, of course, did not have freedom. I can empathize with it. I know what they must feel.
I retreat to my own moment, when I was given that. The oath of allegiance is very emotional to me— also the flag. I saw the flag going up where the swastika had been flying for years.
How did you react when you found out you were the recipient of the Presidential Medal of Freedom, the country's highest civilian honor?
I didn't believe it. The person called, and when she said, "I'm calling from the White House on behalf of the president," I said, "Please give the president my best wishes." She said, "You don't believe me?" And I said, "Look, I'm an old lady with a weak heart. I do enjoy jokes, but that's not a good joke."
I'm not Mother Theresa. I didn't give my life in the slums of Calcutta. I didn't invent a cure for cancer. I'm not a wealthy woman. I'm an average person. I have had a blessed life, a wonderful husband and children and grandchildren. All I did is just do what I feel has been my obligation.
I remember, unfortunately, my husband and I were in Washington on 9/11. To me, this was the most crushing thing. We went and stood at the Capitol. There was such oneness. I experienced the same thing in Washington when I was privileged to get the award. You didn't know who was a Republican and who was a Democrat. We were all Americans. We were all delighted to be in the White House.
To you, what does it mean to be an American?
Every so often, I step back and say, "Oh my God, look where I am," particularly when I watch television or read the news and see what is happening in other countries.
When I came to this country, I did not know one person, except my husband. I couldn't speak English, and what this country has given me in my lifetime is something that is so unbelievable that I want to devote the rest of my life, whatever there is left, to give back to my country what it has given me, and to teach our young people about the greatness of America. Maybe you think I am waving the flag too much, but I am proud to do that.
By no stretch of the imagination could I have thought of all the things that have been given to me. I mean, why me? Only in America. I don't think it could have happened in any other country.