George Washington's Christmas Crossing
An annual holiday tradition since 1952, re-enactors bring Washington crossing the Delaware to life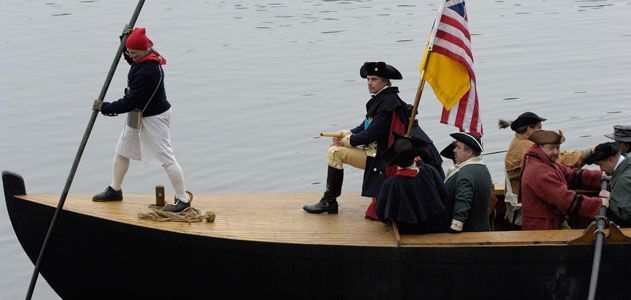 Standing on the Pennsylvania bank of the Delaware River, General George Washington—Ronald Rinaldi in real life—prepares to address his troops. Though the park is gray and dreary, the towering trees bereft of greenery, the atmosphere is festive, tense with anticipation. Cameras are working overtime as the troops clad in a bright and motley array of uniforms and colonial dress move to their appointed formations. The weather is cold, but not as cold as it was on this day in 1776, when a raging blizzard tormented the tattered remnants of Washington's volunteer army.
Back then, there was no one to witness either the misery or the bravery of this heroic band. Today thousands of spectators from all over the world, many dressed in period clothing, are here to watch Rinaldi's Washington and his men re-enact the event credited with saving the republic.
"These are the times that try men's souls," Rinaldi begins, solemnly intoning the words from Thomas Paine's American Crisis, as Washington did to rally his cold and hungry troops. Parents hush small children; conversation drops to a respectful murmur. "The summer soldier and sunshine patriot, will, in this crisis, shrink from the service of his country, but he that stands it now deserves the love and thanks of man and woman..."
Rinaldi continues the speech that has been repeated in this spot every Christmas since 1952, when Washington was portrayed by actor St. John ("Sinjin") Terrell, who played the role for 25 years until 1978, when he yielded it to Jack Kelly, Princess Grace's brother. (After 1996, George Washington no longer had an indefinite term, but was chosen at a bi-annual audition by a panel of judges.)
As happened when Rinaldi began his term in 2007, the Delaware River does not allow the re-enactors to cross on Christmas Day 2008. Heavy rains had caused the Delaware to rise as much as six inches an hour, according to one report, with currents of 15 miles per hour. When park officials announced that Washington's troops would have to march across the 1905 bridge into New Jersey, groans of disappointment erupted from the crowd.
But the experience gave Rinaldi, a Crime Scene Investigator in Middlesex County, New Jersey, an even greater appreciation for the original crossing. "When you read how these men crossed 230 years ago, at night under worse conditions—and we could not do so during daylight hours and with a substantially smaller number of men—that is truly remarkable," he observes.
For Rinaldi, the Christmas crossing is part of a personal re-enactment story that began in 1976. As the nation celebrated its bicentennial, Rinaldi, then 14, was there when his mother, a columnist, interviewed St. John Terrell. "Terrell asked my mother if I would like to be part of the crossing, as they were looking for younger people to get involved," he recalls. Given a uniform and shown the musket and rifle that soldiers carried, young Ron was hooked--on his way to becoming a lifer.
He began reading books and learning as much as possible about the Revolutionary War. During summer school breaks, he volunteered as a tour guide at the Pennsylvania side of Washington Crossing Park. In 1980, he earned a degree in American history from George Washington University in Washington, D.C. in 1986, and later earned a Master's in military history from Duke University.
Despite his extensive studies, Rinaldi feels re-enacting has given him insights not found in books. "History books report what happened," he says, "but the uncertainty, the way these men felt or looked or thought before embarking on such a crucial event, are aspects that become more clear when taking part in re-enactments."
History tells us that after Washington was badly routed by British land and sea forces in the Battle of New York, his men lacked sufficient food, shelter and clothing; some were shoeless. Many were on the verge of deserting. Others waited for their terms in the Continental Army to expire in only a few short weeks. Washington boldly crossed the treacherous Delaware to attack the enemy at Trenton (in "the Jerseys") before his volunteer army could disperse. It was a stunning victory. He captured some 900 enemy soldiers and suffered very few losses.
"In 1776, there were those who thought the crossing would end in defeat, as many prior battles had," says Rinaldi. "These men followed their officers, and I believe the inspiring words Washington spoke persuaded them to continue against overwhelming odds."
Rinaldi, knowing he had to relinquish the cherished role of Washington, did so this year in deliberate fashion. He served as one of the judges at the audition to select the new commander. The audition took place in the auditorium of Pennsylvania's Washington Crossing State Park, steps from an 1895 monument marking the spot where Washington's boats were launched. The six veteran re-enactors competing for the role of Washington, who had submitted letters expressing their desire and qualifications, would be judged on the quality of their letters and uniforms, their ability to deliver passages of Thomas Paine's American Crisis, their knowledge of Revolutionary War history and of Washington's life.
Each man took the stage against a backdrop copy of Emanuel Leutze's iconic painting of the crossing and faced an audience of park visitors and "insiders"—fellow re-enactors, friends and families. While the uniforms all appeared to be of good quality, the candidates varied dramatically in physical appearance, from short and somewhat stout to tall and lean. The judges posed questions that touched upon the economic strictures imposed by the British, as well as details of various battles. Then they deliberated.
The winner was John Godzieba who, at age 50, standing six feet, four inches tall and lean of build, most physically resembles Washington. He has participated in the Delaware crossing the past 17 years. When his name was announced, there were loud period cheers of "Huzzah! Huzzah!" from the members of his re-enactment regiment. "I was in shock," says Godzieba, who looks forward to addressing his troops and, of course, making the crossing. "Stepping out of the boat onto the New Jersey shore as Washington will be an amazing experience."
The boat crossing is an experience Ron Rinaldi still wants, too, so he will return to audition once more in 2011. (He has crossed in the past as a regular reenactor, but still wants to do so as Washington.) Asked why he, like so many veterans, keeps coming back, Rinaldi says, "We have a heart-felt duty as Americans to keep the spirit alive that made our country the great place it is." Besides, "the crossing's been an important part of my life and my family's Christmas tradition for 33 years," he adds. "I was in the Bicentennial Crossing and I've told my son that if he sticks with it, he could very well take part in the Tricentennial Crossing—and that would be some feat."
But on the next Christmas Day, it will be John Godzieba who gets up early, dons the General's uniform, checks weather reports and river conditions. "I've stood there in the cold, snow and sleet watching my predecessors interpret Washington as he embarked on an all-or-nothing roll of the dice," says Godzieba. "It is the re-enactors who make this event and who are the harshest critics—which makes the role of Washington especially challenging."