General Grant in Love and War
The officer who gained glory as a warrior in the Civil War also had a domestic side.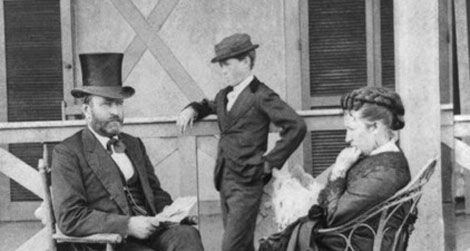 Ulysses S. Grant was fresh out of West Point when he reported for duty with the Army's 4th Infantry Regiment at Jefferson Barracks, Missouri, in 1844. The 21-year-old second lieutenant found his work as a quartermaster, managing equipment and supplies, to be dull. He was eager to escape the monotony of peacetime, and when his West Point roommate Frederick T. Dent invited him to his family home just ten miles from the barracks, Grant jumped at the opportunity. It was at Dent's White Haven home that Grant first laid eyes on the woman of his dreams.
Young and lean, Grant was a promising officer from the prestigious military academy in New York. Julia Dent was plain, squat and cross-eyed, and she didn't have much in the way of a formal education. But she was warm and self-aware, and with young single women few and far between west of the Mississippi, Grant became enamored of her. Before long, he was visiting Julia daily, and just weeks into their courtship, he had marriage on his mind.
The time they spent together in Missouri, riding horses and reading poetry to each other, cemented Grant's commitment to the teenage girl. At one point her pet canary died, and Grant crafted a small yellow coffin and summoned eight fellow officers for an avian funeral service. But Grant had been raised in a Northern household that looked down on slave owners, and Julia's father had purchased his eldest daughter her own personal slave, known as "Black Julia." Still, he wanted to be around the woman he had fallen for.
By 1844, tensions between the United States and Mexico over the territory of Texas were heating up, and Grant was soon serving under General Zachary Taylor, the future U.S. president, on the front lines in Mexico. But before he headed south, he pulled off his West Point ring and handed it to Julia, securing their engagement. They held this in secret, as Julia's father did not approve of his daughter marrying a military man, especially a disapproving one from the North. Julia gave the departing soldier a lock of her hair in return.
As soon as he was away, Grant began writing love letters to Julia Dent. They portray a tender, sensitive and insecure young man, overly concerned that his fiancée did not share the intensity of his longing for her. She did not write as frequently as he did, causing him great despair, but when she did compose and send letters, Grant would read them over and over.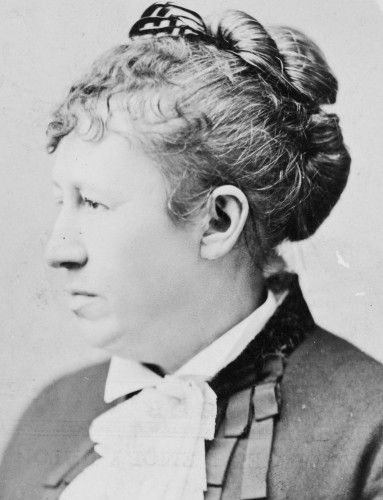 "My Dear Julia," he wrote. "You can have but little idea of the influence you have over me Julia, even while so far away…and thus it is absent or present I am more or less governed by what I think is your will."
One letter arrived in return with two dried flowers inside, but when Grant opened it the petals scattered in the wind. He searched the barren Mexican sands for even a single petal, but in vain. "Before I seal this I will pick a wild flower off of the Bank of the Rio Grande and send you," he wrote. Later, from Matamoras, he wrote, "You say in your letter I must not grow tired of hearing you say how much you love me! Indeed dear Julia nothing you can say sounds sweeter…. When I lay down I think of Julia until I fall asleep hoping that before I wake I may see her in my dreams."
Grant admitted to her that the time between battles was burdensome. "I have the Blues all the time," he wrote. She had moved to St. Louis with her younger sister, Nell, and attended school, and her social life had become far more active. Grant assumed the worst. "I believe you are carrying on a flirtation with someone, as you threaten of doing," he wrote her. In truth, it was Nell who had brought the young men of St. Louis into Julia's orbit. But none of them seemed interested in the plump, cross-eyed woman who was the focus of Grant's obsession.
In July of 1848, after they had been apart for four years, Grant's regiment returned to the United States, and he took leave so that he might make wedding arrangements in St. Louis. By then, Julia's father, Frederick Dent, had fallen on hard times, which Julia attributed to his being "most kind and indulgent" toward the slaves he owned. (The fact of the matter is that Dent had simply dragged his family into poverty by mismanaging his farm.) Suddenly, he could overlook his future son-in-law's Northern arrogance and he blessed his daughter's choice of him as husband. Grant's father refused to attend their August wedding, objecting not to Julia, but to her family's owning slaves.
After the Grants were married in August 1848, Ulysses was back in the Army. Julia gave birth to Frederick Dent Grant in May of 1850, and Ulysses Simpson Grant followed while his father was dispatched to the West Coast for several years. The separation was agonizing for Grant, and he resumed his drinking. He resigned from the Army in 1854, and while some historians have suggested that in lieu of a court-martial for being intoxicated while off-duty, he may have been given the choice to resign, it didn't matter: The young officer was now free to return East to his wife and boys, and it was in St. Louis that he built a log cabin and attempted to live off the land with his family.
He named their home "Hardscrabble," and it fit; Grant's cleared trees from the land by himself, then peddled firewood on the streets of St. Louis. At one point, he purchased a slave from Julia's brother Fred, his old West Point roommate. Yet without explanation, when he was in debt and barely able to put food on his family's table, Grant appeared in court on March 20, 1859, and emancipated his slave rather than selling him.
With four children now, Grant became ill with malaria, and he couldn't run his farm; he had to give up Hardscrabble and move in with Julia's parents in White Haven. Once he recovered he took a job collecting rents for a real estate firm in St. Louis, but he couldn't earn enough money. By 1860, Grant was out of options, and he asked his father for help. He was offered a job in the family leather business, working under his two younger brothers. Earning $600 a year, he could go a long way toward getting his family out of debt, so he moved Julia and the children to Illinois.
Ulysses S. Grant was 38 and living a settled life with his family when Southerners fired on Fort Sumter in April 1861. His father-in-law tried to persuade him to fight for the Confederacy, without luck. (Even Dent's own West Point son chose to support the Union.) Grant helped organize volunteers, but it wasn't long before, by dint of his Army experience, he took command of the Illinois troops. This time around, he found that military life suited his temperament, and he was promoted to brigadier general. He vowed never to return to the leather store, and with renewed energy and confidence he led 15,000 troops into battle at Fort Donelson, Tennessee, and trapped the Confederates inside the fort. His message of "No terms except unconditional and immediate surrender" earned him the nickname "Unconditional Surrender Grant." President Abraham Lincoln promoted him to major general.
Yet the monotony between battles once again began to wear on Grant, and again he began to drink. He concluded that he was a better man and a better commander when he was around Julia, and so he sent for her. She would leave the children with relatives to travel to his encampments, at times at considerable risk, and over the course of the Civil War she would stay with him during campaigns at Memphis, Vicksburg, Nashville and Virginia. Her presence lifted her husband's spirits and buoyed his confidence; in 1864, when Lincoln appointed Grant commander of the Union armies, the president sent for Julia to join her husband, aware of the positive effect she had on him.
Three years after General Robert E. Lee surrendered his army to Grant on April 9, 1865, at the Appomattox Court House in Virginia, Grant was elected president of the United States. Julia worried that her strabismus—the condition that gave her her cross-eyed appearance—might be an embarrassment to her husband. She considered surgery, but, as she wrote in her memoirs, "I never had the courage to consent, but now that my husband had become so famous I really thought it behooved me to try to look as well as possible."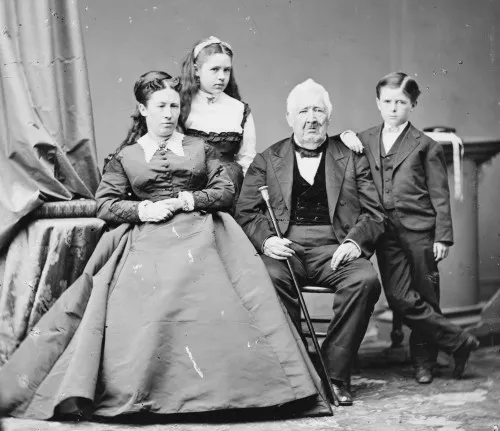 When the surgeon told her that it was "too late" to correct the condition, she expressed her regret to her husband. "What in the world put such a thought in your head, Julia?" he asked.
"Why, you are getting to be such a great man, and I am such a plain little wife," she replied. "I thought if my eyes were as others are I might not be so very, very plain."
Grant pulled her close. "Did I not see you and fall in love with you with these same eyes?" he asked. "I like them just as they are, and now, remember, you are not to interfere with them. They are mine, and let me tell you, Mrs. Grant, you had better not make any experiments, as I might not like you half so well with any other eyes."
Julia Grant never considered surgery again. But she did take care to pose for portraits in profile, so her crossed eyes would not appear in photographs.
After Grant's tumultuous two terms in the White House, he and Julia traveled the world, and were welcomed by great crowds in Ireland, Egypt, China and Russia. They spent most of their savings on the trip, and when they returned to New York an investment banking firm defrauded Grant of his remaining funds, and he was forced to sell his Civil War mementos to cover debts.
In 1884, Grant learned that he had throat cancer and set about writing his memoirs. When Samuel Clemens (Mark Twain) learned of Grant's intent, he brokered a publishing deal that guaranteed higher-than-standard royalties and an aggressive marketing plan. Julia remained by her husband's side as he finished his writing only days before he died, on July 23, 1885, at Mount McGregor in upstate New York.
Grant's Memoirs, published shortly thereafter, were critically acclaimed and commercially successful. The book's sales left Julia with enough wealth to live out the rest of her life in comfort. After she died, in Washington in 1902, her body was laid to rest in a sarcophagus beside her beloved husband's in New York.
Sources:
Books: Julia Dent Grant, The Personal Memoirs of Julia Dent Grant, Putnam's, 1975. Ulysses S. Grant, Mary D. McFeely, William S. McFeely, Ulysses S. Grant: Memoirs and Selected Letters: Personal Memoirs of U.S. Grant/Selected Letters, 1839-1965, Library of America, 1990. Geoffrey Perret, Ulysses S. Grant: Soldier & President, Modern Library, 1998. Edward G. Longacre, General Ulysses S. Grant: The Soldier and the Man, First DeCapo Press, 2007. Kate Havelin, Ulysses S. Grant, Lerner Publications Company, 2004. Patricia Cameron, Unconditional Surrender: The Romance of Julia and Ulysses S. Grant, BookSurge Publishing, 2010.
Articles: "Julia Dent Grant," Marie Kelsey, http://faculty.css.edu/mkelsey/usgrant/julia.html