How Gene Kranz's Apollo 13 Vest Boosted Morale For His Team
The NASA flight director famously wore a homemade white vest as he averted tragedy during one of Apollo's most harrowing missions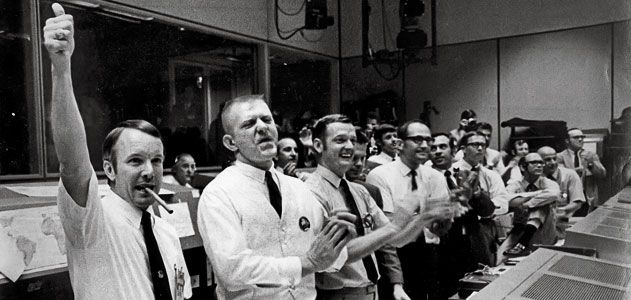 Forty years ago, for several unbearably tense days—April 13 to April 17, 1970—the whole world watched as NASA Flight Director Gene Kranz led a team that worked around the clock to rescue Apollo 13 astronauts Jim Lovell, Jack Swigert and Fred Haise. After an explosion of an oxygen tank partially crippled the moon-bound spacecraft, NASA's mission was to bring the trio safely back to Earth.
Today, Kranz's five-button, off-white vest (familiar to moviegoers who watched actor Ed Harris play Kranz in the film version of the crisis) holds pride of place at the Smithsonian National Air and Space Museum.
Kranz's wife, Marta, created the garment that would establish a Mission Control tradition. In 1962, when the Kranzes moved into a Houston neighborhood peopled by other space-program families, "all the wives sewed, and I began making vests for Gene," she recalls. "Gene wanted some kind of symbol for his team to rally around. I suggested a vest." The color, she adds, was not left to choice: "There were three Mission Control teams—red, white and blue—and Gene's was the white team, so his vests were always white." (Marta Kranz also made colorful vests for her husband to wear when celebrating splashdowns. At the successful conclusion of Apollo 13, however, relief replaced celebration; the white vest stayed on.)
"I started wearing a vest during Gemini 4, and it was an immediate hit," Kranz recalls. "From then on, I put on a new vest on the first shift of every mission." Ultimately, according to NASM curator Margaret Weitekamp, Kranz's Apollo 13 vest would not only become a morale booster for his team, but also "a symbol for something much bigger than that"—the can-do spirit summed up in the title of Kranz's autobiography, Failure Is Not an Option.
For the 1995 movie, the studio was determined to fashion an exact replica. But the task turned out to be more complicated than Apollo 13's costume designers anticipated. Marta Kranz had used faille, a fine-grained fabric of silk, satin or cotton, particularly popular during the 1950s. "When I told [the movie people] what it's made of," Marta recalls, "I don't think they knew what I was talking about." Soon, 29 swatches of sample fabrics arrived in her mail—but none were, so to speak, the right stuff. Then, she adds, "someone found off-white faille in a film warehouse."
Kranz went on to serve as flight director for Apollo 17 (December 7-19, 1972), the final mission in the lunar landing series, then as deputy director and director of NASA mission operations. He retired from NASA in 1994. But that did not relieve Marta Kranz of her sar­torial responsibilities. "I never had a chance to stop," she says. "Gene became a motivational speaker, and when he gave speeches, people wanted him to wear the white vest."
The only difference, she adds, laughing softly, "is that the configuration keeps changing."
Owen Edwards is a freelance writer and author of the book Elegant Solutions.