Flying With America's Most Famous Female Aviators
Dozens of talented women preceded Amelia Earhart, and thousands have followed, and each has her own groundbreaking story to tell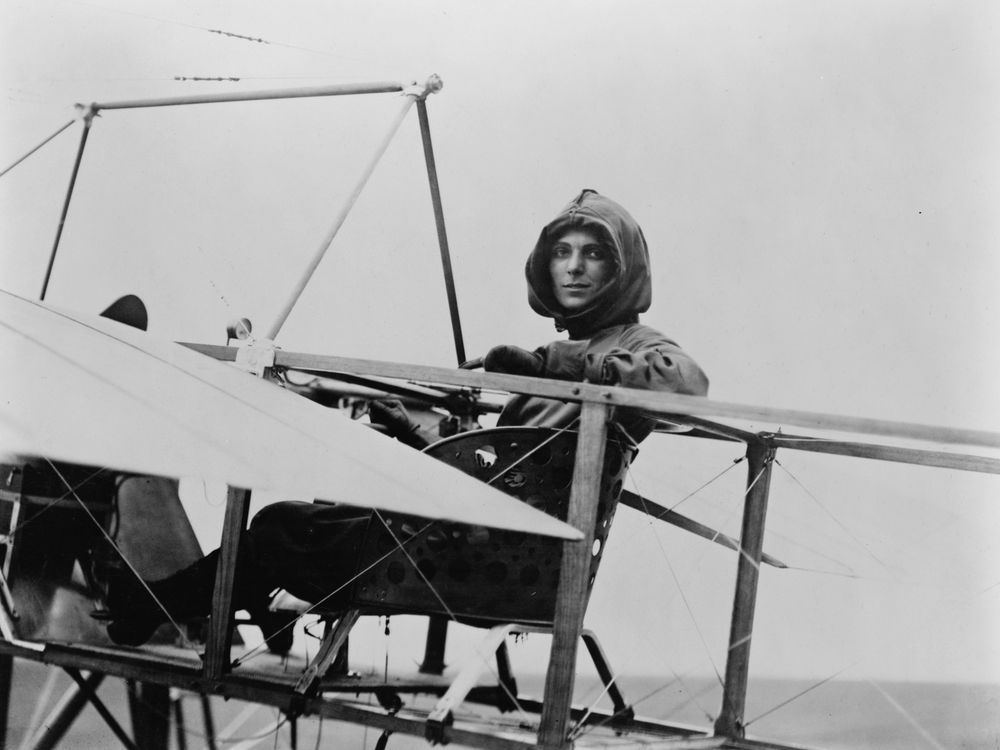 Well-mannered women were not supposed to engage in the daring and dangerous pursuit of aviation when a journalist named Harriet Quimby talked her editor into paying for her flying lessons in 1911.
Just eight years after Orville and Wilbur Wright made history for taking the first successful flight, the vocation was considered to be firmly a man's domain.  But despite those critical of women engaging in aviation, Quimby decided to pursue her pilot's license.
Quimby was not the first woman who wanted to pilot her own aircraft. Indeed, in 1880, May H. Myers, later dubbed "Carlotta, the Lady Aeronaut," earned a reputation for her ballooning skills and even established a world record when she went four miles high in a balloon filled with natural gas instead of hydrogen. Nevertheless, as Quimby chronicled her story for Leslie's Illustrated Weekly, she became an object of media fascination. She proved her critics wrong though when on August 1, 1911, she became the first American woman to earn a pilot's license (License No. 37).
Woman aviators have come a long way since Quimby's time. Learn about some of history's greatest fly girls who helped blaze a trail in the sky for others to follow.
Harriet Quimby (1875-1912)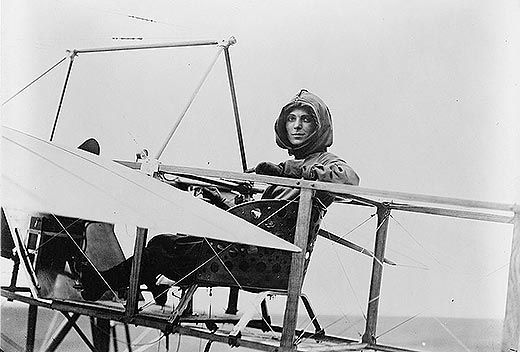 Inspired by a story she was reporting, Quimby, a journalist by profession, became the first female licensed pilot in the United States in 1911. She immediately made several memorable exhibition flights, including a moonlit night flight over Staten Island, New York. The next year she became the first woman to fly solo across the English Channel, just three years after Louis Blériot first accomplished that feat. A few months later as hundreds looked on during an aviation meet in Boston Harbor, she fell to her death out of a plane flying at 1,500 feet.
Katherine Stinson (1891-1977) and Marjorie Stinson (1896-1975)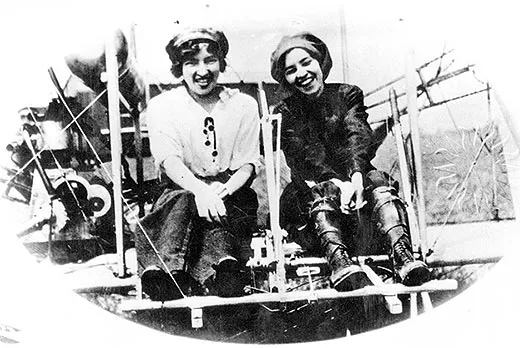 Katherine was the fourth woman, in 1912, and Marjorie the ninth woman, in 1914, in United States to earn pilot licenses. Known as the Flying Schoolgirl, Katherine thrilled spectators in this country and in Japan and China with aerobatic stunts. She was the first woman to perform a loop-de-loop and the first female pilot commissioned to fly U.S. mail. Marjorie, also an airmail carrier and performer, established herself as a flight instructor at the family's aviation school in Texas, where she trained the Royal Canadian Fying Corps.
Bessie Coleman (1892-1926)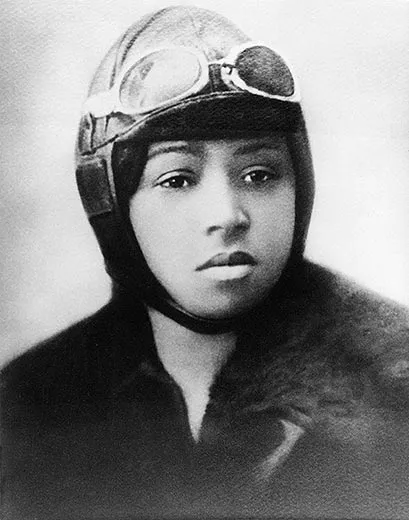 Turned down by U.S. flight schools because she was black, Coleman went to France, where in 1921 she earned the first International Pilot's License issued to an African-American woman. Returning to the U.S., where she was annointed "Queen Bess" by aviation enthusiasts, she flew at exhibitions and encouraged blacks of both sexes to take up flying. Before she could raise the money to open a flight school, she was thrown to her death in 1926 as her plane went into a spin while she was rehearsing for an airshow.
Amelia Earhart (1897-1937)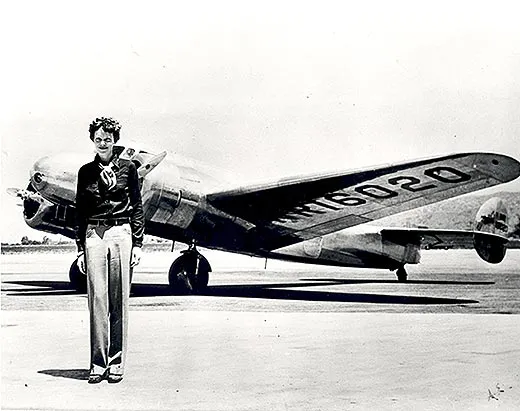 Earhart catapulted into the limelight in June 1928 as the first female passenger to fly across the Atlantic. "I was just baggage, like a sack of potatoes," she candidly admitted. One of the first women to earn a pilot's license, she had dallied in aviation in years prior, and after her passenger flight, publisher-promoter George Palmer Putnam viewed Earhart as his aeronautical Pygmalion. The duo, who later married, gave speaking tours, published books, and established aviation records, including becoming the first woman to fly transatlantic solo in 1932. Earhart disappeared over the Pacific during her attempt to fly around the world in July 1937.
Florence "Pancho" Barnes (1901-1975)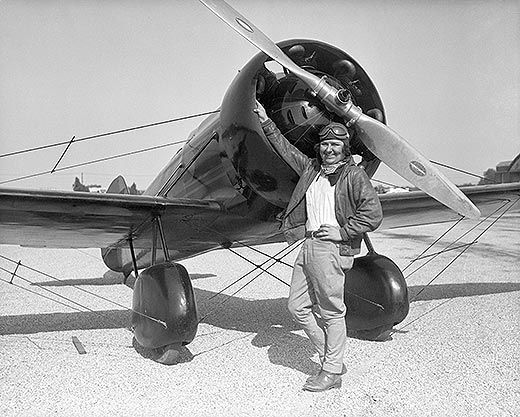 Though at one time Barnes broke Ameilia Earhart's world speed record, she is more likely to be remembered as the most colorful character in aviation. Wealthy, headstrong and unconventional, she performed in barnstorming shows, competed in air races, and worked as a Hollywood stunt pilot. Just before she took up flying in 1928 she had roamed Mexico disguised as a man. Married to a minster, she sometimes buzzed his Sunday morning service. In 1935 Barnes established the Happy Bottom Riding Club, a California dude ranch famous for parties frequented by such test pilots as Chuck Yeager, Jimmy Doolittle, and Buzz Aldrin.
Jacqueline Cochran (1906-1980)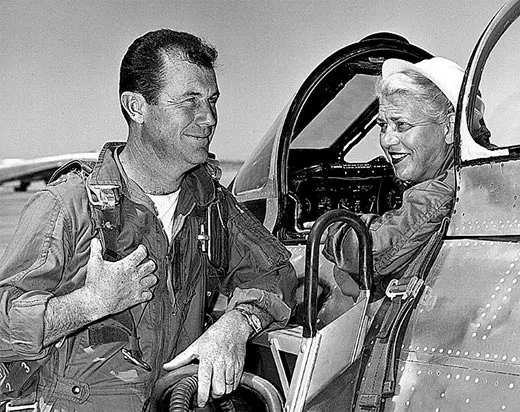 Cochran made her initial mark in aviation by winning numerous air races and setting speed and altitude records in the 1930s. In 1942 she was tapped to form the Women's Air Force Service Pilots—the WASPS, who transported some 12,650 military aircraft in the unit's two years of service. After World War II, Cochran returned to racing and records; in 1953, she was the first woman to exceed Mach 1, breaking the "sound barrier" in an F-86 Sabrejet. A repeated winner of the Harmon outstanding pilot award, Cochran set more aviation records than any of her contemporaries, male or female.
Willa Brown (1906-1992)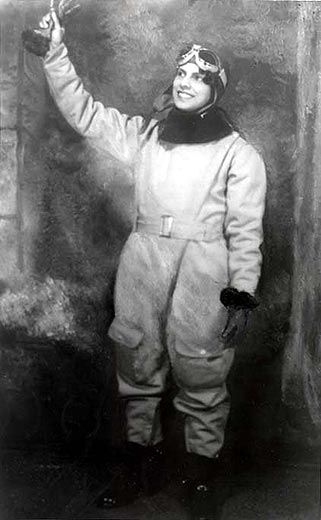 Brown was the first African-American woman to earn a commercial flight license in the United States in 1937. She was a founding member of the National Airmen Association, which lobbied for the inclusion of black pilots in the U.S. Army Air Corps, and as a flight instructor she trained more than 200 students who eventually became Tuskegee Airmen, the all-black aerial combat unit that flew with distinction in World War II.
Elinor Smith (1911- 2010)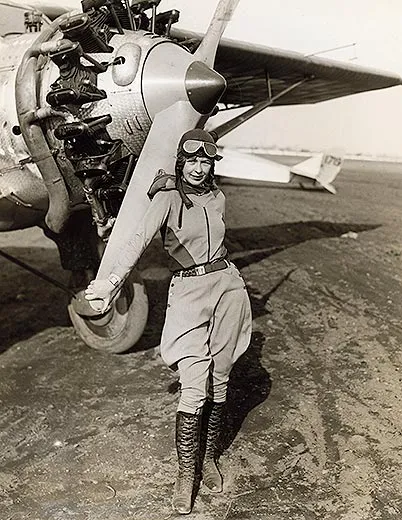 In 1928, Smith, at age 16, became the youngest pilot to earn a license, which was signed by Orville Wright. She made headlines later that year in a daring feat—flying under New York City's four East River bridges. With Bobbi Trout as co-pilot, they became the first women aviators to refuel a plane in mid-air in 1929. A group of her peers, including Amelia Earhart, voted her Best Female Pilot in 1930. Smith set numerous speed, altitude, distance, and endurance records in the 1930s, then took a break to raise four children. She resumed flying in the 1950s, piloting military transport planes and jets.
Read more about Elinor Smith at our Around the Mall blog
Mary Riddle ( c. 1912- )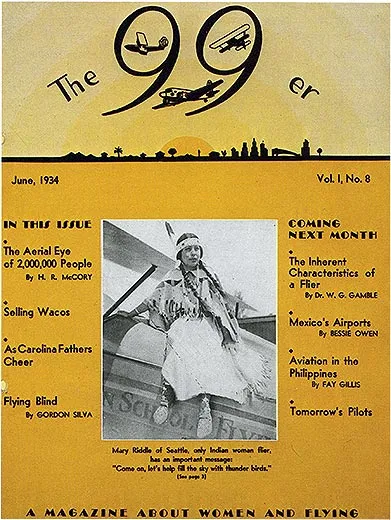 In 1930 Riddle became the first Native American woman to earn a pilot's license; she also earned her commercial license soon after. With a group of women pilots from Seattle, she barnstormed across the country and made 40 exhibition parachute jumps. A member of the Clatsop and Quinault tribes, Riddle appeared in traditional native attire on the June 1934 cover of The 99er, a publication of the Ninety-Nines organization and the first magazine published for and by women fliers.
Jacqueline Auriol (1917-2000)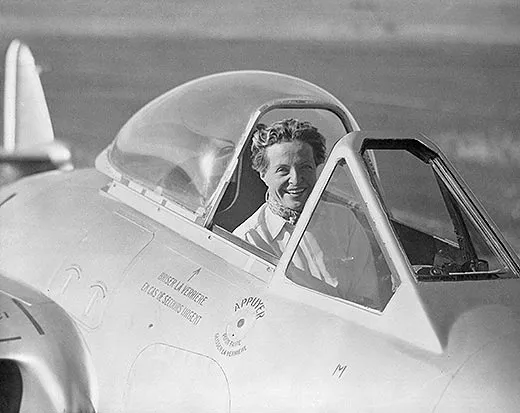 After the 1949 crash of an aircraft in which Auriol was a passenger, the glamourous French stunt flier faced 22 surgeries to put her face back together. Yet her first words in the ambulance en route to the hospital were, "Will it be long before I can fly again?" In 1950 she was the first woman pilot admitted to France's military Flight Test Centre and became a leading miltary test pilot. For the next 12 years, she swapped speed records with her American rival, Jacqueline Cochran. Auriol set her last record in 1963, piloting a Mirage IIIR at 1,266 mph.
Betty Skelton (1926- )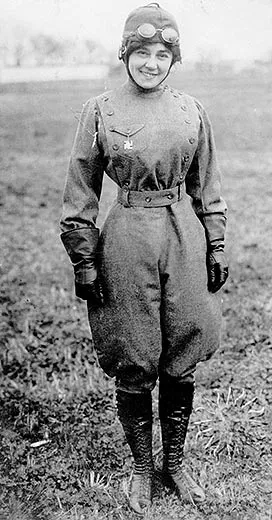 Skelton took her first solo flight at age 12, began her professional career as an aerobatic pilot in 1946 and two years later won her first International Aerobatic Champion for Women trophy with her Pitts Special S-1C biplane, "Little Stinker." In 1951, she took up a second career as a test- and race-car driver, and in 1959 trained with NASA's Mercury 7 astronauts. Skelton set numerous aviation and automotive records.
Patty Wagstaff (1951- )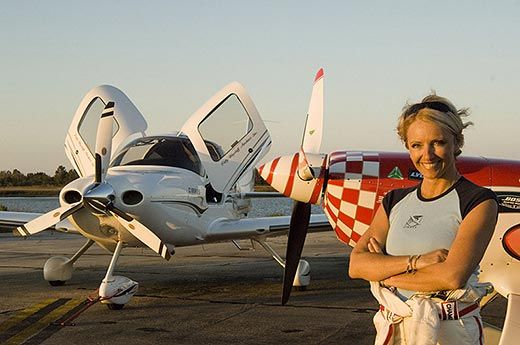 In 1991 Wagstaff was the first woman to win the title of U.S. National Aerobatic Champion. She holds licenses to fly multiple aircraft, including commercial and helicopters. Today she is a premier airshow attraction, teaches aerobatics, and performs stunts in movies and television. The recipient of many awards and championships, Wagstaff was inducted into the National Aviation Hall of Fame in 2004.