The First Novel for Children Taught Girls the Power of Reading
Nearly three centuries before heroines like Katniss and Meg Murray, Sarah Fielding published a book on the values of female education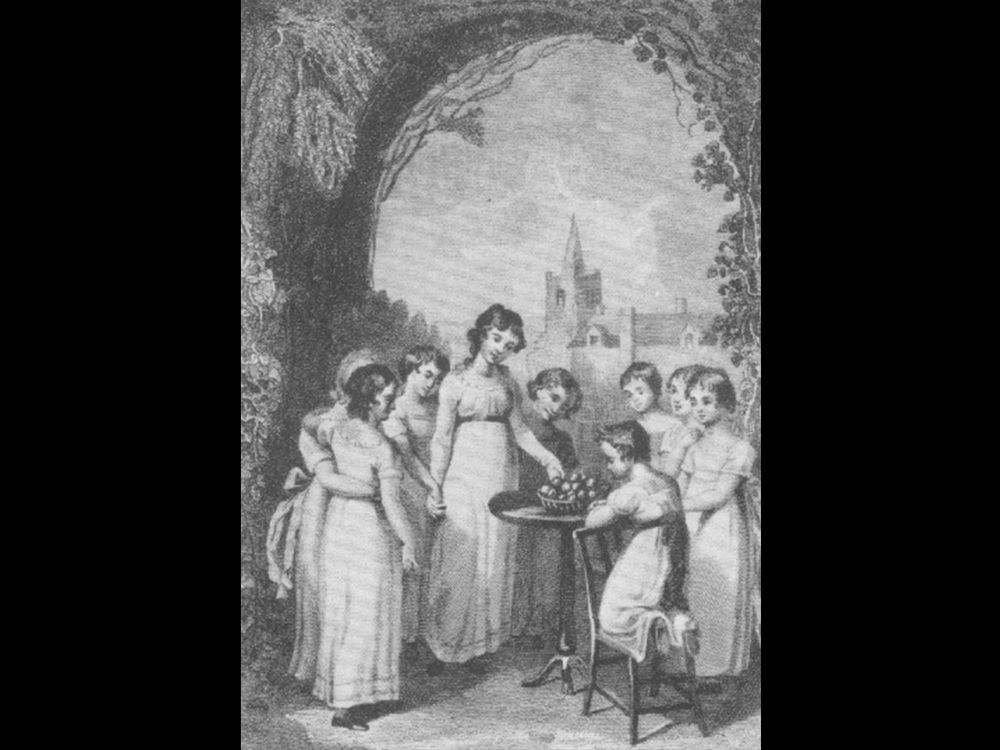 "Consider with me, what is the true use of reading," begins Sarah Fielding in the preface to her 1749 book The Governess. "If you can fix this truth in your minds, namely, that the true use of books is to make you wiser and better, you will have both profit and pleasure form what you read."
The readers Fielding addressed, and the characters in her book, were all girls. At a time when the literacy rate for women in England was around 40 percent, author Sarah Fielding wanted a different future for women. She not only wanted girls to read, but also to organize that knowledge in their minds to their own benefit.
"For young women, reading, and reading novels in particular, was seen as a dangerous pastime," says Candace Ward, a Florida State University professor of English who edited a recent edition of The Governess. "Sarah Fielding is suggesting there's more to these works than simply fantastic romance."
It was a serendipitous moment for a woman to be entering the world of letters. Despite the lingering stigma attached to women in writing, Fielding was far from the first to dive into the fray. Feminist writer Mary Astell had been arguing for women's right to education since the late 1600s, English novelist Eliza Haywood began publishing her work in the 1720s, and poet Martha Sansom wrote regularly about her desire not to be hemmed in by the domestic sphere around the same time.
While little is known about the details of Fielding's life, it's clear that she was born in 1710 to a family of seven. Despite a turbulent family dynamic (her father eventually died in debtor's prison), Fielding earned a meager education at a girls' boarding school. She then built upon that knowledge through friends, tutors, and of her own initiative, learning to write literary criticism and read Greek and Latin. But Fielding never married, and had little inheritance on which to live. Instead of relying solely on the charity of friends, Fielding turned to writing as a means of supporting herself.
"Women were very active in publishing and their prose narrative writing was as influential on the emergent novel form as writers like Daniel DeFoe or Samuel Richardson," Ward says. In fact, Fielding regularly engaged with those male writers, writing criticism of Richardson's work and earning his praise as the "much-esteemed Sally Fielding."
Fielding also worked with her brother, Henry, a novelist whose works include Tom Jones. Thanks to her brother's encouragement, Sarah published her first novel in 1744, called The Adventures of David Simple. Although initially published anonymously, the book was critically acclaimed and so popular that it quickly went into a second edition. It also offered Fielding the opportunity to continue her pursuit of writing, now with her name attached to the works.
Despite the acceptance of her contemporaries, Fielding's position as a female author was still unusual. Women typically had far less education than men of the period, and so could rarely find work outside the home. They were instead expected to be "a sweet-tempered, dependable helpmate, responsible for maintaining the moral and spiritual values of the home, shunning decorative excess while remaining graceful, attractive, and nurturing," writes literary scholar Arlene Fish Wilner.
The other complication in Fielding's work was the still-young form of the novel. Until that point, fictional prose mostly came in the form of Romance, not in the modern sense of Fabio and his windswept woman, but in the medieval tradition of knights and fair maidens. Writers who wanted to try their hand at this new form followed some unwritten rules to distinguish their writing from earlier Romances: the stories were grounded in realism, used familiar rather than lofty language, and had protagonists that readers could identify with, Ward says. At the same time, authors of the new genre meant felt they had to prove the value of their work.
"There was a perception that you had to justify writing the novel," Ward says. That meant including a lesson for readers to imbibe. This could take the form of symbolic characters, who personified good or evil rather than being fully-dimensional, or a literal moral tacked on to the end of the text.
In the case of Fielding's The Governess, the text very clearly offered examples of positive and negative traits. Comprised of 20 narratives, including fables, fairy tales, and autobiographies from each of the girls in the school, The Governess, through its titular character Mrs. Teachum, demonstrates which behaviors are acceptable, and which faults the girls must strive to overcome (like vanity, selfishness and fear). All of these stories are exchanged among the girls and then discussed to unearth the lesson to be learned.
"Mrs. Teachum's pupils listen to each story, and the frame allows Mrs. Teachum (or sometimes her pupil Jenny Peace) to correct any potential misreadings," writes Patrick Fleming, a professor of English. "With the exception of Jenny, none of the girls is entirely virtuous while at Mrs. Teachum's school. Each has improved since before arriving, but none has reached moral maturity."
In other words, Fielding used her knowledge to encourage other girls to earn their own education, while also helping them cultivate the traits that would've made them acceptable wives—still perhaps the most important economic factor in a woman's life. The underlying tension between those two ideas—independence versus reliance on a husband—is something Fielding struggled with throughout her career.
"To be visible or to be invisible—which of those states is going to lead to fulfillment or happiness or just a peaceful life?" ward says. "I think Fielding struggled with that question throughout all of her writings. [A traditional domestic setting] seems pretty desirable for Fielding, and on the other hand there's this chafing against that."
In the end, Fielding had no choice but to continue her writing career. The Governess was an incredible success and the first of its kind; only five years earlier had John Newberry published A Little Pretty Pocket-Book, considered the first children's book (and distinct from Fielding's work, which was the first children's novel). Unfortunately even the success of that book wasn't enough to bring her total financial security. Fielding continued to get by with the support of friends, but was never fully independent, despite the popularity of her work. By time of Fielding's death in 1768, The Governess was in its fifth edition and would remain in print for more than 150 years.
For Ward, recognizing the role Fielding and other women writers of the period played is an important step in correcting the historic record. For years, scholars mainly focused on men's writing and dismissed women altogether. But almost as important is the role that 18th century writing played in the development of modern thought.
"What we have we inherited from 18th-century England," Ward says. "Our institutions, our ideas about education, about work, it's all really grounded in the 18th century. That's when the ideas were articulated in ways we recognize. They went into the formation of our founding documents."