Fallen Giant
"A whole lifetime was over," legendary quarterback Y.A. Tittle recalls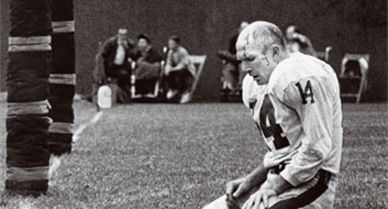 The Greek poet Pindar had wonderful things to say about heroes but less about defeat. So a couple of millennia later, Dianne Tittle de Laet, herself a poet as well as a classical scholar, was left to make sense of this image of her father, the New York Giants quarterback Y. A. Tittle.
The photograph captures a moment on a Sunday afternoon in Pittsburgh in September 1964. For three years, Tittle had led the Giants to the National Football League championship game, only to lose each time. He had been the league's Most Valuable Player in 1963. He was also a football ancient—38 years old—and looked it.
On the play preceding this moment, he had thrown a screen pass that was intercepted and returned for a touchdown. He had held his arms high as he threw. John Baker, a 270-pound defensive end for the Steelers, drove his helmet into Tittle's sternum and slammed him to the turf. A fair, if brutal, hit. Tittle could not breathe.
Still, being hurt was nothing new. Tittle had played organized football since the sixth grade in East Texas and had suffered a partially collapsed lung, a broken left hand (mercifully, he's a righty), a crushed cheekbone, broken fingers, fractured vertebrae, separated shoulders and muscles torn so deeply they took months to heal. "Every injury I ever had in my lifetime, I could tape it," he says. "Every injury I ever had, I could Novocain it." Not this time; the pain he felt now was different.
An X-ray revealed no broken bones. But his ribs were bruised, and the muscle was torn from his rib cage. He spent the night following the game in a hospital. And he played the following Friday.
He had lived his life refusing to give in to pain because, he recalls, "If you say something, they're going to get the next guy to do your job, and he may do it better." But when he returned to the game after this injury, he was not the same quarterback, as became ever more apparent as the season unfolded. The pain "made me one thing I never was," he says. "It made me gun-shy. For the first time in my life I didn't want to get hit, because I couldn't get up."
If you couldn't get up, you couldn't play. And if you couldn't play, he says, "you're no place."
The season ended. The Giants had gone 2-10-2. Tittle retired. When he considered a comeback the following season—his injuries had healed—his wife advised him against making a fool of himself. Instead, he went into the insurance business. He entered pro football's Hall of Fame in 1971.
When I met with Tittle recently, he smiled and acknowledged that what people recall first about him is this image—which did not immediately make it into print. It was taken by Morris Berman of the Pittsburgh Post-Gazette, who had made his reputation as a combat photographer (his next-most-famous photograph is of the bullet-riddled corpses of Mussolini and his mistress). Berman, who died in 2002 at age 92, had gone to Pitt Stadium that day not to cover the game but looking for human interest. He decided to focus on Tittle. But his editor, wanting an action photo, refused to run the injured warrior photograph. It became widely seen only after Berman entered it in contests. (It was chosen the best sports photograph in the National Headliner Award competition of 1964.) Now, it is one of only three pictures hanging in the lobby of the National Press Photographers Association headquarters in Durham, North Carolina, alongside Joe Rosenthal's photograph of the flag-raising at Iwo Jima and the image of the fiery death of the Hindenburg dirigible at Lakehurst, New Jersey.
Tittle, at 80, is vigorous, thick around the middle, broad across the chest and arms. He looks at Berman's photograph and says: "That was the end of my dance. A whole lifetime was over." A good and prosperous life came afterward—four children, nine grandchildren and great-grandchildren. And yet, he says, "Fall is still the saddest part of the year for me. It's because the leaves are turning, and if the leaves are turning, we're getting ready to play Longview or Tyler."
Dianne Tittle de Laet understands the longing and appreciates the sense of incompletion that comes with having such a photograph as her father's legacy. But she does not see a fallen hero in it. Instead, she sees mythical figures—"Hector, and Beowulf going out to meet Grendel," because "myths are about struggle."
Several years ago she wrote a book, Giants & Heroes, that tells how it felt to grow up with a father who, depending on the week, was celebrated or vilified. She did not write about this photograph, at least not directly. Rather, she says, the whole book is about that image. "It shows someone who is broken and maybe beaten. But at the same time it captures who my father was," she says. "It shows the want. I think my father wanted. And he wanted well."
Michael Shapiro's most recent book is The Last Good Season (2003).