Dressed-Down Democracy
Franklin's 300th birthday this month reminds us of common ideals and artifacts that reflect them—from a simple suit to an iconic lunch counter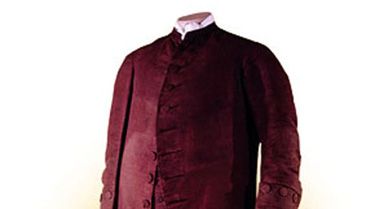 Franklin understood how sensitive his assignment in Paris was and measured his words as carefully as he minded his appearance. While in France, he wore simple and unadorned "ditto" suits, so named because his coat, waistcoat and breeches were cut from the same fine silk. One such suit, exhibited at NMAH on long-term loan from the Massachusetts Historical Society, was once a deep plum color and served as business attire. He wore a similar suit to Versailles, when meeting the king. Most men of that day wore far fancier, more regal clothes. But Franklin was keen to set himself apart and project an image in keeping with the new republic's shared values and ideals. While others donned powdered wigs, put on embroidered waistcoats, and carried ceremonial swords or scepters, Franklin preferred his plain suits, a fur cap and a walking stick. That well-crafted image, combined with Franklin's intelligence, international stature and what one observer described as his "evenness of temper" and "unshakeable serenity" resulted in unqualified success. France agreed in February 1778 to sign a treaty of alliance.
Franklin played an instrumental part in those early and most difficult days of America's transformation from a Colonial outpost to a democratic republic. One of the items in NMAH's political history collection (in all, more than 100,000 artifacts) is Franklin's walking stick, an object he valued so highly that he bequeathed it to George Washington. The huge NMAH collection tells the story of the creation and development of our American democracy as it spans the whole history of the country—from the portable desk on which Thomas Jefferson penned a first draft of the Declaration of Independence and the tilt-top table Elizabeth Cady Stanton used while writing the Declaration of Sentiments calling for women's rights, to the inkwell Abraham Lincoln used, according to one account, to draft the Emancipation Proclamation, a microphone Franklin Delano Roosevelt spoke into while broadcasting his fireside chats and posters from the 2004 political conventions.
And yet the story of how Thirteen Colonies grew to become a nation of nearly 300 million people is not a tale that can be told with only history's boldfaced names. On February 1, 1960, four African-American students at the North Carolina Agriculture and Technical College sat down at the lunch counter in a Woolworth's store in Greensboro. They asked for service, but were refused. Rather than leave the restaurant as asked, they sat, silently and movingly protesting the company's policy of racial discrimination. Their defiance raised people's awareness and helped to inspire a movement to challenge injustice. Curators at the NMAH have long recognized the important place such actions hold in the history of the United States. They have gathered and saved protest signs from every major march on Washington as well as the banners, pins, pamphlets and other artifacts representing every cry for reform, respect and recognition, from the abolition of slavery to the drive for civil rights. Even the lunch counter at which the Greensboro Four once sat and simply asked to be treated as equals is in the NMAH collection. Between that counter and Franklin's understated suit exists a common spirit that all Americans can proudly call their own.