Discovering George Washington
Little-known facts about the nation's first president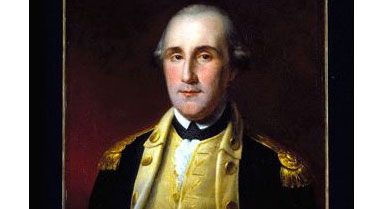 1. Washington's birth record does not include a middle name.
2. Upon the death of his father, Augustine, Washington became an 11-year-old owner of ten slaves.
3. Washington's formal education ended when he was around 15 years old.
4. Washington stood six feet, three inches tall.
5. He started losing his teeth in his twenties.
6. The National Museum of Dentistry in Baltimore, Md., has on display one of Washington's lower dentures—made from gold, ivory and lead, as well as human and animal teeth.
7. The only time Washington traveled out of the country was to Barbados in 1751 with his brother Lawrence who was suffering from tuberculosis.
8. He and Martha were both 27 when they married.
9. Martha, who had first been married at 18, was one of the wealthiest widows in the Tidewater region of eastern Virginia when she married Washington. Only one of her four children with her first husband Daniel Custis survived to adulthood.
10. When Washington inherited Mount Vernon from his brother, the plantation was 2,000 acres. By the time of George's death in 1799, it was 8,000 acres.
11. Charles Willson Peale painted the earliest known portrait of Washington in 1772.
12. One of Washington's most interesting innovations was a nearly round, 16-sided barn for thrashing wheat.
13. He established a spy ring in 1780 to reveal that Major General Benedict Arnold was a traitor.
14. Washington died on December 14, 1799 of a throat infection and was mourned by the nation for months.
15. At his death, Washington owned more than 300 slaves. They were emancipated in his will and some were paid pensions for decades.