Declaring an Open Season on the Wisdom of the Ages
Under the stewardship of scholars Diderot and d'Alembert, the 18th-century's Encyclopédie championed fact and freedom of the intellect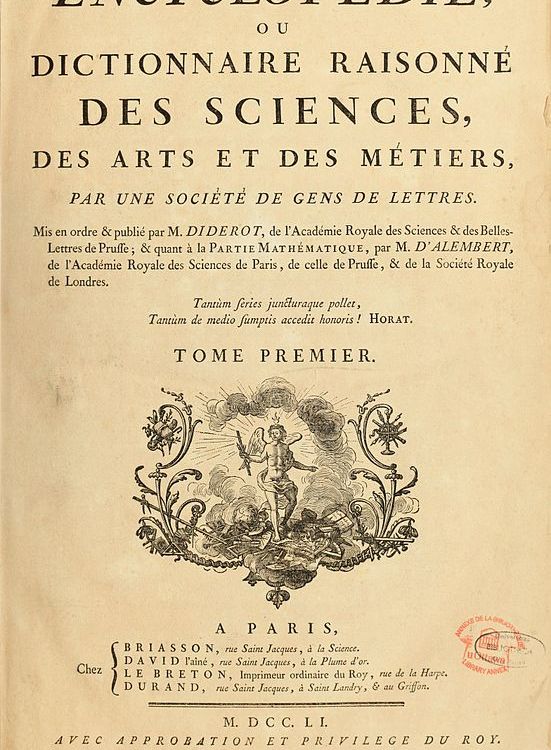 In Paris 250 years ago, a determined band of Enlightenment-era intellectuals set out on a publishing venture that would change the world. Denis Diderot, the brilliant and energetic man of letters, and his colleague, the eminent mathematician Jean d'Alembert, joined forces to create a pioneering compendium, lavishly illustrated throughout, of human knowledge.
The two enlisted the best minds of their generation, including such luminaries as Voltaire and Montesquieu, to write entries on everything from the construction of coal mines to the lore and legend associated with the story of Noah's Ark.
Their venture was indeed a revolutionary undertaking. The authors strove not only to codify all human knowledge but to create a manifesto of the Enlightenment. The work was a paean to the emergent scientific method — superstitious belief gave way to rational explication on every front — and to the nascent technologies that prefigured the Industrial Revolution.
Diderot and his colleagues, who faced the wrath of the Church and the secular authorities as succeeding volumes appeared, also had created one of the first commercial best-sellers of modern times. Laboring for more than 20 years, beginning in 1745, to complete the first edition, they had indeed produced a landmark work in human intellectual history.